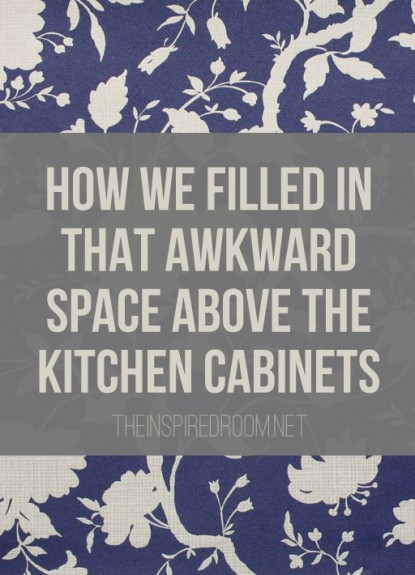 Wallpaper via Graham Brown – Kelly Hoppen
While we were waiting on my new bank of cabinets to arrive, the ones that go to the right of my dishwasher, there hasn't been much progress on the kitchen since the day everything was torn apart. Fortunately we've been busy watching our wood floors go in so we weren't bored around here. Heh. But today the cabinet guy not only brought the new cabinets but he fixed up a little area of my kitchen that has bugged me since we moved in.
What problem area am I talking about?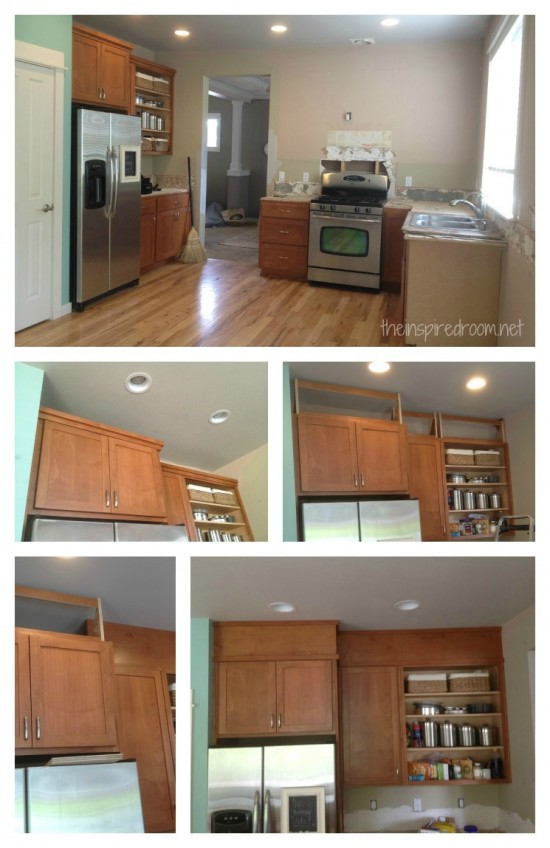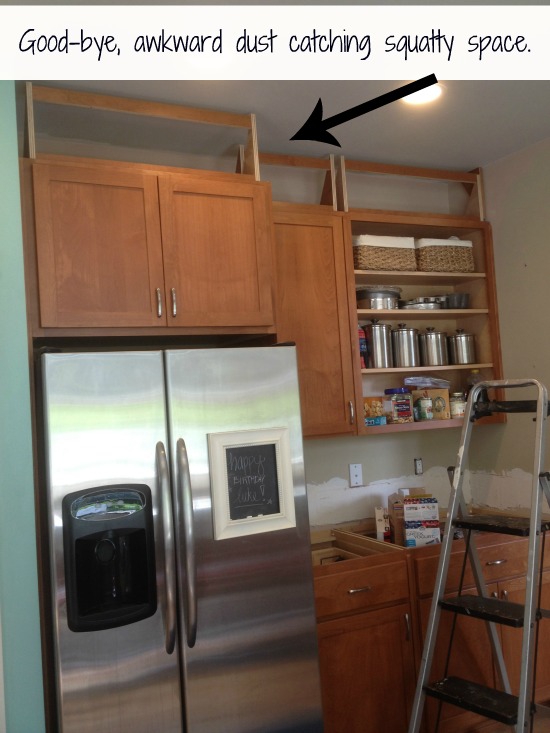 Dun…dun…dun….That rather awkward space above the cabinets.
You know, the space that isn't big enough to display anything (even if you wanted to feature more dusty collections that require ladders to clean). That space that makes it impossible to paint the walls above the cabinets. The space that makes your cabinets look squatty but the space that isn't really big enough to add more cabinets to make it look normal. THAT space. Maybe you don't have that problem, but I did.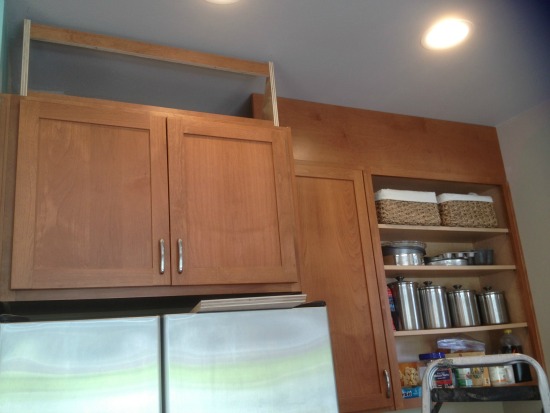 So, we decided to box that awkward space in so it would no longer bug me.  The cabinets will be completely painted so this is NOT the finished product, this is the progress so far.
There were so many ways we could have filled in that space above the cabinets. From installing brand new cabinets that fit the space, to raising the existing cabinets, to adding open shelves to creating small doors to adding some elaborate crown molding. Endless options, it seemed.  I don't like to climb up ladders to get stuff and if it is too high I tend to forget what is up there, so I really didn't want that space for storage. It wasn't tall enough for much of anything. Plus, new cabinet doors are not cheap. In the end, we opted for a fairly simple remedy to our awkward space.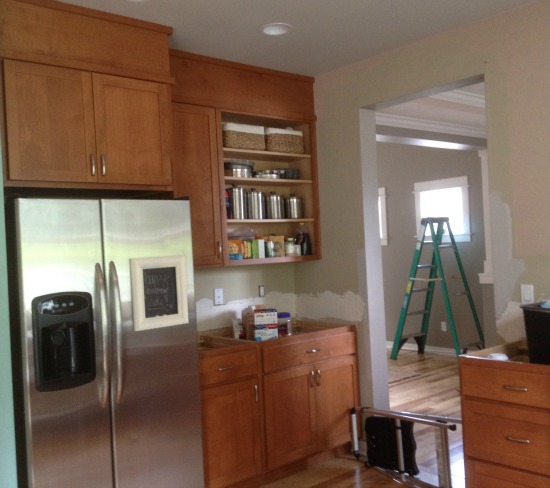 Our house is a new, northwest craftsman style, so while it does have a bit of personality, it is still simple with mostly straight flat moldings and only our dining room and powder room have crown molding. It isn't a fancy house at all. We didn't want to overdo details in the kitchen at this point or we'd outshine the rest of the house or overdraw our bank account, you know what I mean?
So a simple fix with a simple finishing detail fit the bill nicely.
We'll be painting those upper cabinets white, so that entire upper cabinet wall will be white with simple white subway tile. I think the boxed in cabinets make the cabinets look much more finished and substantial and less squatty new house builder style. A nice little upgrade without a hefty price tag, I think!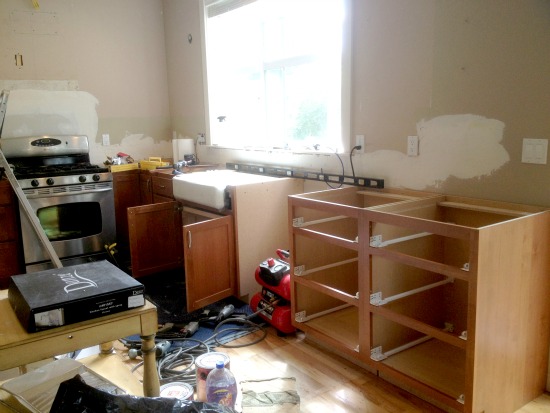 Meanwhile, on the opposite side of the kitchen the new sink and drawers were put in place!  Progress is so exciting! Even though we are eventually painting all of our cabinets, it was decided to install new ones of the same finish as our existing cabinets so that when we paint them there will be no chance of finishes taking the paint differently.
The space where that red compressor thing is sitting is where our dishwasher will go. I'm excited about that nice long counter to the right of the sink and NO upper cabinets to crowd the space. I'll have a simple open shelf above that double bank of cabinets for functional display. The yellow table thing is just sitting there so we have a surface to set stuff, like my new faucet. HOORAY! We do plan to have a not-yet-decided-upon movable island in the middle of the room for extra prep space.
Next steps, the counters (which I have not talked about yet but promise to very soon!) will be measured, created and installed, and then the subway tile will go up on the walls. Then we will get our sink and dishwasher all hooked up!
Do you have an awkward space above your kitchen cabinets?
You can catch up on all the posts on my kitchen update project here, head straight to the reveal post here, or see all of my kitchen sources and details here.
UPDATE: Here is what that awkward space above the cabinet looks like now (below!)!
Before & After Cabinet Kitchen Makeover