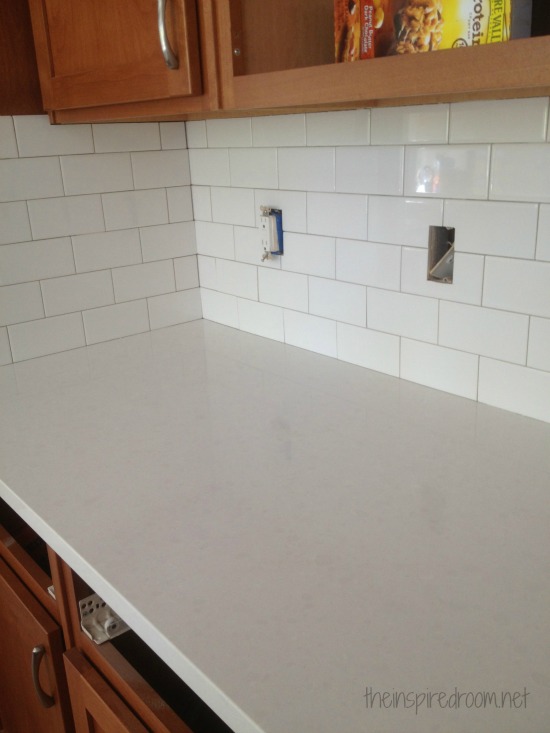 This week my kitchen remodel took a big leap forward. New counters were installed and subway tile is in progress!! YESSSSS! Finally. I'm trying not to jump up and down squealing too much because that is embarrassing, but YIPPEEE this stage of remodeling is SO exciting to me! Finally I get to see what I've been imagining in my head.
And THANK GOODNESS, I'm happy with it all so far.
Phew. I don't know about you but I definitely think and think and overthink and then stress out a bit that I probably made the wrong choice until I see it all together and love it.
Remodeling a kitchen is a big big deal. I don't want to mess it up. Right?
Please excuse my cell phone pics but these project updates are just way easier to get pics of when I can just sneak around the workmen and snap a quick picture with my phone when they aren't looking! heh.
So, as you can see, I couldn't just stop with a white subway tile backsplash.
Mama had to have an entire kitchen of subway tile.
Oh yes, I did.
If mama is happy, EVERYONE is happy, right? Sometimes you just need to go for the gusto on what you really want and cut back elsewhere if you need to. That's how I roll.
Fortunately my kitchen is not really big, but installing tile all around the cabinets from the floor to ceiling, around the door frame and around the window over the sink will make a BIG statement! I love me a big statement. It feels so fresh and clean, cohesive and solid, I LOVE IT already!
Best of all, it feels like home.
You might remember I had quite a bit of subway tile in my old kitchen too. My old kitchen was remodeled maybe seven years ago? And I STILL love subway tile, so I know I'll love it for a very long time and probably forever.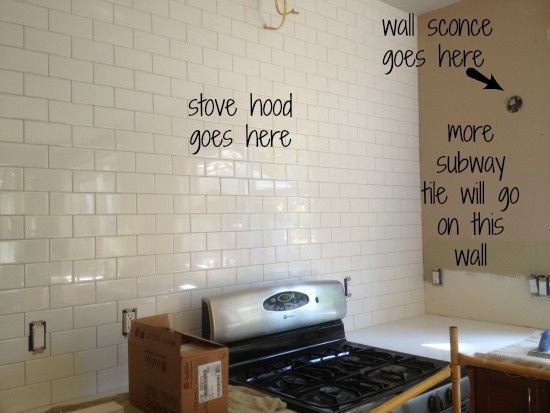 The rest of the tile will go up Thursday, the grout on Friday and the sink, faucet and dishwasher will be hooked up Monday! Cabinets still need to be painted, new hardware put on and updates in the adjoining family room are still under way.
The only hiccup so far was my new drawer fronts arrived but they were not the right style (I had two banks of three drawers each installed to the right of the dishwasher). They should match the rest of the cabinetry so correct shaker style fronts have been ordered and are on their way. Other than that, things are moving right along!
I'm absolutely in love with my sink. I didn't get a good picture of it but I'll be showing it off more once the faucet is all in next week. And I could not love that long counter to the right of my sink any more. LOVE!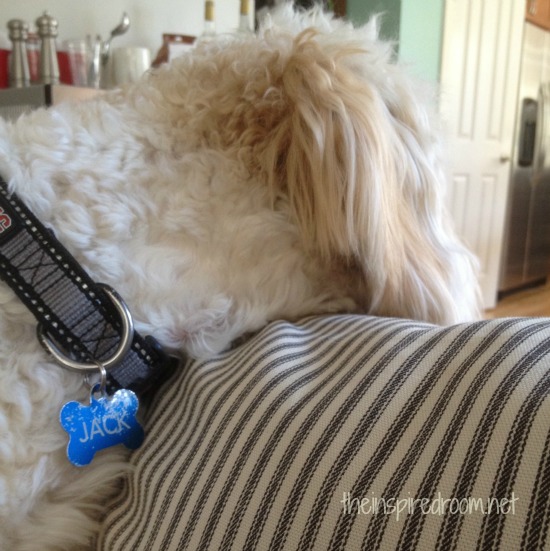 Jack had to be barricaded in the family room so he'd be out of the way of the tile guy. He was not too happy about that, but still enjoyed watching the whole process from the chair.
As you probably have noticed by this point, my counters are white! 
While I adore the look of white marble and actually considered it for my kitchen, once I really thought it through I realized marble didn't make sense in this house.  My floors have a lot of grain so I didn't want another material with heavy pattern or graining to compete with them.
These counters are actually a white Quartz, Caeserstone Organic White, with a tiny bit of no-color pattern that keeps them from being too stark.
From a distance they just look white. And that is just the feel I wanted! Simple and clean.
I also really wanted a little bit more updated beachy look to my kitchen and while marble is absolutely gorgeous, I felt like maybe it was a bit too traditional classic in style when paired with my subway tile. I guess I was looking for a little bit different mix in this kitchen. Cause you know, I kind of love mixing things up. So quartz it is!
While I adored my wood counters at my old house and thought about doing them again here,  in this house I have already had wood floors. I really like contrast in materials with a balance of warm woods and cool stone. My last house had tile floors and one soapstone counter so the wood counters added just the right amount of warmth. Here I wasn't needing the added warmth of wood counters since my floors are providing that.
So stone and tile counters and backsplash create the perfect cool balance to the warm wood floors. My cabinets will be painted, as I mentioned.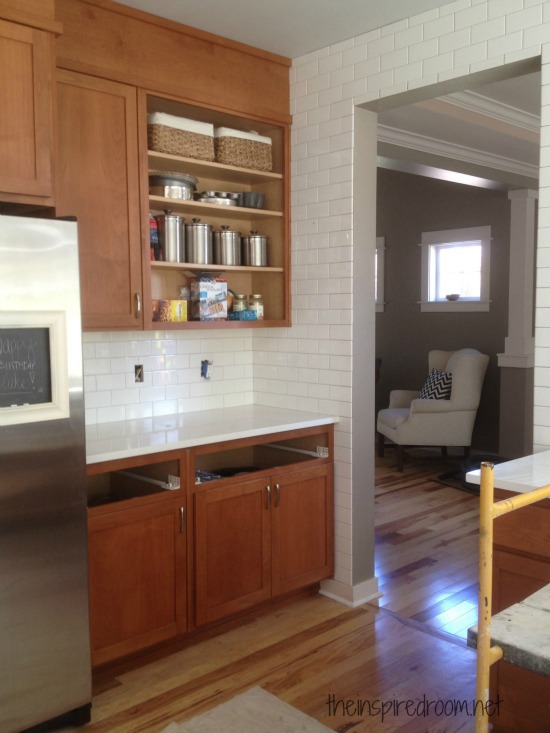 You might also note that I used all the same counter material on all my cabinets this time, rather than mixing it up with two different materials like I did in my old house. The reason for that is in this kitchen I really wanted a bit more streamlined, fresh and cohesive look from one side of my kitchen to the other. I didn't want to chop things up too much.
However, I will have a freestanding island so that gives me the opportunity to mix things up a bit there.
Because  if things get TOO streamlined and simple, I might break out into hives. Just kidding. Kinda.
So, there you have it! The up to the minute kitchen updates.
Next up will be the remaining tile on the wall, the new faucet, and installing my existing dishwasher and then I'm hoping to get the cabinets painted in the next few weeks. Oh, and installing the new sconces. So many details still left but we are getting closer to the bulk of the work being completed!
Thanks for following along! You can find the rest of the kitchen progress updates here.
HERE IS THE FINAL KITCHEN REVEAL!