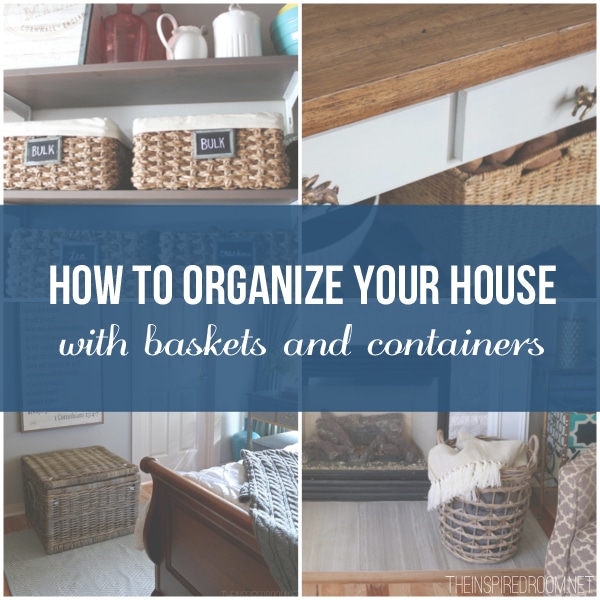 How to Organize Your Home
One of my top FAQ here on the blog and in the real world is about how to organize your home, specifically, how I organize my home. Phew. That's a good question, but one I like to answer!
Organization is big topic with lots to talk about, but my organizational systems are fortunately not complicated at all! I keep things SO simple around my house for a reason, I'm busy and don't like to work too hard on housekeeping. But you do need systems if you want your house to be 'clean enough' and 'organized enough' so you can function without stress.
So let's break this topic down into a manageable post for today and get started!
First things first, though, you can't organize excess clutter. Darn! Maybe that is obvious to you or maybe not. Plain and simple: no organization system is ever going to work if you have too much stuff. So always start any organization project with getting rid of what you don't need, have too much of, or can do without. That step isn't much fun, but it will be rewarding!
Then once you've pared down, you can move on to organizing what you actually need and use on a regular basis! And that organizing step is what we will focus on today, particularly for those of us who do not have enough built-in storage, although many of the same principles would apply to closets or drawers.
Everything you have to organize needs to have a home. Right? Since one of my key organizing systems involves using baskets and containers as a 'home' for my stuff, I thought we could take a little tour through a few rooms of my house and I could explain how I use baskets or containers to be better organized. You need to know where to put things if you are going to keep your home in order. In my case, since we don't have a lot of built-in storage or closets, we get more creative!
In our recent pantry makeover, I knew I wanted to use baskets or other containers for organization. I like container organizing for so many reasons, but one is simply because they look awesome anywhere you put them!
You can see more pictures and commentary on our pantry in the pantry makeover post, but let's take a quick look at a few of the key baskets or containers to answer a few questions.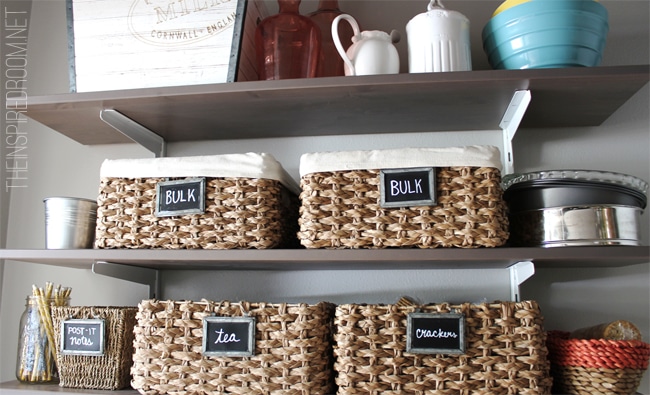 On our upper pantry shelves we used chalkboard labels to identify the contents, because we can't see what it is in them from down below. That helps a lot! You can search "chalkboard labels" on google and probably find something similar. I got mine on amazon.com.
I've had quite a few questions about what is in the "bulk" baskets. I can show you inside the baskets sometime when I have time to take pics and I can do a more detailed pantry or kitchen organization post, but for now you'll have to imagine as I describe it.
Those are items we bought in bulk such as grains, beans or oatmeal or anything we don't need all of right away. You might remember in our pantry reveal post seeing the glass jars where we put many of those types of grains for daily access, but when the jar is low, we can refill from what is in the baskets (we leave the items in their original bag until they go in the jars). The woven baskets were probably from Pier One, I've had them for awhile.
The white crate (I bought it online from Target!) on the very top is currently empty! I have so much storage in my pantry right now I have no need for the crate, how awesome is that to have empty storage? But I might perhaps use it from time to time for extra things like even extra pancake syrup or salad dressings (we shop at Costco so we often get two at a time). I will label it when I decide what I need it for.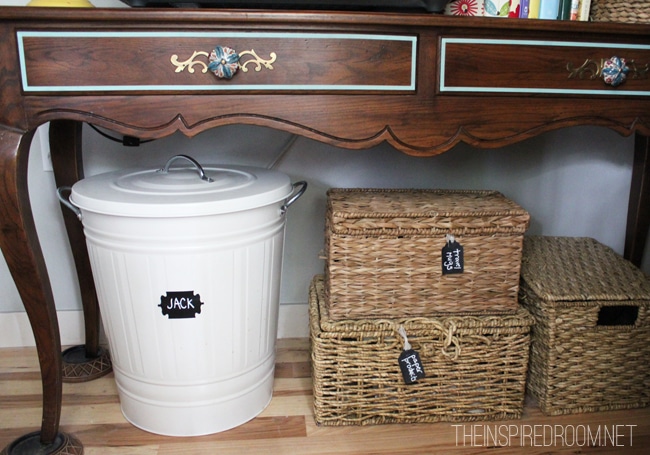 I also love those metal IKEA trash cans, perfect for Jack's food! Much cuter than a big bag of dog food laying around!
The baskets on the floor are stacked and labeled with items we don't need all the time, such as paper plates or utensils, but we want them to be convenient to get to so we keep them in the pantry. If we rarely ever use items, they go in the garage on a shelf. These baskets may have come from Michaels Craft, or Pier One or World Market.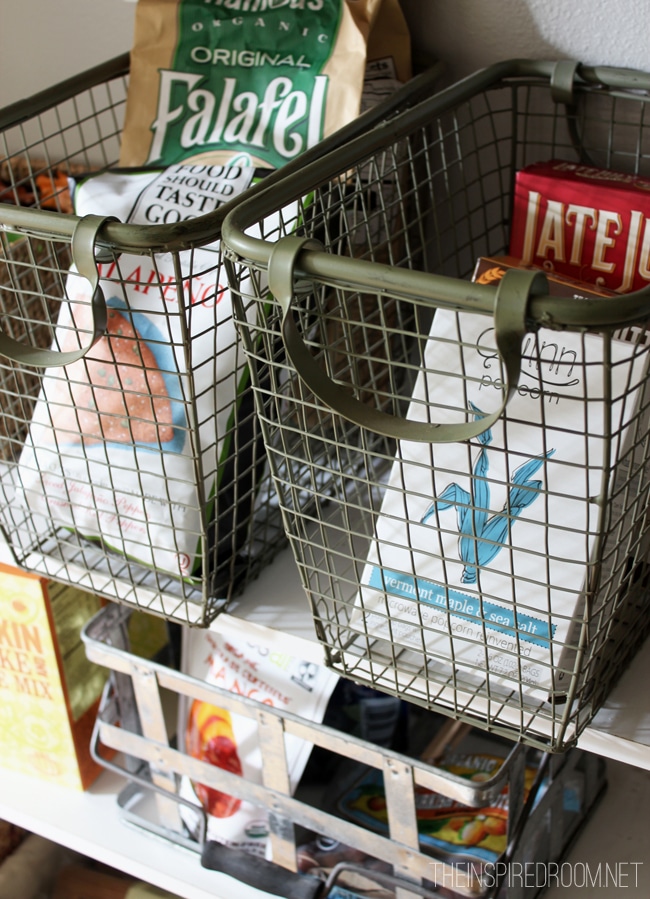 Baskets and crates are so useful, I always keep an eye out for them and pick them up whenever I find an affordable one! They are awesome because they hide things that may not be attractive on their own. They also group like items together and keep them in some sort of order (instead of falling over in a mess or ending up on the floor).
I like them for organizing items like snacks in the pantry — they make finding what you are looking for fairly easy and painless and it is really easy to tell a child or a guest where to look for something.
Plus, having these snacks so visible and accessible in a wire crate, any snacks we have are more likely to be eaten before they get stale since they aren't hidden way back in a dark pantry, or lost behind the cereal boxes. That keeps things tidier and saves us money too. The greenish wire crates were from Target and the silver metal one I think was from TJ Maxx.
Now on to other rooms in the house! Yes, I have baskets everywhere.
In the main rooms and even my bedroom, I have a few of these taller baskets that I like to use for extra throw blankets or even decorative pillows. This World Market console and the baskets (also from World Market) used to be in our front "gathering room" which is where this picture was taken, but when we moved it to the dining room, these baskets were set in various corners of the room.
The baskets add texture and function as cute decor, and I know where to find a cozy blanket for family or a guest or simply to jazz up the sofa if I want to!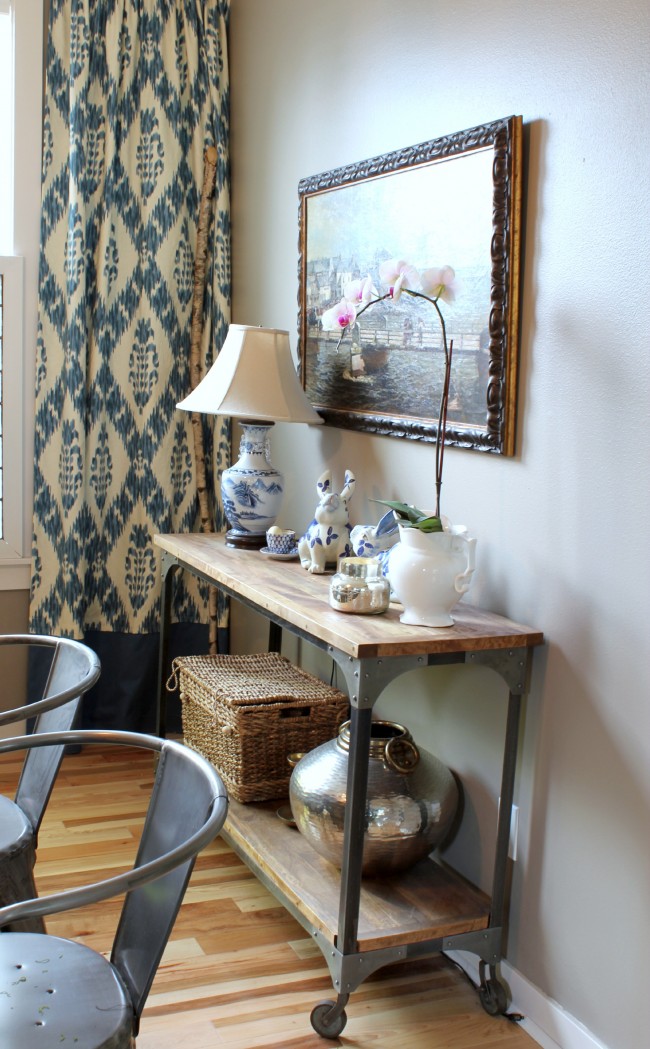 Now the console table is in the dining room, as you can see here. Please ignore that Easter grass on the chairs (sigh). Since don't have any built-in storage for our dining room you might wonder where we keep extra dishes and things we don't store in our kitchen? Baskets of course!
We do have a dresser in our family room that stores a ton of stuff related to entertaining. But for additional random things like items for entertaining or seasonal decorating, we use baskets!
Extra silverware or serving dishes that aren't used every day or on display can be tucked away in a basket. They are easy to retrieve on a moment's notice, and that is just how I operate. I like to know I can pull out what I need quickly and easily! No fuss.
It would be awesome to have walls and walls of built ins or a fancy big butler's pantry with room for dishes and silverware. But alas, we don't have any extra storage like that. But that is OK. We have baskets and they do the job well!
I adore lidded baskets and always keep my eye out for affordable ones because they never go to waste at my house. One of my favorite uses for them is to store seasonal decor. For instance, I love having a turquoise vase for decorating, but I'm not as likely to use it in the winter. I'm also not likely to use it if I stick it under the house or lose it somewhere in our garage. But if I put it in a basket in my dining room, the vase is out of the way yet easy to find in the spring when I am ready to use it!
I also keep seasonal items like pine cones, faux pears and apples, shells and faux flowers or even candles we aren't currently using in baskets.  With the lidded ones you can stack them two or three high in a corner or against a wall.
In the family room, we have tons of books and magazines. I love them, but since we don't have a library or lots of bookcases, I have to get creative with where to put them. I definitely don't consider books "clutter" so I want to have them out where I can see them!
But to keep a little more order in the room and on the coffee table, I love stacking books and magazines in my thrift store wire crate. The crate functions both as a decor item and a functional item, which is what I want out of most items that take up space in my home. The crate corrals pretty much anything we want to put in there. We even toss remote controls or napkins in sometimes if we want to keep them away from Jack. He could reach in and take stuff out if he wanted to, but he doesn't seem to try.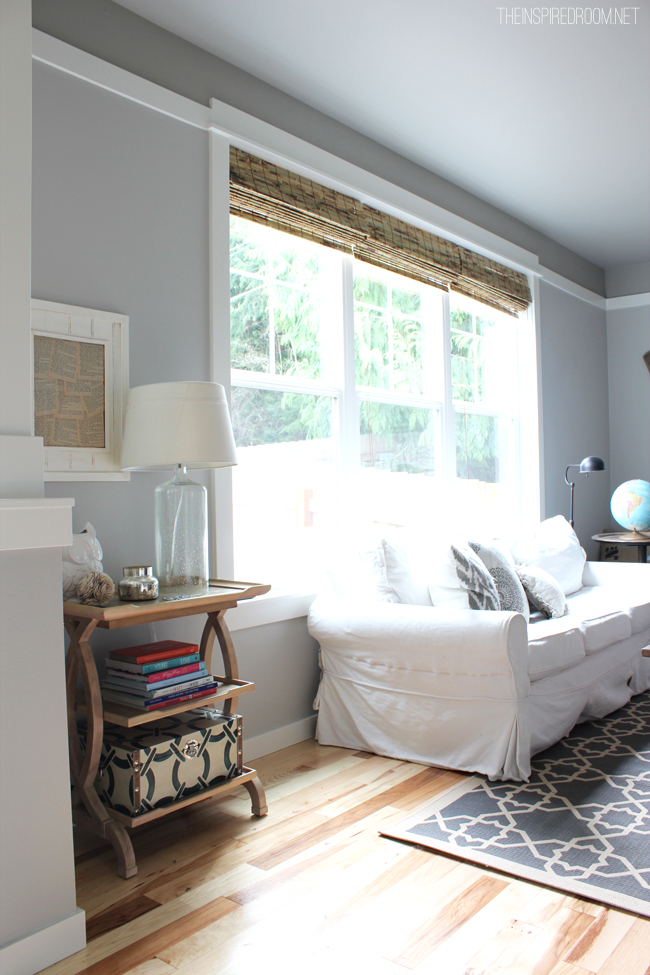 I always love finding cute lidded boxes and trunks, too. This more recent purchase (from Joss & Main a couple months ago) came in a set of three. One went on my nightstand for phone cords, notepads and any other random thing I need in my room, one on my desk (for my labeling machine, stapler and hole punch) and then this patterned box, which fit perfectly on the end table in the family room. Cute? yes. Functional? Yes. WIN WIN.
I have so many ideas for this cute trunk-like box (I haven't put stuff in it yet but I WILL!), I might keep special magazines for my mom to read when she visits, I may store more seasonal decor, or I might even keep extra tableware or surplus drinking or wine glasses in it. So many options. I LOVE IT!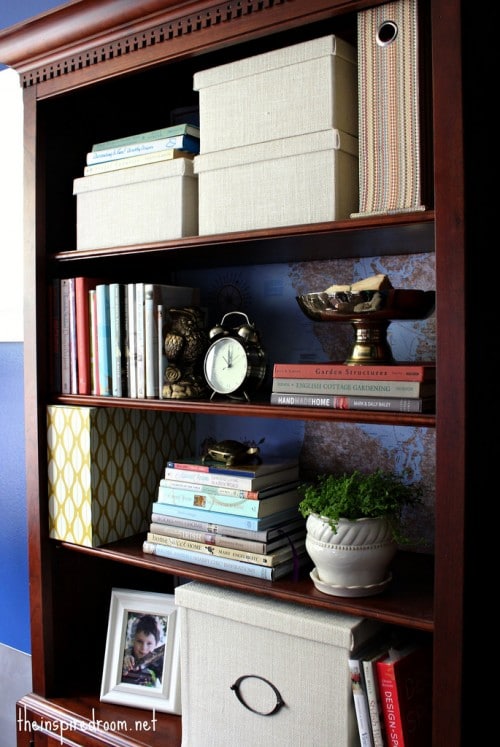 My office has tons of lidded boxes from IKEA. I have cute little labels for each one that I still need to put on. But each one holds some type of office supply or item I need for my business. I group like things together in a box so it isn't hard to find them.
For instance, I have lots of manuals for cameras and printers stashed in one. Another holds business cards or notes from people I meet at conferences. Another has fabric or material samples from projects in my house. All things I may need occasionally, but nothing I want to have laying around causing clutter. Again, sometime I'll break this room down further and even take pics of the insides of the boxes for you.
Remember, everything needs to have a home. Group like items with like items as you sort through what you want to keep in each room of your house, and then you'll be able to decide the purpose of each basket or box so it makes sense to you. Don't just stash and hide random clutter!
I wrote about this basket in a post quite awhile back so this is an older photo, How to organize with baskets, but it was perfect for holding the Wii games and controllers when we had our TV in the family room! I don't like to see games everywhere so this was a great solution that my son can follow easily.
Then there is our entry!
I found that huge amazing gray driftwood basket AT THE GOOD WILL. Find of the century. We use it for shoes. We don't require guests to remove shoes, but my son has tons of shoes for various purposes and we also like to have shoes handy when we need to let Jack out or run to get the mail or whatever. So, there is where we go to find them if we need spare shoes! No need to search everywhere for them if we know where the random shoes go. (Fun fact: My girls and I wear the same size shoes, which is a good excuse to buy lots of cute shoes! But my son's feet are bigger than anyone's so we no longer can borrow his, darn!).
This basket is right by our front door. See how everything in it is in a clump? Real life, no staging obviously. But clumped or not, this system works! With a dog, there are various things we need to have handy for walking him or taking him in the car. Jack has leashes and harnesses and raincoats (yes, we live in the Northwest and our dog has a raincoat). We have a flashlight for taking him out at night.
Instead of those things cluttering up the house or getting lost, what do we do? You know the answer! We put them all together in a basket. My house is kind of like the "put a bird on it" of the basket world.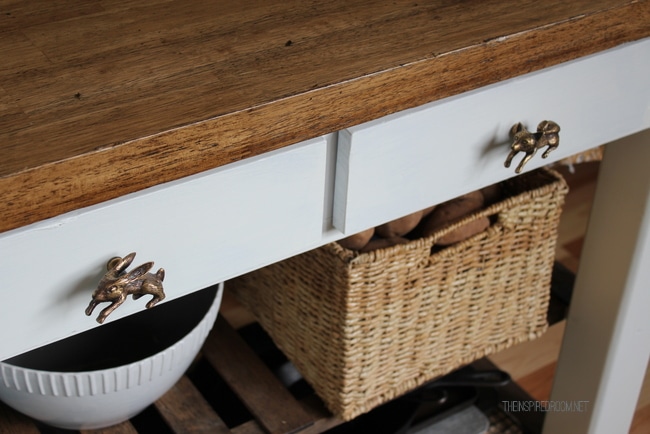 I even have a basket under my kitchen island for potatoes or onions. I can share more specifics on my kitchen drawer organization in a separate post so stay tuned for more details and photos.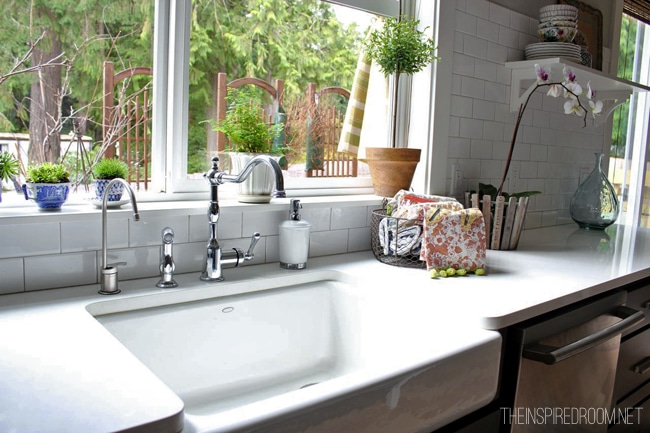 Then lastly (actually there are more I just don't have pictures of everything and this post is already crazy long!) we have a wire basket (from JoAnn Fabrics) on the counter by the sink! What for? That is where we put our hand towels. The towels are convenient and easy to grab and they don't need to take up drawer space. And if we can get towels out of the drawer, we have a free drawer in which to organize something else that can't be on the counter. WIN.
As you can see I'm a big believer in "container organizing" all through the house! If you are fortunate enough to have a house full of built ins and excess numbers of closets and ample storage, you might have things organized behind closed doors and not need baskets. That is nice for you. I'm jealous. But for me, containers like these work really well! I love the look of baskets so I'm happy with it!
Now you might be wondering how I remember where I put things. Do I put things in boxes and baskets and containers, but then they are lost forever? GAH No way! Do I have elaborate color coded filing system for every item and basket in my house so I can track down the right basket? NO, remember I don't like to work that hard!
The truth is, I can find just about anything I put in my boxes or baskets  –without having a tantrum or meltdown. WINNING again! It's easy because I only have a few baskets per room. I don't keep TONS of junk in baskets, only what I really use and need. They are filled with related items in or near the related room (ie kitchen supplies in the kitchen, office supplies in the office). Even if my baskets or bins aren't labeled (many are but some aren't), it only takes a few moments to find what I'm looking for.
Do you create "homes" like baskets and bins for your things? What kinds of items tend to clutter up your house? After you pare down what you have, how could you solve organizational issues by finding a home for things? 
I wasn't born organized. The truth is, it's always been struggle for me. I wrote Make Room for What You Love to share things that have helped me to make positive steps in staying on task, simplifying my schedule and in organizing our home. This book will help you consider some of the reasons you feel disorganized so you can begin to transform your home. I offer tips and motivation for "not born organized types" to make the kind of changes that will last!
You can find out more about the book and order it here.