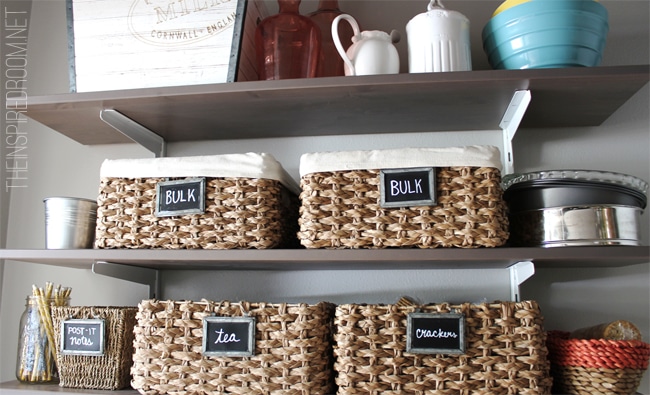 Pantry Makeover: Ikea Pantry Shelves
Last summer I started on a little pantry makeover! Our pantry was a typical builder pantry with basic white wire shelves. While it was wonderful to have walk in pantry, we didn't like the wire shelves or the organizational options. Our pantry was pretty much chaos — no one liked going in there.
But because brand new custom shelving wasn't in the budget or my DIY plans, I decided to customize the entire feel and layout of our pantry using affordable and easy to hang IKEA shelving and jars and other items we already had.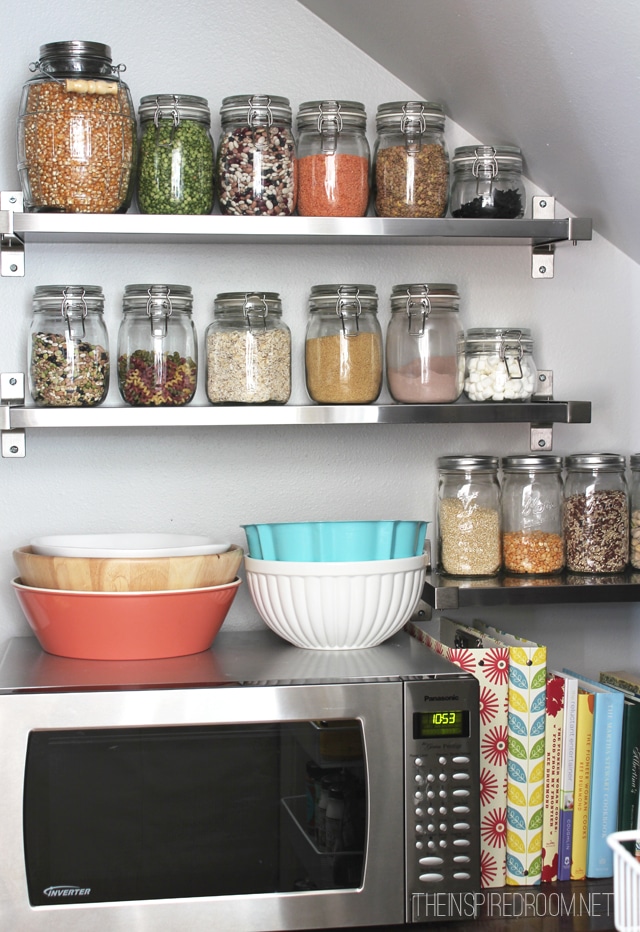 We don't consume or store a lot of packaged food (we do try to eat mostly fresh whole foods), so our pantry is used primarily for bulk grains and beans, some canned goods and sauces, overflow storage for the kitchen, Jack's dog food and some cookbooks.
We also have additional pantry space in our garage for bigger or surplus pantry items, so this kitchen pantry is for smaller more frequently used items.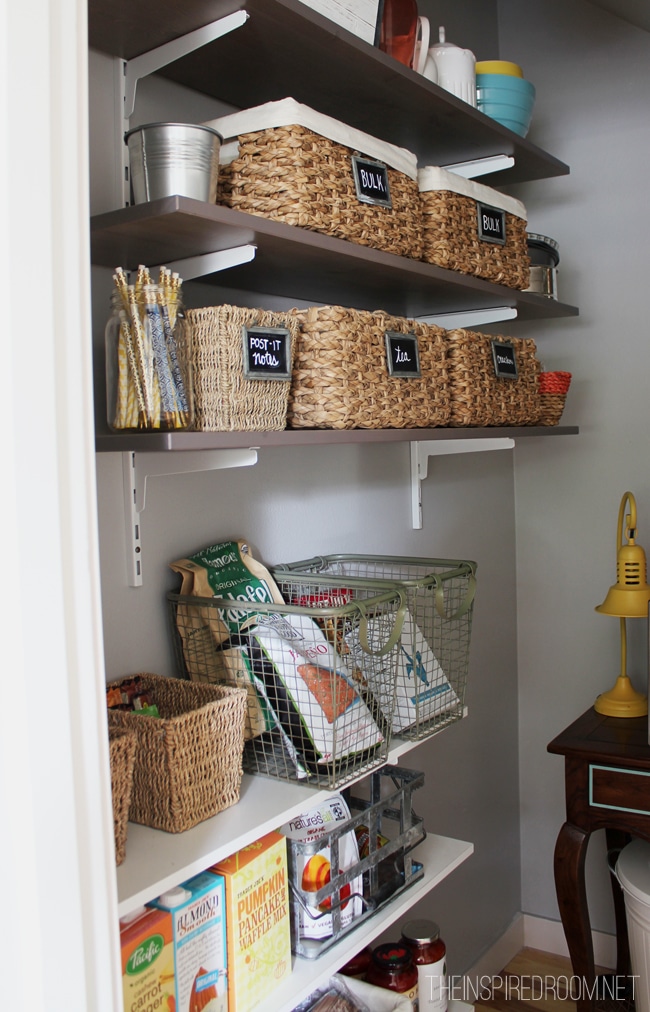 Although our pantry is a walk-in, it is under the staircase so it is quite small and obviously has an awkward slanted ceiling that makes shelving and storage a little challenging. But because it is so tiny, we decided to play up the more eclectic charming feel with a mix of open shelves, a real wood table and bins, baskets and glass jars.
I LOVE LOVE LOVE looking in my pantry now! So much so that we even removed the door between the kitchen and the pantry during our kitchen remodel. Not only we can now move freely in and out, but the "butler's pantry" feel to the space has become a charming feature of our kitchen.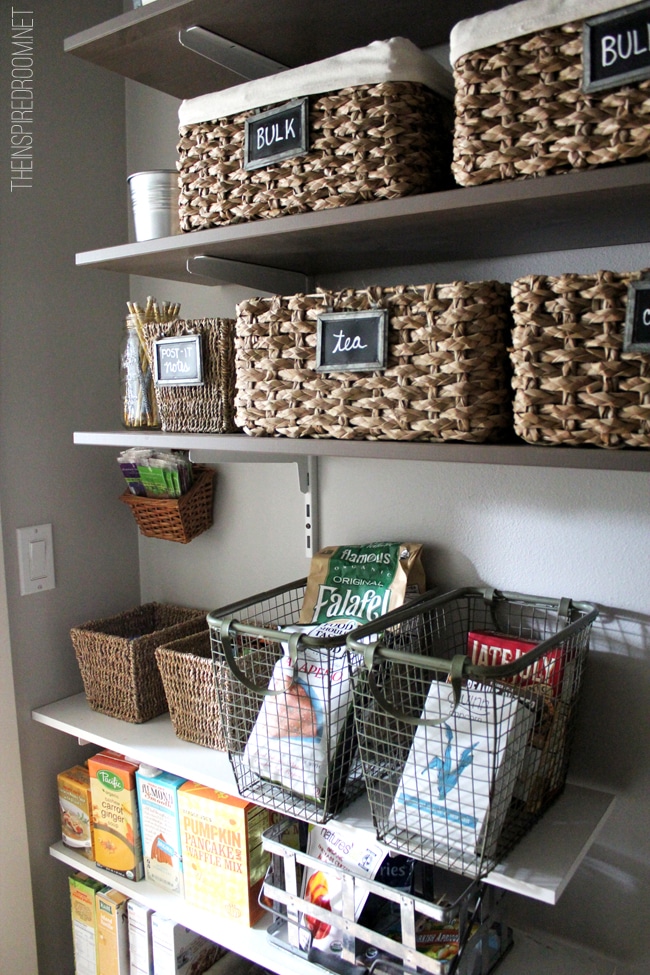 Breaking up the shelving really helped open up the pantry and helps it to feel less cluttered and claustrophobic since there is a little more room to breathe. I prefer to create "zones" for organization rather than have everything jumbled up everywhere on pantry shelves. Having defined sections of shelving and various sizes of baskets to hold items helps to create a logical but flexible system for storage of snacks, breakfast items, pastas, sauces, and bulk foods.
The shelving on the left side of the pantry is all hung on adjustable tracks so we can make changes if we decide we need more or less space between shelves.
I bought the framed chalkboard labels from Amazon. I'm a sucker for labels, especially when you can't see what is hidden in a basket!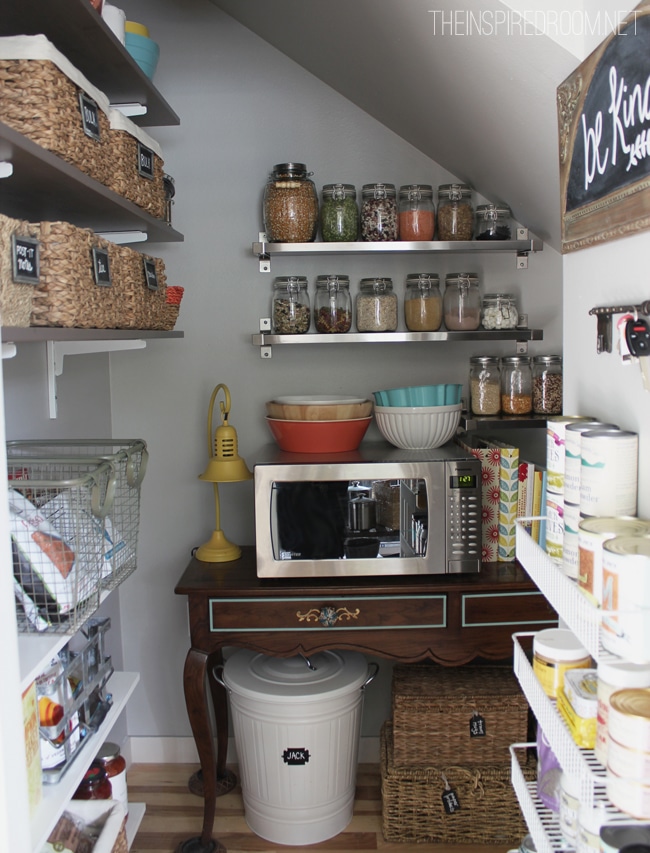 You might have noticed in my kitchen cabinet colors post (the whole kitchen reveal is HERE!) that we moved the microwave away from over the stove. Now you know where it went — it is right here, in the pantry! Actually, we got a new microwave because the old one was broken.
The main reason we wanted to remove the microwave from over the stove was so we could install a more powerful exhaust hood. Properly sized exhaust hoods should be at least the size of your stove top, but our microwave and exhaust system was smaller and therefore not as effective.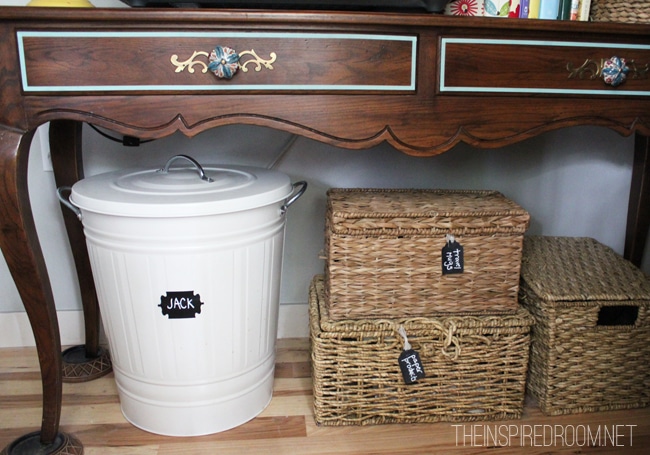 The other reason we moved the microwave was because the previous layout of our kitchen only provided enough space for one cook. By moving the microwave were were able to spread out the work zones a little bit more. We decided the most convenient place for us to set up our microwave was here in our pantry. Now anyone can heat up a quick snack or hot drink without getting in the way of the main work zone!
We had a sofa table that was not being used elsewhere,  so instead of adding in another shelf for the microwave we decided to use what we had and put the table against the far wall. It is nice and sturdy for the microwave and still allows for storage above, underneath and along side. A little washi tape boarder and new knobs gave the table a more spunky personality without paint. Easy DIY!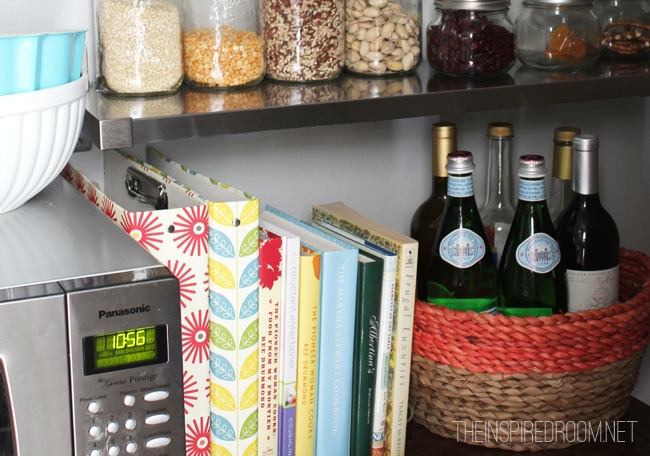 I love finding fun new ways to group and organize items in the pantry! The cute round basket with the coral stripe is from Target, as are the green metal bins in the photo below. It is the little details like this that make working in this pantry and keeping it organized so much fun for me! Cute and functional details really inspire me.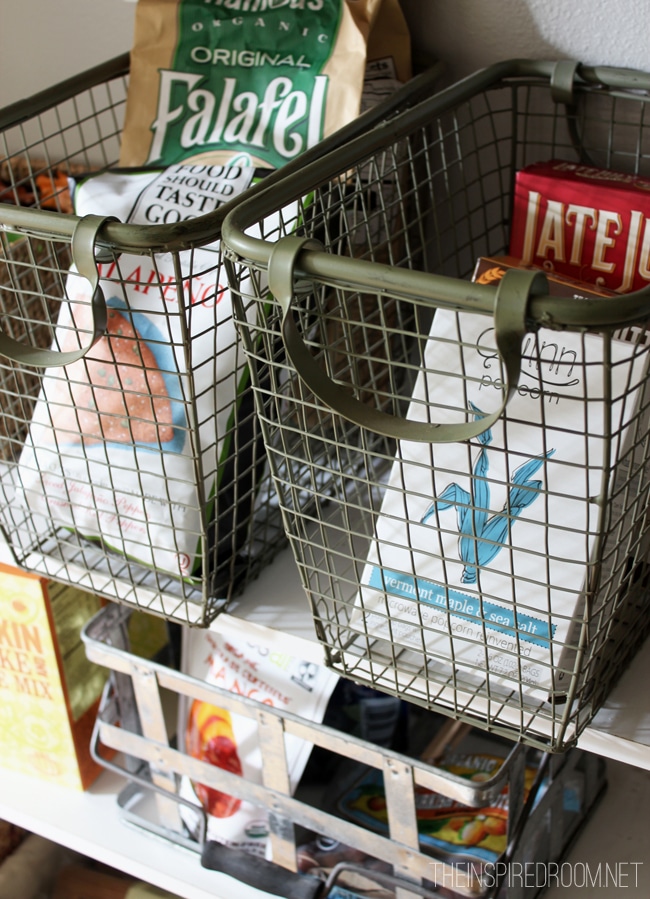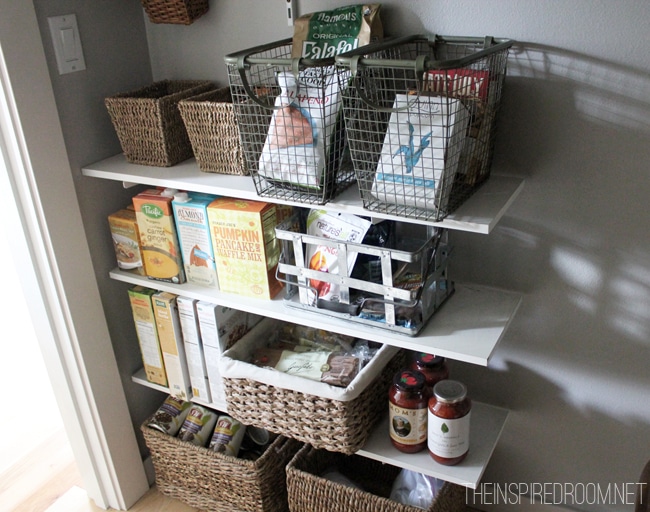 The woven baskets have been found over time, mostly from places like Pier 1, World Market and TJ Maxx. I don't think you can ever have too many baskets like these!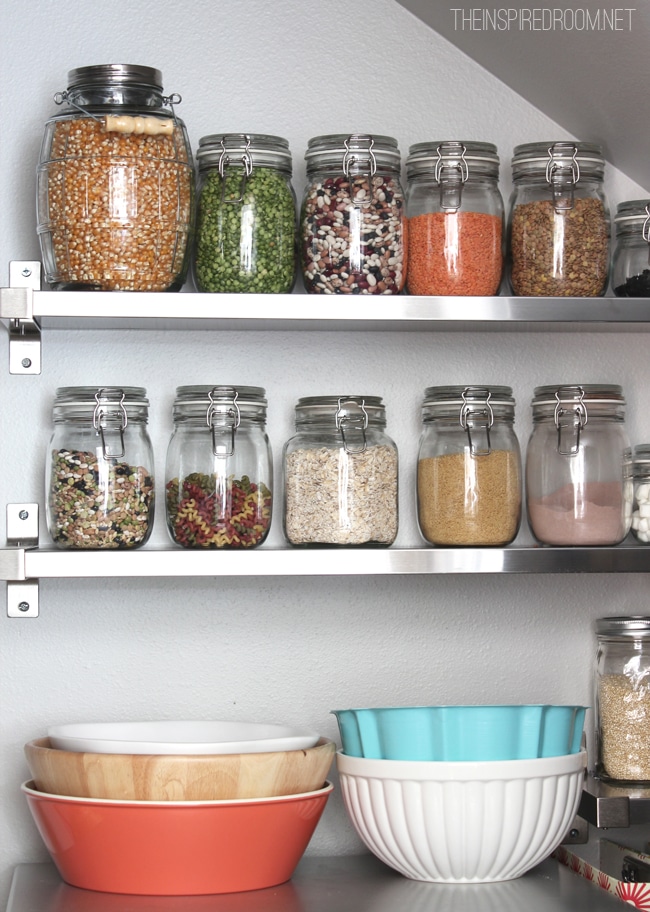 I really love the stainless shelves with the glass jars filled with grains, beans and other assorted items.
As I've mentioned a trillion times before, I enjoy decorating with useful everyday items. I keep my eye out for pretty but affordable dishes that serve more than one purpose (decor and function!). And why hide the pretty white, wood and colorful bowls and bundt pans in a closed cupboard where I would likely lose or forget about them? Might as well show them off where I can see how pretty they are every day! I find most of my affordable bowls and baking dishes at Target or Pier 1 or TJ Maxx.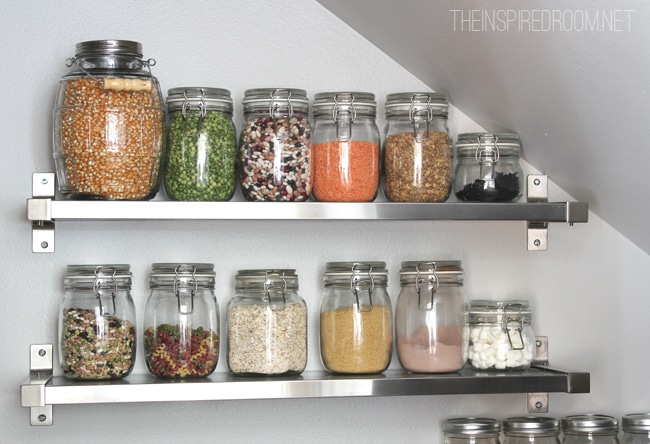 Our pantry and kitchen has a place for everything we need! And, we can see everything quite easily because we have narrow shelves. They not only maximize our floor space but also help so that nothing gets lost or hidden behind other things.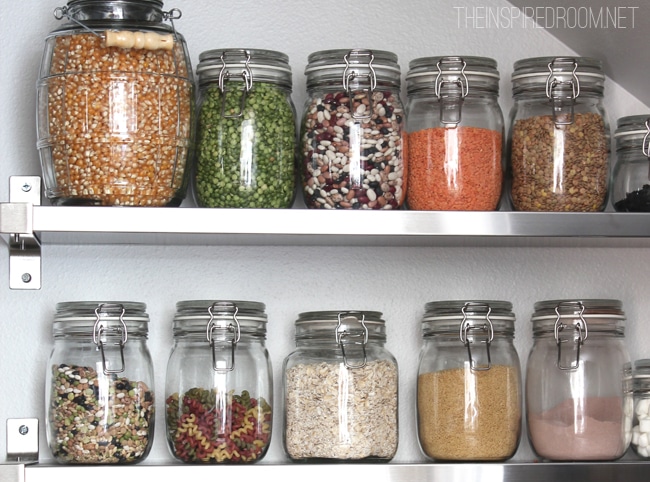 The glass jars with the flip tops and the stainless shelves (as well as all the other wall shelves) came from IKEA.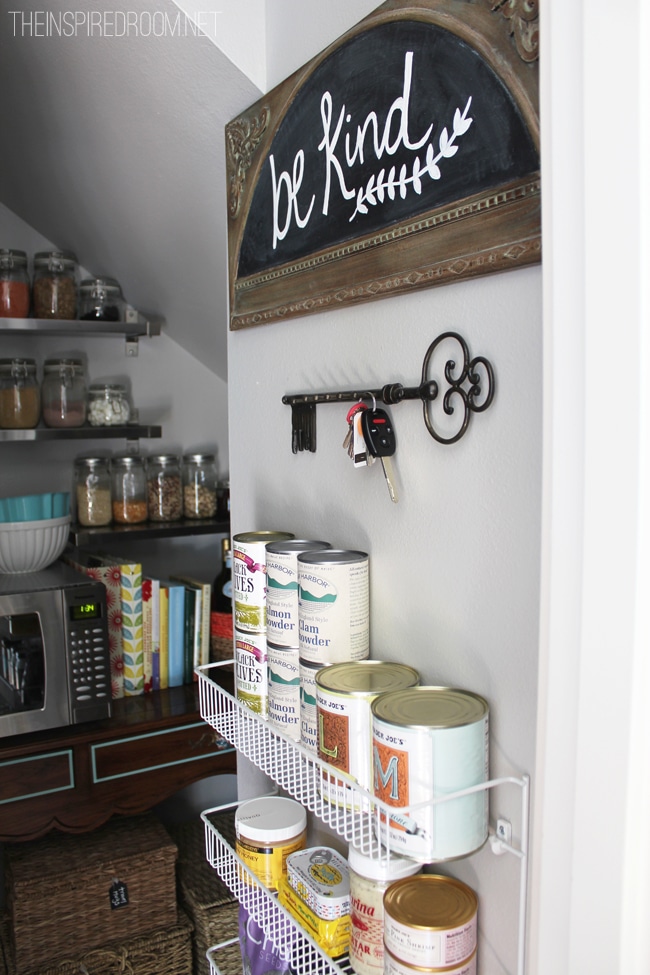 This small wall just as you enter in the pantry is the perfect place for  keeping my keys! No more lost keys! The skeleton key holder is from Anthropologie. The chalkboard sign was a DIY project from ages ago.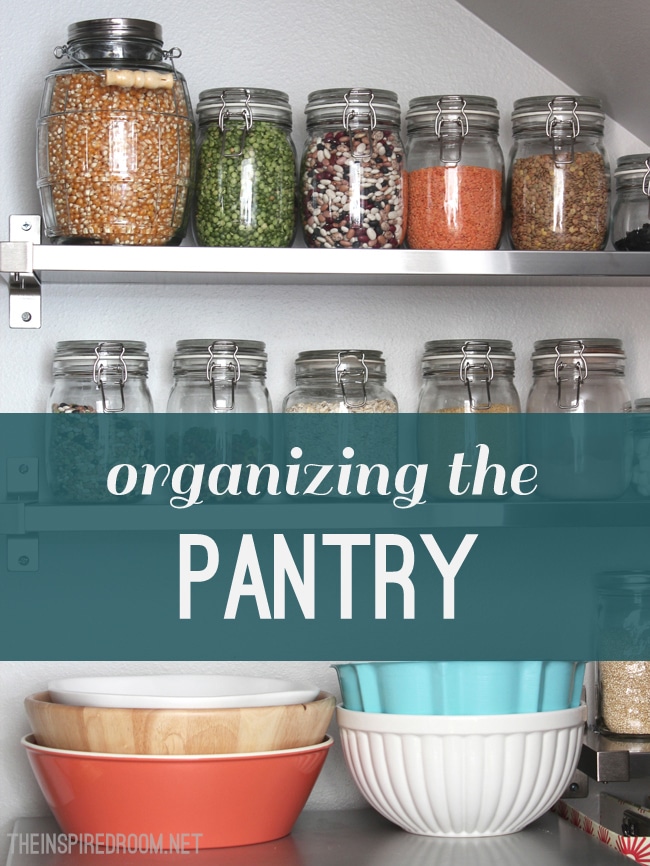 So that is what our pantry looks like!
We LOVE how it turned out and are so pleased with how functional and organized it is! Thanks for stopping by! Be sure to check out the
Kitchen Makeover Reveal
if you haven't seen it yet!