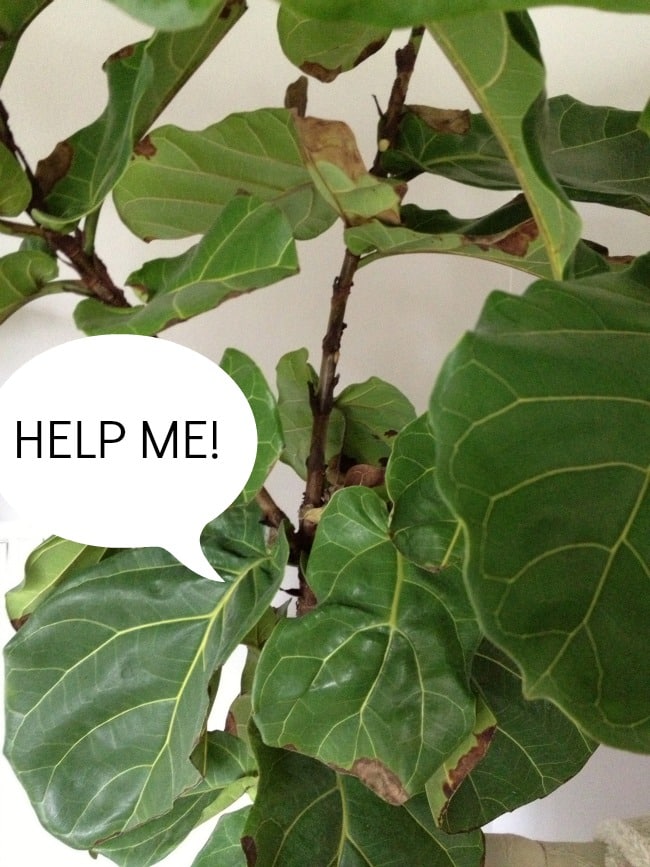 Ok, popping in with a crisis. Pardon my terrible cell phone shot but this is a bit of a plant emergency and I didn't have a chance to take pictures today — so this random one will have to do for now.
Sorry to jolt us all back to ugly reality after that perfect GORGEOUS COTTAGE FARMHOUSE post, haha, but we need to get over it and move on, right? Or, no. I don't want to move ON. I want to move IN. Gah. I might have to repost the pics again later just so we can stare at it some more.
But meanwhile, back in the real world….my PLANT! MY FIDDLE LEAF FIG!
Remember my beautiful fiddle leaf fig?
I mentioned when I posted about it that it had a few brownish edges on the leaves and you all had great advice. I decided I must be overwatering so I cut back.
Wellllll, I thought I was getting the hang of it and the leaves were looking better. It even started getting lots of new bright green leaves! I had visions of it growing bigger and stronger, and then…..
And then, lately there have been MORE brown edges, brownish STEMS and the leaves are DROPPING to the floor.
EEK! I'm killing it!
Help!
Should I move it to more sun? More water?  I have not been overwatering it so that cannot be it. Am I under-watering now? OY, I need help.
Why can I not keep a plant alive when I love them so much? Sigh.
Signed,
Plant Killer