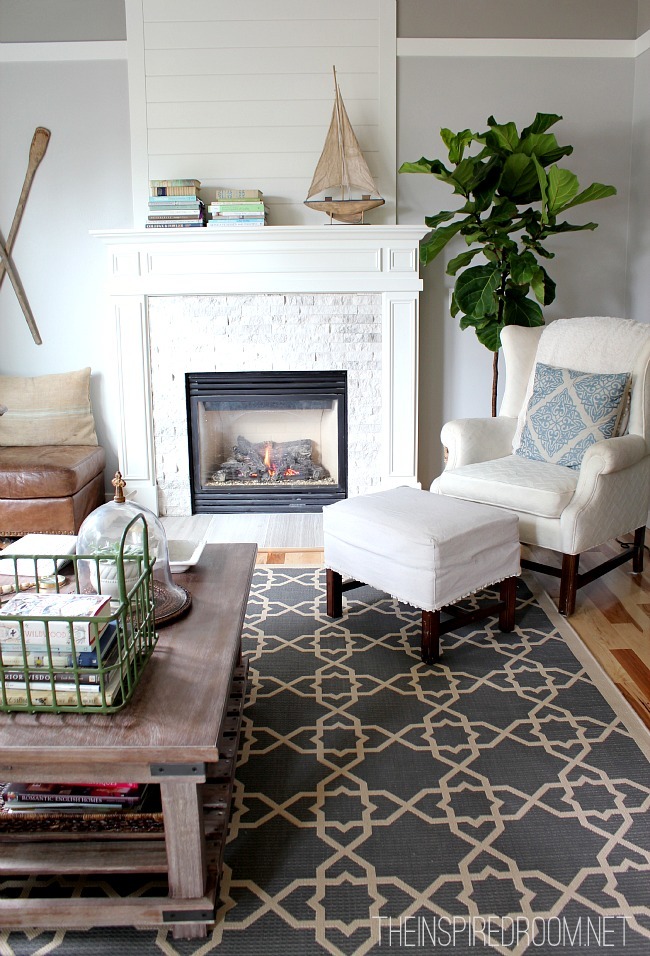 Awhile back I had a Home Depot gift card from a return and I wanted to use it up.  As I wandered around the garden center looking for a little hope of spring I stumbled upon this Fiddle Leaf Fig. While I have no hint of a green thumb whatsoever, I still love having plants around. Both my mom and my grandma always had trees and plants inside and out, so they just feel like home to me!
I really like the large dark green leaves on this tree (the leaves are pruned so it is in a tree shape), they just add a nice pop of green and a sculptural feeling in the room.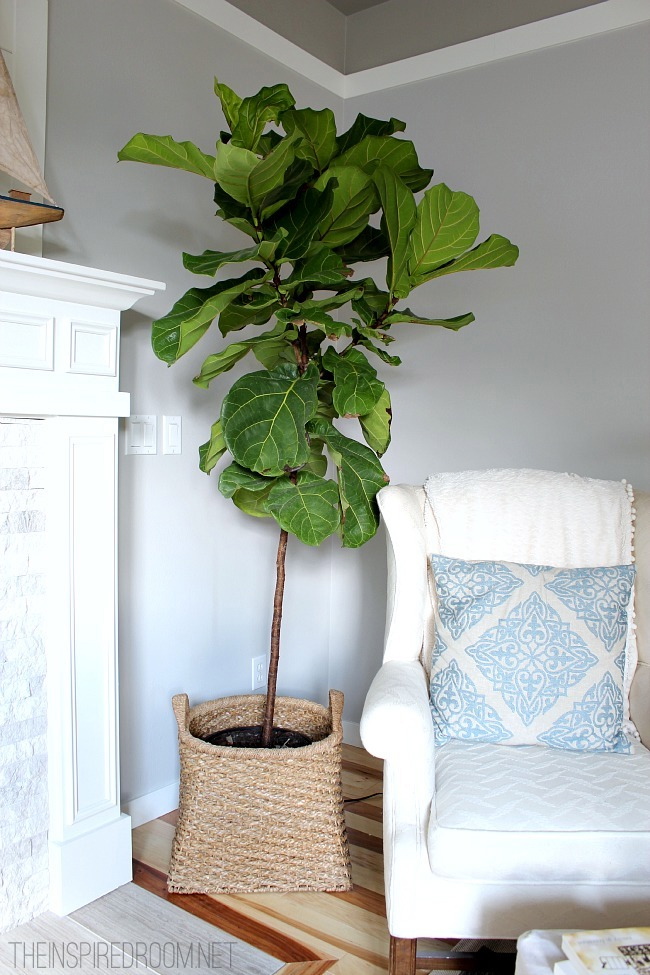 It fit perfectly in the basket we used for our woodland Christmas tree so that works for now. I was thinking of using a cool old pot for it, but don't have one of those handy. I set a disposable roast pan under the plant inside to catch any drips from watering.  I just water it once a week and it seems fine with that. I've only had the tree for maybe two months, but so far it is still alive! YAY! That is good news, right?
It does have a few brownish spots on the edges of some leaves. Not really sure what those mean, but I guess I should find out in case it is something I can fix! Maybe it needs a little more water? Less? I don't know!
I'm not sure how happy the Fiddle Leaf Fig will be here next to the fireplace long term, but since spring is here and the fireplace won't be on quite as much as during the winter, I'm going to give it a try and see what happens! It may end up next to the window in our front room. But I really like how it fills up my otherwise bare corner in the family room.
Here are some other house plants I've added recently: the coffee table plants and the teacup gardens!
Do you know anything about Fiddle Leaf Figs and how to care for them?

Feel free to share any tips or tricks in the comments, I'd love to hear your experience!