Update: my current kitchen remodel
Do you have your own favorite kitchen style? Kitchens are my favorite rooms to study and design. I'm in withdrawal right now since mine is done! HEH! I would love a house of kitchens (um, yeah) so when one kitchen was done, I could go work on another one! That would be fun, I think. I do love the design part of kitchen remodeling.
But since there are no more kitchens at my house to work on (not that I'm really complaining about that, I am thrilled with the one I have and pretty happy to be DONE!), I will gaze at pictures of kitchens to get my fix. That way I will be ready for another kitchen, too, just in case.
Dreaming about kitchens is almost as fun as actually doing one! It got me thinking about the mix of elements she used that made me love it.
What is it about certain kitchens I love so much?
Today I am sharing a few kitchens that caught my eye and will share six tips or observations about why perhaps I loved them all. I think observing rooms you love and studying their finer details is how we can learn to appreciate design and understand our own taste better. It isn't all about having money, it is about having personal taste for a DIY kitchen if you choose to!
Designer Sawyer Berson
I can pass a million kitchens on Pinterest or in a magazine before one really sings to me. I feel like I must be really picky about kitchens, but I've come to learn that I have distinct elements I like, even if they all come together in a unique way. I have refined my taste over the years but even as styles change, some things remain constant for me in design.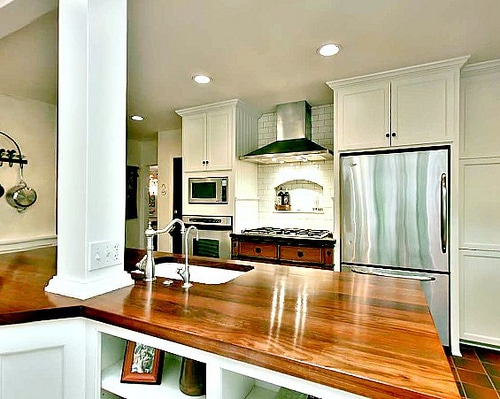 Case in point, I still love my old kitchen (above) as much as the day I designed it maybe eleven long years ago (back in the dark days before blogging and Pinterest!) I agonized over each detail all by myself with a stack of magazines, but I'm SO glad I did.
Accessories might change with time but the room itself would still feel right to me, just like it was back then (even though there were things I didn't get to change due to our budget, like our floors — they were things that could have evolved or been updated later.)
As I study kitchens I love, I try to find some common ground on why they stand out to me above the rest. So I love playing the game of observation when I look at pictures of homes, studying each one to decide what it is I like about them.
The other fun game I play is a 'take away' game after I've gathered a bunch of my favorite room photos together. I wonder if there is any common element or unified principle that I could 'take away' and maybe use on my own home.
I think that is a fun way to do a kitchen. Neither of my kitchen remodels were high end and neither are in similar styles of houses, but I was able to put together the most important elements for both of them that make me happy because I had studied so many pictures of what I loved.
My previous kitchen remodel
I knew what elements mattered to me the most and what were items I could update or change easily to accommodate evolving times and styles. And I was able to stay true to the style I love in a way that complemented the unique style of the house.
Most importantly for my budget, I was able to get a more "high end" feel without the high price tag because I was aware of the vibe I knew loved rather than paying for all expensive elements to accomplish it.
And sometime soon maybe I'll have to do a comparison between my own two kitchens because while they are different, there are commonalities that makes me love them both.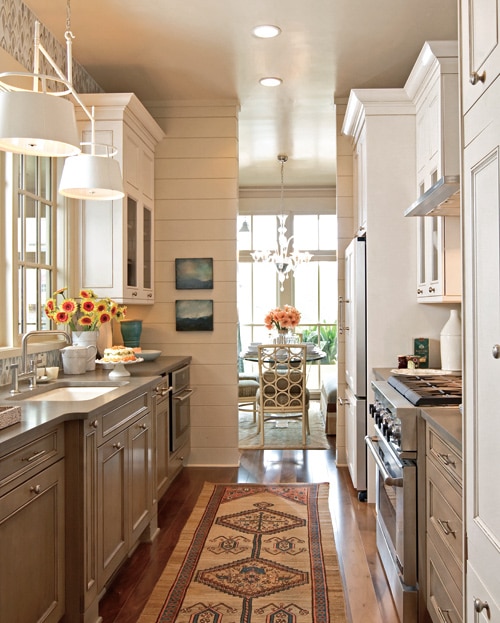 Traditional Home
Sometimes I confuse myself about why I like two different kitchens. Why am I not a stickler about wood counters since I loved them so much in the old kitchen? Why can I absolutely love a kitchen with a funky yellow island and still be happy in an all white more serious kitchen? Why do I pass by some photos of kitchens and not feel my heart leap out of my chest and other ones stop me in my tracks to drool?
Usually if I think about it long enough, I find the common ground that helps me make sense of MY style preferences. I start to look for elements I can love for a lifetime and then secondly, how I could adapt them to blend with the style and existing features of house I have. 
So what are the reasons I love these kitchens?
Finally, I'll answer that question below!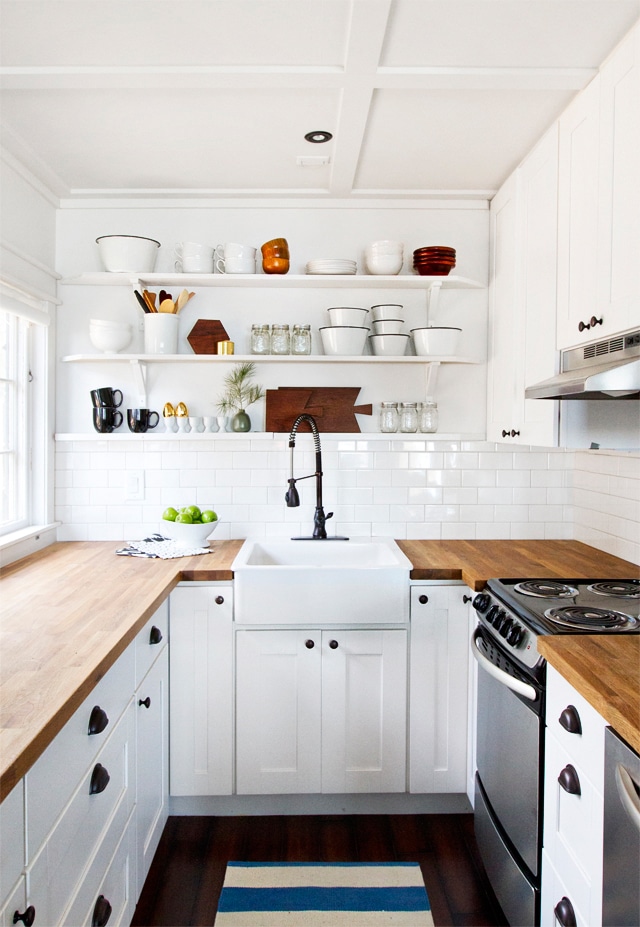 Sarah Sherman Samuel
Here are 6 take away tips about why I love these kitchens.
1. Simple classic details, overly fussy is not my fave.
2. Contrast in color or an abundance of texture for interest.
3. Solid stone or wood counters are all good — simple black, white or gray or wood.
4. Some open shelves or glass doors for every kitchen.
5. Interesting lighting, faucets and/or hardware are a must.
6. Smaller and cozier rather than gigantic open kitchens.
If a kitchen has ALL of those elements, I am more likely to love it.
Did I miss some other common ground?
Even if mine are not your personal favorite elements, you can do this exercise yourself.
Find six or more kitchens that make your heart sing.
Then see if you can find the common thread that makes sense of your style!
How about you?
Do you play these games when you look at design photos?