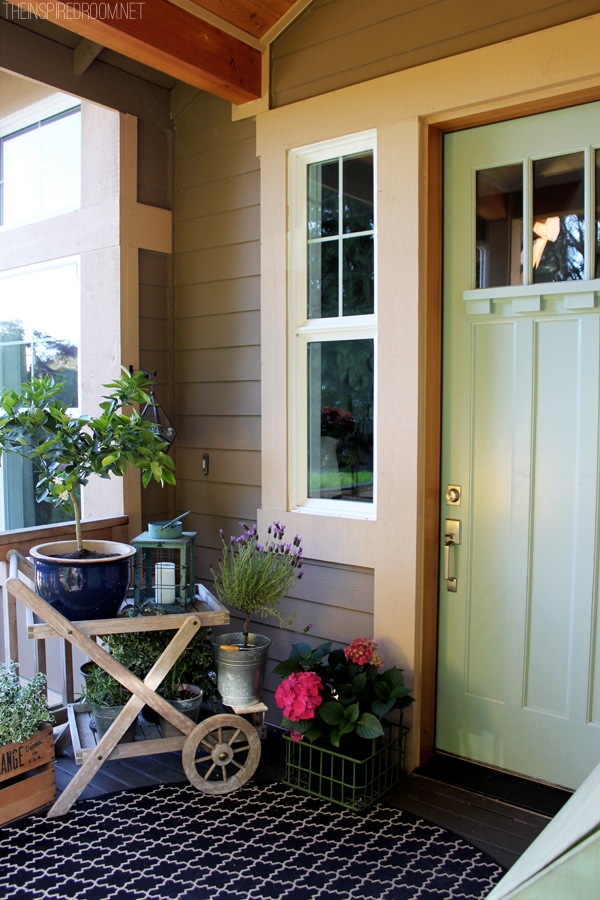 Spring Flowers for the Front Porch
This Saturday I'm hosting a garden party at the Home Depot! If you are in the Seattle area, I hope you'll come by and say hi! I'll be there along with Chef Amy Pennington and Garden Expert Teena Spindler and hopefully my girls, too! And maybe Bella the pup! It should be a lot of fun! I'll be sharing more details on the event later in the post, but first I thought I'd show you a little bit of my front porch. Actually, the only part I've worked on since winter. :-)
One of the things we really liked about our house was the front porch. It has plenty of space for fun accessories and planter boxes.  I love adding seasonal plants near the front door. While I was out at Home Depot picking up the whiskey barrels for my garden in the back I picked up a few plants, too. The pink hydrangeas are so gorgeous! Hydrangeas are one of my most favorite flowers. We had a HUGE blue one at one of my old houses and it was so beautiful and full of flowers the neighbors used to stop by regularly and ask to cut one. We never ran out! I only hope to have plants that big here someday!
I also found the most amazing smelling orange tree. I want to strap it to my nose so I can smell it all day, but the next best thing is to have it right by my front door. I may move it to our backyard for the summer but for now it's on my little teak teacart.
Random side note: One of my favorite attractions at Disney is California Adventure because it smells SO GOOD when you are flying over all the orange orchards (at least that is what I remember, anyway…).
I also brought home that sweet lavender topiary!
One of my happiest places is in a garden store. I'm overwhelmed in the lumber department, but I could spend hours in the garden section.
Do you love browsing the garden section as much as I do? I can't wait for summer!
Ready to get your hands dirty?
Come hang out with me!
Join me at the Issaquah Home Depot this Saturday (6200 E Lake Samammish Pky Issaquah, WA 98029), May 17 from 1-4PM, for the Seattle Garden Party! There will be garden-themed activities and garden-to-table fare with exclusive recipes created by Chef Amy Pennington. Have questions on gardening? An expert Gardeniere Teena Spindler will guide you through an herb container garden project and answer all of your garden questions. It's going to be fun! Hope to see some of you there. RSVP here for the event! #SpringMadeSimple