As I was daydreaming about Fall (blissfully, I might add, heh heh heh) and pondering where to start with my little fun Fall series, 21 Days of Loving Fall. I kept trying to think of the perfect way to start the series. But I kept getting stalled. How does one START Fall? For the love. I thought about ALL THE THINGS I could do for Day 1. I was simply trying to come up with the most inspiring perfect activity or project I could to do to kick things off. I mean, I did the Fall house tour (thanks y'all for coming by and your sweet words, seriously, you are all the nicest!) and you'd think that was STARTING Fall off with a bang, but no.  A house tour wasn't IT. That isn't how I start Fall.
Then it became clear to me why I couldn't figure it out.
Fall isn't something you DO.
I can't START Fall with a bang.
Fall is something you EXPERIENCE, it's a gentle rhythm you get into at home, like the season that unfolds one yellow falling leaf at a time.
So, that's where we begin. We take a little step forward toward a new comfortable rhythm at home. Maybe it's simply slowing down to create an intentional and comfortable rhythm of rest, work, and play. Perhaps new rhythms of eating and cooking in the kitchen. Maybe it's establishing a rhythm of regularly organizing spaces that have spiraled out of control in the heat of the summer. Or finding a new passion for decluttering the things we no longer want to manage at home. Or perhaps it's rearranging what we have to make the most of our space. Or even a new rhythm of pursuing the finishing details in a room to make our home feel more complete and peaceful.
That's what I most love about Fall. I love embracing or reviving rhythms that make our house our home.
So today I took an hour to simply just be present at home. To look around at the current condition of my home and the areas that had quietly fallen into disarray when I wasn't paying attention. There was no agenda. No pressure. No expectations of instant transformation. I just puttered around, organized shelves and put some things away. I didn't do it for the blog, it wasn't for a big upcoming project. I just enjoyed returning to a peaceful rhythm of nesting, because that is what Fall is all about!
What Fall nesting rituals are you enjoying this week?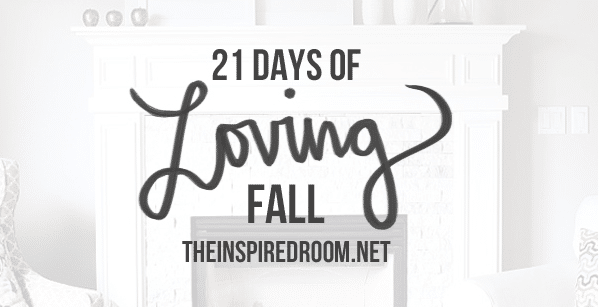 This is a special periodic series running through October and November! See Day Two here!