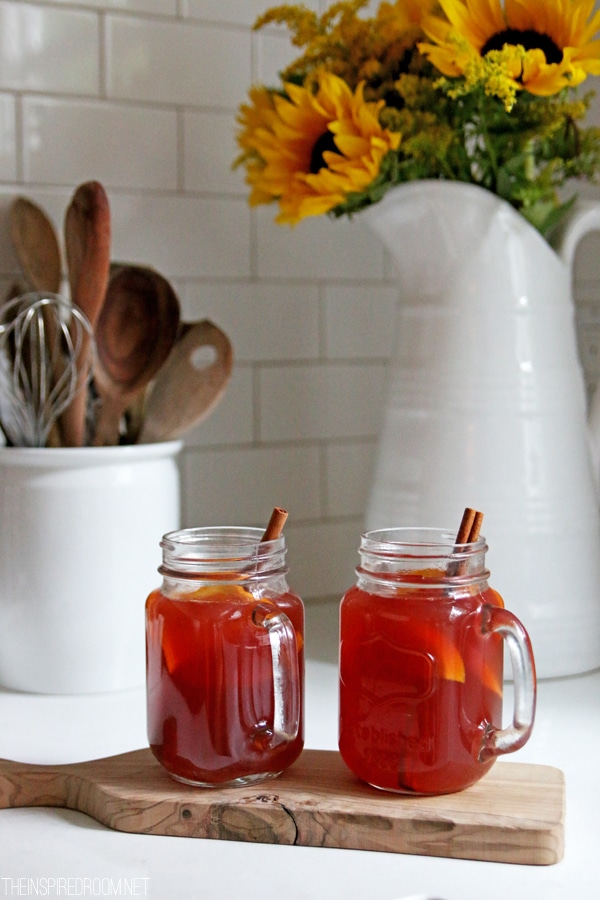 Hey Friends! I'm so glad we are all back after the little email fiasco where 20,000 emails went MIA every day for a couple of weeks. Sheesh. Let's hope we can all stick together from now on! We'll see how it goes this week with the emails if you are a subscriber. I have lots of Christmas decor posts in the works (I'm SO excited about Christmas this year!) and my laundry room update coming up (it turned out pretty cute!)! I don't want anyone thinking I'm being a Scrooge and hibernating from the blog world so just remember, I'm STILL HERE at The Inspired Room even if my emails get lost in cyberspace!
So, this is my GO TO fall and winter delicious hot drink recipe. It's a mulled cranberry apple cider! Sound good? IT IS! We made it this weekend, it was SO COLD around here. Not sure what's up with our temperatures here in the NW, but it was FREEZING.  But while I don't like cold, the good news is it made us all the more in a festive fall mood.
Not only will this drink warm your tummy, delight your taste buds and make you feel all fall-cozy as you sip it, but it will make your home smell DIVINE. I make this every time we have a fall or winter party, and even just for US. It's such a treat!
Here is what you need to make my favorite hot spiced cranberry apple cider:
8 cups of cranberry juice (not cocktail, just cranberry juice)
8 cups of good apple cider (get it fresh from the farm if you can)
2-4 T brown sugar
4 cinnamon sticks
Allspice (I just put a pinch in)
8 whole cloves
Slices of orange
In a large pot, combine the cranberry juice and apple cider. Stir in brown sugar. Add cinnamon sticks, allspice, cloves and orange. Heat until it almost boils and then reduce it to simmer. You can taste it and if it needs a little more sugar or whatever you can add to it.
Strain out your cloves and cinnamon sticks before you serve.
Now … for the best part.
Grab a pretty mug.
Pour yourself a cup of cider.
Sit in a comfy chair next to the fire.
Inhale and exhale deeply.
Sip slowly.
Relax and enjoy! And maybe make some while you do your Christmas decorating? If you need a little Christmas inspiration, you can find my Christmas house tour from last year here and my Christmas decorating gallery here.
Grab your copy of my book, Simple Gatherings at Amazon or Barnes & Noble!
Welcoming loved ones into your home doesn't have to be intimidating when you discover your authentic hosting style, focus on what guests remember most and celebrate people as the centerpiece of any gathering. You can check perfection and intimidation at the door because this book isn't hosting a Pinterest-worthy party…Simple Gatherings is about creating an experience that will draw people together.