While I was on my little working vacation last week, my daughter Courtney and I had a momentary lull in the activity so we decided to drive around one of our favorite Seattle neighborhoods, Queen Anne, on our way to the next event. Queen Anne is really great community full of beautiful houses! Some areas in the neighborhood have amazing views of the Space Needle or look out over the water so as you can imagine with views like that, many of the homes are really spectacular.
Courtney is claiming the one above.
I'm kind of partial to the unpretentious picket fence on this one.
While some of the houses are really stately, they are also very charming, too.
It's an especially fun neighborhood to walk in on a beautiful day, but this time since we were kind of in a hurry and just passing through the neighborhood, we stayed in the car for a true "drive-by" experience. I wish I had been able to stay longer to take more photos because there are so many beautiful homes, but I'll go back again next chance I get and even take some close ups. You all know how I love to climb over fences and crawl under the bushes to give you a closer look. :)
Even from the car window you can tell there are a lot of gorgeous homes here. Every few houses we would stop right in the middle of the road and gasp! I mean. Honestly. I wouldn't be mad to live in any of them, but for a couple of million dollars I think the chances are slim. Ok, more like no chance. Well, maybe if we all go in on one together we could make it happen?
You don't see palm trees very often here in the NW. Kind of makes you feel like you are on a tropical island, no? Nope. We are still here in Seattle.
This time of year it's especially fun to look at all the pretty yards. A lot of the houses have really nice landscaping.
This house has always been one of my favorites, I think I might have show it in a past drive-by. Maybe someday the owners will invite me in so I don't have to just stand outside the gates looking in.
Do tell me. Do you brake for charming houses in your community? Feel free to snap some drive-by house pics and share them with us on Home Love Stories! I'd love to see your neck of the woods!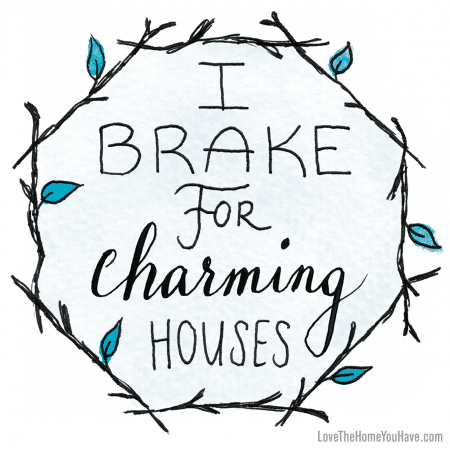 Related Posts:
Seattle/Magnolia Neighborhood Drive-By Part 1 and Part 2
See my past drive-by's here!
Have you read my book, Love the Home You Have? If you have, snap a photo for Instagram and tag me using the hashtag #lovethehomeyouhave! I love hearing from all of you!