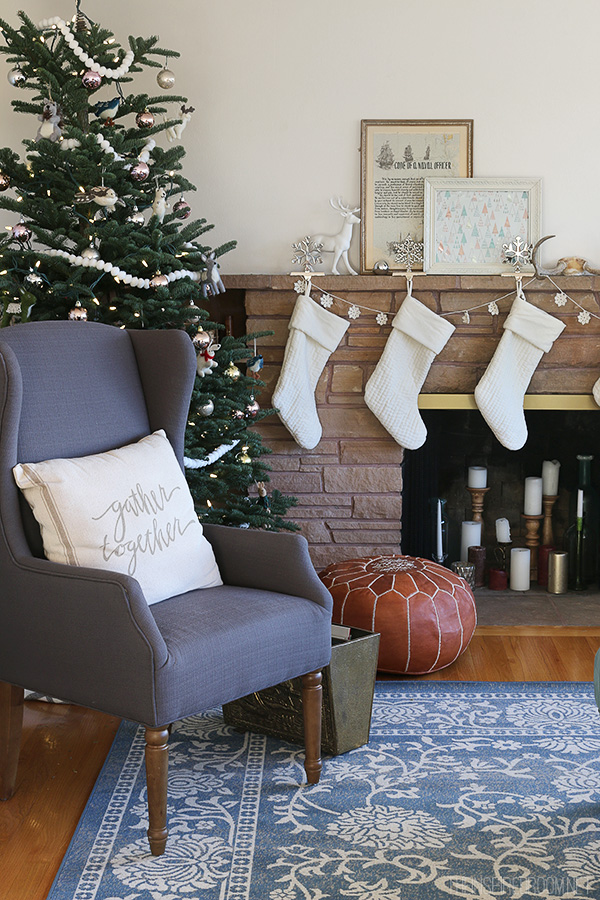 Hey friends! A little over three months ago we moved into this house here in Seattle. We are really happy to be here! Right as we were moving, I began writing and finished writing a new book (due out this spring!), prepared to launch my coffee table book (The Inspired Room) and as I mentioned in one of my last posts, since then I traveled back and forth the country three times! All fun stuff I really enjoyed, but it definitely didn't leave me much time for thinking about, let alone working on, our house.
In the last week or two my schedule started to slow down a wee bit (yay) and I am finally feeling like I can begin focusing more on things like how to arrange furniture in my house, paint colors and considering things like window blinds and all the details that will make us feel really at home here.
Thanksgiving week we painted our hallway and entry (still need to paint the cabinets and trim, though) and then we moved on to paint our bedroom. I'll have updates on those spaces in the coming weeks, but today I thought I would give you a little update on our living room! When you last saw this room, it was just exactly as it was when we moved in. We literally didn't move a thing until now, ha! But this last week I finally took a good look at the space and decided to try something and rearrange the furniture, which led to me buying a new rug. :) The 8×11 size we ordered made a big impact for under $300. I got the rug here (which seems to be sold out, but it's available now on Overstock!!
Nothing else has been updated or changed in this room, I just added the rug and changed the furniture arrangement (plus moved our "entertaining cabinet" to the entry and our gold dresser from the bedroom to the living room, and of course, added a wee bit of Christmas!).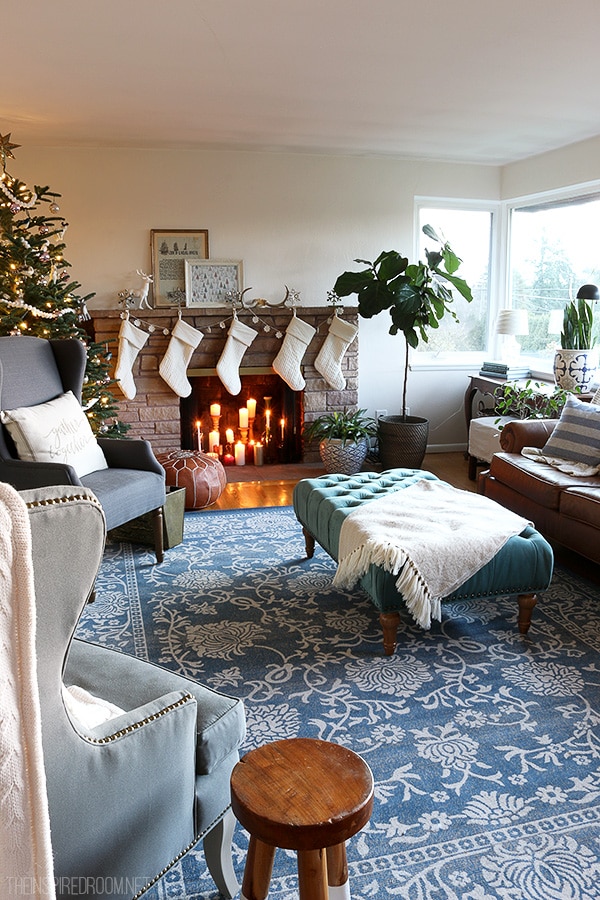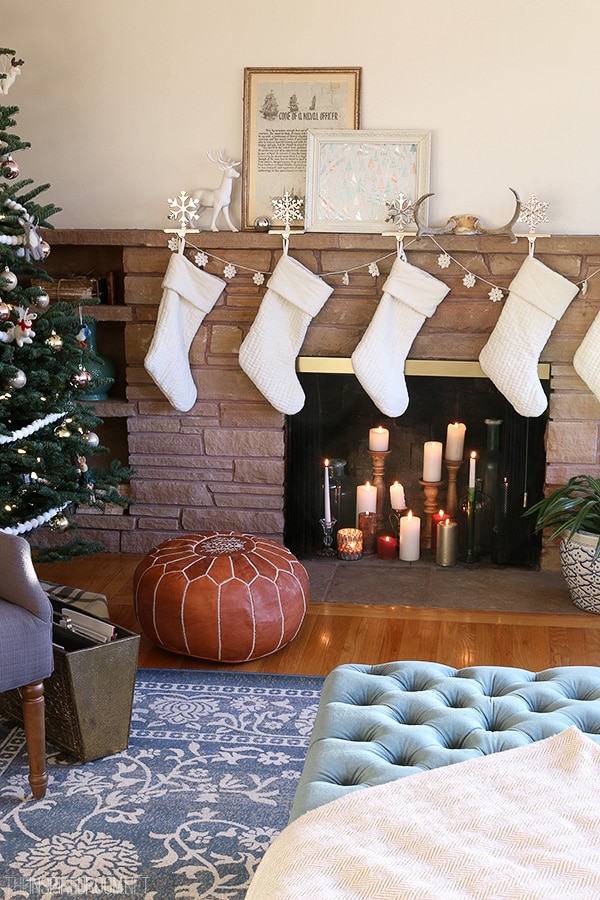 Even though there are plenty of things that we can and plan to do with this space, I already love it so much more than I did! I love that the room is inviting, happy, light-filled and cozy. Now it's a really welcoming space that draws you in to enjoy both the wide open view out the windows and cozy nights curled by the fire. I know each new addition or change to this space will enhance it even more, but I'm also just really pleased with how it feels in here already, which is great because we have so many other projects in this house that need our attention.
Most importantly, I'm thrilled with this room now because I am so looking forward to time with my family over the holidays. Working on a house can cause so much disarray, it is a relief to have one room that feels pulled together enough to really relax and enjoy it.
While we keep our Christmas decor pretty simple (did you see our wreaths in the entry and dining room?), I also have a thing about wanting to keep the magical feel of Christmas alive. When you are moving or under stress in life or just plain ol' busy, it's natural to just want to simplify and cut back on extra things you feel obligated to do. Christmas decorating can be one of those things you just don't feel like doing, at least I tend to start feeling that way!
But one thing that I've always felt was important is to really remember what Christmas feels like through the eyes of children. It's magical. It's beautiful with the sparkling lights. It is so special to them when we pull out those humble decorations that evoke such great memories from years past. I don't want to forget that feeling, and I don't want my son or girls to forget it either. Our boy is our youngest (even though he's actually taller than everyone else in our family now) in the house and I'm telling ya, knowing we are just a few years away from an empty nest does something to my heart I cannot explain. I'm wanting to savor each season because they do fly by so quickly!
In spite of my effort over the years to simplify our life and home, I also want to keep the traditions, the sparkle and the child-like wonder of Christmas alive in whatever way I can each year. Whether its cutting down our own tree because we have so many memories of that tradition, or focusing on other special experiences we can have with our family, it feels good to be intentional on what matters to us.
When our kids were little, we always used to set up these little villages (we were given TONS of these years ago!) but when we moved to our last house, we stopped bringing them out because I felt like we didn't really have a great place for them and I felt like they just took up so much room. This year I had a change of heart about those houses. I set up some of our favorites right here in the living room where we can all slow down to admire them and remember what it was like to be a kid. :)
Thank you for following along on our journey and move this year, I'm really excited to be able to share our progress with you each step of the way!
Sources:
Find my furniture and accessories in my shop or with the list below!
Blue and white rug // Leather loveseat // Teal tufted ottoman // Birch lit tree (another similar option here) // White velvet stockings // Glass cabinet // Wood mirror above glass cabinet // Dipped wood stool // Gold dresser // Joy to the world canvas // Gray nailhead wingback chair // Cable knit ivory throw blanket // "Gather Together" pillow // Blue, white, and brass swirl lamps // Basket/side table by leather loveseat // Leather pouf (similar)
Shop Christmas decor I love: