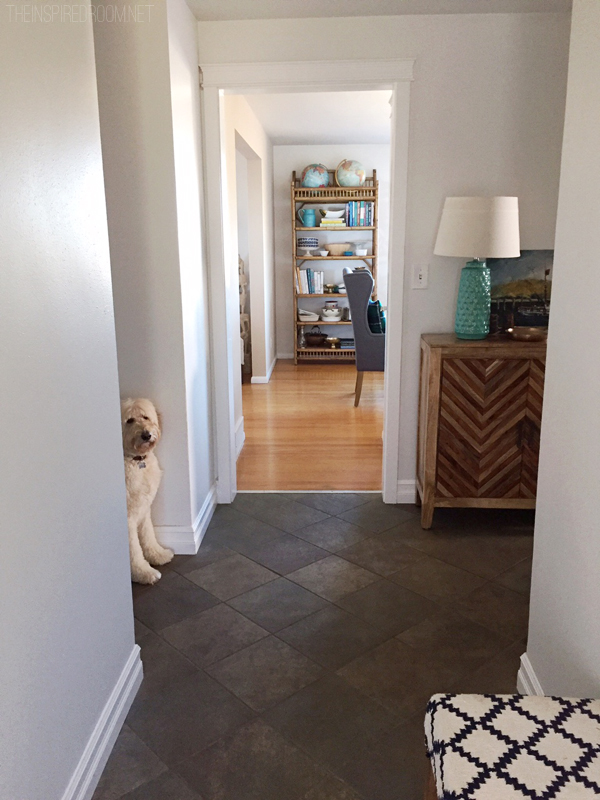 So in September, I showed you our entry hall. If you missed it, you can find the post here. I've mentioned a couple of times that the entry hall is connected to another hall, but I don't think I've actually showed that part yet so I thought today I'd give you a little peek (although all I have is our before photos and a few cell phone pictures of the painting progress since we were enjoying Thanksgiving and I didn't think to get out my camera until it was too late!). The entry hallway flows right into this hallway below where you can find the bedrooms, office and bathroom. Ultimately it leads to the kitchen and the stairway to the basement.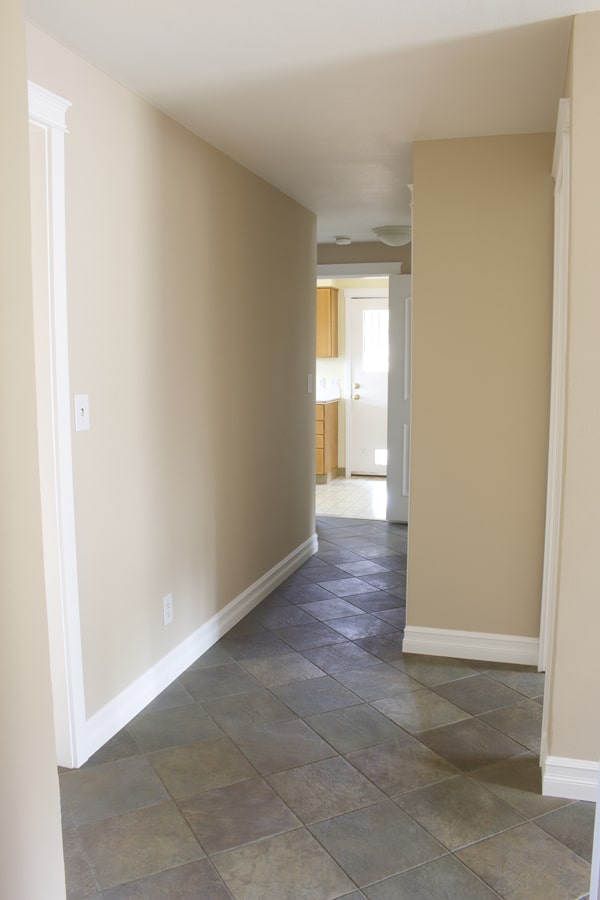 On the plus side, the hallway has nice gray slate floors. And the fact that we have a hallway like this at all is great! It's going to be so fun to add hooks and art and just make this a charming part of the house. I love hallways. :)
The color of the walls when we moved in a couple of months ago was unfortunately very swine-esque, or as my daughter called it, perhaps a bit more like "hog." That color sucks the light and joy right out of living (for me) so I've been DYING to change it. While our big goal is to cover the hall in white planking, a good first step was a fresh coat of paint.
progress
progress while painting
That day finally came last week when we got the first coat of paint up! I am slow, I know, but I feel like we are finally getting on a roll with our ideas and have the time now to start making some progress. We chose the color Swan White by Glidden, the same color as Kylee and Courtney's townhouse entry.
Once the hallway was painted white, it instantly felt so much better! I kept telling my husband I could hardly believe the improvement even just with the paint. My pictures don't do it justice with the lighting and poor quality, but it feels so much brighter, cleaner, and much more like home to me. I love the contrast between the slate and the white walls.
before
Even though we still have a second coat to paint and some touch-ups, I tried moving our "entertaining" cabinet (which was previously set in the living room of this house) to the wall directly opposite the front door just to see what the hall will look like with furniture. I loved it right away. The wood brings in warmth as well as is a perfect tie in to the flooring change into the dining room.
This hallway has a couple of built-ins, which is great. Our vision for the hall for now is just fresh paint, the white planking as a next step, and then a bigger project such as eventually removing the cabinets to allow more space in the entry (if the slate floors go under the built-ins) or upgrading them to better quality built ins or bookcases, or possibly even altering this whole area in order to fit in a new hall powder room and opening up the basement staircase :). I love this little hallway, below, and it gives me a vision for something similar for ours.
before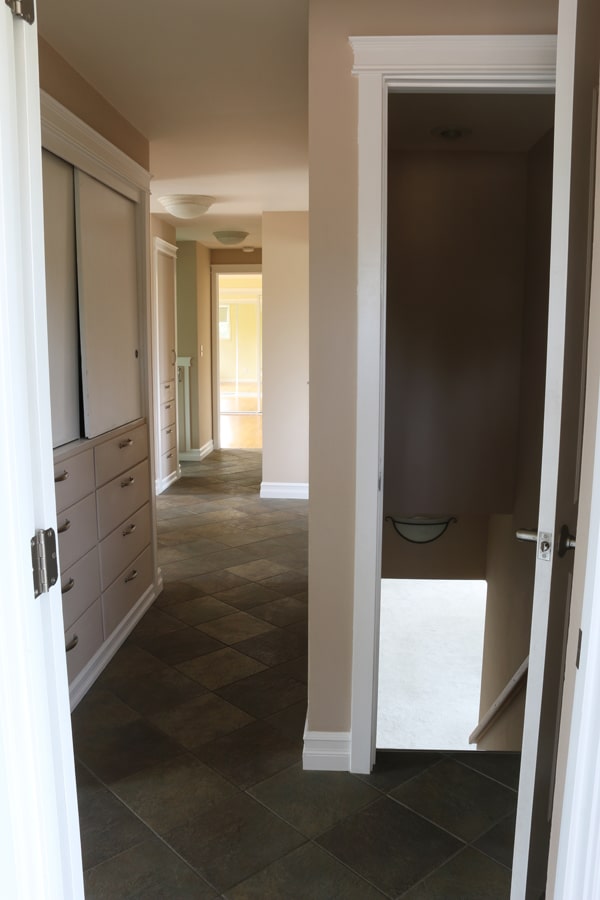 before
We also are considering painting our bedroom doors darker in the hallway similar to what we did in our old house with our front door (inspiration photo below), but we are for sure getting new hardware, perhaps in a finish like black iron.
before
The master bedroom is at the end of the hallway opposite the kitchen, which we are also starting to paint, I'll update as soon as we get the paint on the wall! My husband has been prepping it so he can start painting today!
As I mentioned in our master bedroom post, our intention is to figure out how to add a new door (likely a sliding type door) to the master, between the entry and the bedroom, to create more of a master suite with a bathroom connected to it.
No matter what we end up doing, the new paint will help us to feel more at home here in the meantime and give us a nice clean "slate" to work with.
Next in this space we will be changing the ceiling light fixtures to give the hallway a little more style and personality and adding hooks to make it all a more functional space. We've missed the hooks from our former entry so much, I am more excited about hooks than almost any of the other changes right now. Ha!
Thanks for following along, I'm pretty excited about making progress in my house this winter!
. . . . . . . .
PS. There's an awesome sale (below) on a really great gift my family is getting this year. I think EVERY family should get one this Christmas. I've been searching for something like it for our home for awhile and I LOVE the features this one offers! I'm really excited about it. This device and app allows you to control the internet for your family and manage how your internet and connected devices are used through filters and time limits. Very cool, right?
Every family needs this in their home.
Don't believe me? Watch this video clip and you'll be sold too.

It's on sale, TODAY ONLY, so it is a great time to give it a try or give one as a gift!  You can get yours here.