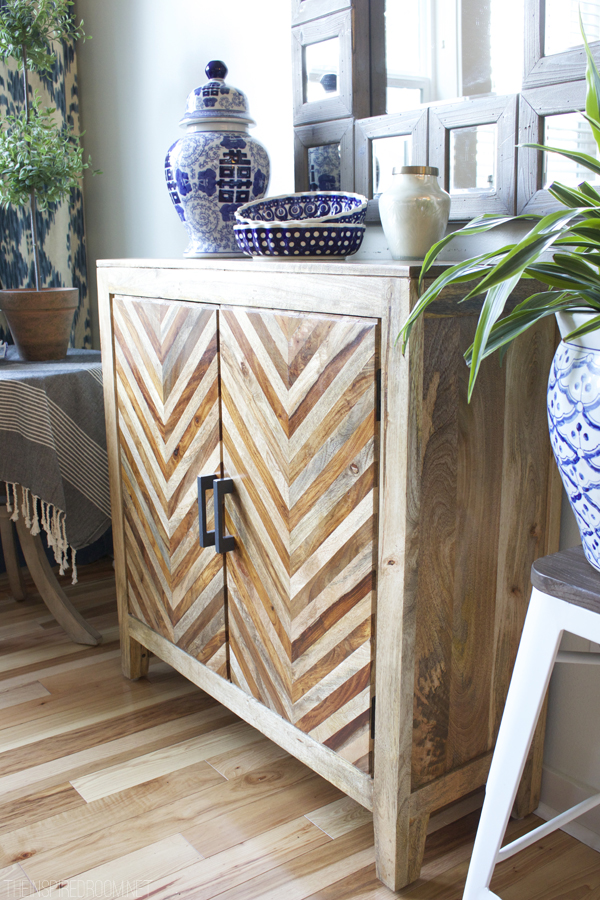 One of my goals every fall is to get more organized in hopes of more fully enjoying the holiday season. I usually get on a decluttering rampage and crave more order all over the house before I can even *think* about Christmas! Way back in January of this year I set a few organizational goals for our house. The idea was to consider each room and how I could create more functional and attractive storage all through the house, whether it was through adding new free standing cabinets, built ins or simply reorganizing and beautifying closets or cabinets.
I wasn't sure exactly how all that new storage or better organization would come about, I just knew I wanted every room to feel cozier with just the right furniture. I was determined to make the most of the space I have. I've kept this goal in mind all year as I window shopped, always keeping an eye out for what I might be able to use in various rooms in my house.
My dream for our dining room has been to be really organized with hospitality items like cloth napkins and napkin rings, candles, drink charms, serving items and things like that for entertaining. But with a pretty small space, it took some patience and thought! I love the idea of having several designated storage pieces for specific purposes, rather than cramming everything into the kitchen in too high to reach or overstuffed cabinets. I love to have breathing room and to have everything easily accessible. There is no reason why every room can't have functional storage.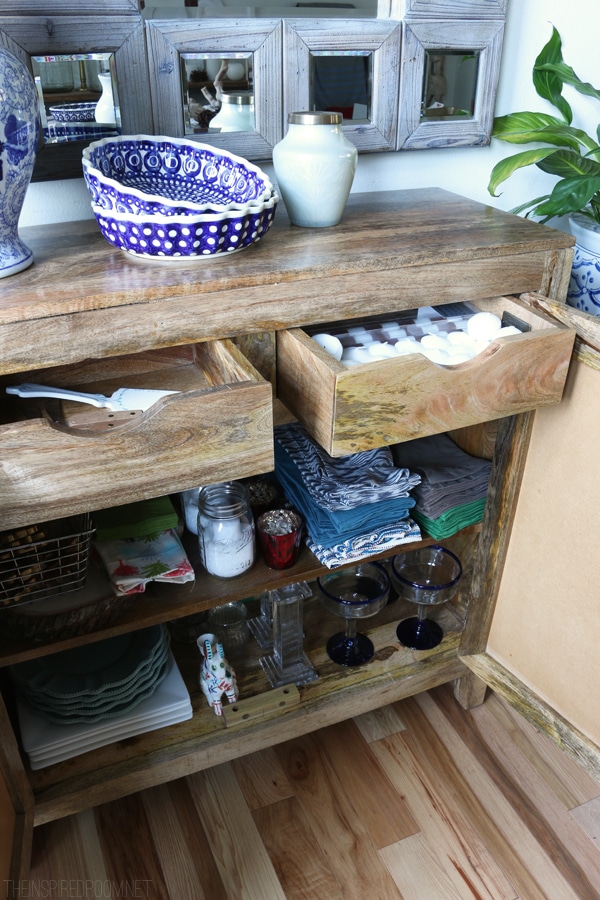 While I have found other creative spots around the house to keep things I use for the dining room (the dresser in our entry, for instance), recently I was able to find an additional couple of small scale cabinets that could fit right in my dining room and yet would still leave plenty of room for sitting around the table. I wasn't sure I would ever find the right pieces because our dining room is so small and it can feel too cramped so easily!
I was also picky about what I was looking for. Earlier this year I had ruled out just about every buffet and console table I had ever seen because most of them were too deep or felt too bulky for our dining room. I finally decided I was happy just using our rolling cart for a serving surface because it is a little more airy.
But for the other side of the dining room on the shorter wall, I imagined squeezing in something really shallow but also something very sturdy and easy to get into. There is very little space leftover after you sit in the chairs at the table and I didn't have to wrestle with drawers that didn't open easily, or risk injuring a guest if I had to tug open a cabinet in a tight squeeze, or anything else that cause frustration in a small space :).
I think if you live in a small house or just happen to have small rooms, it's good to consider your emotional health and tolerance for frustration when buying furniture (heheh.) When difficult to manage storage collides with people and small spaces, things could get ugly.
When I was buzzing through a few shops, I stopped in my tracks and did a double take when I saw this small stylish rustic handcrafted cabinet (I used my designer discount. You can find it here). It was not only a striking piece of furniture, it was the perfect size for our small dining room wall. I loved the gorgeous wood tones in a beautiful patterned mix of gray and neutral that I knew would beautifully complement our Hickory flooring.
When I opened the cabinet doors, I was THRILLED. Not only was it shallow, but it was the sturdiest cabinet I had seen in awhile. It had ample space inside on the shelves and two drawers for whatever I might want to store in it. It also seemed like a very versatile piece that could be useful in a variety of rooms. It's always nice to have flexible pieces so you can rearrange your house or move and still use what you have.
I haven't yet decided everything I will store in it, but I'm really excited to have another place to get organized for hospitality!
I can't wait to get even more organized in the coming months and decide what will go where. I have made quite a bit of progress this year in creating functional storage for each room on our main floor, so now I can start to come up with a plan for what is best suited to keep in each space.
You can see how the house has been coming together all year long as we have added an eclectic variety of storage pieces (everything from flea market finds to Restoration Hardware cabinets!) to each room of the main floor: the flea market entry dresser here, the gathering room cabinet in this post, and the new family room cabinet here and the new office furniture and repurposed secretary desk and hutch here and the second hand rattan shelving here.
I haven't yet styled the wall or rehung the mirror since I just brought the cabinet home this week, but it sure is fun to have something new to organize and enjoy! And it's always fun to have a few new surfaces for some of my favorite things :).
This other small rustic cabinet I picked up at HomeGoods over the summer sits in a formerly unused corner of the dining room. It is currently holding our napkin rings, chalkboard labels, place card holders, wine charms and wine glasses.
Both of the new cabinets are really shallow and fit perfectly, which makes them useful without taking up excessive amounts of floor space. It's amazing how much useful storage you can tuck into a small room if you can find the right scale of furniture for the space.
I am finally feeling like my main floor is coming together with practical and useful furniture in every room. I'm excited to have this new piece just in time for fall and Thanksgiving entertaining!
Do you have room for a china cabinet or buffet in your dining room? Or where do you store your entertaining supplies?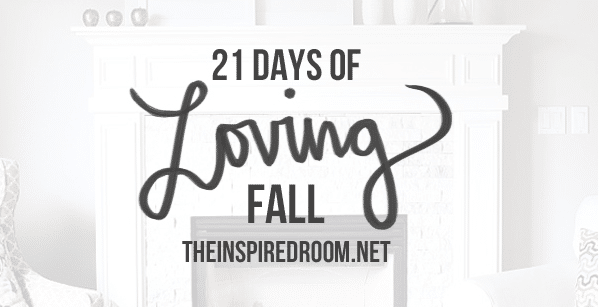 Catch up on the Loving Fall Series: Intro, Day One: Getting In the Rhythm, Day Two: Quiet, Day Three: Cozy Imperfections, Day Four: Rust, Coral, and Orange Fall Inspired Rooms, Day Five: Fall Nights by the Fire, Day Six: Candlelight, Day Seven: Turkish Towels, Day Eight: Fall Traditions with the Pups, Day Nine: Settling In, Day Ten: Displaying Small Trinkets and Treasures, Day Eleven: Christmas Dreaming