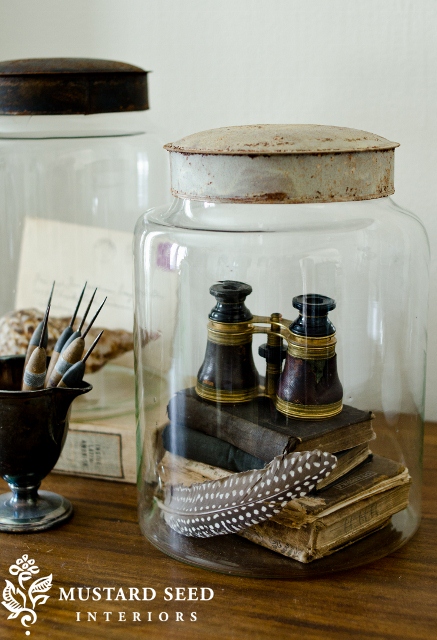 via Miss Mustard Seed
I love the fall ritual of putting away all those lingering summery (or unnecessary) accessories and bringing out special favorites for this season. I've been doing a lot of fall nesting around my house this weekend, and I can't wait to show you some new updates! Little by little, my home continues to evolve towards a cozier fall and winter feel. And if I dare I say it, I've even started preparing for Christmas. I know, it might seem early. But, I'm loving it!
Tip: As you are nesting, find a few new creative ways to display and group together some of your more fall-ish /wintery or holiday favorites.
These jars from Miss Mustard Seed (above) are so cute (they remind me of my glass lamps so I'm totally going to try this idea!). They really help the accessories tell a wonderful and intriguing story, my FAVORITE kind of decorating! This idea is perfect for people like me who might have a little phobia about too many little cluttery things sitting around and covering every surface. I love ideas for how to corral, contain and show things off in a creative way.
Happy fall nesting!
For my ponderings on good and bad "stuff" in your house, see my re-posted article on (in)courage, called: Issues with Stuff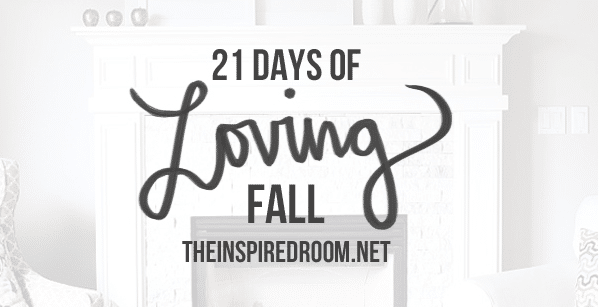 Catch up on the Loving Fall Series: Intro, Day One: Getting In the Rhythm, Day Two: Quiet, Day Three: Cozy Imperfections, Day Four: Rust, Coral, and Orange Fall Inspired Rooms, Day Five: Fall Nights by the Fire, Day Six: Candlelight, Day Seven: Turkish Towels, Day Eight: Fall Traditions with the Pups, Day Nine: Settling In