Greetings. I am FINALLY on the mend after the plague known around our house as the flu. I don't think I've ever been sick so many days in a row. Awful. I thought maybe I would never blog again. I lost all my energy and motivation to do anything. But, somehow I pulled through to blog another day and as of today, I'm officially BAAACCCKKKK!!! YAHOO!
Can I admit something? Come a little closer, cause this is embarrassing. I still have most of my Christmas decor up. I KNOW! What blogger still has CHRISTMAS decor up mid-January? Sheesh. ME. I do.  Until today I didn't even have the desire to take it down.  You KNOW I'm sick when I don't want to do anything but take naps. I'm NOT a nap girl. But, those days are behind me now and I'm taking Christmas down as we speak! This is happening.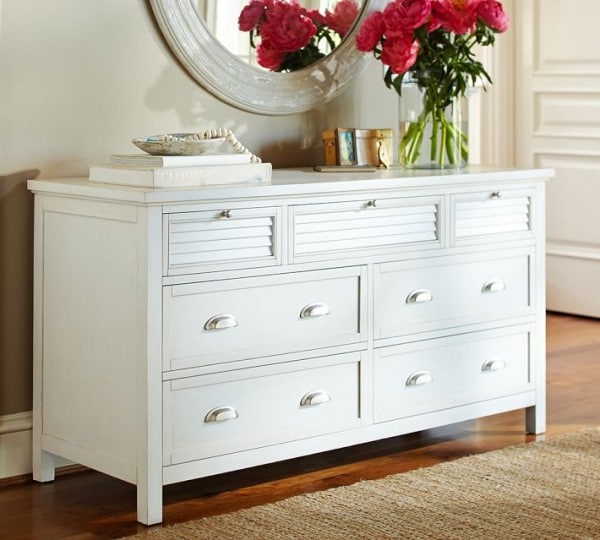 I even had enough energy yesterday to think more in depth about my home goals for this year! I talked a little bit the other day about working on a craft closet in our guest room. And that got me thinking about organizing and decluttering the rest of my house. With the exception of our pantry, I'm not super pleased with any of our closets or dressers right now. Some areas are good (like my new pegboard tool area!), but others are ready for an overhaul.
I want to create more efficient and attractive storage in every room of our house. My goal is to make the most of the space we have. While my house is a fine size overall, each room is on the small side and I don't have tons of closets and no built-ins. We have only one small closet on the main floor. Each bedroom has a closet but none of them are being used to their fullest potential. Besides, they could all use a bit of a style update to make them cuter :-). I'd like to be able to take photos of my closets. That's my dream.
I'm very much affected by how my rooms and closets look and function. When I've worked on a room from top to bottom, I'm inspired to keep it clean and organized going forward. If a room looks pretty and there is a place for everything, I feel more relaxed and motivated to keep it that way. An organized home is a beautiful home.
So, that's my goal for this year. I'm going to go room by room, area by area in my house and assess how the rooms are functioning and what I could to improve storage in each space. I'm planning to find new storage pieces in some rooms (adding in new dressers, shelving units or consoles) and creatively makeover existing storage to make each prettier and more organized. I'm picturing some new wall organizers and lots more hooks, too!
I'm going to have to get creative in some rooms that currently have no storage at all., like our dining room. My dream would be to add built ins to some rooms, but that may not be in the budget. Other rooms I'll be emptying entire closets and starting over with a better system. But my goal will be to not only beautify each room, but to end the year more organized and with less excess than I started. I may not get through the entire house and I'm sure not every corner will be perfect, but at least I know I can make some good progress by starting NOW.
I hope you'll come along with me on my journey! Maybe you will even be inspired to do some organizing in your house! I'm a little nervous posting this because now I'm accountable to get it done. Heheh. But it is something I've wanted to do forever, so it's going to be a good kind of accountable. I'm ready. I'm looking forward to it.
But first, gotta put those Christmas decorations away :-).