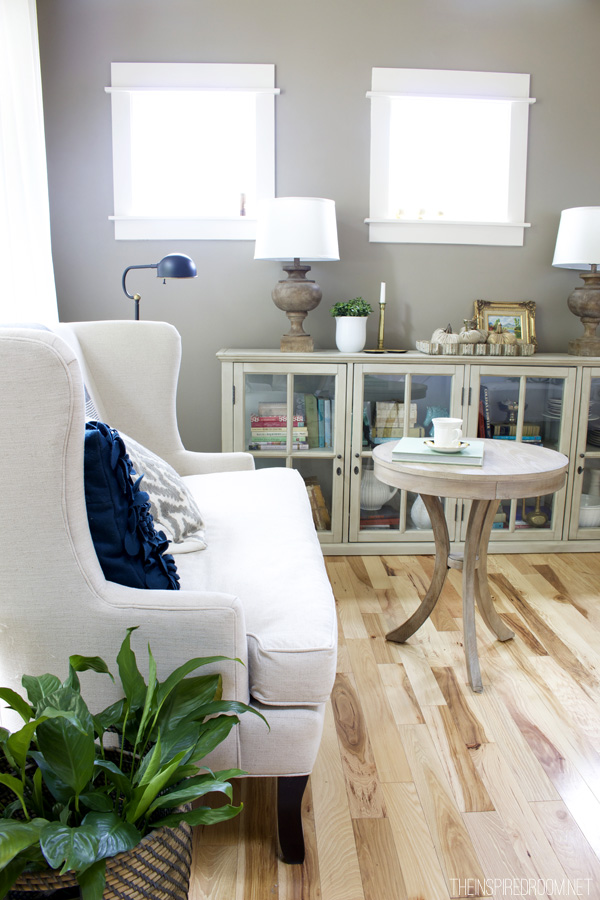 Our front room is always changing. It started out as a living room, but we realized a living room with a bigger sofa and chairs was not necessary since we had a family room and a TV room. So then we decided that what we really needed was more breathing room. Our entry and dining room are small and this room is almost like a pass through, so instead of setting it up to be used like a living room, it seemed to make sense to use it more as a "gathering space." We wanted to enter the house with room to breathe, as well as have more room to expand from the dining room when we have extra guests.
The multi-purpose use of this space made sense to us, but at the same time it's a very small room that has essentially only one full wall (but very tall ceilings!), so the options for how to arrange it are limited.
We've gone through several evolutions of this room but none of the variations were considered the final version. We are getting closer, but is a room ever done? Not at my house!
For the past several years we've been thinking a lot about our house and how we could best utilize the space we have. We are always very mindful of our limited budget and the unknown aspect of our future plans for this house.  One thing I really wanted was built ins, but I've hesitated on that commitment. Since we have a past history of moving to new houses every few years, we are cautious about our decisions in this house.
On the other hand, we have no plans to move so it's really important to me to make THIS our home! If this was the kind of house that made sense to invest money in and we were positive this was our forever home, I wouldn't hesitate to do whatever we could afford to make ourselves at home. But if there are less permanent options that also work, that seems to make the most sense.
We had decided this year for our "2014 home goals" we were going to really get organized. I really want to feel at home. So after declaring this the year we would concentrate on organization and add furniture if necessary to make that process easier, we starting searching for new storage pieces/furniture for several rooms in the house. Even though I had dreamed about a built in cabinet and bookshelves for this room ever since we moved in, this is one of those cases where we decided a free standing piece would be best for us.
I really wanted to love it and not just settle for something, so it took me a long time to find just the right piece. After searching for quite awhile and not seeing anything that fit our space quite right, we were happy to find this one from Restoration Hardware (and we loved it so much we ended up with a similar one for our family room). First and foremost, it was the right length and depth for our space. Size was the biggest challenge and what eliminated most of our other options in our price range. We also loved that it was functional. It could hold books, dishes for entertaining and also serve as an extra buffet surface for larger parties. We love that it has glass doors for display and enlarging/brightening the room, but also that the glass keeps the dust down since our entry and front door is right across from it.
Since I have rarely bought furniture except second hand and inexpensive, committing to a few new pieces of furniture this year mixed in with my flea market finds was a big deal. But I knew the right pieces would make a real difference in how our house functioned. In a house with smaller rooms, it's extra important to make your space work for you. It's amazing how one piece can anchor the room and make it so much more functional.
We originally had a different bookcase in this room that also had glass doors, but it was much smaller so it just didn't work as well on this wall. This one is really long so it is making much better use of our space (we moved the other one to our bedroom which you can see here!).
Scale is so important! In this case, bigger is better in a small space!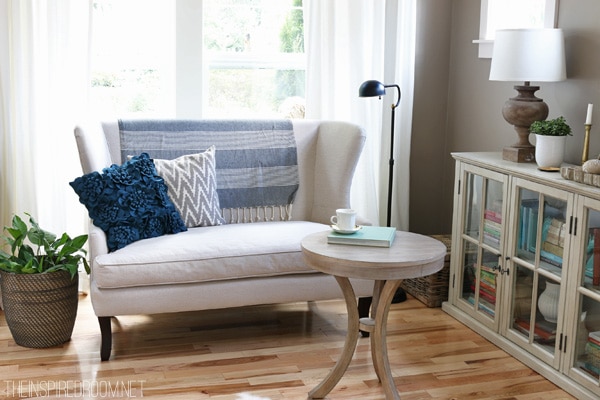 Once we got the cabinet, it inspired a comfy little reading nook! I originally pictured a built in window seat here but as time went on, I decided against that. Indecisive much? Sheesh. I should win an award for most indecisive, slowest decision maker person who thinks way too much and then still changes her mind person ever (see my post about the slow process of decorating here).
I didn't want a big sofa in here due to how small the space is and how flexible we need this area to be. We also didn't want to have to walk through a conversation area to get to the dining room or kitchen, so we avoided that! We decided a nice cozy settee would be exactly what this space needed to be functional yet not feel too crowded.
We found the settee through Birch Lane (I actually fell in love with it when I went to the Birch Lane event in NYC last spring, thanks Birch Lane!).
I loved that it was flexible and allows us enough room to bring in another dining table for overflow dinner guests, but still is functional as a spot to sit and put on your shoes or chat with guests during a party or curl up with a book or a laptop! I also loved that the settee has a high back (and the wingback makes you feel like you are so snug and comfy curled up in the corner!), which works better than a shorter piece with our extremely tall ceilings and large window.
The lamps were a bargain from Target and the little round table was from Lamps Plus. The flowery felt pillow was from Joss & Main and the gray zig zag pillow was from West Elm. The Turkish towel/blanket came from a local flea market. And of course, the Plush Pumpkins are from the LoveFeast Shop!
I'm contemplating adding a comfy round ottoman in front of the settee. And for now, Jack is our rug.
And that's where things are right now! Don't blink. Check back with me in a few months and we may have changed our mind again. And at our house, furniture is always free to move around with our needs. But now that we have that cabinet in place it feels like we have a great start on more structure and function in this room. The cabinet feels like a real grown-up piece of furniture so I'm happy to finally have something that's likely going to stay in one spot for a long time!
We still have dreams of someday adding more white planking on the walls and the big dream is to have it on the peaked ceiling in this room, but for now we are taking this room one step at a time and enjoying little bits of progress.
So, are you ready to do some Fall Nesting? ;-)
*This settee was provided by Birch Lane. As always, all opinions are my own.