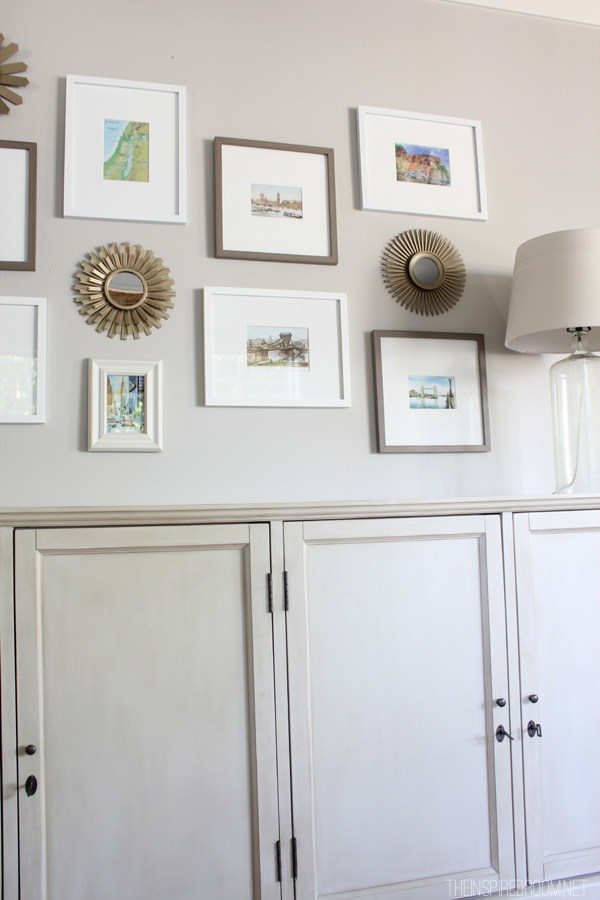 My goals this year are to make every room in our house work better for us. I have always loved the idea of "the not so big house" (based on the books by Sarah Susanka) which is about not building a bigger McMansion style home for more space, but focusing on the quality of a smaller one. She emphasizes featuring more quality details and spaces used to their full potential. I put the books in my Amazon shop if you're interested!
I really really love the idea of making the best of the space you have. While I have no plans to move or build a house any time the near future, I do think I can have fun continuing to develop and personalize the house I already have with things I really love and make better use of my space at the same time. Recently I talked about a new cabinet for my "gathering room" for that very reason.
You might remember that I had a dresser for storage in my family room. While it has been a great storage piece for years and years (we used it in our old house dining room, too), it actually belonged to my mom and it was nearing the time to return it. So in my dreams of what to use in its place, I thought a lot about what I really wanted in this room. Meanwhile, I was patiently waiting for the right thing to come along.
I was originally going to put a built-in on this wall but decided against that in favor of eventually putting built-ins on either side of the fireplace instead. I'm not sure when those built-ins will come to be, but for now, I found just what I was hoping to find for this wall! A sturdy and long but shallow closed door cabinet. The dresser that was here was a little short and a little too deep for the space so I was excited when I read the measurements of this cabinet and it was exactly the right size!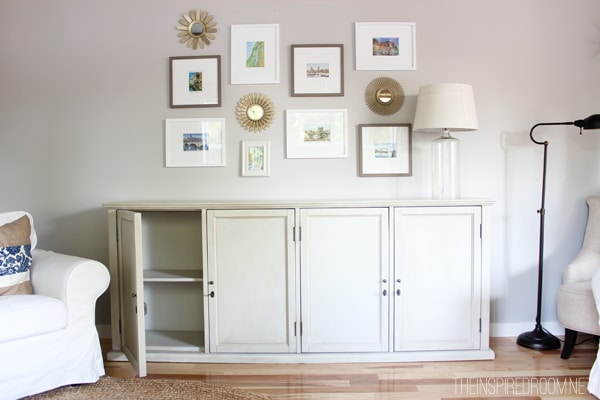 I've mostly been a use-what-you-have girl, but sometimes what you have just doesn't work for you. So often I can find great deals on dressers or tables at flea markets, consignment shops, or garage sales. But since I wasn't finding anything at my usual haunts, and having zero desire or time to DIY anything, I decided to take the plunge and splurge a little to get just what I wanted. Both the cabinets I found for my "gathering room" and this room came from Restoration Hardware (neither the post nor the cabinets were sponsored in any way by RH). I knew their function and beauty would be worth it, so I placed the order (and was grateful I have a designer discount!).
This cabinet was the first of the two to arrive and I LOVE it SO MUCH already! I'm on the hunt now for two new lamps to finish it off! I'll get more pictures of the room once I have some time so you can see how great it fits in.
I cannot wait to reorganize my life and continue to find the best way to use every room in our house.
Here is how it looks after I got the new lamps (below). You can see the post about the lamps here!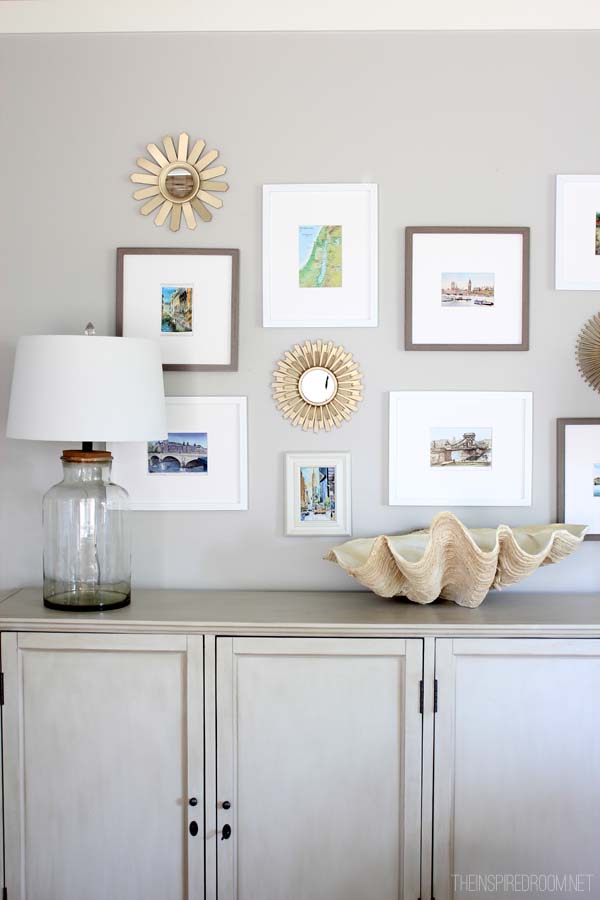 Have you ever read the Not So Big House? What are your thoughts on quality over quantity in a home? 
Catch up on my family room evolution:
How to Hang Oars (or Paddles) in an X-Shape