One of my goals this year was to go room by room in my house to make each space more organized and functional. I've been doing a lot of thinking and planning for rooms like my family room, master closet, office and a craft closet. But one of the rooms in my house has always been a bit more of a puzzle. It's been "in process" for about three years or so. Because I'm slow like that.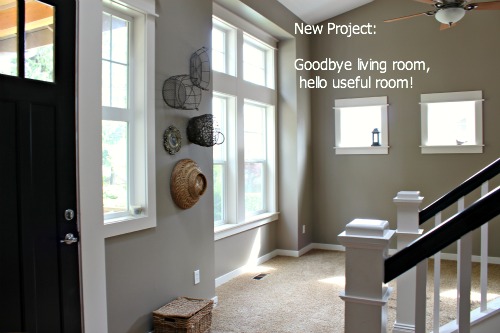 A couple of years ago I decided our "living room" really wasn't working for us as a typical living room. I removed all of the furniture and started reimagining it as more of a useful "gathering area" since it was connected to our entry.
I also wanted the living room space to be more useful to the small adjoining dining room. Sometimes we have larger groups in our home and it's handy to have even a little a space to expand into when we need additional seating. I've been evolving my dining room into a brighter more casual eating space so of course, the evolution of that room impacts the living room. When your house is all connected it definitely requires a little more thought to the flow of the spaces.
I thought about turning the living room into the dining room and even moved our table in there for awhile to test it out, but really didn't like how it felt as a dining room with such a high ceiling.
I didn't want it to be a craft room or an office since it would likely always be a mess and no one wants to face that as they walk in the front door or down the stairs every morning. So, after considering the options we decided it needed to be treated just as a small sitting space between the entry and dining room.
You might remember the progression of this room from the time we moved in until now. Here is how it looked when we bought the house (above) in all it's "swine glory"  prior to being painted.

A few years ago we took a really big step (after painting it) and replaced the worn  carpet (remember the paint incident?) with natural Hickory hardwood (from Lowe's). The wood flooring made a huge difference in how the whole house felt. The house definitely flows together better now and the hardwood is so much easier to take care of!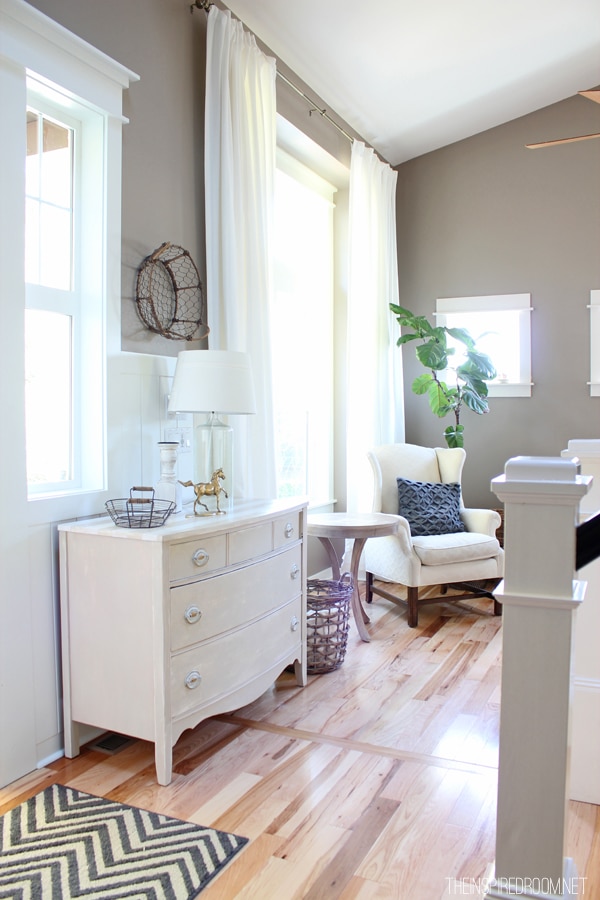 One of the bummers about our house is that there is only one teeny tiny closet on the whole main floor (with the exception of the under the stairs pantry) and no built ins. While our kitchen and pantry have plenty of room for our day to day dishes and needs, I wanted additional storage in other rooms so every room is functional and useful. I dreamed of extra space for serving platters and pitchers, and books, of course.
Rather than investing in a built-in for this room, I've been on the hunt for a cabinet that would be long and tall enough to not only make a statement on the wall below the small windows, but something that wasn't too deep. The room is already narrow so I definitely had some size restrictions as far as what would look right in the room.
I finally found a cabinet at Restoration Hardware that is just what I was looking for — you can see it in the above photo, all Photoshopped in for our visualization! I had searched everywhere from flea markets to consignment shops and never found a cabinet I liked that was big or sturdy enough or the style I was looking for. I  knew right away this one was perfect! And while I hardly ever buy larger pieces of new furniture, this was exactly what I needed so I took a deep breath and ordered it! I know I'll be really happy with it. Now I can't wait for it to arrive!
I'm also still dreaming of a new white planked wall (I'm eventually planning to cover the "three window wall" with planks, leaving the rest of the living room/entry walls Studio Taupe), more white wood on the ceiling and adding a new light fixture (the style of the one from Barnlight Electric above is so lovely but I may also decide to just get a new ceiling fan — we'll see).
Left photo (above) is from Muskoka Interiors via this post on a style I love, white + wood,
I'm counting down the days until the beautiful new cabinet arrives and hoping the plank walls might be next on my list.
UPDATE: See how this space turned out here!
Do you repurpose or reimagine spaces in your home?
Don't forget that my Joss and Main sale ends on Tuesday the 22nd!
There are some great pieces on there at amazing prices so don't miss it!