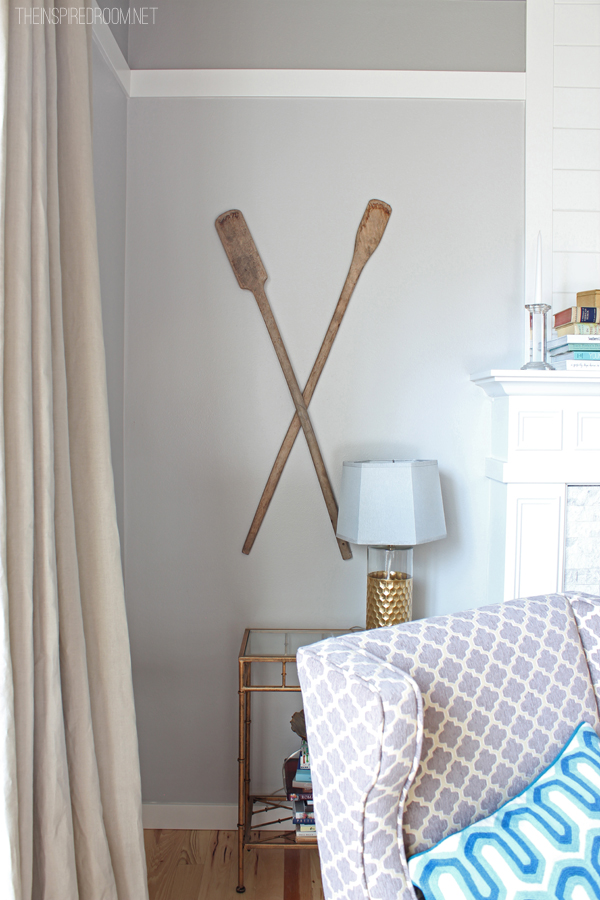 At first the way to hang oars or paddles in an X shape might seem like it would be pretty obvious. But, if you've tried it you'll see that it requires a bit more thought than just forming the letter X on a wall with your paddles. However, I have a really easy way to hang them and it doesn't require brackets or hooks or any visible hardware. So today I'm going to finally answer the burning question that has been on everyone's mind :-). How did I hang my flea market paddles in an X shape on the wall? First of all, I am calling them paddles rather than oars because I think the consensus on my Instagram was that they were paddles used for churning butter or cheese or something like that.
But whatever we call them, you could use the same tips for either.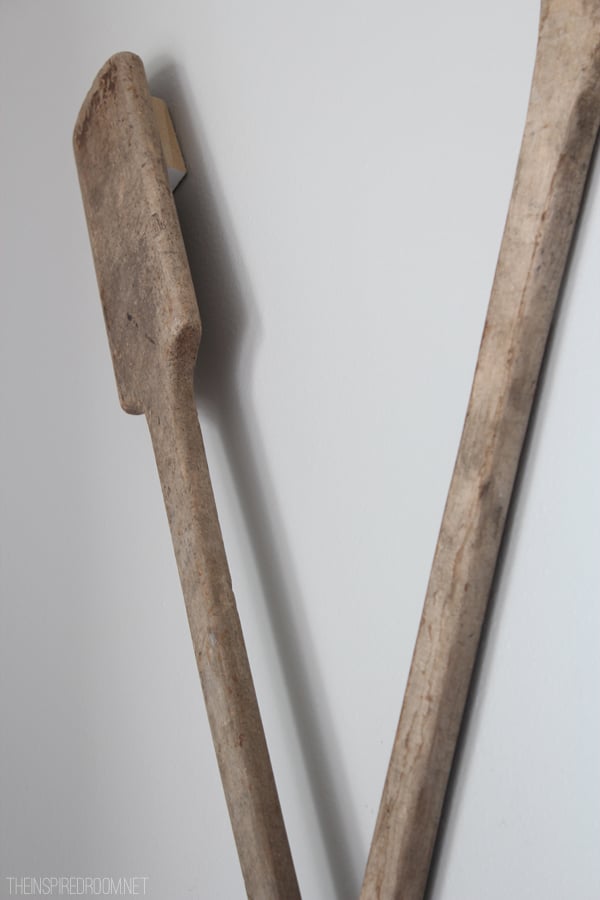 I hung the first paddle on the wall with two Command Strips (a velcro-like sticker). I've hung oars with Command Strips before and I've never had one fall down.
Then I nailed a small block of wood to the wall and criss-crossed the second paddle over the top of the first, using a Command Strip to attach the paddle to the block of wood. The block of wood stabilizes the paddle. Then to secure the handle side of the paddle, I hammered one nail into the wall through the paddle's existing hole. And that was it! I intended to paint the block of wood the same color as the wall, but I never did because you really can't even see it.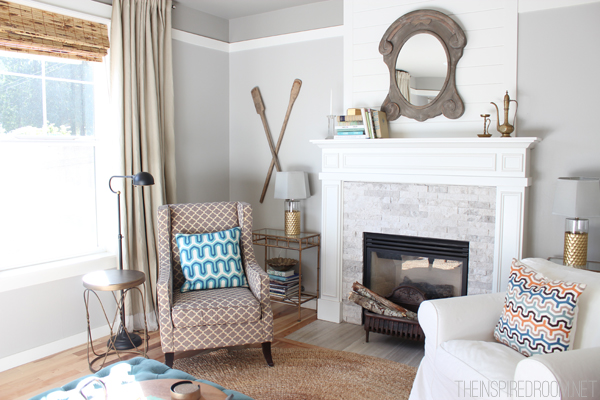 I love the character the paddles bring to the family room! (Of course, when I finally get the built-ins on either side of the fireplace I will be relocating them!).
Do you have anything unique on your walls?
Other recent Reader Questions & Answers:
10 Reasons I Removed My Upper Kitchen Cabinets
My Kitchen Sources (Paint colors, finishes, hardware, etc!)
10 Questions and Answers About My Bamboo Blinds and Curtains
My Thoughts on Brass and Trends
3 Tips to Mix and Match What You Have to Get the Style You Want
PS. If you want Command Strips and can't find them in your area (or just want to buy them from the comfort of your own home, I put them in my shop in the Favorite Craft/DIY Supplies section!)