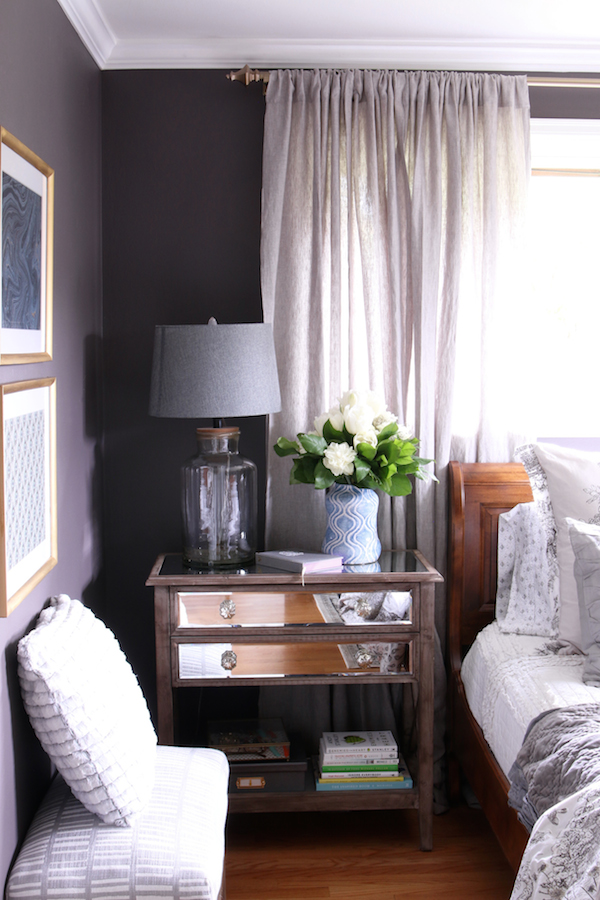 Remember way back months ago when I mentioned we were painting our bedroom? Well, we did. And finally I took a few pics so I could show you the color! Painting a dark color with white trim color is a painstakingly slow process, so it took a bit longer than I expected for my extremely perfectionistic painter, i.e. my husband, to finish, but I think the result was worth the wait! We absolutely love it.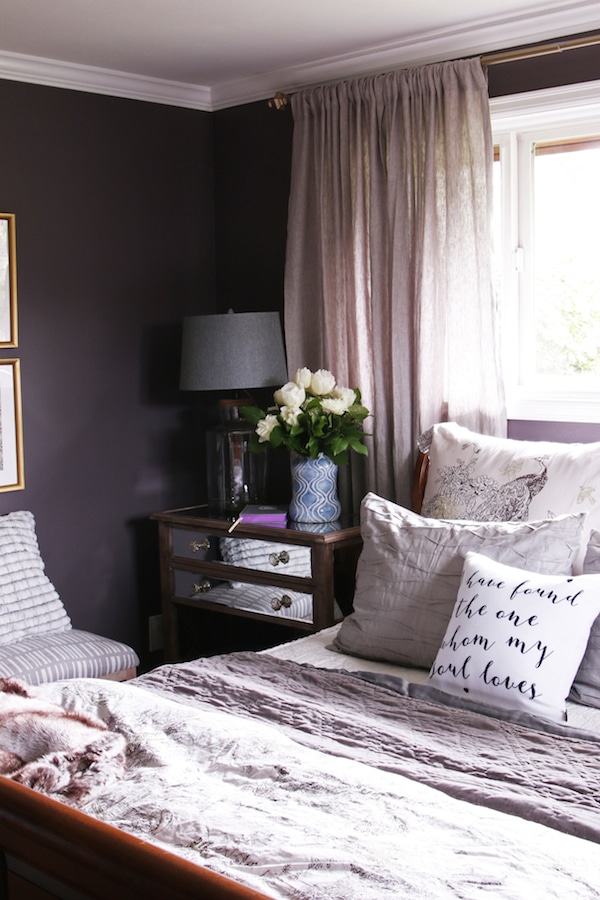 See the before photos here
Our bedroom still has some finishing touches to install, such as blinds (*check out the bottom of this post for a discount code on window coverings, by the way!), but it is nearly done so I thought today I could at least talk about our paint color.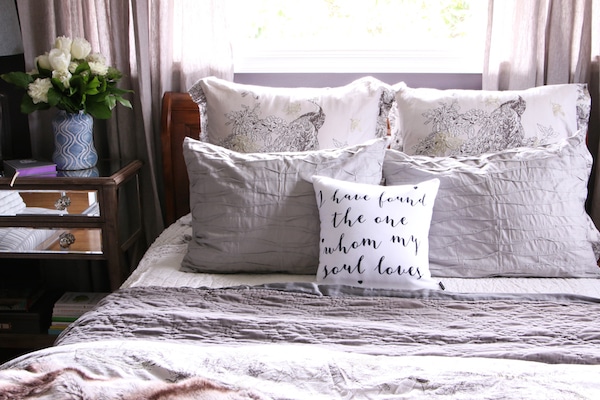 This room is small (no grand master suite in this house!) but it has become my favorite master bedroom we've ever had. Rather than going with the light vibe of our other rooms in the house we decided to really play up the cozy factor in here with a rather unexpected color for the walls (see our before photos and vision and inspiration for dark bedroom walls in this post).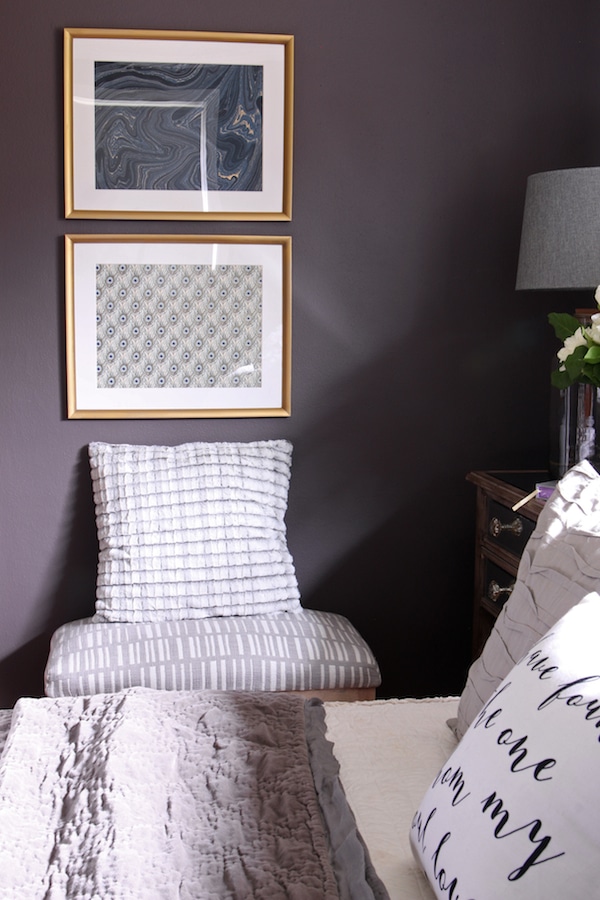 See how I made the artwork above here!
The paint color we chose is Black Frosted Plum by Glidden. It's like a mix of charcoal and a really pretty but unexpected plum hue that I find just so intriguing. The walls help set a wonderful romantic and moody ambience both day and night, yet it isn't so dark and brooding that the room is not inviting. We also have the benefit of plenty of morning sun coming in the windows, so the room is very cheery in the mornings! The color varies throughout the day and is really dark charcoal at night, but it's always pleasant. The existing white crown molding, ceilings and trim added a nice contrast, too.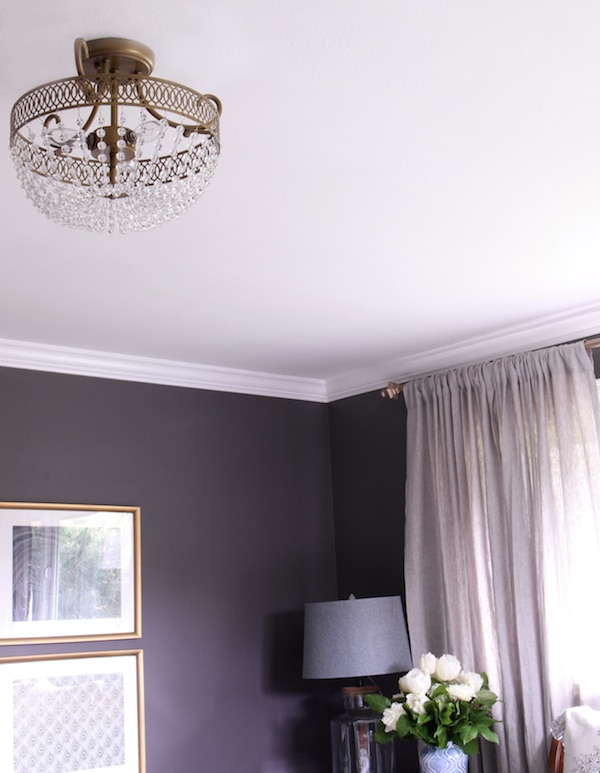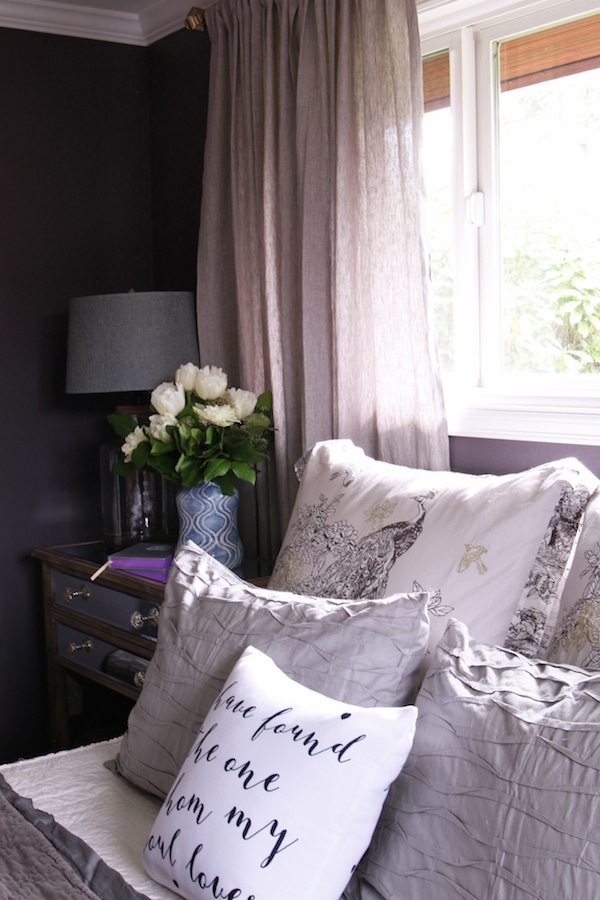 Plum is a tricky color that I feared could go so wrong if we didn't find just the right mix of materials to set the mood we wanted. We brought in feminine touches like a mirrored glass nightstand and a sparkly crystal and gold chandelier, but it all mellowed out with a cozy fur throw and our more masculine traditional dark wood sleigh bed. It really is a "his and hers" room!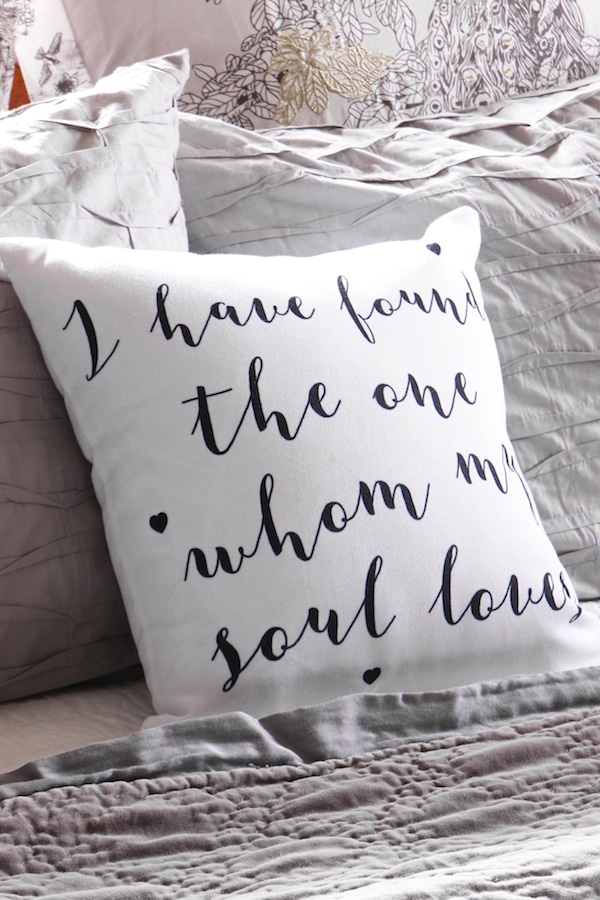 The duvet is a soft pale gray and white background with charcoal toile details and gold stitching. The reverse is white with sketched feathers. The pattern is a fun quirky twist on a classic romantic toile. It is so pretty, but the description of the bedding on Anthropologie is what sealed the deal for me.
"This delightful bedding features top-hat-clad foxes keeping watch in the foreground of a toile thicket."
How could I not fall head over heels in love with that? I absolutely love the unexpected whimsy it brings to the otherwise more serious room. Since the Anthro bedding and the dark gray Pottery Barn velvet quilt were more of a splurge, the other soft neutral shams and linen drapes from HomeGoods were a more affordable compromise. I'm pretty excited to try mixing in other color options on the bed for summer, too.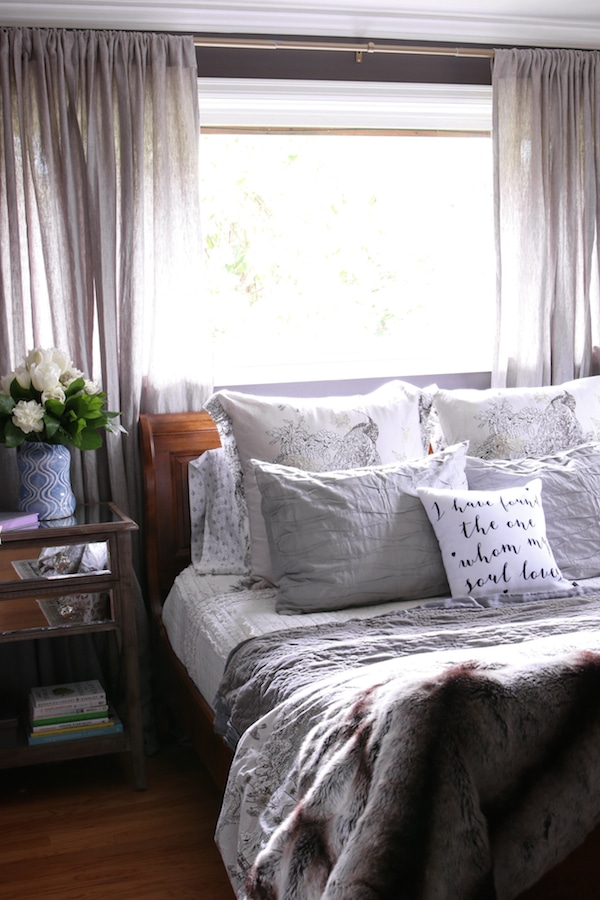 While I admit I would never have imagined myself choosing plum walls (or plum anything, to be honest!), I can now say I have never been so in love with a bedroom. The touches of white and charcoal in this room tie in well with the rest of the house and the hallway walls and slate floors that are just outside the bedroom, too.
I love to curl up in this room every night, it is truly our retreat and we both love it!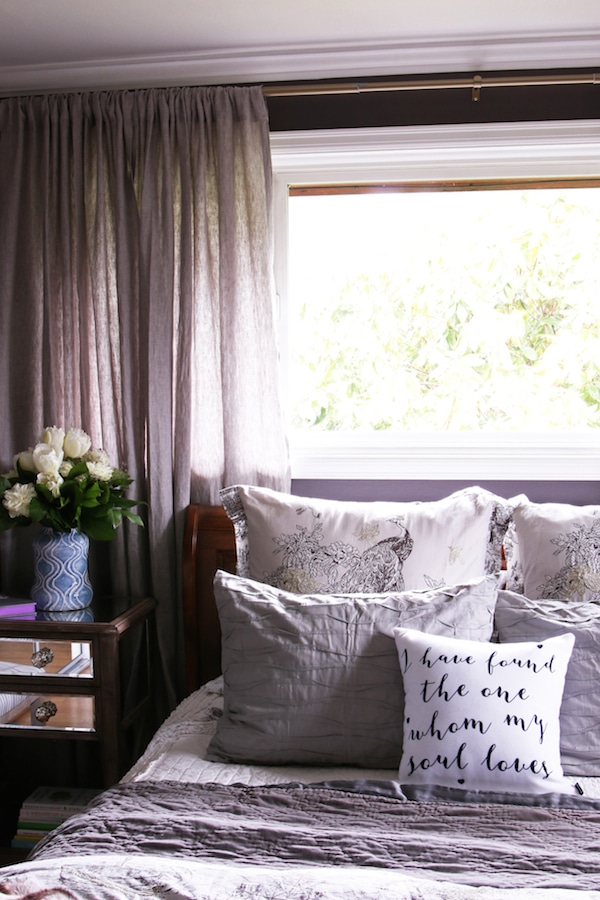 I'll share more angles and ideas from this room in a future post! 
Have a great day!

Sources (links contain affiliates):
Paint color: Black Frosted Plum by Glidden (don't trust your computer screen or the paint swatch in the store, always get a tester and try out the color in your home!)
Bed (similar)
Mirrored Nightstand (similar)
Toile Bedding
Velvet Silk Quilt (flagstone gray)
Faux Fur Throw
Fillable lamps (similar)
Textured gray lampshades
Textured Shams
"I have found the one" pillow
Brass Curtain Rod (similar)
Linen Drapes (similar)
Crystal flushmount or Antique copper crystal flushmount (both similar)
Monogram crest journal
Blue vase, HomeGoods
NOTE: If you place an order for ANY window coverings from Select Blinds, be sure you use my special link HERE for the best possible discount! Plus if also put in my code INSP1RE5  you'll receive an *additional* 5% off the very best price offered anywhere!