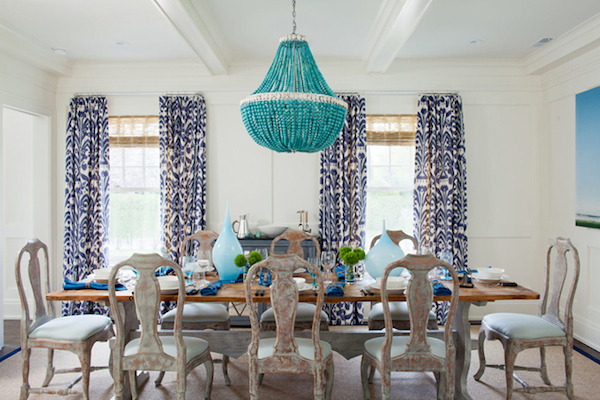 Amanda Nisbet Design via House of Turquoise
One of my main goals in creating a home we will love is to start by getting the lighting right. Not only because I want to create the right ambience, but because the right light fixtures can help set the personality and style, which is definitely what I'm really excited about!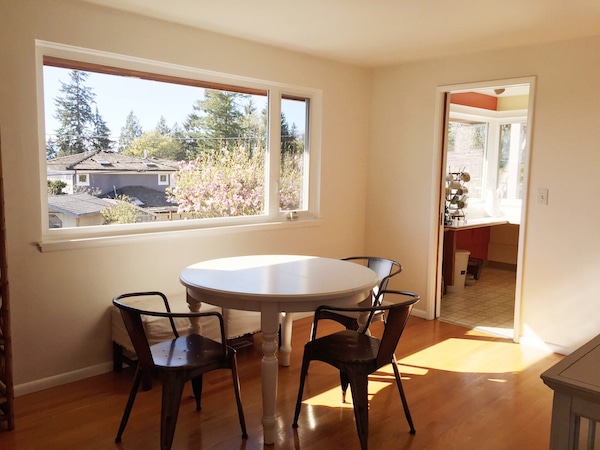 Right now the shell of our new dining room is kind of a blank slate. Other than hardwood floors and a large window toward the backyard, it doesn't have a lot of architectural pizazz. But that's ok, we can work on it and soon enough it will have its own unique look.
If you missed the post about our vision for a "classy breakfast room vibe" you can find the ideas and inspiration here. I can show you the new chairs and a bigger bench soon, too. They are going to look great!
While we will eventually be opening up the doorway to add interest, more light and better flow between the dining room and kitchen as well as adding other architectural elements like molding and refinishing floors in time, one of the first things we can do to improve this space (besides the new chairs and painting the room) is to install a statement light over the table.
Statement lights should do just that, make a statement. Light fixtures should either just blend in and support the rest of the decor, or they can stand out to bring a distinct and fresh personality to a space. I'm kind of partial to making a big statement with a dining room light.
Unique light fixtures can become a part of your signature style (check out the post on signature style!), so pick something special that speaks to you. It doesn't have to be expensive, you can find statement lights anywhere on all budgets!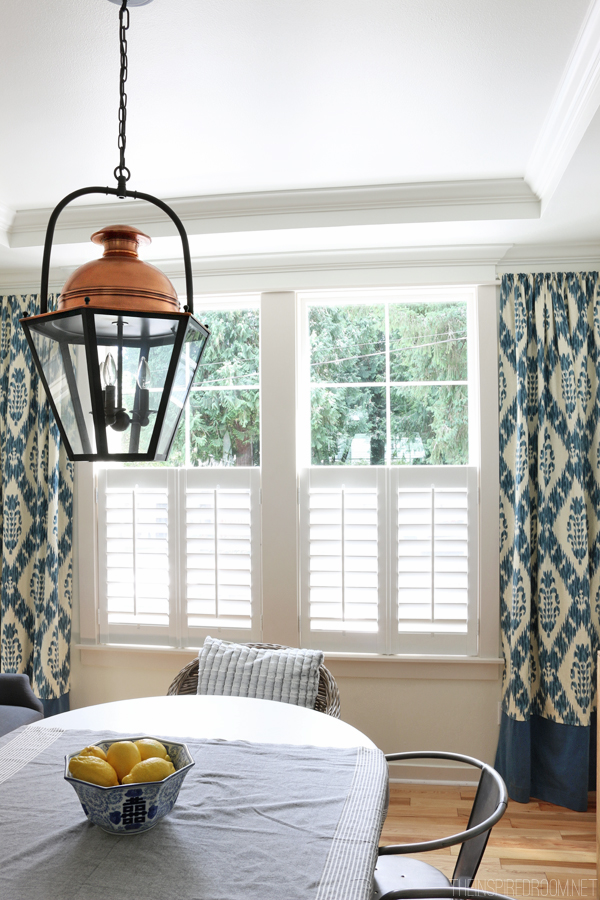 Case Indoor/Outdoor Copper Lantern in my old dining room
So what statement should a light make? How do you pick a fixture that can become a part of your signature look? Consider the house, your style and the actual space it will go in!
A light doesn't have to be any particular style to be a statement, it just needs some personality. The first thing we did in our old dining room was to add a statement lantern! I loved that light so much, the copper on top really gave it a unique look and made the room feel memorable.
You might not even remember what our old dining room looked like when we first moved in, but just for fun, check it out, below.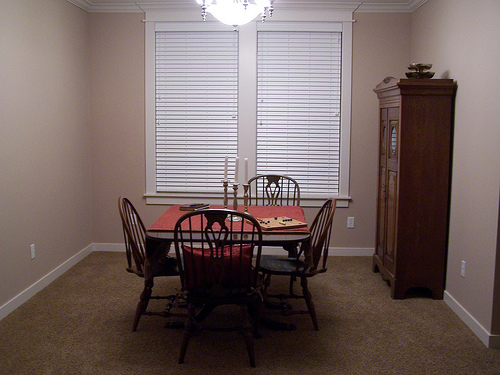 Crazy, huh? The swine walls with the carpet color…eek. Seeing it how that dining room was right when we moved in gives me hope that my new home will come together eventually!
So back in our new house, we have a new light fixture for our dining room that will help play up the vision of our home, which will be our own blend of a modern farmhouse coastal/island style with a touch of casual glam. :) The light we found seems perfect in every way to set that unique "look" for our home.
I'm pretty excited to already have it sitting right here in my house ready to be installed! Yahoo!
After extensively searching for the right light for us, we found this one (at RH Teen!) and knew it was IT. It is SO GORGEOUS in person! We love the gray and white ombre wood beads that make it feel fresh and the size and shape is perfect. It is big enough to be a beautiful focal point, but not too heavy for the space. The price was more than I originally wanted to spend, but I justified it (ha) in my budget by saving on other elements in the room (and by discovering it was a lot less than many other ones I loved!).
It is a statement piece that is definitely going to play a big part in the look and ambience of our house.
This light will make the room more memorable as well as set the right mood, which definitely qualifies it as a perfect statement light in my book!
10 Great Resources for Statement Lights:
Wayfair, Joss & Main, Overstock, Birch Lane, Pottery Barn, World Market, Lowe's, Home Depot, Wisteria, Ballard Designs, Barn Light Electric
What light fixtures would be so YOU? Think outside the box and find statement lighting that can set your own look and style.
Happy Monday!
More inspiration:
Lighting Sources in My {Previous} Home