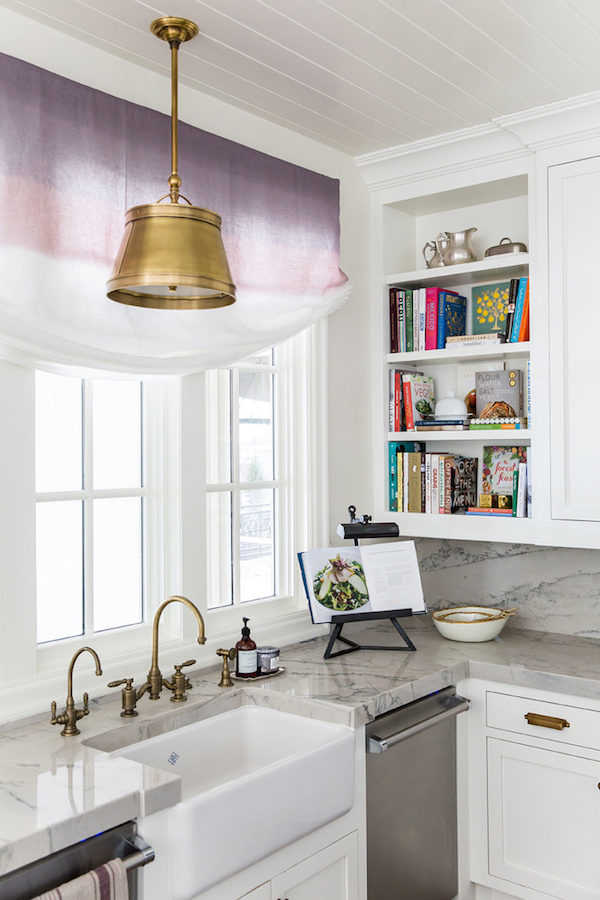 Kitchen Open Shelving Ivory Lane
I cannot imagine designing a kitchen without trying to reserve at least one small spot for open shelving. In my past kitchens, I even took the doors off an existing cabinet to create open shelves! Kitchens can feel a bit cold due to all the hard surfaces in the space, so open shelving is an opportunity to add warmth, charm, light and personality to what is still a functional part of the room.
Today as we kick off the Best of the Best Kitchen Inspiration series I thought we'd take a look at ideas for how to incorporate kitchen open shelving. You'll find some great inspiration for functional and attractive shelves to suit your own style preferences. I'll share insider tips and my thoughts from my own kitchen experiences, too! While I couldn't share every single kitchen I love with open shelves, I picked a variety to inspire and spark ideas.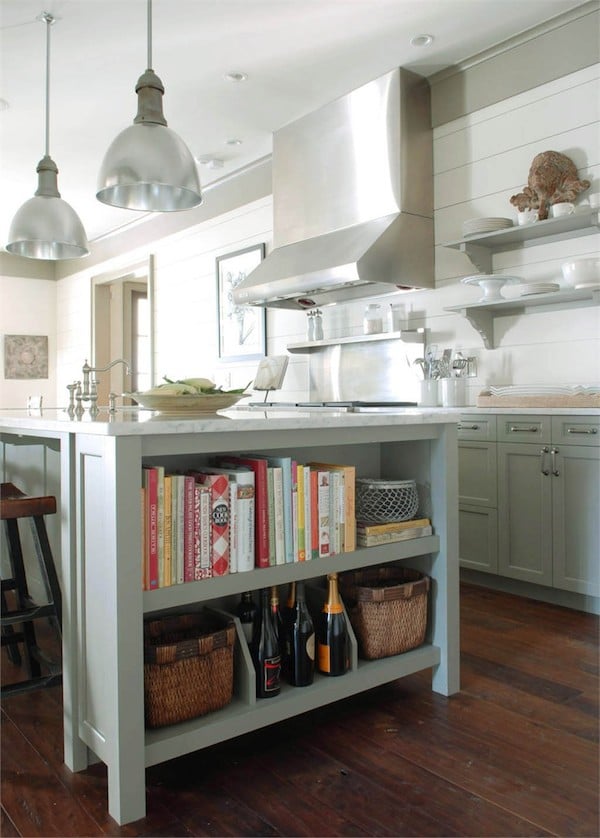 Kitchen open shelving – Dresser Homes
I have always loved an open cabinet built-in to the end of a kitchen island. I included an open bookcase on my island in my English Tudor kitchen. I found this location to be a little bit dustier than shelves up on a wall, so my preference for ease of cleaning and styling of shelves in this location is to use them for pretty cookbooks, baskets, or even pots and pans I don't mind rinsing off before use. Definitely LOVE the look and would add one in my new kitchen if I had room for an island. You could also incorporate this type of open bookshelves into a lower cabinet if you have enough space.
Shelves make the most of wall around a doorway and the brackets give this kitchen a more casual vibe.
I love the idea of tucking open styling shelves between two cabinets to break up the monotony of a lot of closed cabinets! This is also a great trick to get the look of a "wall of tile" without actually having to tile and entire wall of the kitchen!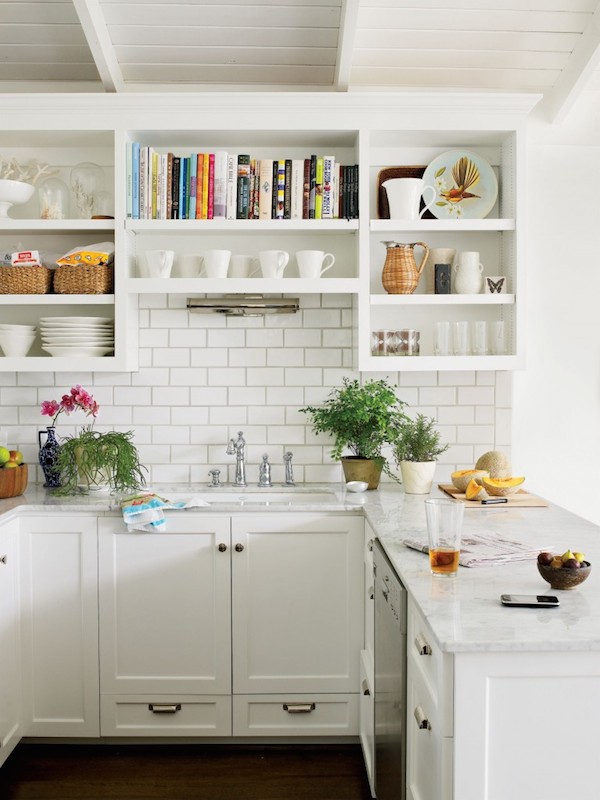 open shelving – Southern Living
Small kitchens can really benefit from some open shelving. Visually they expand the space by at least a foot and give you space to add personal touches which will make your kitchen more charming and interesting. You can use open shelves in a small kitchen for everyday dishes, too, because every inch counts in a small space. Pretty dishes never look messy if you stack like-sizes and items together.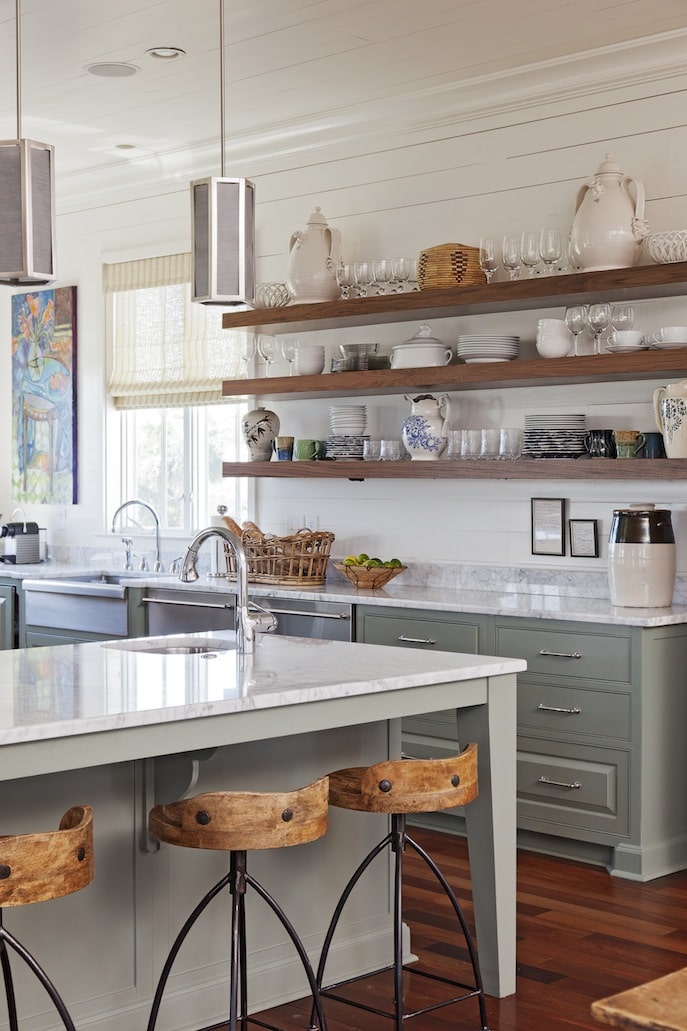 kitchen open shelving – Cortney Bishop via Look Linger Love
Wood shelving can bring warmth and added character to a kitchen with a lot of painted cabinets.

The Inspired Room – Townhouse / Similar cart here
You don't have to remodel your whole kitchen to have the eclectic look and extra storage of open shelving, a kitchen cart and an IKEA shelf and hanging rod can do the trick!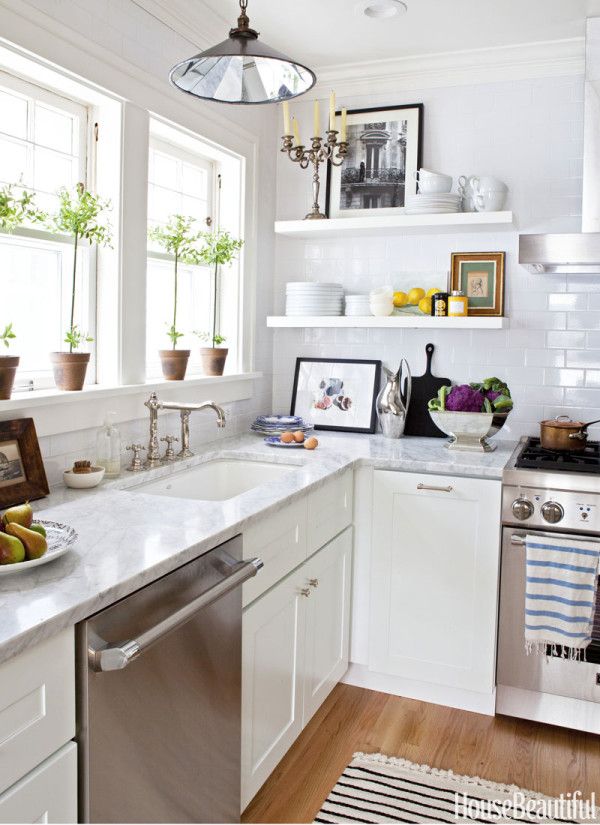 House Beautiful
Corner cabinets can be hard to reach, so they are a great spot for the style and ease of open shelves. You'll also save money with shelves rather than another cabinet purchase if you are remodeling.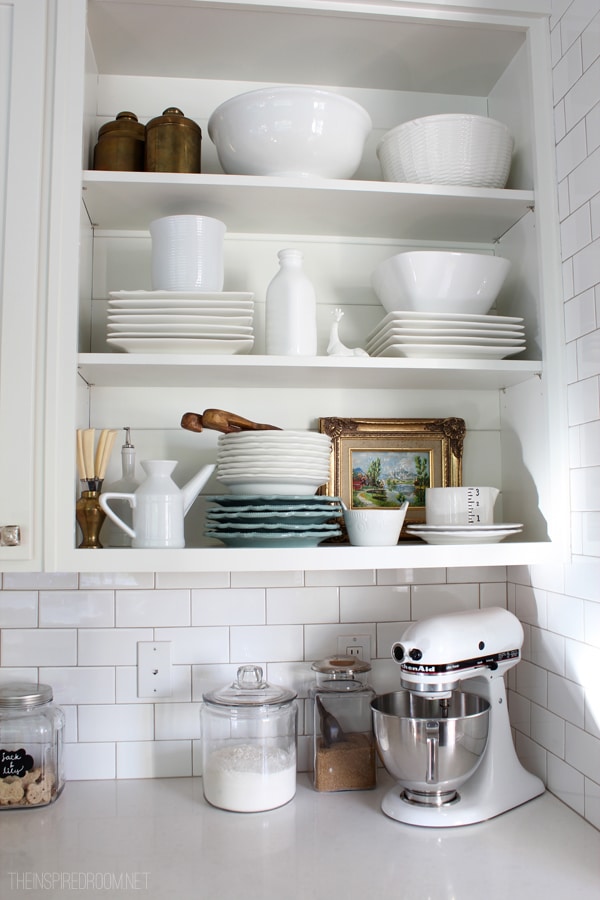 The Inspired Room
Take off your cabinet doors for instant open shelving like we did in our old kitchen! We went an extra step by adding planking to the back of the cabinet to give it extra detail.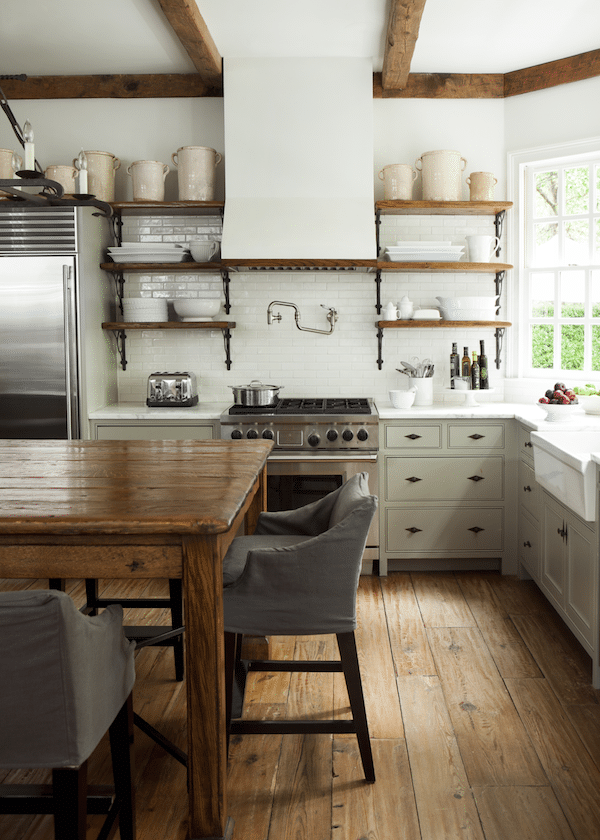 Kitchen open shelves – Workbrook by Westbrook
Hang open shelves on either side of a quality hood vent above a stove for a really charming look and storage on a featured wall.
Set a unique style statement in a kitchen with your own design mix of cabinets and open shelving. Brackets can be added for extra flair!
If you are a collector of pretty dishes, you should show them off in your kitchen! Your kitchen should be your happy place and if you have things that make you smile, use them to decorate and personalize your space.
The look of kitchen open shelving can be streamlined with floating shelves or simple brackets and white and clear dishes.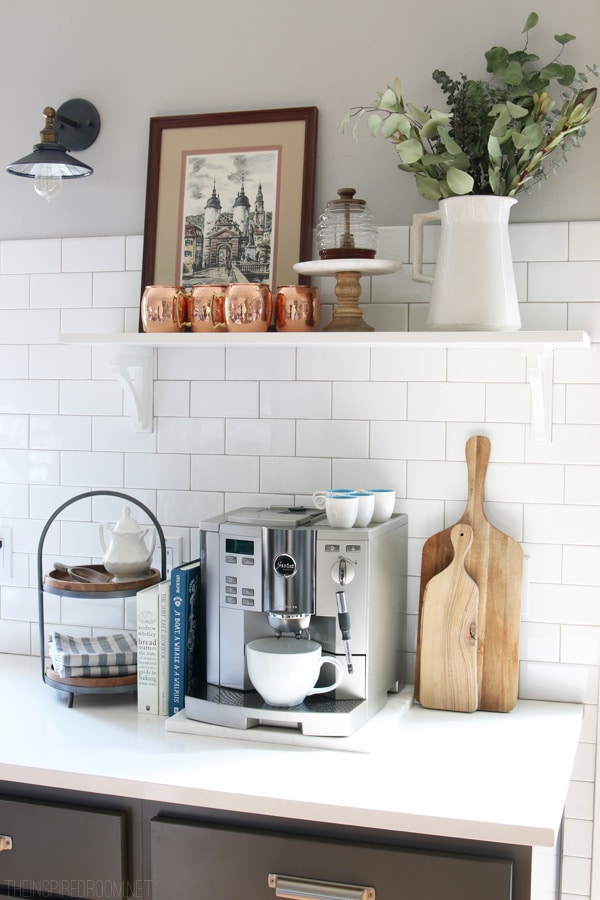 Kitchen open shelving on The Inspired Room
A single open shelf can be located to help define a specific zone in your kitchen such as a coffee station, or simply be one special place to style your kitchen with seasonal favorites.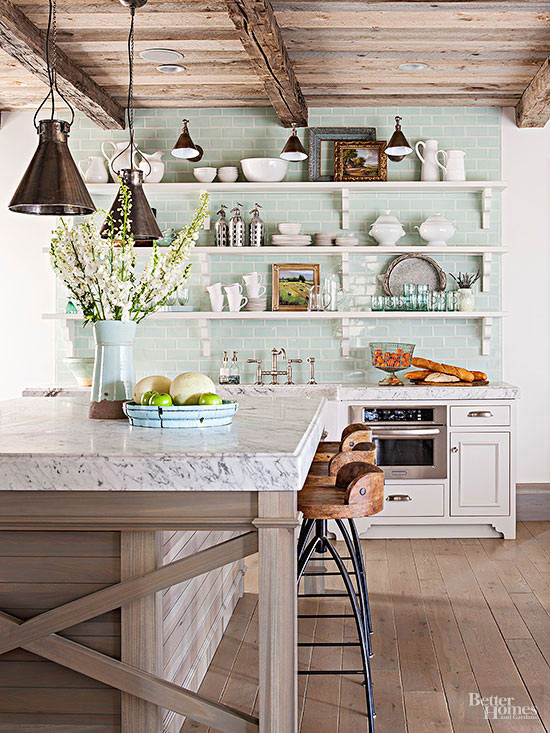 kitchen open shelving via BHG
If you have a large kitchen, you can go all out to create a spectacular feature wall with open shelves, your favorite tile and statement lighting.
Kitchen Open Shelving Style Notes:
Open shelving is not for everyone, but selecting the right elements and style might make them work for you. Here are some additional tips:
Open shelves are clearly not the place to display unattractive things, that is what your closed storage is for. Display your favorite things! If you don't use attractive dishes every day, you SHOULD! Life is too short to use ugly dishes, so as I always say, I'd rather strive to make everyday items more beautiful. Even simple white dishes are pretty, so look for affordable dishes at thrift stores that you can easily replace and collect over time.
If you have kids or a clumsy family, you can find pretty and yet unbreakable everyday dishes to display on shelves, too!
Open shelving doesn't have to result in a busy look for your kitchen if you don't prefer it. You can add as much or as little open shelving in your kitchen as you like to get the look YOU want. More open shelves or less particular styling will result in a more eclectic look and less open shelving or tidier styling will result in a more streamlined or modern look. Your own preferred open shelving look is up to you.
The type of open shelving you choose can also impact the resulting look. Brackets or no brackets, the style of brackets, open cabinets on the wall or in an island can all change the look and feel of your kitchen. You might find examples of a style you like in this post, pick and choose the elements that are best suited to what you like.
Open Shelving Concerns about Cleanliness:
For anyone concerned about dust or grime, here are a few suggestions:
If you love the open shelf look and enjoy the items you put on your shelves, dust isn't a big deal. I promise. You'll either find the shelves don't accumulate much dust because you use the items too often to let dust settle, or you'll enjoy styling them so much that dusting them now and then is a labor of love and can be an expression of gratitude for your home. If you don't the sound of that, open shelves might not be right for you.
Grime on open shelves near a stove can be an issue, but not nearly as much as you might fear if you have a good ventilation system above your stove. Again, if you love the look and use the items often enough, a little extra effort to keep things clean might be worthwhile. Otherwise, keep your open shelves in a cleaner part of the room.
Shelves on the lower part of a kitchen island will likely get dustier than shelves on a wall so keep that in mind when you plan out how to use your open storage.
If you have a lot of dust in your kitchen, you might check into potential solutions to minimize the dust like new quality air filters or cleaning your ductwork regularly.
What open shelving look do you love the most? To make the most of your remodeling dollars, incorporate classic elements into your kitchen that will bring you the most joy over the years. A kitchen doesn't need to be a sterile predictable "kitchen-y" feeling space in order to stand the test of time. Make it a part of your home and let it reflect your personality so you'll be happy with it. Create a kitchen you really love and you might not even mind doing the dishes there every night. :)