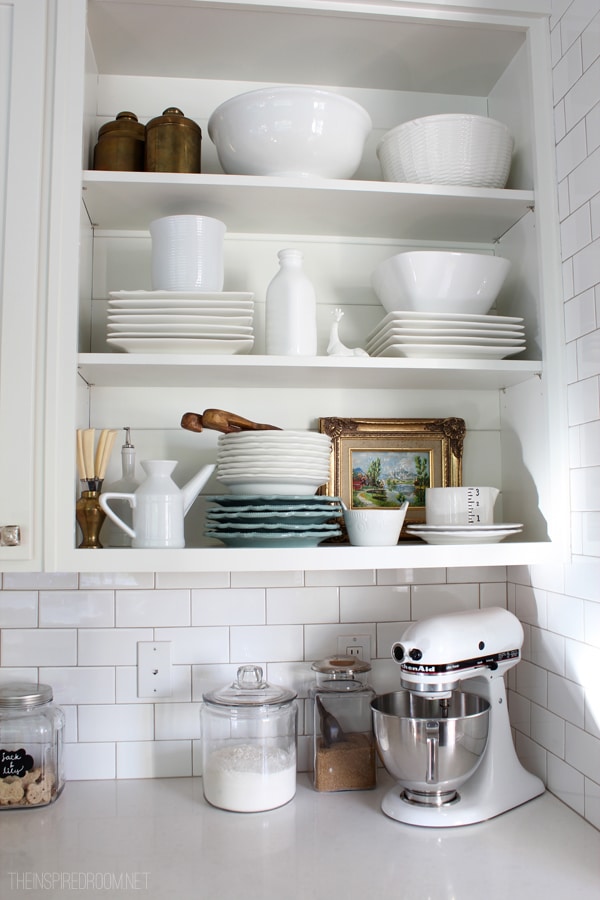 Have you been puttering around your kitchen this Fall?
And by puttering, I mean just rearranging things.
It's my favorite thing to do.
It's how I keep my kitchen clean.
I pick stuff up all the time, dust, and try a new arrangement.
It's fun.
The thing I love the most about my open shelves is that I can have fun changing things around every season. The shelves are always evolving, although most of the time I start with the same basic elements and add or edit out a few items.
Sometimes I'm in a color mood and sometimes not!
I like to have options.
Last time I showed you my kitchen display shelves, it was the end of the summer and I had added in more yellows.
Now it's Fall and I simplified the color scheme a bit last weekend, just because. No real reason, I have just been in that "simplifying" mood all around my house.
I don't even necessarily add any themed elements or even colors that look like "Fall." I'm a rebel like that.
I just go with my whims and stick with mostly dishes and a few tried and true accessories. I don't have to change things a lot, small changes make me just as happy!
Rearranging open shelves is like a fun game. For moms.
It's what I do on a Fall Friday night.
Wild and crazy me.
I am already dreaming up a new idea I want to try for these shelves — maybe next month!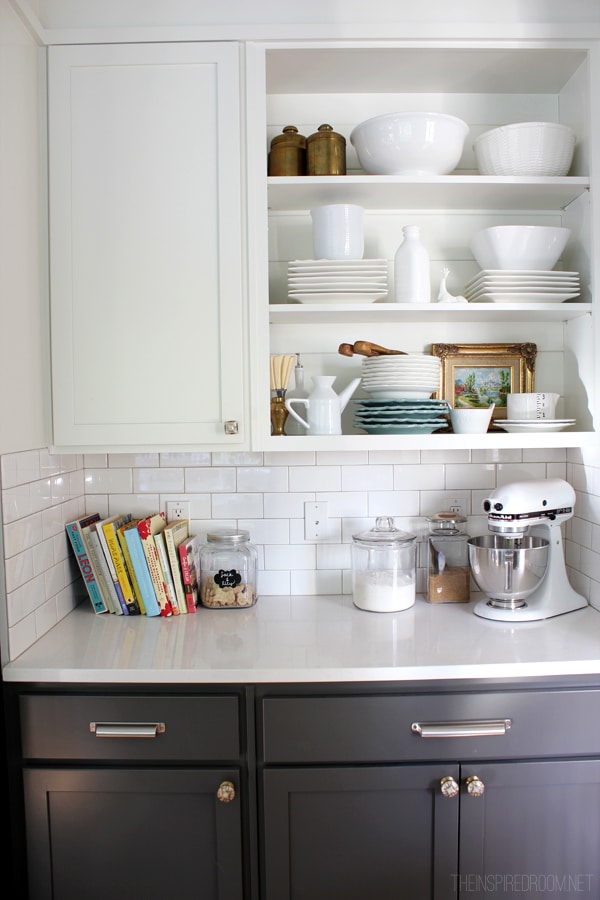 Do you have open shelves?
***Catch up with the 6th annual 31 Days of Falling for Fall series!***
Day One, Day Two, Day Three, Day Four, Day Five, Day Six, Day Seven, Day Eight, Day Nine, Day Ten, Day Eleven, Day Twelve, Day Thirteen, Day Fourteen,Day Fifteen, Day Sixteen, Day Seventeen, Day Eighteen, Day Nineteen, Day Twenty, Day Twenty-One, Day Twenty-Two, today is Day Twenty-Three
Come visit fellow Fall lovers & Join the Fall Nesting Link Up Party!

The small giraffe on the shelves was sent to me as a gift from the Lulu & Georgia gift shop (such cute gifts!!). It is perfect for holding rings, but I just thought he was so cute I wanted to see him up on my shelf for now!  Also, I was featured on their blog showing off a few of my favorite things from Lulu & Georgia! Many of the other items came from TJ Maxx, Target and vintage stores. I love collecting fun shapes and colors of dishes!