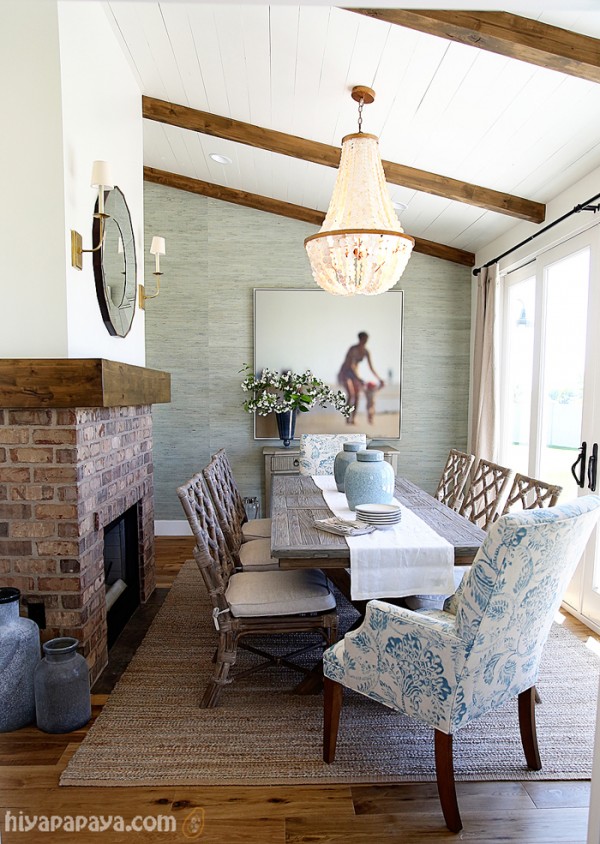 Dining Room Design Caitlin Creer  Millhaven Homes & Alice Lane Home Collection Photography Hiyapapaya
This time of year I start thinking a lot more about my dining room and how to make it prettier and more welcoming for our family and guests. I may or may not have few changes in mind already — more to come on THAT soon! :-).
I know many people don't even use their dining room (or it gets used as an office or craft space) but I really do want to use our dining room to EAT! Since we don't have a table in our kitchen, our dining room is it!
If a dining room was cozy enough (like the one pictured above) why wouldn't you want to use it? I would! I love finding a great dining space like this one to inspire me! Today I thought we'd revisit our Fall take away "designer secrets" series and see what five things I loved about this lovely space designed by Caitlin Creer!
What makes this room cozy? 
1) The fireplace.
Need I say more?
2) The wallpaper.
The textured paper on that one accent wall totally makes the room for me! I tried to visualize the wall without it and while it would still be pretty, it just wouldn't be as cozy. I love the color too — very serene and calming!
3) The wood.
Adding wood accents is always a great way to warm a room up.  Repeating it on the floors, beams and the mantel really helps envelope the space. And notice that lovely chandelier is also trimmed with wood! Even with all the wood, the room still feels fresh with the mix of white and coastal touches.
4) The rustic table.
In the dining room we looked at last time, the table was more formal but the room still felt comfortable. In this space, the rustic table really invites you to relax and "stay awhile."
5) The chairs.
I love the mix of chairs! Even though they aren't necessarily "cozy" in fabric or style, they just look inviting! The side chairs have great texture, which translates to warmth. The open lattice backs keep the small room airy and less crowded, making it a comfortable livable space.
I'd love to be invited to dinner in that room, wouldn't you?

***Catch up with my 6th annual 31 Days of Falling for Fall series***

Day One, Day Two, Day Three, Day Four, Day Five, Day Six, Day Seven, Day Eight, Day Nine, Day Ten, Day Eleven, Day Twelve, Day Thirteen, Day Fourteen,Day Fifteen, Day Sixteen, today is Day Seventeen!

Come visit kindred spirits & Join the Fall Nesting Link Up Party