H i friends, Michaela here again sharing a Fall DIY project. Like Melissa, I'm head-over-heels for anything Fall. I'm especially excited to get out my boots, sweaters, and puffy jackets for the new crisp weather!
One of my favorite things to do in this season is light some delicious smelling candles and cozy up with a cup of tea, cider or hot cocoa on the sofa. Whether I'm reading, blogging or watching a movie, having a warm cup of something soothes the soul.  If the tea cup I was drinking my yummy goodness from had gold polka dots on it, it'd just be an added bonus!
So, let's do just that today.
Materials:
White mugs (I got mine from Target), Martha Stewart Crafts glass paint, circular sponge brushes, oven.
Directions:
Clean your cup and saucer.
Stamp on your polka dots.
Cook your cup and saucer in the oven for 30 minutes at 350 degrees on the top rack.
Let sit for 24 hours, then wash in the dishwasher.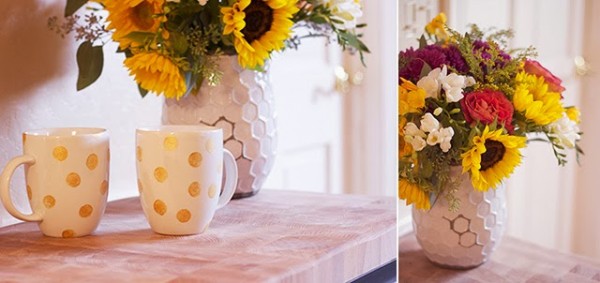 I could see these Kate-Spade-inspired mugs being used as hostess or birthday gifts or a fun DIY project for kids (or adults!) on a rainy day.  Of course the paint comes in a variety of colors, so your options are endless. I'm still on the gold kick :) Who's with me?
If you're anything like me, you'll want to test out your cute new tea cup immediately after it's done.
Try a simple apple cider recipe, like the one I used above!
Apple Cider Recipe:
Heat Martinelli's apple juice (or your favorite brand) over the stove. Snap two cinnamon sticks in half and throw it in your pot to flavor the cider. Sprinkle in some allspice, a few cloves, and an orange peel cut into strips. Once hot, pour into your new mug and garnish with a cinnamon stick.

Enjoy & Happy October!
***Have you been keeping up with my 6th annual 31 Days of Falling for Fall series?***
Day One, Day Two, Day Three, Day Four, Day Five, Day Six, Day Seven, Day Eight, Day Nine, Day Ten, Day Eleven, Day Twelve, Day Thirteen, Day Fourteen,Day Fifteen, Day Sixteen, Day Seventeen, Day Eighteen, Day Nineteen, Day Twenty, Day Twenty-One, Today is Day Twenty-Two!
Come visit fellow Fall lovers & Join the Fall Nesting Link Up Party