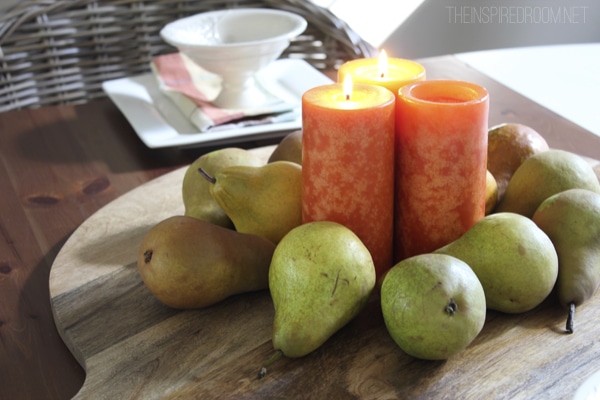 I picked up some beautiful organic pears at a local market this week. I love looking through the produce aisle at a really nice market. I don't really like to grocery shop, but somehow looking at all the fruit and vegetables is fun for me! Not only are they good for you, they are so pretty!
But before we eat these delectable pears, I thought I'd play around with a simple Fall centerpiece.
I love making centerpieces in wreaths (see the simple Fall wreath I made last year) but this time I thought maybe it would be fun to set up a centerpiece on this beautiful wood cutting board (via Boxwood Furnishings). I love to use what I have!
Nothing fancy or fussy, just pretty. And this kind of centerpiece is not too tall for conversation at the table!
Best of all, when we get hungry for a little snack, we just reach over, grab a pear and take a bite.
Go ahead and say it. It's brilliant. Heh heh heh.
What's on your dining room table right now?

***Have you been keeping up with my 6th annual 31 Days of Falling for Fall series***
Day One, Day Two, Day Three, Day Four, Day Five, Day Six, Day Seven, Day Eight, Day Nine, Day Ten, Day Eleven, Day Twelve, Day Thirteen, Day Fourteen,Day Fifteen, Day Sixteen, Day Seventeen, Day Eighteen, Day Nineteen, Day Twenty, Today is Day 21!
Come visit fellow Fall lovers & Join the Fall Nesting Link Up Party