Here is a quick DIY centerpiece idea I've been making in various forms for years. You might have seen it in yesterday's post! It is so quick and easy! It is perfect in a pinch or when you want to set the table and move on to being the hostess with the mostess!
Here is how to make this easy centerpiece. Prepare to take notes and research the expensive tools you'll need to create this because it is highly complicated and requires a finely tuned creative mind and many complicated steps.

WREATH CENTERPIECE TUTORIAL

1. Take any wreath you have on hand and fill the center with faux or real fruit, veggies, pine cones, ornaments, moss, shells or whatever you have that suits your occasion! Mix and match real and faux, whatever you want. No rules.

Then…

2. Well, then . . . you are done.
You can use real fruit. I have faux apples, pears, and real pine cones around all the time because they ALWAYS come in handy for centerpieces and general all-season decorating. I bought the apples and the pears at Pier One and can reuse them year after year. The pine cones are from Michaels' Craft, I think they used to be scented. But now they are just plain old pine cones.
And I always have a few wreaths around my house as well because they just come in handy.
Remember, I keep the random seasonal decor in lidded baskets in my dining room, entry or family room so I can dig out whatever I need in a hurry. When you need a quick and easy centerpiece (because if you are like me, you don't think about that sort of thing early enough!), you don't want to have to go under the house where the spiders are or in the freezing cold garage.
Let's flash back to September 2007 to see a similar centerpiece I created, shall we?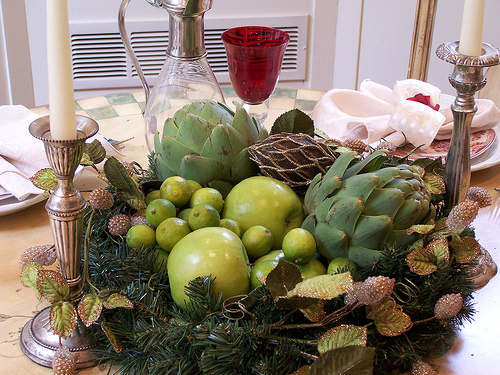 The Inspired Room Centerpiece, September 2007.
Why yes, I still have the same red glasses and
created the same centerpiece in 2007. Don't judge.
This is kind of a funny story about my wreath centerpieces, or actually it isn't funny and I just laugh at myself. Anyhooo. I wrote a post back in 2007 mocking this simple wreath idea and mentioned how many truly talented ladies there are in blogland who have fun for hours creating such beautiful things.
And then there is me.
I throw fruit in a wreath and call it a craft.
Oh me of little patience and usually too much to do.
Victoria Magazine October 2007
But anyway, about a month or so after I posted my centerpiece wreath in 2007, I got my Victoria Magazine in the mail and I was shocked to see a wreath centerpiece with fruit in the middle, surrounded by candlesticks. Pretty much like mine.
I'm sure it was a coincidence but I was kind of tickled to see an idea I wasn't so sure was something to brag about right there in Victoria Magazine. It doesn't take much to make me feel like a domestic table decorating goddess.
And look at me now.
Still blogging about this idea in 2011, because that is how I roll. I know I've seen it in several other publications since then, so it is still actually a great and pretty much timeless idea!
PS. If you did not see yesterday's post, I shared a (free!) printable for your holiday parties!
Yellow plates (and taupe ones to!) are from Blessings Unlimited!
I have a great gift idea and giveaway this weekend, so come on back for it tomorrow!