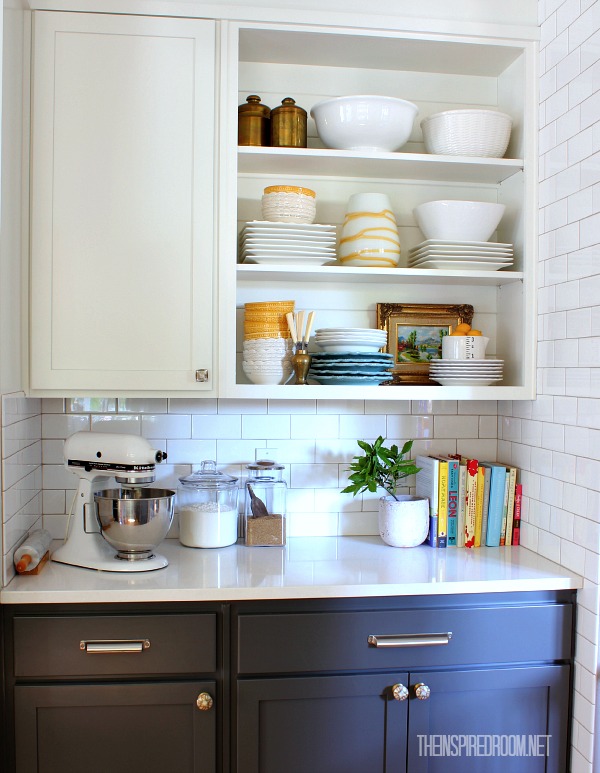 One of the things I was most excited about in choosing a simple neutral color scheme for my kitchen (with charcoal base cabinets and white uppers) is that I could have fun by adding colorful dishes, books, towels or accessories. The look of my kitchen can change with my whims or with the season. It can be simple and neutral, or much more lively with a kaleidoscope of pattern or colors!
This summer I've especially been drawn to accessories in yellow and lots of plants. I don't worry about staging open shelves perfectly, since the dishes and accessories themselves are cute and all work together just fine. It is nice to repeat colors a few times, but that is usually the extent of the thought I put into styling. With the variety of finishes in my kitchen I can also add in accessories from silver to gold and it all feels right at home.
I use the dresser in our family room to store extra dishes. That way I can just bring out certain colors of dishes or seasonal items to use on my open shelves and keep others in drawers. My dream is to have built-ins in both my family room and front room / dining room so I can have even more room to store my favorite accessories and dishes for the kitchen.
While I'm all for paring down in life and not having excess we don't need, there is something I really love about having a variety of pretty but casual every day dishes and serving items. We no longer have fancy china or crystal, we only keep what we love and would really would use day to day.
And since we do like to entertain, it is fun to have items we can use for any occasion. Most of our main dishes are white, but I do enjoy having special colored and patterned salad and dessert plates to mix things up!
Since we use our dishes frequently we don't worry too much about dust as they are getting washed regularly. And just like any surface in our home, when we clean we dust everything off. Yes, dust happens, but we do try to keep our kitchen as clean as possible. That is one of my favorite things about a remodeled kitchen I love so much, I am very inspired to keep it clean and pretty!
Do you love dishes on open shelves as much as I do?