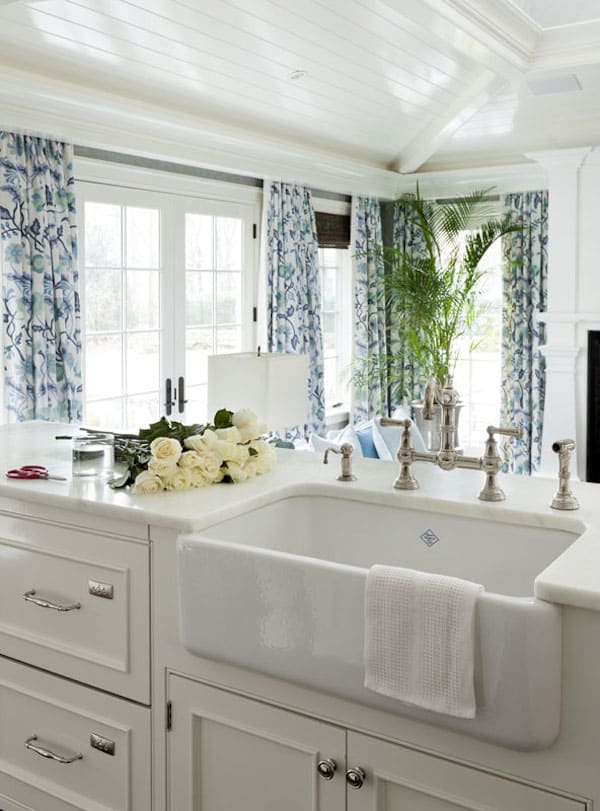 Farmhouse sink  via Tiffany Eastman Interiors
Today I'm excited to share inspiration for farmhouse sinks! Aren't they charming? You can find a variety of shapes and materials for farmhouse sinks that would be well-suited for most any type of house, they aren't limited to use in farmhouses!
If you missed my announcement last week, it's Kitchen Month here at The Inspired Room and I'm sharing the "best of the best" ideas I found and sources for many items while researching for my own kitchen remodel. My first post on kitchen open shelving was last week! Today's post is is all about farmhouse sinks (and apron front sinks), so let's dive in!
Farmhouse Sinks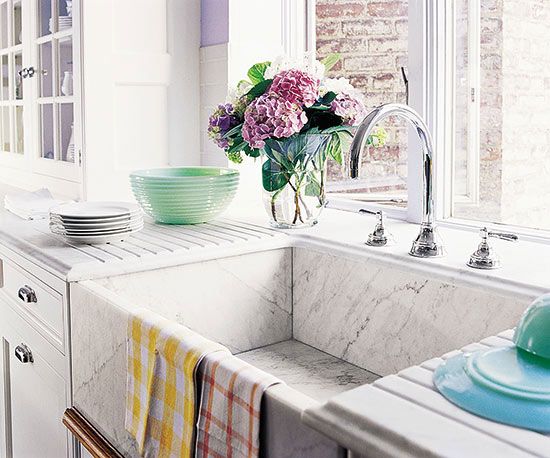 BHG
Most people (like me!) refer to apron front sinks as farmhouse sinks and they definitely have that same look, but I think technically apron front sinks are called that because they have a slightly different design. The apron front sinks have a finished "front" that fits over the front of a cabinet to create the "farmhouse" sink look. You can see an example of a apron front sink, below.
You'll need a custom cabinet for a farmhouse sink, or at least a modified one to accomodate it (in our old house our contractor just modified our existing sink cabinet to fit the type of apron front sink we chose) so be sure to check dimensions and ask your contractor to be certain the specific sink you want will work with your particular cabinets. These are HEAVY sinks so you'll need a sturdy and supportive cabinet, too.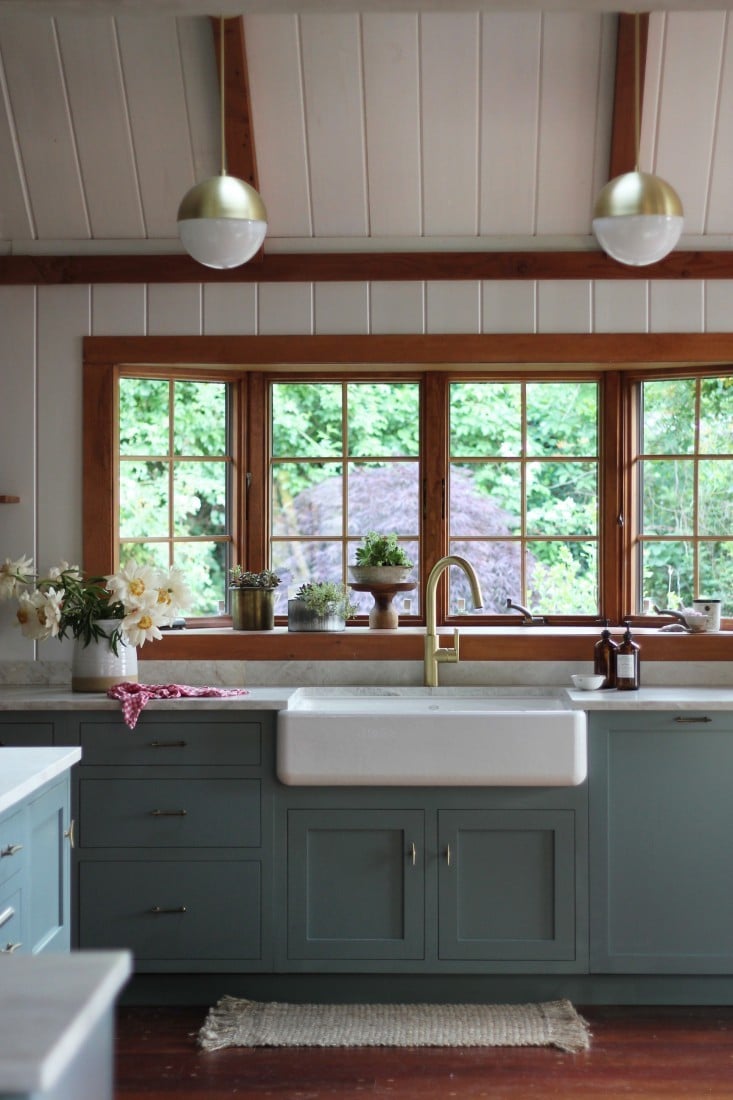 Jersey Ice Cream Co via One King's Lane
The best farmhouse-style sink I've found (and had in my last house) is the Kohler Whitehaven. It is a cast iron enameled apron front sink. It is an undermount design, which means it goes under your countertop. I much prefer the under mount style sinks for a cleaner look.
I had the smaller profile Kohler Whitehaven, which I loved and it worked in my existing cabinet with modifications, but there is also larger version, so be sure to order the exact size you need and the style that works for your look!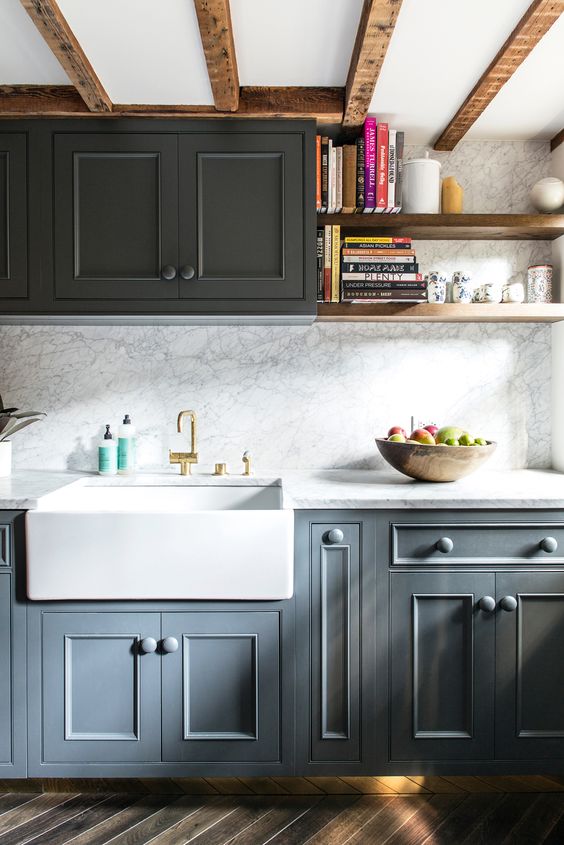 My Domaine
In a previous house I had a fireclay sink and did not like it quite as well as the cast iron enameled Kohler, but it was still a gorgeous sink. You can also get a large cast iron enamel single basin undermount style that doesn't have the farmhouse or apron front style front exposed (the sink goes fully inside the cabinet) and they are wonderful, I've had that style of sink, too.
Enjoy the inspiration pics today and the round up of sources for more great sinks at the end, too!
Farmhouse Sink – Stone Apron-Front Sink (actual source is linked!)

The Inspired Room / sink source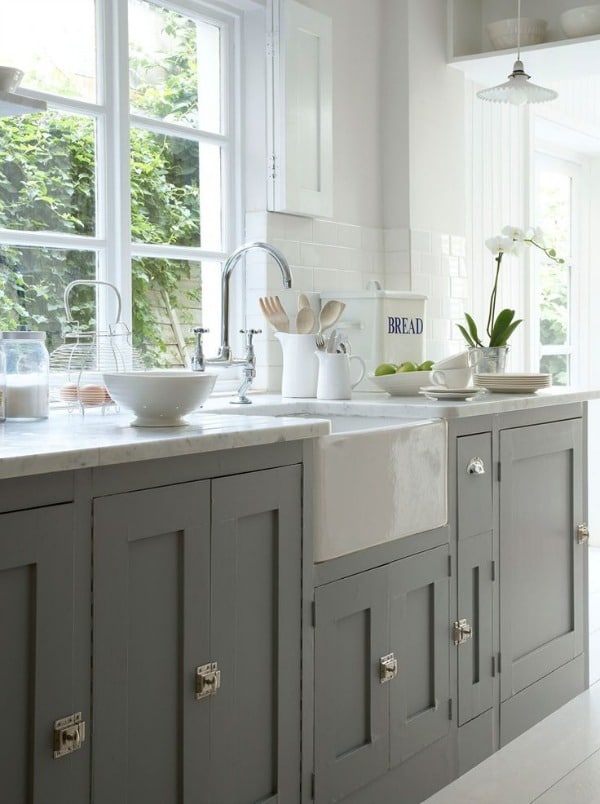 Westerbroek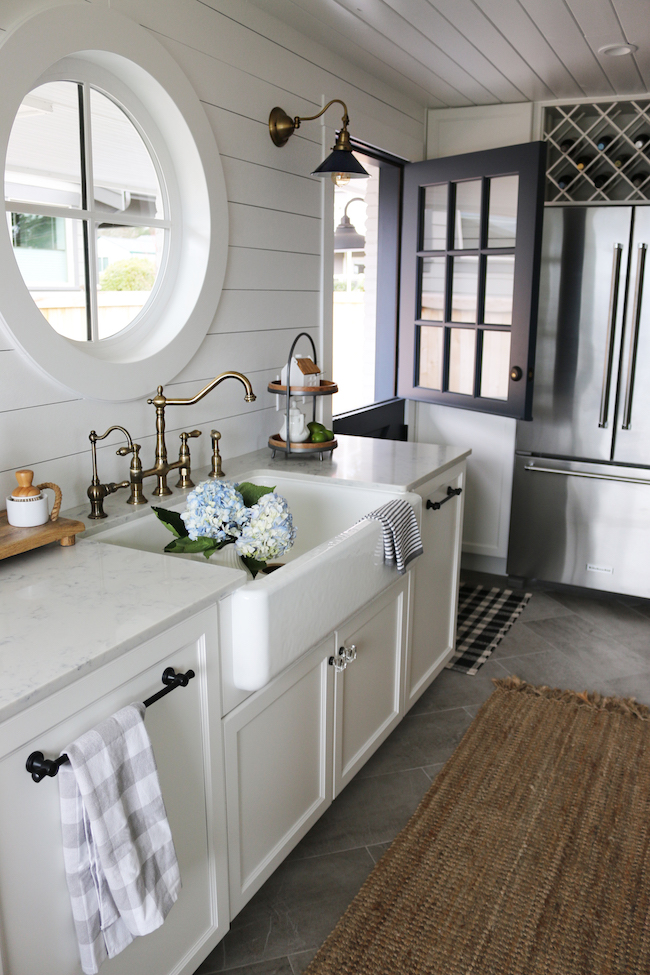 The Inspired Room Kitchen Reveal / Sink Source / Faucet / All Kitchen Sources
1 // 2 // 3 // 4 // 5 // 6 // 7 // (#1 was in my previous kitchen and it is WONDERFUL!)
Have you ever had a farmhouse style sink?
Click here to see my new kitchen reveal (with a full source list!)