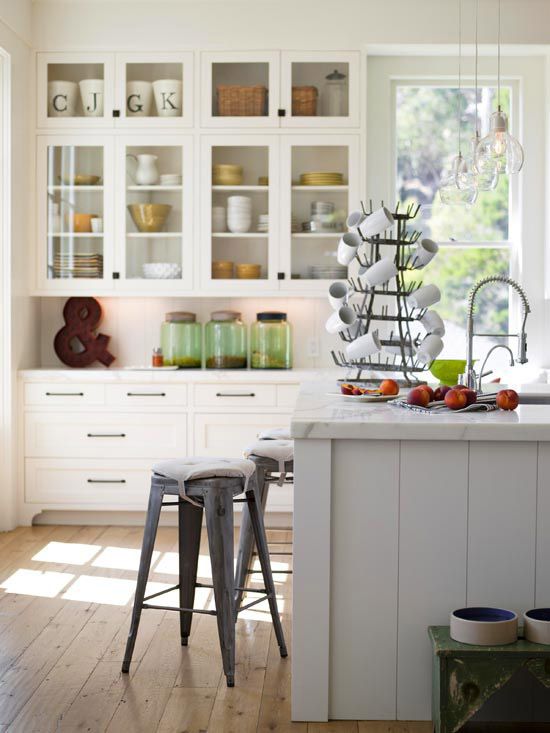 BHG
Years (and several houses) ago I set up my first coffee station in our kitchen. We currently live in Seattle, home of the original Starbucks, so it probably goes without saying that coffee has been a big deal in the Northwest for almost as far back as I can remember (I've lived in the NW for almost my entire life).
If you are a coffee or tea lover, a dedicated zone for a coffee station is worth considering for any kitchen remodel. Even if you aren't remodeling, a special spot for coffee (or tea) can give your kitchen a homey functional appeal!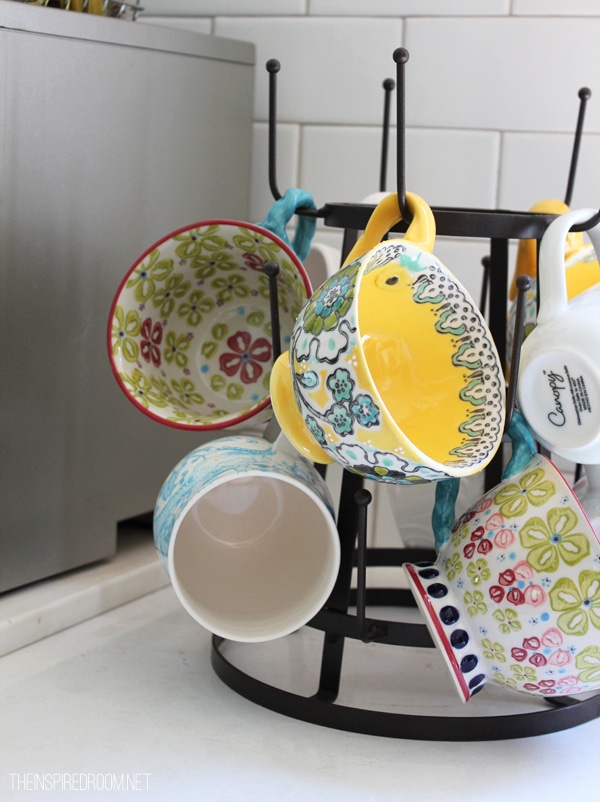 I loved my little mug tree I bought for our old house several years ago and the colorful mugs I collected to hang on it. While I still have my original mug tree, a few months ago I bought a taller mug tree that can hold a lot more coffee mugs (and doesn't take up any more space on the counter) to accommodate a growing pretty mug collection.
I actually had already set up a coffee station in this house (it was probably the first thing I set up here, haha), but sadly, the day I brought my new mug tree home was the day my beloved coffee maker died. SADNESS! After zillions of years of faithful service brewing my morning coffee (and let's be honest, often my afternoon coffee too), it unexpectedly stopped working. SORROW!
Our coffee maker was so reliable and made great coffee for years and years (check out similar models here), I highly recommend it.
Ever since my coffee maker bit the dust, I've used my Nespresso (which I really like as well, mostly because it makes GREAT foam even without milk/the milk frother) but life without my old coffee maker has not been the same. I do plan to get a new espresso maker to go with my new mug tree, it is just a matter of saving up my pennies. I'll let you know what I decide to get, I very well may get the same brand as I had before.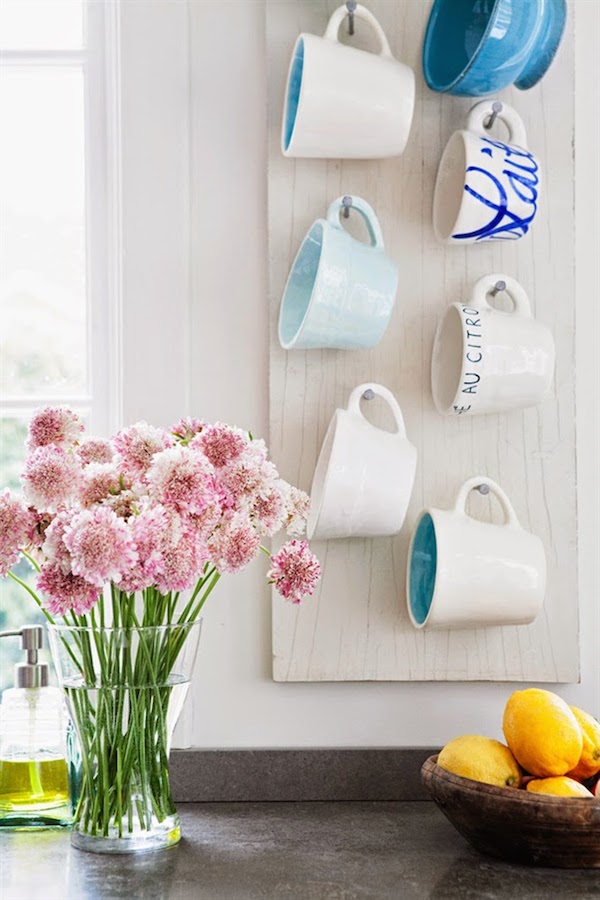 Fröken Turkos / Photo by Lina Ikse / via House of Turquoise
Mug Tree
Besides the joy of selecting a beautiful mug to go with your coffee each morning, there's something so charming about the form+function of a mug tree on a kitchen counter. I'm all for a clean and streamlined space, but the warmth and charm of seeing a coffee station all set up, inviting me to enjoy my daily ritual makes it a welcome addition to my kitchen. The mug tree really doesn't take up a lot of room on the counter, and they hold so many mugs that it saves a lot of space in the cabinet, too!
Wall Mug Rack Source — Cute mug wall via Baked Bree blog
If you really don't have space on your counter for coffee mugs, you could add a charming wall mug rack. Or even just use cup hooks under a cabinet to accomplish the same thing.
We even used a small tiered stand for coffee mugs one Christmas, which really is a great idea if you only need a few mugs!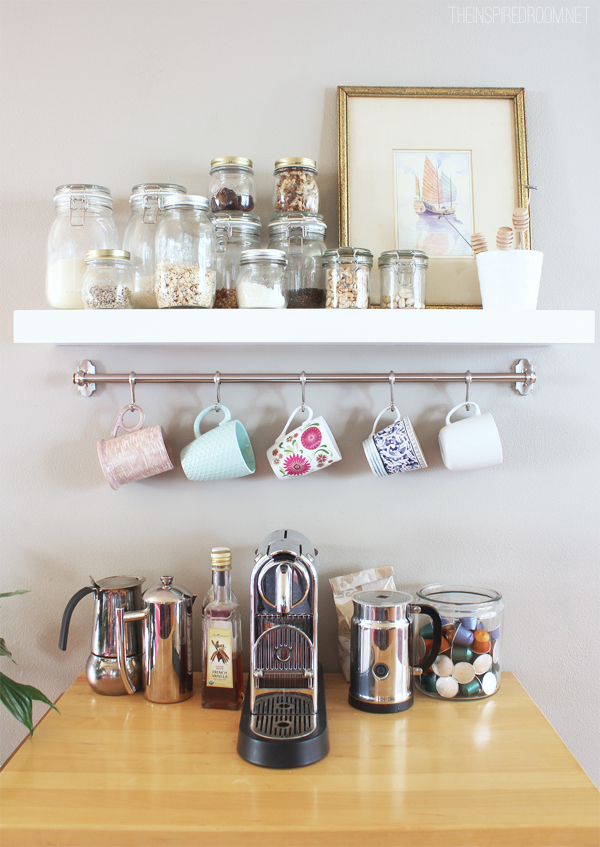 My daughter made a DIY mug rack with a rod and hooks for her coffee station (above), it's so cute and perfect for even small spaces.
A mug rack would be an adorable addition to an informal dining room, too, so you can be creative about the location of your coffee station.
Stay tuned for more kitchen ideas and inspiration as we continue with Kitchen Month in our Best of the Best series!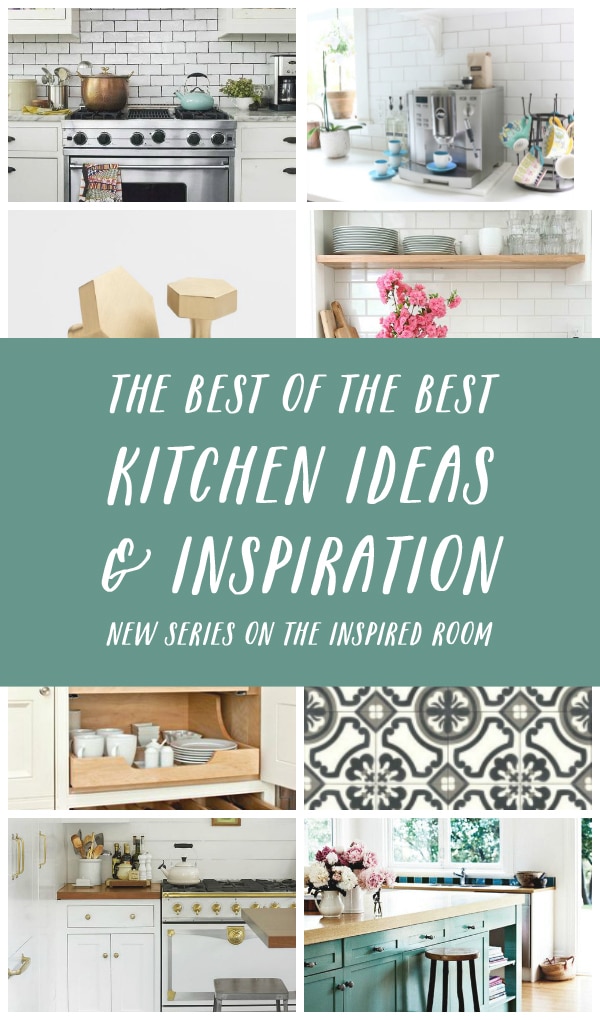 Do you have a coffee station in your home?
See more posts in our Best of the Best {Kitchen} Series:
Kitchen Open Shelving Inspiration
Farmhouse Sinks: Kitchen Inspiration
*this post contains affiliates*