Hello! Kylee here today to show you my tiny balcony makeover! When we first bought the townhouse 2 years ago, I was especially excited to have outdoor spaces to grow plants. I have a super tiny backyard and a very small balcony off the main living area on the second floor.
When my husband Lance and I moved in, I immediately bought the table and chairs for the balcony with high hopes of spending lots of time out there, but the truth is we never really sat outside. The deck just felt so "blah" that I guess we just never felt inspired to be out there.
The deck doesn't have a great view, so it needed to be inviting enough on its own to beckon us out. This spring I decided that I would try to find ways to make this tiny space a more worthy destination.
Flowers were a must for making sure I enjoyed this space. I found some cute but affordable pots and planted a variety of flowers. Because I can see them all from inside, I usually remember to water them. To water the plants I have to go outside, so having plants to take care of helps a lot in my enjoyment of this space.
But once I got the plants, I realized I wanted to do something to disguise our red railings around the deck. Not only are my floors cherry hardwood and my couches are red (see the post about our red couches here!) but the exterior of the townhouse (and the deck railing) is also red, so I was tired of seeing so much RED! I needed something a bit more neutral to look at from the inside.
This bamboo fencing not only minimized the red railing, it added a nice tropical vibe to the space (so we can even pretend we're on vacation, too!). The fencing would also be a great way to add privacy if you have a balcony with open siding. Although, for privacy or covering something unsightly, I would recommend double layering the fencing as the bamboo spacing varies and there are definitely some gaps (as you can see below!).
Pretty outdoor pillows and a patterned rug went a long way to give the space a little bit more personality. Even with outdoor spaces, it helps to add some personal touches!
You may recognize this wine stand as my previous coffee stand (seen in this post). When we got the cart that I'm currently using as our coffee station, we set this rack aside with hope of repurposing it. It fits just perfectly out on the balcony and has been the perfect place to grow the herbs I use in my favorite recipes.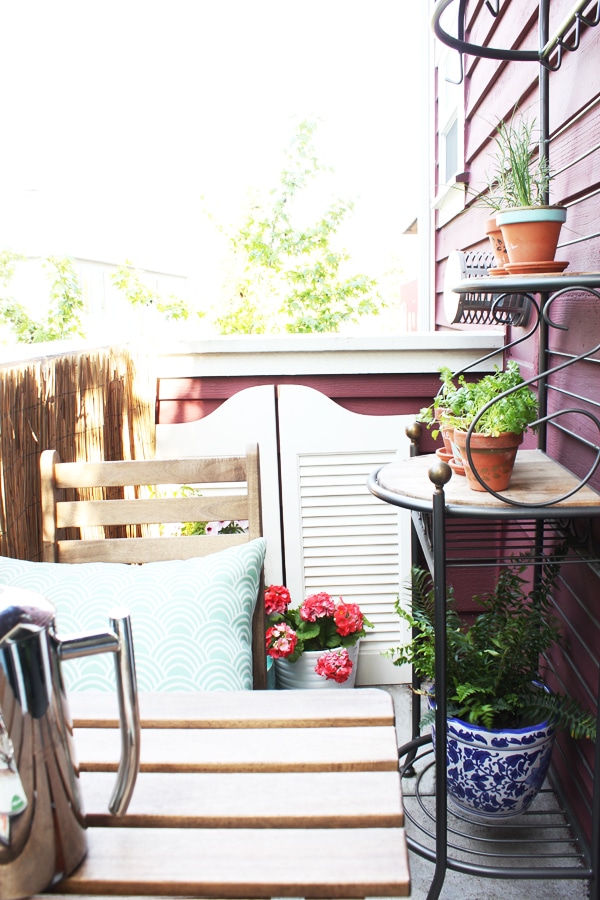 Ever since our little makeover was completed, I have spent quite a few mornings outside savoring my coffee before work. Lance and I have shared a couple of meals and glasses of wine on warm nights. We love looking at it every day and it's become an extension of our living space.
My effort was minimal and budget was low, but it didn't take much to transform this tiny space. Just because a space is small doesn't mean that it can't have a big impact on your home and life.
Thanks for letting me share! Do you have a tiny outdoor space that could use a little update?
Sources:
See more of my past posts of my townhouse here!