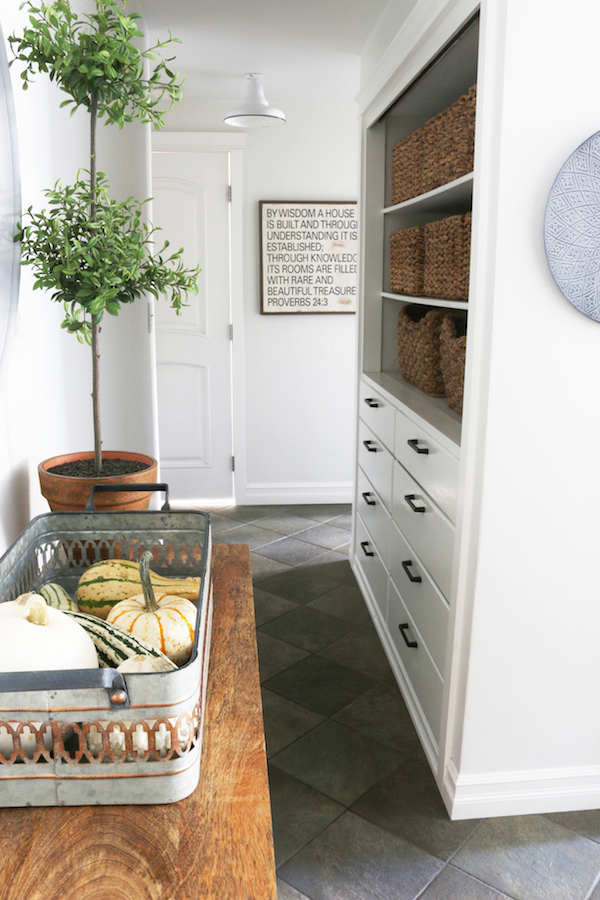 Remember when I revealed that we almost bought an Alpaca Farm? I still think it would have been a dream to wake up everyday and hug an Alpaca. But, it would have also probably been the death of us trying to run a farm. As much as I loved that idea, it was a more sensible choice for us to move to the city instead.
While it's kind of sad to realize that no Alpacas will be grazing our Seattle backyard, we do have furry Alpaca-like pups romping through our grass every day. :) To bring a more manageable farm experience to our little urban cottage, next year I'll be adding vegetable and herb gardens so we can live off the land if we want to.
In the meantime, I'm relying on subtle and simple farmhouse-inspired influences in our decor and architecture as a practical way to live the white farmhouse dream.
Way back when we first bought our house, I gathered some specific inspiration for what I wanted our small hallway entry to feel like. I pictured it should feel feel like a charming mudroom in a cottage or farmhouse, since it's a well-trafficked hallway between both our front and kitchen doors. We aren't fancy people so we don't need a formal entry. Give us some hooks for our dog leashes and baskets for our stuff and we are happy campers (errr, farmers?).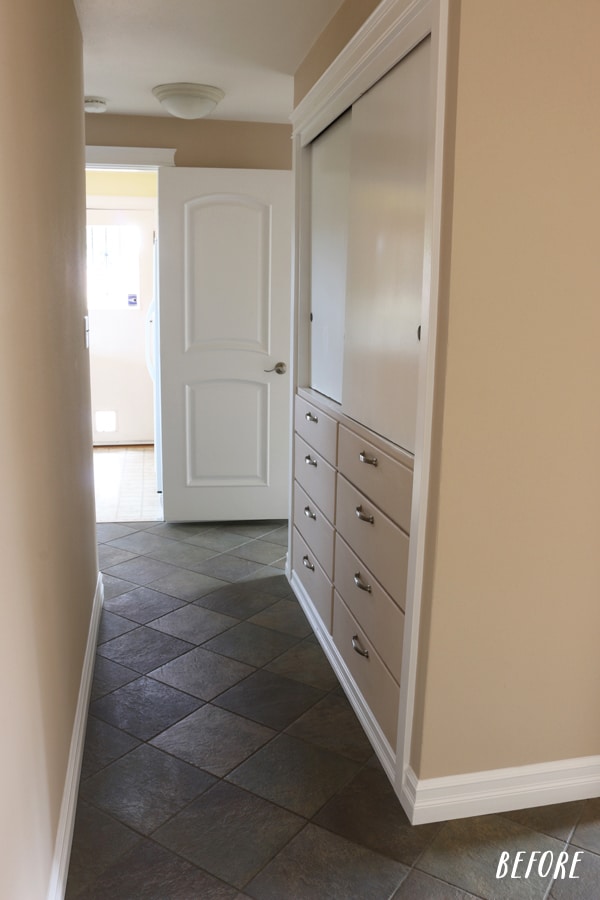 While the implementation of our ideas has been slower than I wanted it to be (truly the story of my life), this space has come a long way. We don't have the Dutch doors installed yet and they will make a huge contribution to the style of our space so I can't wait to be able to do before and afters at that stage, but we've definitely made progress in other ways.
Do you ever stop to celebrate progress? I find it can be so tempting to always be looking ahead to the next thing or the finished space instead of pausing to rejoice over the little improvements. So today, I want to remember and share the progress that has been made!
You got to see a glimpse of the entry hall in my fall house tour, but as promised here's a look at what we've done so far in the hallway and what's next!
The hallway is basically in the shape of a T, so you come in the door and walk down a hallway towards the dining room or can go left to the master or right toward the kitchen. So here's the progress!
This is the part of the hall that is right outside of our kitchen. I wasn't sure at first what we would do with the built-in, but I'm glad we left it as it was, because it's now a feature we really love! We never liked the sliding doors but rather than hiring a cabinet maker to fix or change them out at this point, we simply removed the doors and added baskets. Easy peasy! But wow, what a difference that simple change made. It makes the hallway feel bigger and definitely more charming.
We bought new black hardware for the drawers and the cabinets in the hall and are so happy with that transformation, too.
The sign in the hallway outside the kitchen is one we bought for our old house (above, via Between You and Me Designs). I love this verse so I think its message is perfect inspiration in our new entry .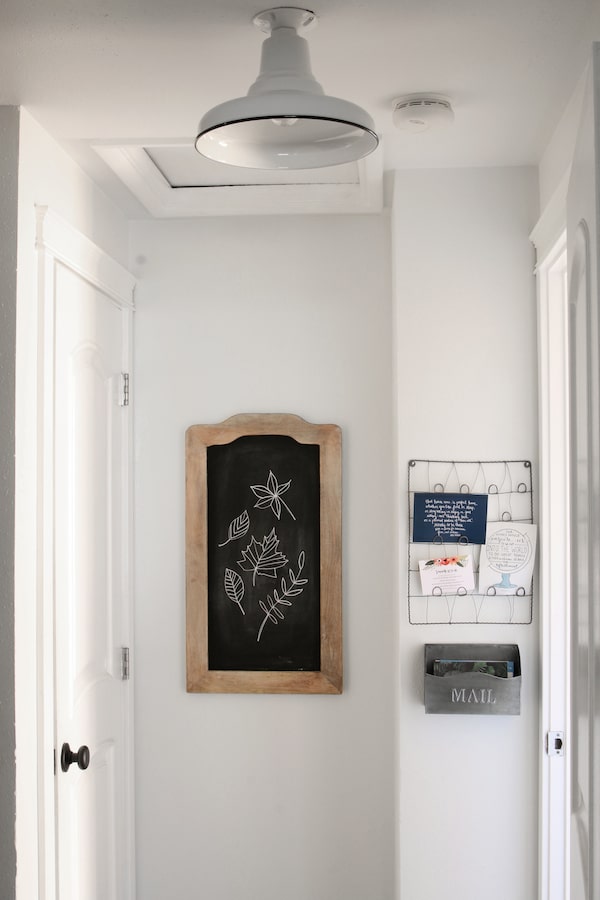 We made the most of the little part of the hall outside the kitchen door with a farmhouse chalkboard, memo board and mail holder. The kitchen door is to your right in this photo, the basement door is on your left, the basket built-in is behind you to your left, and my son's room is a few feet directly behind you, for those of you trying to figure out where this is. Also, the door to the right in this photo will be removed and replaced with an archway in the coming weeks.

Zinc wire message board card holder / Metal mail holder

Directly to the right when you enter the house through the front door, we added this cast iron row of hooks. We are all about function in this house, as long as it's cute, too. :)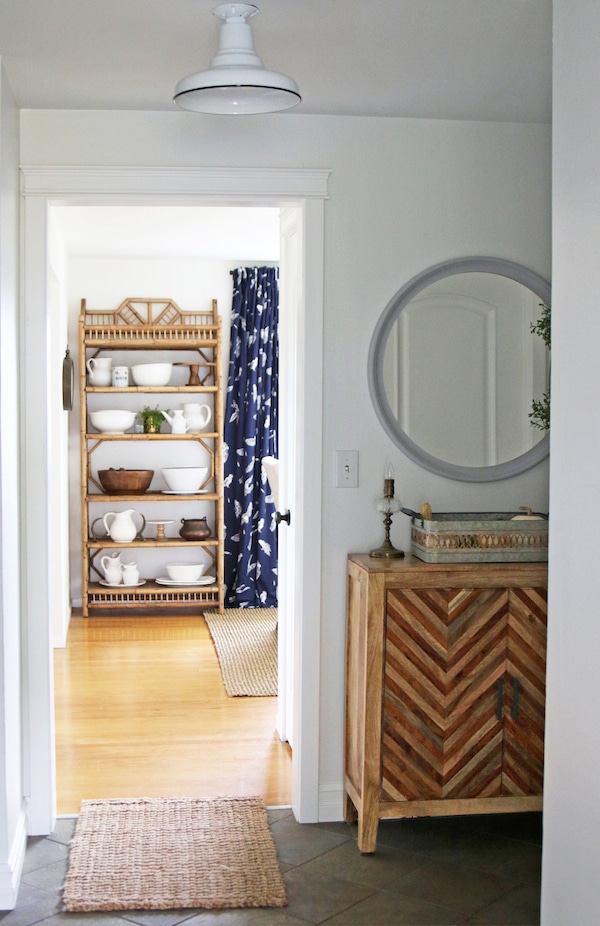 When you first enter our home at the front door (through what will soon be a Dutch door, of course), you are in this small hallway. The hooks (above) are on your right and this doorway in front of you leads into the dining room.
We painted the mirror (from Ikea) with Annie Sloan Paris Grey Chalk Paint. The chevron wood cabinet is from Pier 1.
While it's still a little hallway, it now feels fresher and more inspiring thanks in large part to a coat of white paint (Swan White by Glidden) to contrast with the slate floors and the (four total) adorable farmhouse-inspired flush mount lights from Barn Light Electric (a long time sponsor of The Inspired Room).
We still intend to put up some painted paneling at some point, I'm sure we will get around to that eventually.
Above is a photo of what this part of the hall looked like before.

Here's the comparison of the before and the "progress" shot!
This is what the little part of the hallway that leads to the master bedroom and bathroom looks like. We haven't yet decided when/if/how we are going to close it off to the entry (probably when we add a powder bath someday), but we do love how it looks now! Again, a coat of Swan White paint really helps the space to feel cleaner against the slate and it's so much more inviting. The new dark hardware is a perfect complement to the black and white hallway.
We also changed out the doorknobs in this hallway. While we found a lot of really cool doorknobs we LOVED and may get someday, these knobs were so affordable (and easy enough for Courtney and I to install ourselves) that we couldn't pass them up for a quick and easy change. We love the dark finish for another touch of soft black in the hallway.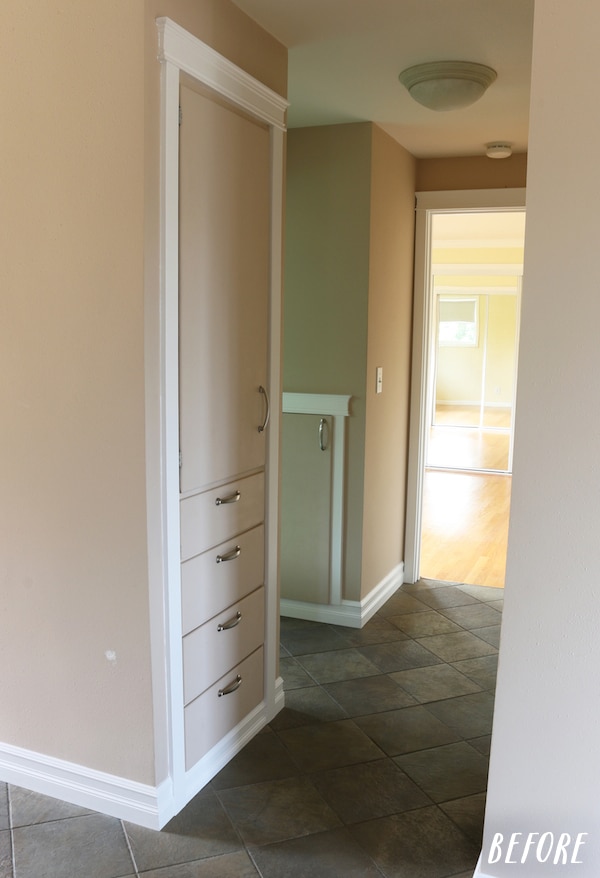 This is that little hallway before. Lots of "swine" :).

Tobacco Baskets on the wall
And above is another angle of the hallway leading to my master bedroom, after.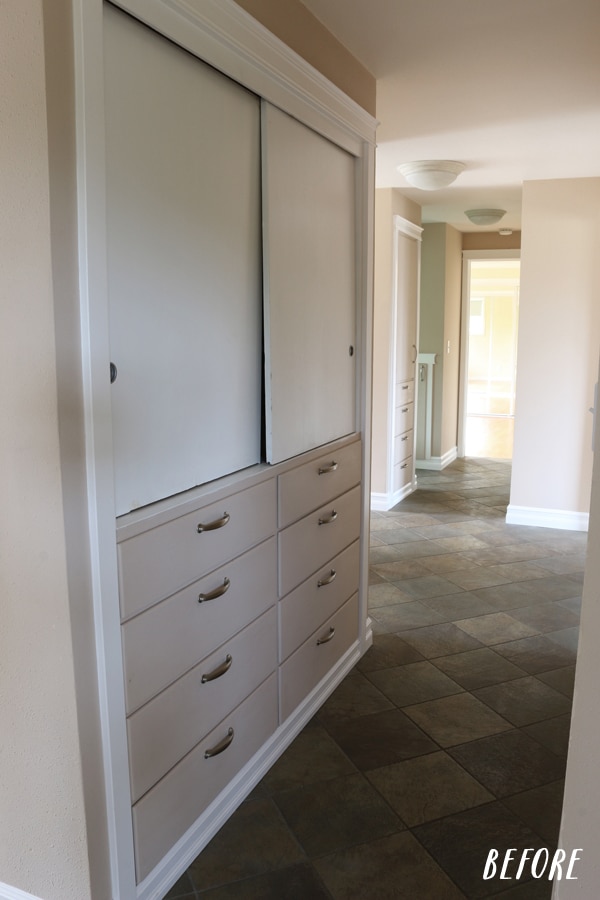 And above, here's one last look back at the BEFORE of the hall looking from the kitchen door towards the bedroom. I can't wait to share you the "after" of this entire hallway once we have the Dutch doors installed and our kitchen complete! Stay tuned.
Did you get a chance to take my fall house tour? You can see it here!
Thanks for following along with this adventure!

SOURCES:
White Barn lights: Barn Light Electric / Benjamin® Union Porcelain Stem Mount Light / White Finish / Flush Mount / Mounting Finish: Same as fixture (white) / No Cage
Proverbs sign: Between You and Me Designs
Baskets: World Market
Topiary – (similar)
Zinc wire message board card holder
White paint color: Swan White by Glidden
Sources may include affiliate links