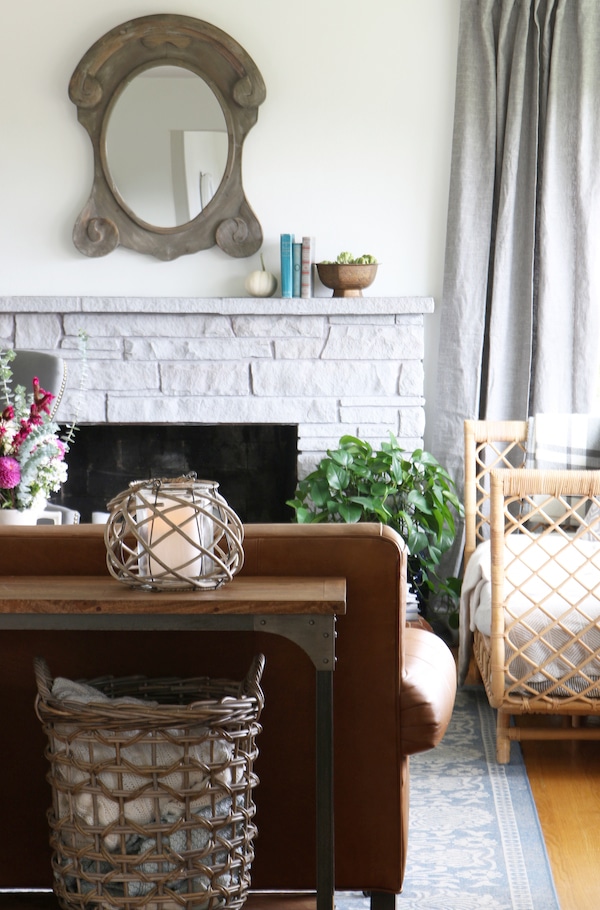 Welcome to my fall house tour! I'm so glad you are here. It seems like it's been FOREVER since I've done a seasonal house tour, doesn't it? It feels good to be back and opening my door to invite you all in for a look around after our move into this house last year. I mean, I invite you all in all the time, of course, but I think this is really the first time in this house that I've set out cookies for you and shown a lot of angles of several rooms all in one post. So, welcome :).
I'm so excited to be joining in with the Blogger Stylin' Home Tours today, hosted by Lindsay of The White Buffalo Styling Co. You can check out her fall tour here (be prepared to drool over her cozy home and beautiful newly remodeled kitchen!).

To those of you arriving from the gorgeous home of my lovely friend Shauna's (The House of Silver Lining), come on in! I'm so glad to have you all here.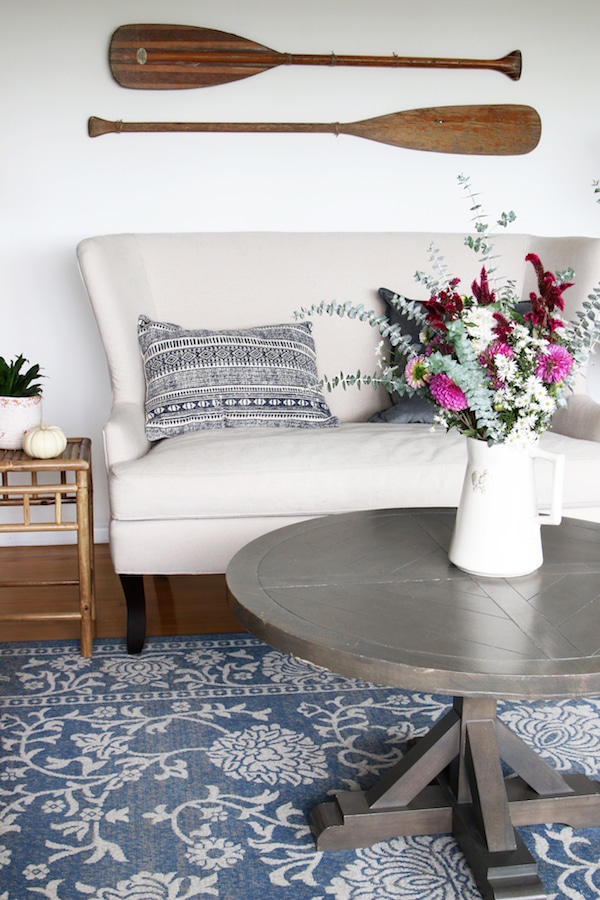 I started my TENTH year of blogging (!!!) this past July! If you've been following for long, you know fall has always been a favorite around my blog and my house. This is actually the third house I've lived in since I started blogging. Time flies when you are having fun, right?
This little house is definitely a work in progress inside and out, so we have the chaos and the cozy going on everywhere.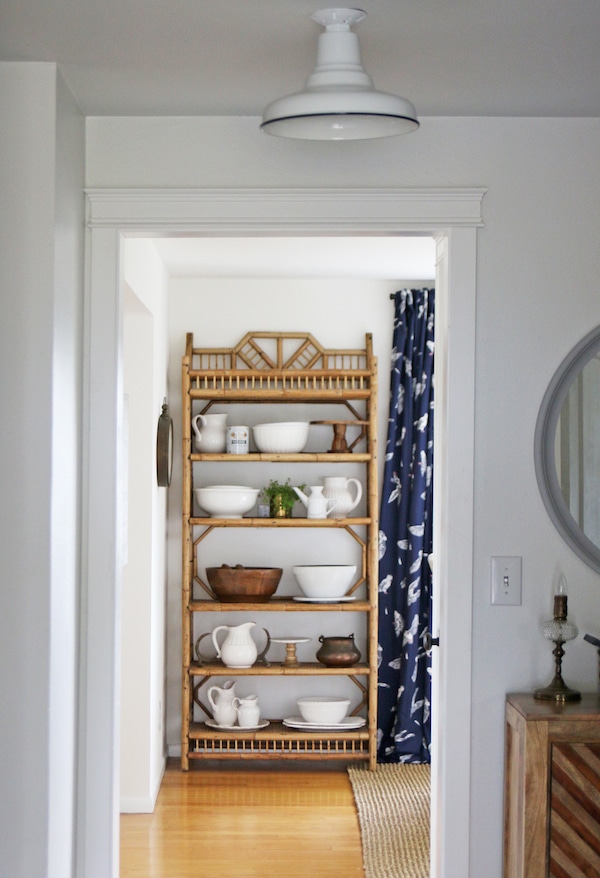 While each house I've lived in has been unique, I've always kept the same basic decorating formula: keep things simple and doable. In the fall I love to bring in extra coziness and warmth through texture and and few natural touches of the season.
With that said, this tour will be more of a look at "my house in the fall" than a look at the "101 ways I decorated with pumpkins" because that's how I roll and it's just the stage we're in with our remodeling projects. At the end of this post you'll find an extensive source list of my furniture, lighting, and accessories. But I have TONS of photos to share, so let's get started!
I'll let you peek around our main living areas today, and I'll share our bedroom tomorrow. In the coming weeks I'll have updates on our lower level and of course, I hope you'll follow along with our upcoming small galley kitchen remodel and the new Dutch door installation, too! We'll start those projects in just a matter of days now so I will have lots of updates to share.
For you regular readers, if you see a few little things around the house you haven't seen before, it's because they are so fresh and new I haven't even had time to post about them yet! Rest assured, I'll share posts and specifics about the updates in the coming weeks, so don't worry, you haven't missed anything. Consider this post a preview with more details to come. :)
You'll also find a few paragraphs below with the short-version story of our home if you are new to the blog or just need a refresher about where we live.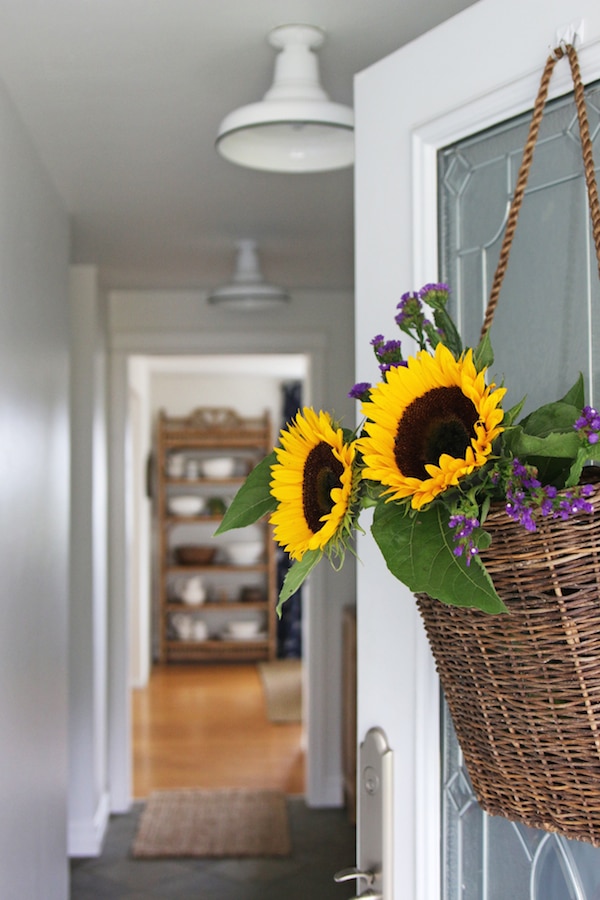 Hanging basket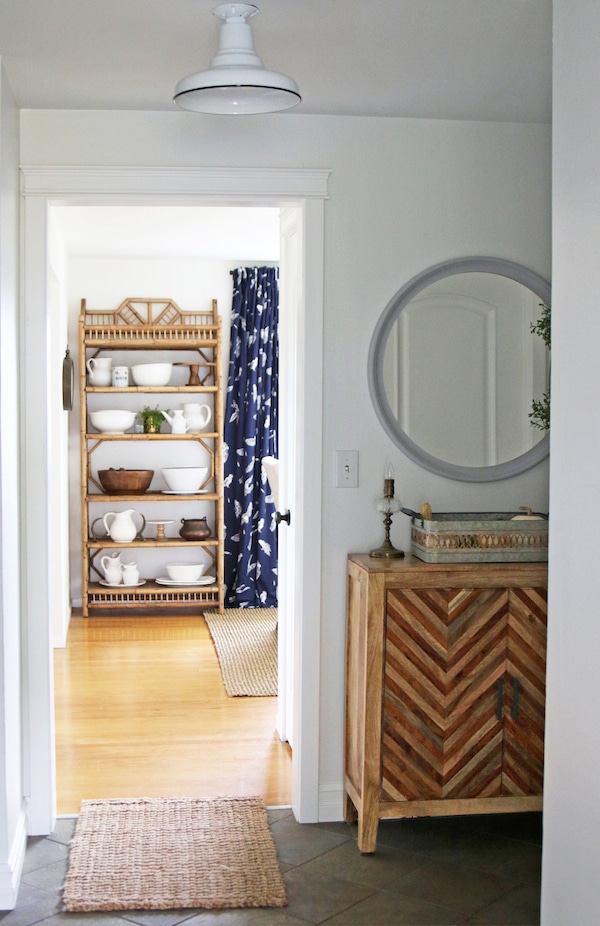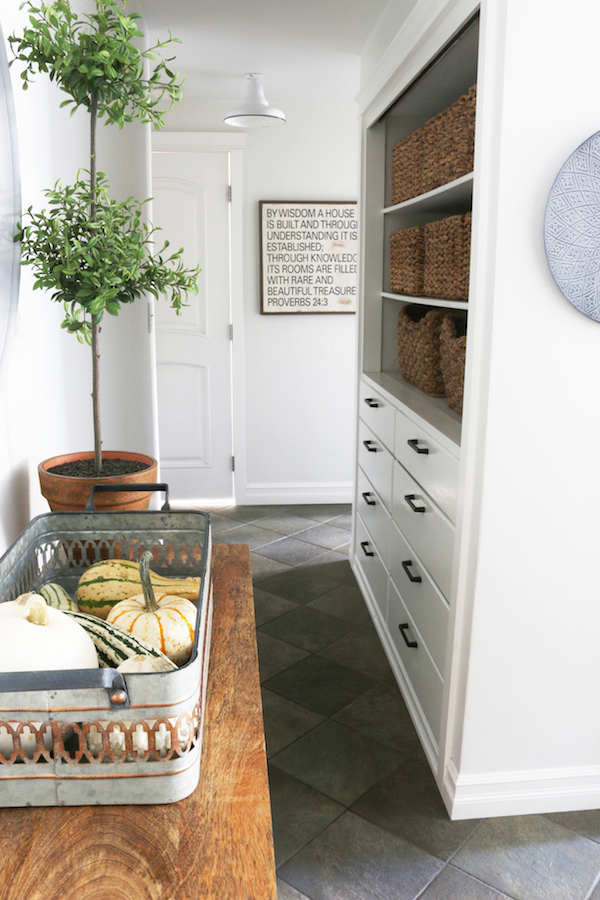 The brief backstory of our "white brick cottage"
We bought this small 1950s red brick house in Seattle exactly one year ago. Honestly, it was the style of house I would often pass by when I was house hunting. Houses in our price range and location were in limited supply and hard to get with all the competition. We needed to get into a house before school started for our son, so we had to look at everything just in case there was potential!
As we walked through the house, we realized it might be just what we needed in this season of our life. Not only was it a well taken care of and solid house, it had amazing light flooding through large windows, a beautiful yard and a gorgeous view of the sky, sunsets, snow capped mountains and the Puget Sound. We knew it had potential, and indeed it does.
Our goal with this not-so-big house is to keep the modest size (1500 square feet of main living space, with a finished basement below), the structure, layout and much of the character it already had (white plaster walls, wood and slate floors, brick and stone architectural elements) but give it a fresh modern cottage look with our own unique mix of the eclectic coastal farmhouse ambience we love (inside and out).
This summer we painted the exterior so now we can officially say we live in a white brick cottage! I happen to SUPER LOVE white brick houses, so seeing the painted brick every day for the past couple of weeks has already made me feel so much more like this humble house was meant to be for us.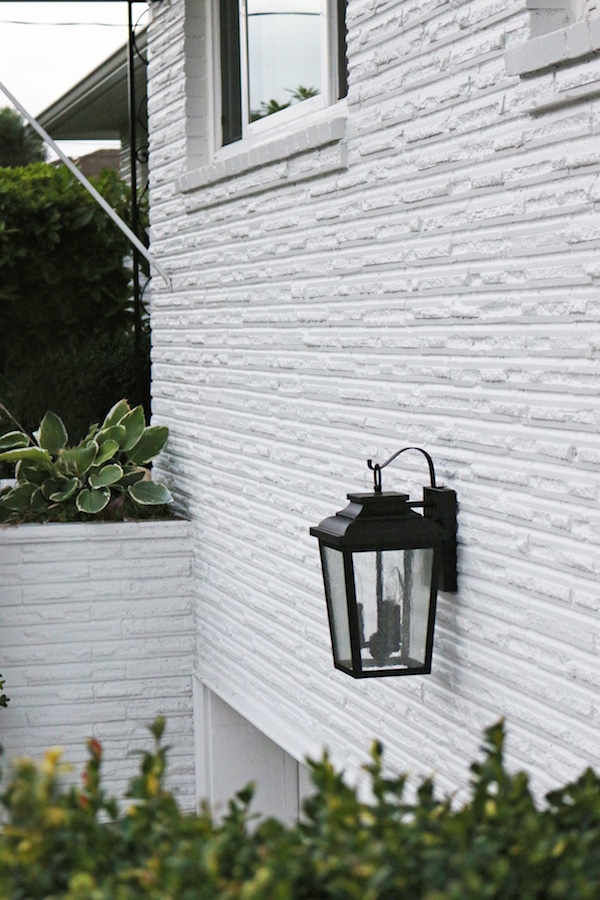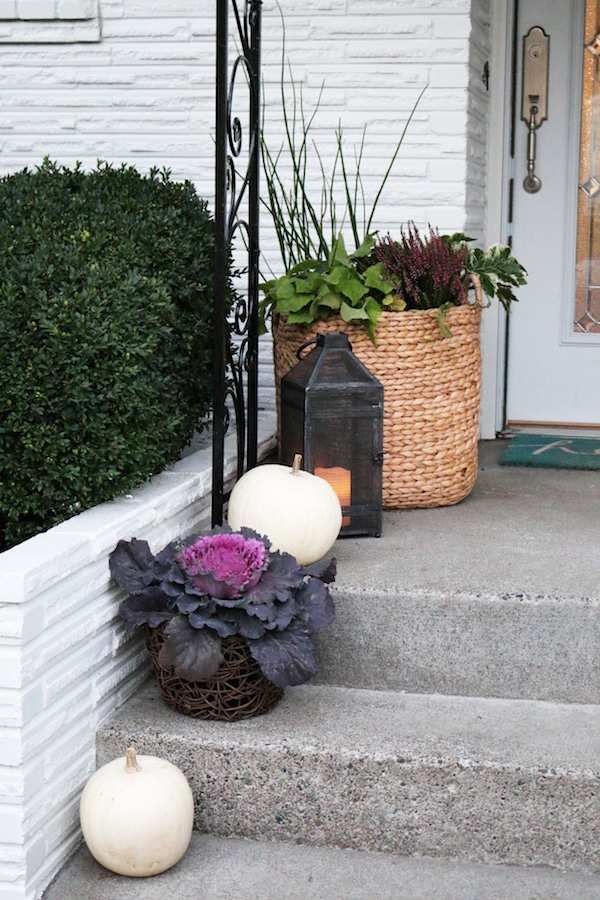 You can see a peek at our newly painted white brick (and our side patio progress) above.
There's still lots to do like clean up the the new concrete, add a Dutch door to the front and this porch entrance, wrap the porch posts to make them chunkier, add stair railings and a front fence and gate. I'll be back with updates as they happen :)
We'll continue to add more character and curb appeal next year to the front and back of the house, but the paint alone radically changed how this home looks.
I'd love to talk more about our plans for the outside, but I took a MILLION photos of the entry, living room and dining room so let's go back inside and keep looking around!
Shop my house: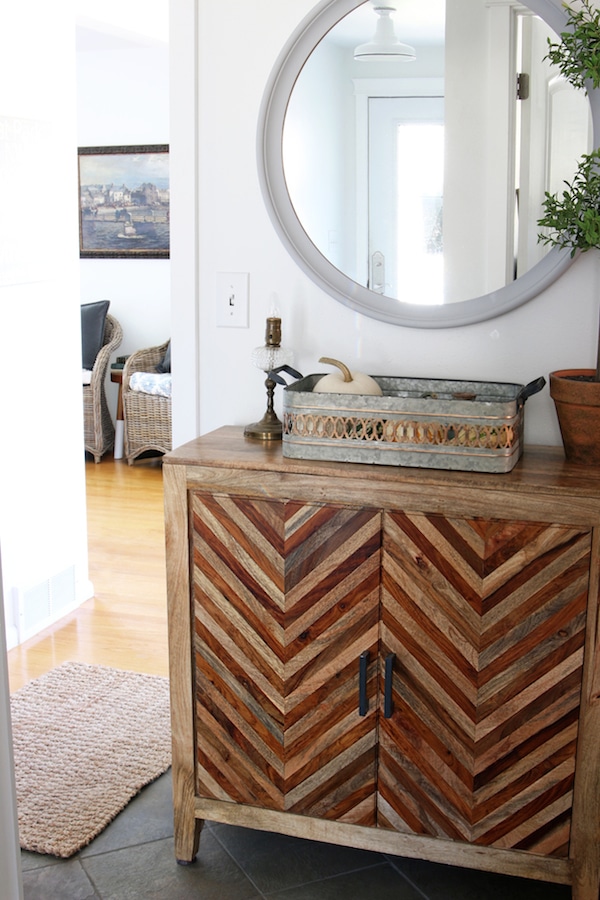 Soon you'll be able to see our new Dutch door reflected in this mirror. :) You can read more about my Dutch door plans here and here.
Read more about our hallway makeover progress here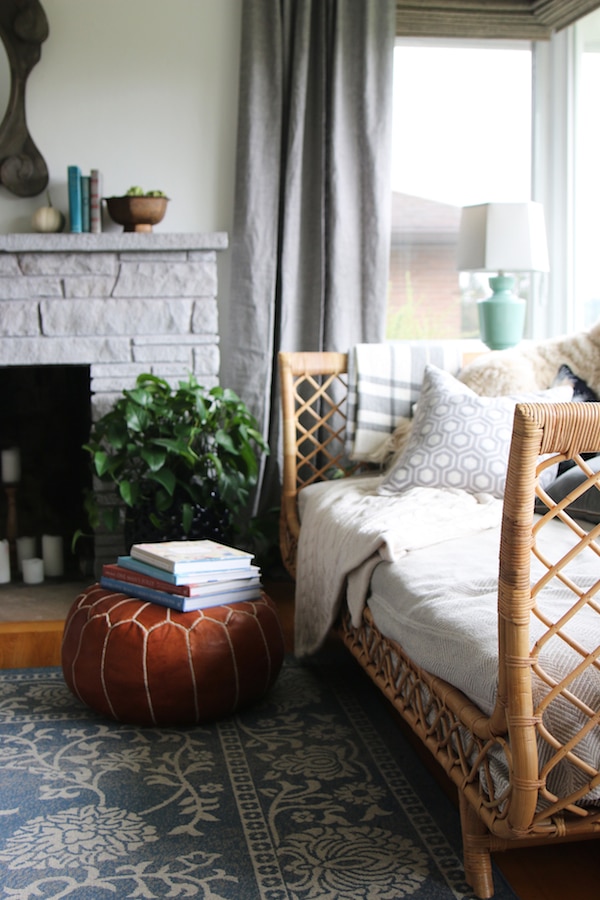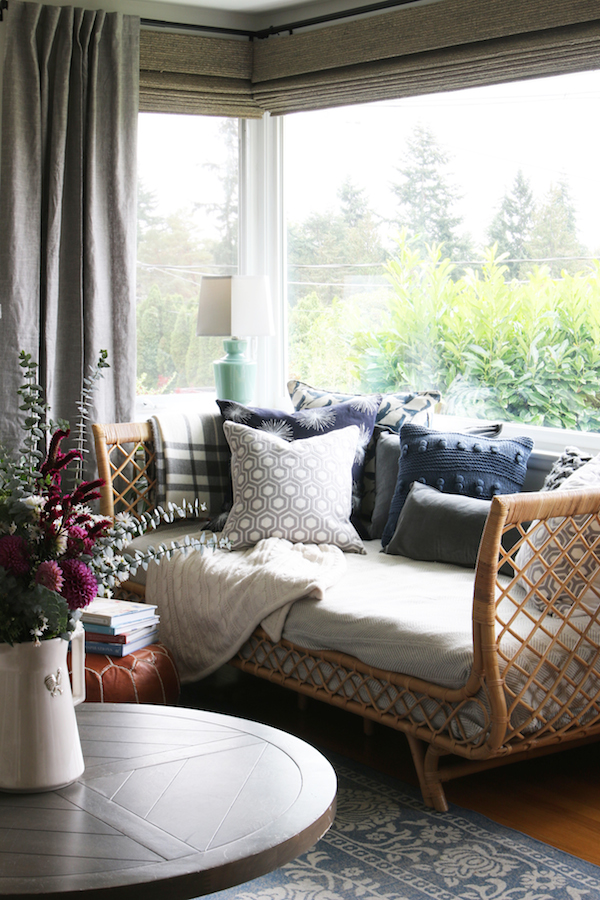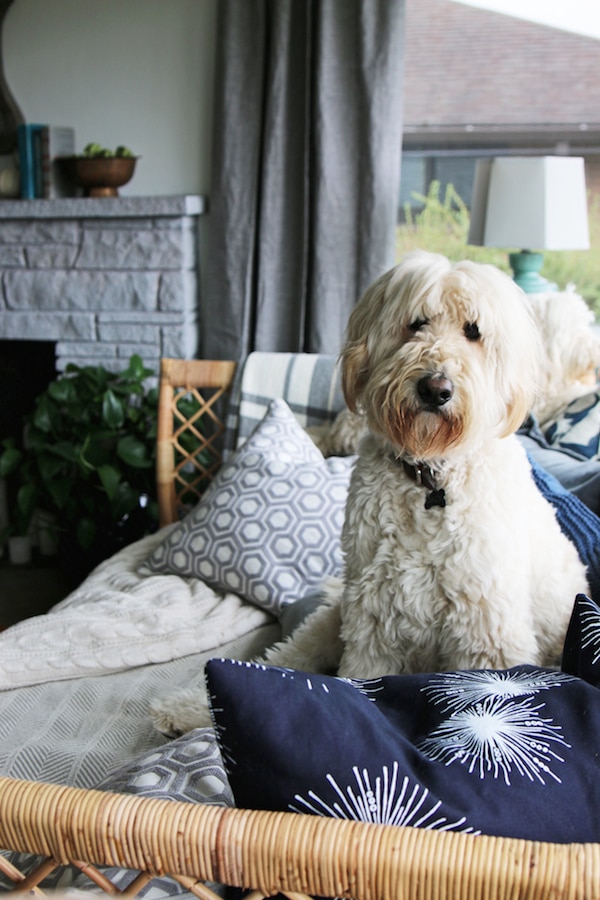 This is our pup Jack (and his sister, Lily, below). He's a Goldendoodle and she's a Labradoodle. You can follow them and their cousins Bella and Leo at instagram.com/Doodlesathome.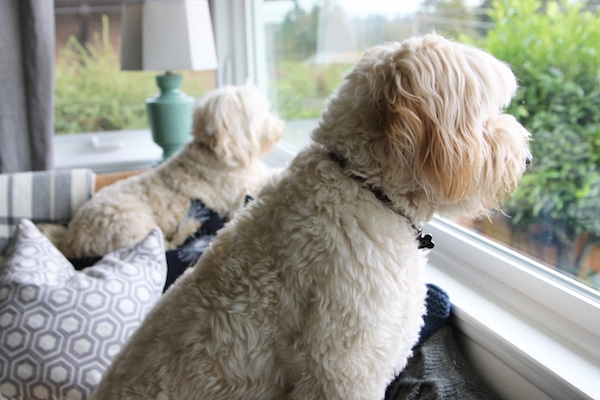 Wingback Chair Source (multiple fabric options)
This fireplace was one of our first little projects. It was so easy but it really made such a huge difference in this room! You can find the budget fireplace makeover details here.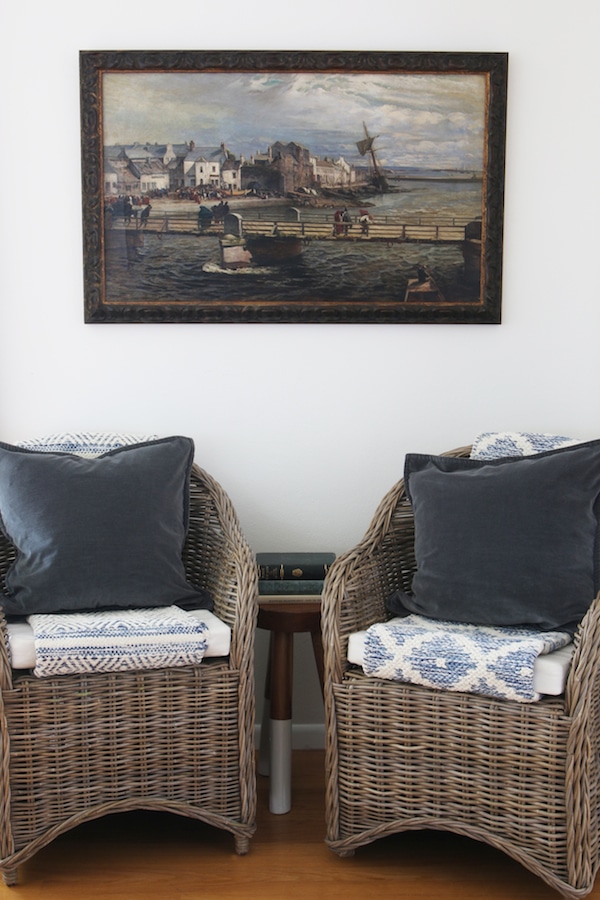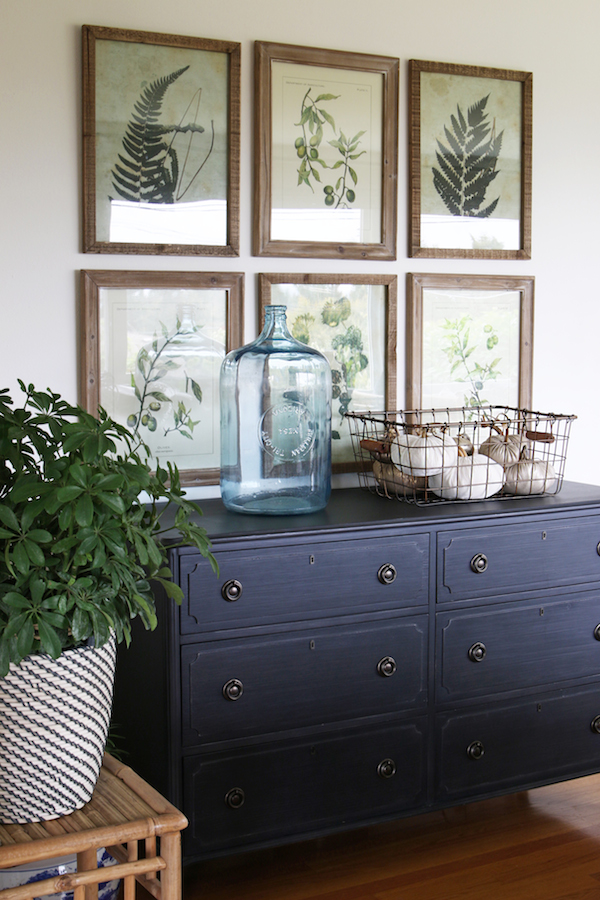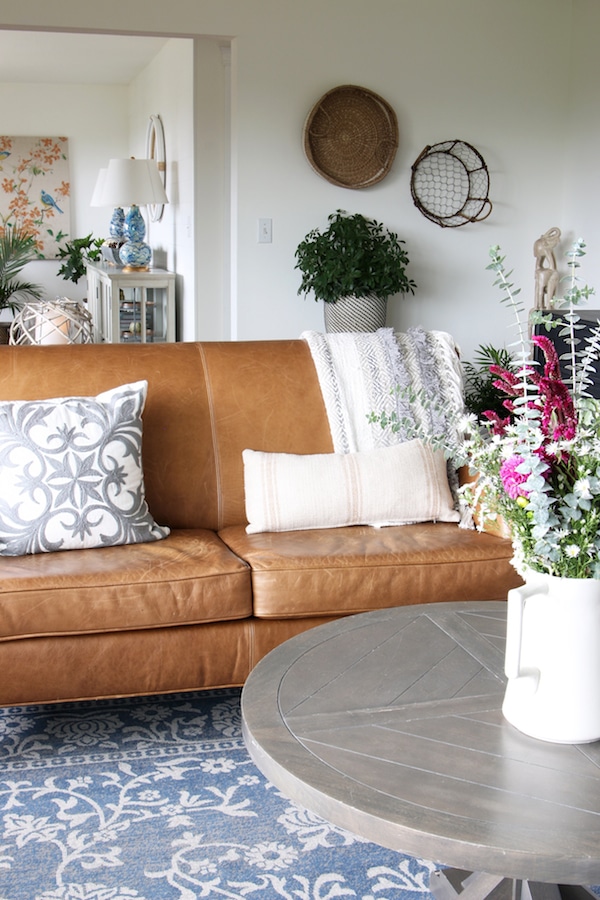 We will be opening up the doorway a bit more between the dining room and kitchen and making it into an arch. You can see where the archway and new kitchen will be in the image above! I can't wait to show you our kitchen plans :). You can read about our 'mood' for the new kitchen here.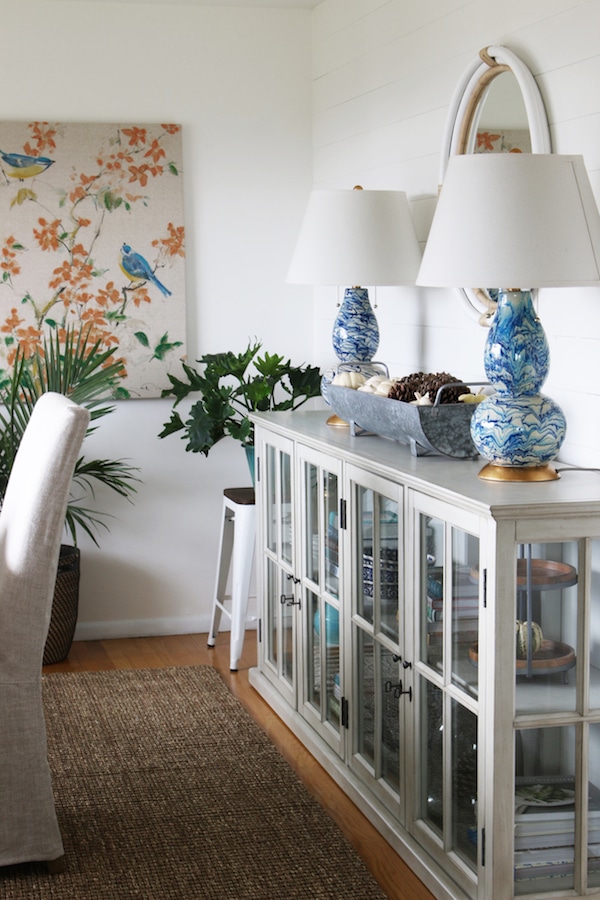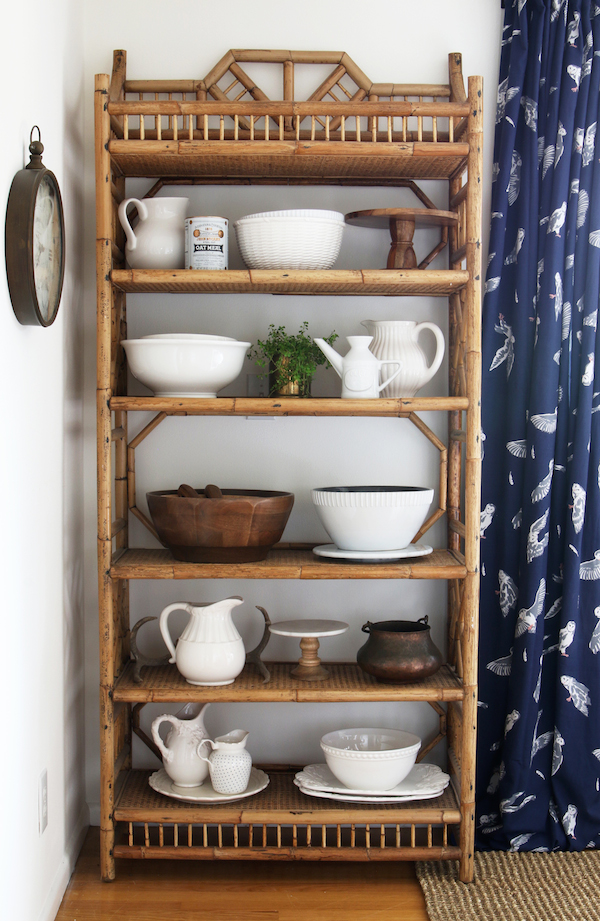 Navy curtains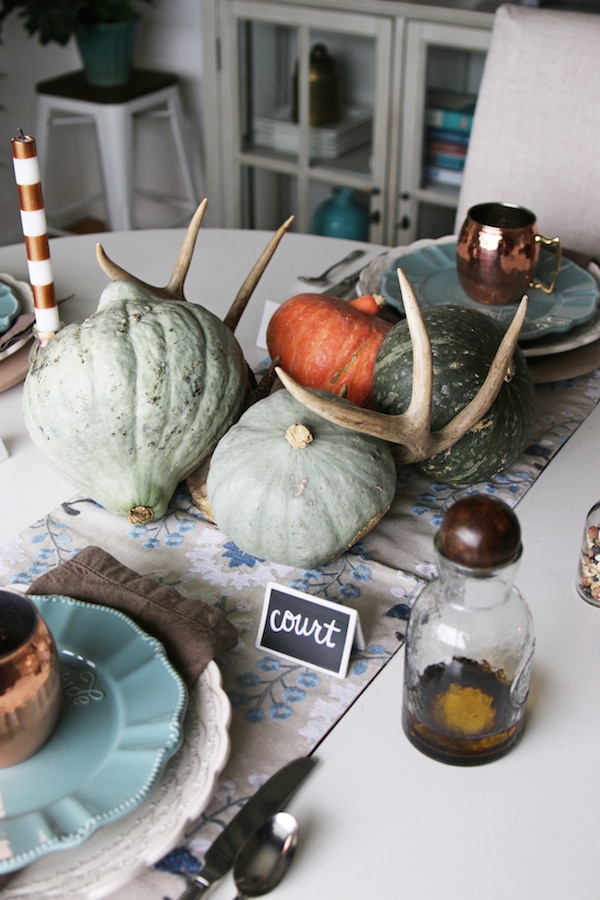 This summer we added the shiplap wall and it really helped bring more character to the dining room. You can find the details and what we used for the shiplap here.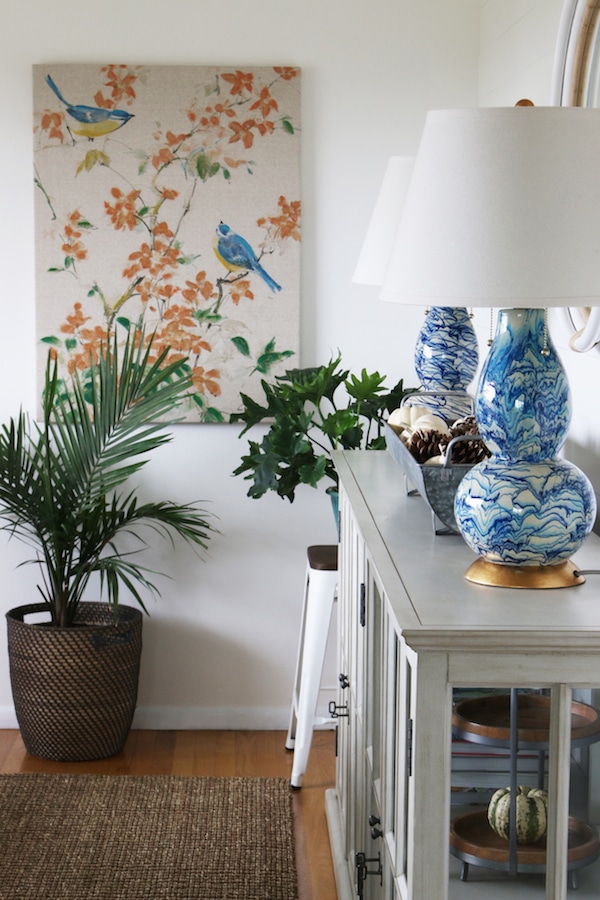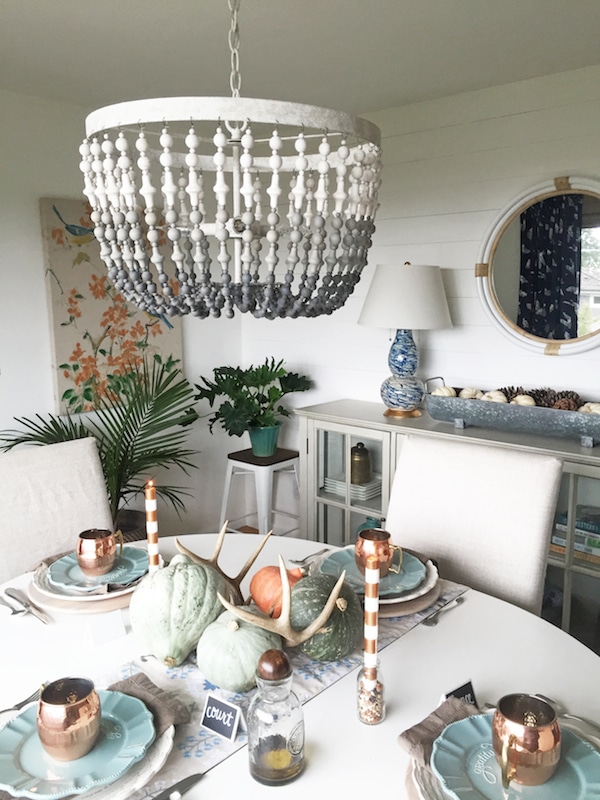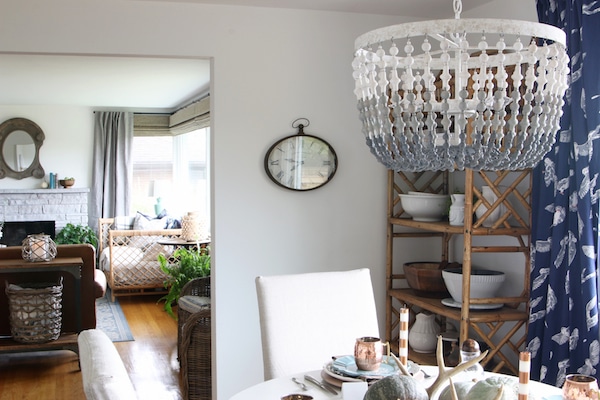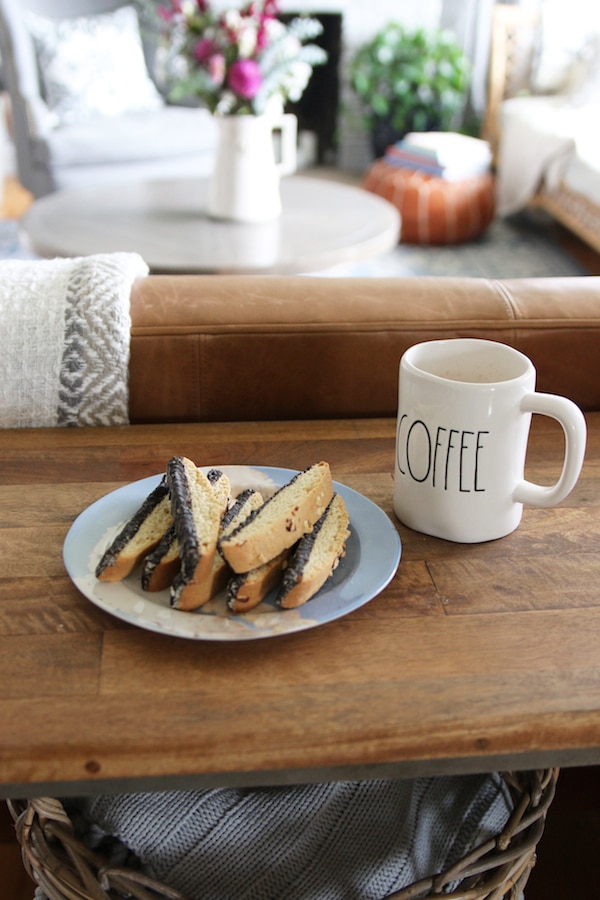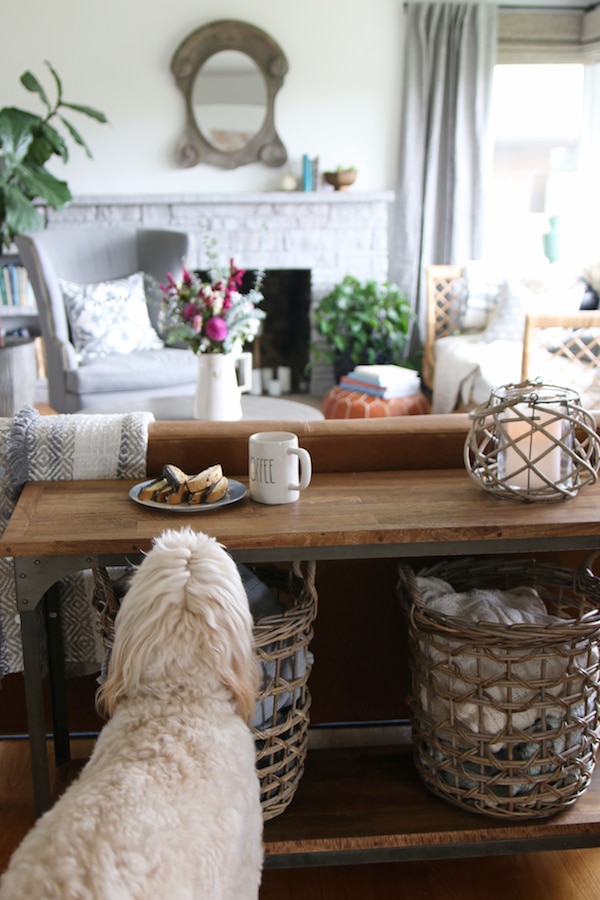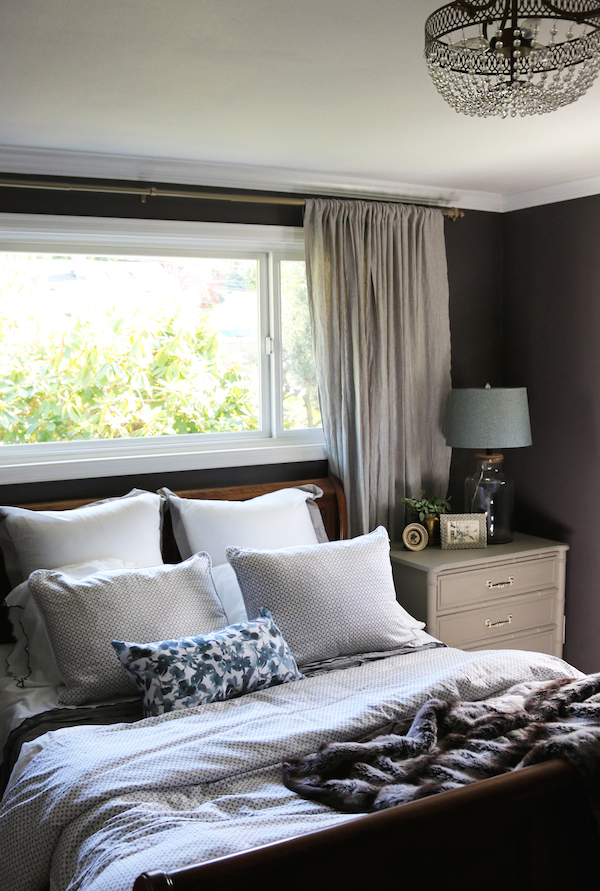 See my plum bedroom here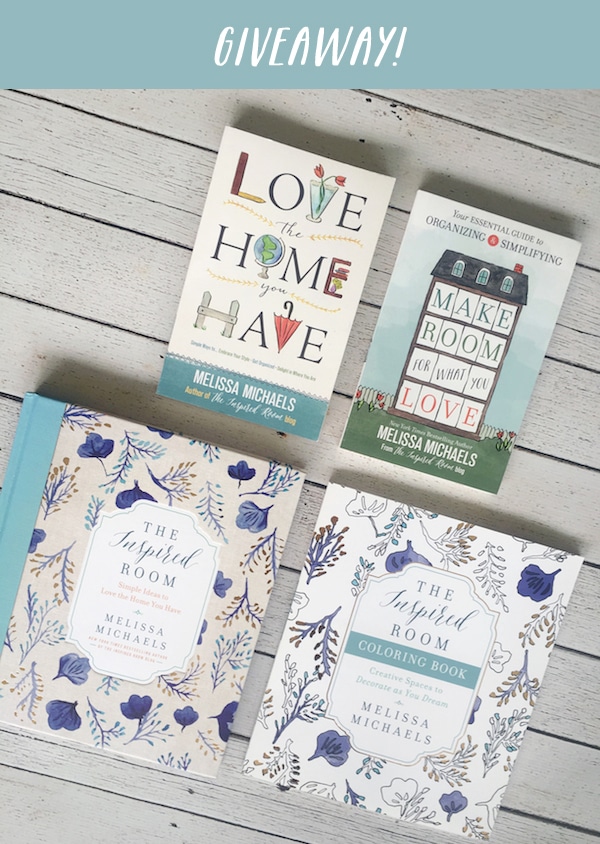 Thank you so much for stopping by, friends! I enjoyed having you over to see a bit of our house progress. I have a little surprise for those of you who made it all the way to the end of this tour. Leave a comment on this post and I'll enter you into a GIVEAWAY to win a set of all four of my books. I'll even sign them before I send 'em off to the winner :). (U.S. address only for book shipments, thanks for your understanding!)

>> Be sure to head to the next stop on the Blogger Stylin' Home Tour, Cuckoo4Design! Enjoy! <<
SOURCE LIST:

Living Room Sources:
Blue and white patterned rug (more similar rugs here)
Leather sofa (more leather sofas here)
Daybed pillows: gray & white hex pattern – HomeGoods (similar / similar), navy & white – McGee & Co
Round pedestal side table (small space drop-leaf dining table, on sale)
Woven wood shades in Bali Abaca
Gray/navy dresser (and more similar style dressers)
Fringe blanket on leather sofa: HomeGoods
Rattan nesting tables – Ross
Copper wire basket with Plush Pumpkins
Blue glass gallon bottle – similar (mine was thrifted for my DIY Lamp)
White cable knit throw blanket
Wood and metal industrial console table (behind leather couch)
Gray and white crewel pillows (HomeGoods, similar)
Dining Room Sources:
Navy pattern dining room curtains
Woven wood shades in Bali Abaca
Navy white and gold swirl lamps
Galvanized metal trough (on dining console)
Dining chandelier light with gray ombre wood beads (similar and similar)
White and rattan round mirror above dining console
Rattan dining shelf – thrifted (see more rattan furniture here)
Bird botanical canvas (out of stock but similar available)
Slipcover dining chairs (and more similar)
Glass cabinet (antiqued taupe)
Entry Sources:
Hanging basket with flat back front door
Round mirror over entry cabinet (painted with Annie Sloan Chalk Paint Paris Grey)
White Barnlights: Barnlight Electric / Benjamin® Union Porcelain Stem Mount Light / White Finish / Flush Mount / Mounting Finish: Same as fixture (white) / No Cage
Guest Room Sources:
Mirror – Ashley HomeStore
Outdoor Sources:
Outdoor lantern above garage
Side porch light (matte gray)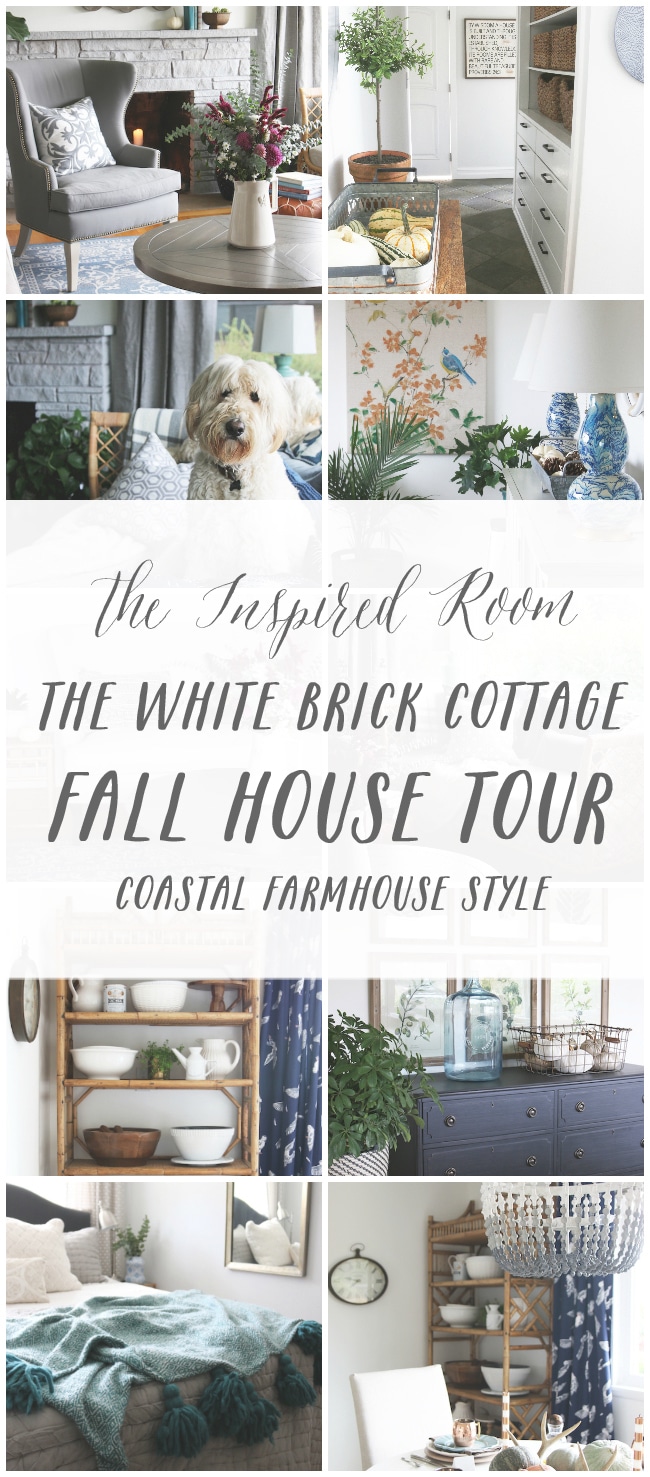 >> Be sure to head to the next stop on the Blogger Stylin' Home Tour, Cuckoo4Design! Enjoy! <<