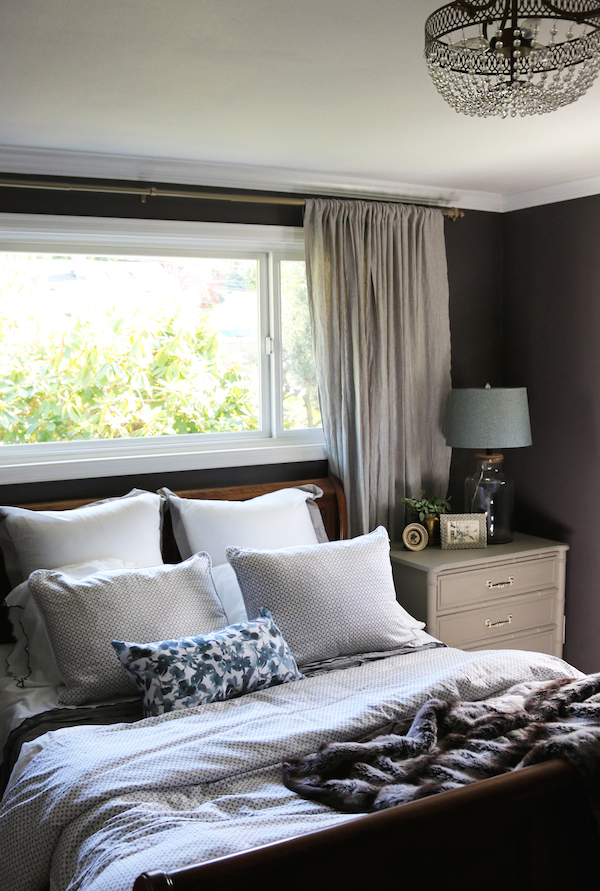 This post is sponsored by Crane and Canopy
In the fall and winter (and honestly in every season), my favorite room is our cozy bedroom. It's a pretty tiny room, but that just makes it feel like a little nest. It's my cocoon, my comfy spot to retreat from the world and the place I look forward to going at the end of every single day.
Maybe I'm just getting old, but on a chilly fall night there's no place I'd rather be than snuggled up right here. We still dream about a new bed frame (we have been borrowing one from my mom for years now) and we need a new mattress (we've been using our old guest room mattress for months because we can't agree on a new one), but still, in spite of our hand-me-downs, we do everything we can to make our bed a cozy and comfy destination.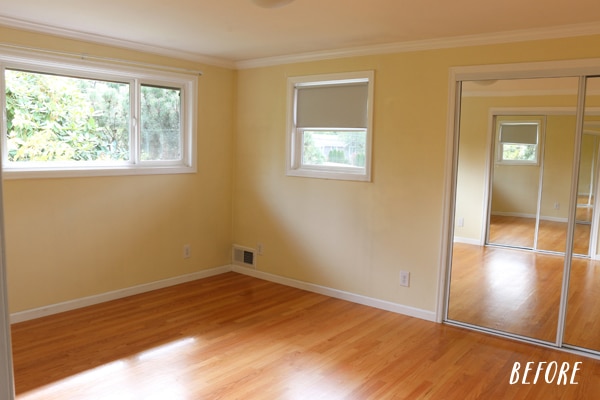 As you might remember from earlier this year, my husband painted our room plum (Black Frosted Plum by Glidden). We still LOVE it! The walls started out yellow, which I'm sure set a cheerful mood for the previous owner, but I was excited to make it our own.
Paint is a miracle worker, I tell you, it can almost instantly make a room feel more like you. Since we have such a small room, we decided to embrace it's diminutive size and make the mood more cozy, moody and romantic. I mean, you spend a good chunk of your life in your room resting and sleeping, right? So why not make it cozy?
Speaking of paint makeovers, a few months ago I found my husband a dresser to use for a nightstand. I'd searched for months and months for something that would complement mine, but would also suit his taste and needs. Finally I found this vintage dresser and we BOTH love it! I'll share the before and after makeover with all the details tomorrow.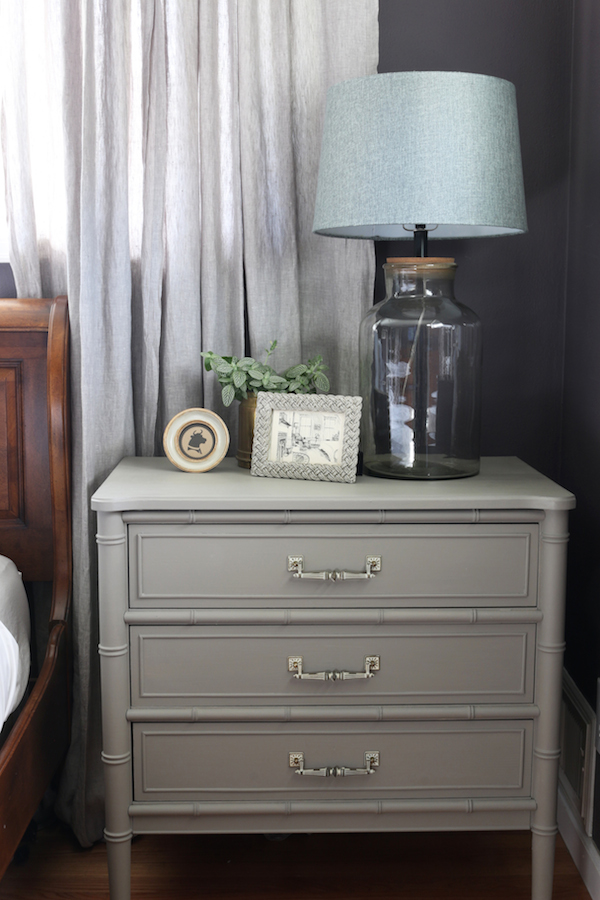 In case you're wondering, I'll do an update with all the angles of the room as soon as we finish the other side :). After we got the nightstand, we got distracted by other projects in the house so haven't come back to this room yet (all we really need right now is a dresser for clothing on the other side of the room, so all in due time).
Every decision and especially every big purchase like a mattress or a dresser takes time and money, so we have to be patient and content with what we can do. But there is plenty we can and should do to make our room a sacred space.
If you've read my books or been around the blog for awhile, you know I believe in making our bed everyday.
Make your bed so you can start your day off on the right note. 
Make your bed so it looks special enough to be in your sanctuary.
Make your bed so you'll be inspired to keep the rest of your room fresh and clean.
Make your bed so you'll love crawling into it every evening.
Make your bed so you'll sleep better at night.
Make your bed so it makes you happy all day long.
Within the first hour or so that I'm up (after airing out the bed first), I at least messy-make my bed. Meaning, I throw the covers and blankets up and toss the pretty pillows at the head of the bed. That's it! It's not perfect and that's OK with me. Messy bed making for the win!
Honestly, though, my dogs often sneak in shortly after I make the bed and toss all the pillows on the floor like it's their job. Kind of like toddlers, but with fur. So there's that. Fortunately I usually I catch them and can run the pups out of the room before they throw the linens on the floor, too. Actually, if I didn't make my bed, I'd have dogs curling up on my sheets! So I rest my case on the value of bed-making.
Besides the many benefits of bed-making in the morning, I fully believe and have shared many times that making a bed with pretty linens and quality sheets makes a difference. Not only do I think I really do sleep better on quality sheets, but when I make it a priority for the bed to be pretty and luxurious, it makes our room feel special and more like our sanctuary.
And I always always feel more inspired to take care of a room that feels special to me.
I'll admit though that I'm always a bit nervous when I am shopping for new bedding. Who else gets intimidated by what sheets to buy?
We usually only own one or two sets of sheets at a time and I don't want to invest in a set we don't love. I haven't had a really good new set of sheets I could recommend in awhile. When Crane and Canopy offered to send me a set of their sheets and a duvet cover awhile back, I was a little hesitant since I had never had that brand before.
I'm often asked what sheets I use and I wouldn't steer anyone wrong if I didn't like them. I usually spend forever touching the samples or researching the reviews, fabric and thread counts and even then I've bought sheets I don't like and would never buy again. I'm picky about sheets!
I'm happy to say I am 100% happy with our new sheets, shams and duvet cover from Crane and Canopy. In fact, I LOVE THEM! They are SO SOFT and luxurious feeling. My husband hardly ever notices or comments sheets or bedding I use to make our bed (although he does comment that he loves that I make our bed!), but he immediately noticed how nice these were and even pointed out liking the detail of the scallops on the sheets. He was impressed. I love that scalloped detail, too.
I'm impressed that Crane and Canopy designs and delivers high quality 100% cotton bedding without the middleman so they can offer the best possible price without sacrificing the quality. Their weaves range in the 300-400 thread count, which is the thread count that in my research delivers the quality and softness I expect.
Their duvet covers are offered in a variety of pretty colors and stylish (and even reversible!) patterns. They are machine washable and have corner ties, easy care zippers, and quality details like piping, Crane and Canopy duvet covers can also double as a top sheet, saving you the hassle of an annoyingly messy bed or tangled top sheet. They also sell their sheets separately so if you don't use a top sheet you don't need to purchase one. That means you can mix and match your bedding for your own personal look, which I think is fun, don't you?
Trust me, their products really do make your bed feel and look luxurious, so I'm happy to recommend them. I'm a new fan!
How you make your bed will make a big difference in your day, so maybe this fall will be the season you decide to cozy up your bed and make your room your sanctuary, too.
Sources and other bed-making resources:
Ellis Grey Duvet Set & Luxury Scalloped Sheets: Crafted from premium cotton and woven in a silky-soft 400 thread count single pick and single ply cotton sateen.
Check out Crane and Canopy for more details on ordering their products as well as some helpful bed-making tips:
PS. Thank you so much for all of your very kind comments on my Fall House Tour yesterday! If you missed it, you can take the tour here!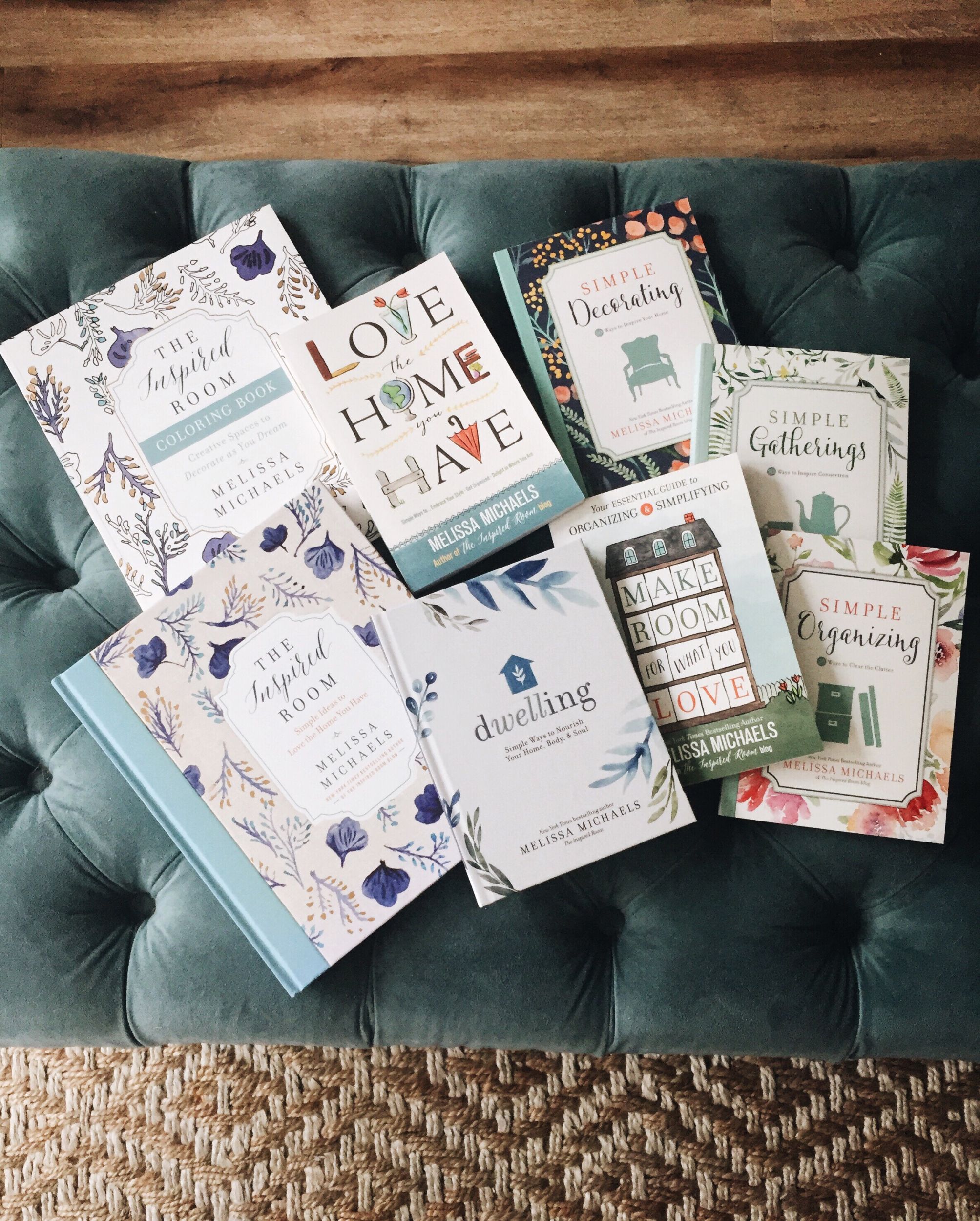 Check out my decorating, homemaking and organizing books here!