F INALLY I can actually say we will be starting construction on our kitchen in just a few weeks. No more dreaming, it's finally happening. What a long process to get to this point (lack of money and time always slows me down), but I'm thrilled to say that by the holidays this year (KNOCK ON WOOD!) we'll be enjoying our new kitchen.
Today you'll find inspiration photos that helped reinforce and influence our own kitchen choices to help you start to visualize the vibe we'll be going for. None of them will have every element we are choosing, of course, but they all have a similar feel to them. I've shown several of these images in past posts since they were in our kitchen inspiration files, so they probably will look familiar.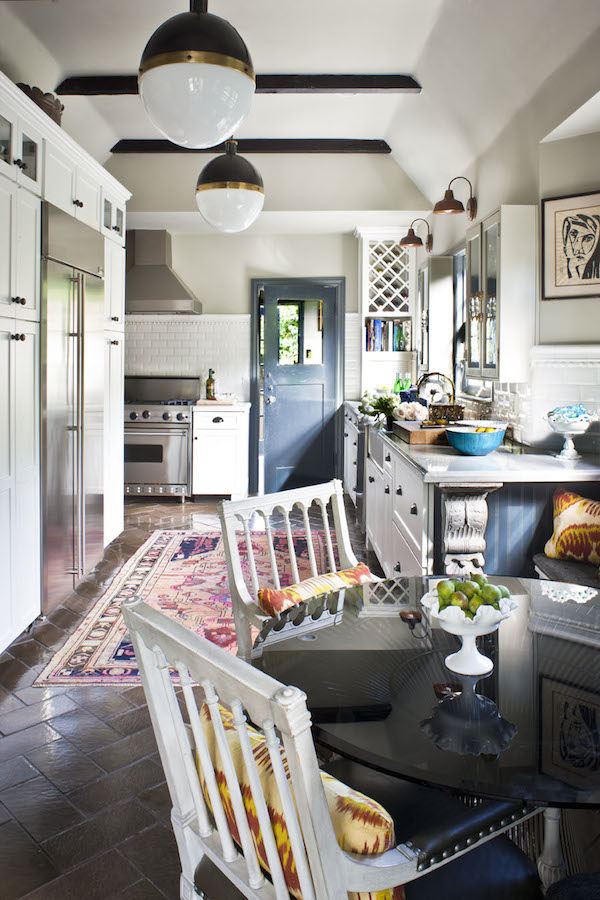 Zoldan Interiors – High Gloss Magazine
I spent months wrestling (agonizing, ha) over each decision (and there are still many final decisions to be made). Ya'll know me, I love ALL THE KITCHENS. It's really hard to commit to just one when there are so many colors and styles and combinations I'd be happy with. But since I can only have one kitchen here, I had to narrow down my options, including what elements seemed to fit best with our style, our kitchen layout, and our budget.
The first real decision we made for this kitchen was made months ago, when we first moved in. Remember my dream of a Dutch door in the kitchen? It's finally happening. Because a Dutch door feels like a friendly, homey cottage type vibe, we knew the rest of the kitchen needed to flow from that mood. So I guess you'd say the Dutch door was the key element we designed this kitchen around! And in fact, when I got my heart set on a specific color for the door, every other decision was easier to make.
In my last kitchen, we basically started our design with the floors. Since they were a very distinct grain and pattern (natural Hickory), every other decision flowed from what would make sense with the floors. The dark color of our previous cabinets brought contrast and strength against the wood grain and texture. Dark gray cabinets weren't popular like they are now (I was actually really nervous no one would like my dark cabinets!), so even though it was not an expected choice at the time, it just felt like the right decision for that kitchen. In contrast to the dark cabinets, we had white walls, white counters, white upper cabinets and a white island If you're new around here, you can find my previous kitchen reveal post and sources here!
Interestingly in my new kitchen, we are going to have white cabinets (unless I change my mind before I order them, ha) mixed with some other darker elements. We chose white this time, not because I want to rebel against the trend of dark cabinets now, or because we've "been there done that." We chose white cabinets for our new kitchen because they will be a clean contrast to other elements (the floors we want, the hardware, the Dutch door). As much as I still love dark or colored cabinets, my Dutch door will be a feature with a strong color so it just feels right to have white cabinets.
Over the past months, we found a few kitchen inspiration photos we all loved and discovered that while they were all unique, they all had a similar "mood" in common. Each kitchen in our inspiration file had different colored cabinets or mix of materials, but the mood was always simple, relaxed and inviting.
our kitchen mood: simple, homey, relaxed, inviting, classic, timeless.
To make each design decision easier, I thought about the mood we wanted and considered other goals. I wanted a kitchen that would be easy to update with the seasons. A clean backdrop was important to me because I wanted to be able to make simple changes to the room on a whim, like adding a different pattern or color of rug or accessories.  I wanted a kitchen we would love for years to come, but something future owners could live with, too, if we ever move. I began to picture our kitchen as having a classic "lake house" vibe and that seemed to help me narrow down many of my choices. I wanted it to have style and personality, but nothing too pristine, not too glamorous, not too fussy or fancy.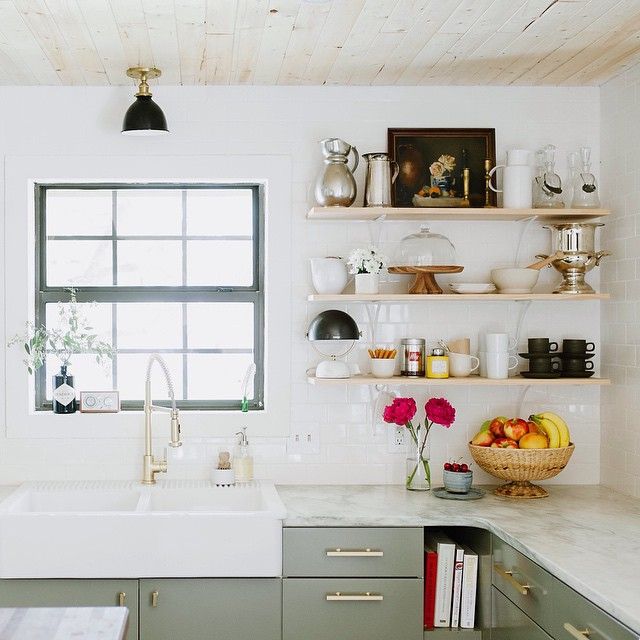 Bungalow Magazine / Photo by Jared Tseng
Over the next couple of weeks I'll be making final design decisions so I'll be able to share more details with you as things happen! Fall nesting will be in full swing throughout my house and in the kitchen this year so I CAN'T WAIT for FALL!
Catch up on some of our home progress so far: Dining Room Shiplap Wall / Fireplace Makeover / Living Room Botanicals & Dresser / Living Room Daybed / Master Bedroom / Guest Room / Basement White Brick Fireplace / My Son's Room /// or scroll through all my Seattle house posts here to see inspiration and ideas!