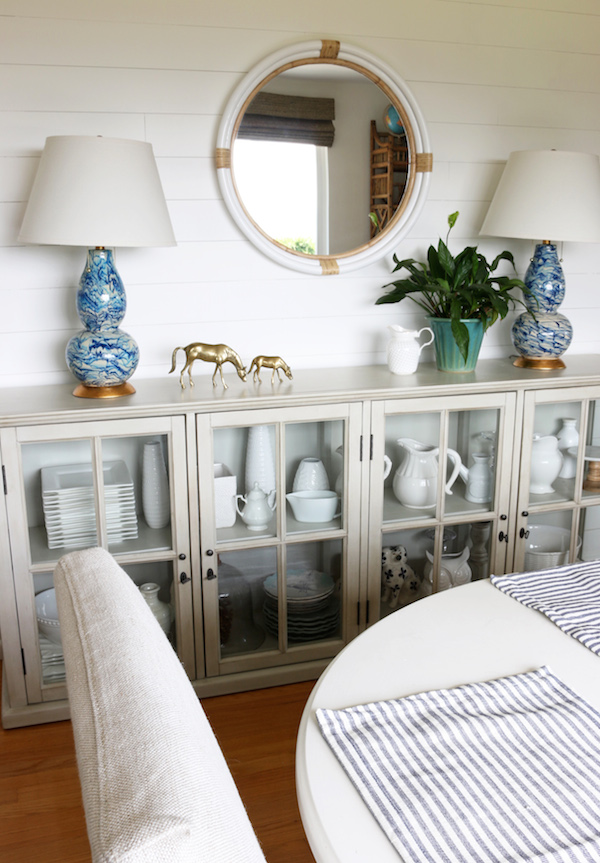 We have had a whirlwind of activity around our house lately! We are working on lots of house projects this summer and I'm LOVING how it is feeling around here. I definitely have to say it is feeling so much more like home. I think I say that with every small update we make, but this time it REALLY feels more like home because of my new planked wall.
You'll remember years ago when we added planked walls to our old house…well, I missed them. They add the character I love. I've had shiplap or painted paneling in every home I've lived in as a kid and a grownup, so it's a look I feel at home with.
While I plan to add more planking in this house over time, we started with just one wall in the dining room. Since I had a contractor in my house to paint my wall, I realized rather than having him take the time to patch and fill in the doorbell section, might as well just cover it with charming shiplap planks instead! :)
Remember what this area looked like before we moved in, above?
It is amazing what an impact the shiplap wall has had on the room and in the vibe of the house. The white will be a perfect backdrop for warm textures and the colorful accessories I love. I think the white feels so fresh and clean with the big windows and natural light. It feels really refreshing as we walk through the house, making a stop in my plum bedroom and two other non-white painted rooms I have yet to show you (in case you're wondering what our color scheme will be).
We installed a different type of shiplap this time. Because our old house was actually a new house :) we used thick tongue and groove planks to add a lot more texture which I really loved. But since our new house is actually an old house, we decided to make it look a little bit imperfect, like an original "old time" planked wall. It's definitely subtle, but it feels like it fits right in naturally so we really like the effect in the house.

For this wall we used shorter and a few random length planks (they do not have a groove) and staggered them for an older look (at least in our minds it feels older). We also let the paint seep in between the grooves a bit for a more "imperfect" painted over time vibe. For our planks we used baseboard trim molding from Home Depot and it worked great! Our contractor used a nail gun and glue to install them for us.
We are so happy with how the wall turned out and what a difference it has made already in our dining room. I can't wait for our statement dining light to be installed next! While I still plan to create an archway to the kitchen for added character, it was fun to take a first step towards more architectural character with this planked wall. It really added a lot to the room.
I'll share more of our dining room updates as we install our new light and a few other updates we'll be making over the next couple of months in this room. Plus you might have noticed we got our new chairs and window shades installed so I have lots more to show you in an upcoming post! Lots going on around here, like I said :).
UPDATE: See my post, Shiplap Walls (What to Use and FAQ)
***Room Sources >>
Bamboo shades (you'll get the best discount available with my link)
Stool – HomeGoods
Rattan shelf – thrifted
Brass horses – thrifted
Teal pot – Ross