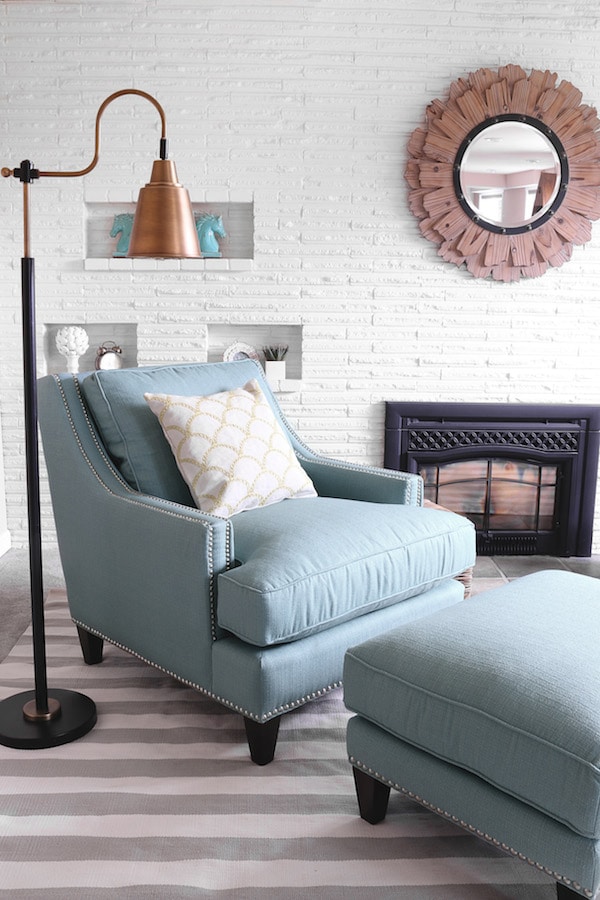 I'm so happy to say that SPRING has actually sprung in Seattle! Our trees are blossoming and bulbs are popping up from the ground. The warmer sunnier days (in between the windy, cold and rainy days, ha) are really inspiring me! Recently Birch Lane invited me to be a part of their Spring Refresh campaign, so I am thrilled to be able to join in along with four other bloggers. I'll also be doing a take over on Birch Lane Instagram's feed so please come say hi? I'll be sharing the four ways we refreshed a corner of our basement for spring!
If you are new to The Inspired Room, we moved into this 1950s house six months ago. It was hard to leave our mostly finished house knowing we'd be starting over here, but we are so thrilled to be in Seattle near our family that we are choosing to look at this as an adventure. You can read the story of our move and see a video tour of our new house here.
Our first improvement in this house wasn't exactly a blogger's dream makeover. We had to replace …. (dun, dun, dun) the sewer. Fun project, yes? Read about that here. Subsequently it made sense to replace our cracked driveway and a horrible side courtyard at the same time. But now that those repairs are under way or being completed, we are finally ready to focus our attention INSIDE to make this house our home. And that brings me to today and why I was SO excited by this fun chance to get a new project started!
A few days ago I showed you our empty basement before pictures (in this post). We intend to use this lower level as a family gathering space. Our longer term goals for this space include new flooring, blinds, paint, trim work and new furniture. We sold our big navy velvet sectional with our old house, so we have planned to mostly start over with new seating in this room. So as you can imagine, this opportunity to do a Spring Refresh came at just the right time to give our space a jump start.
Sometimes it can be a bit overwhelming knowing where to begin on home improvements, especially if your room is currently in the BEFORE state or you have to furnish an entire room (or basement). If you have a cute room already, a Spring Refresh might be about the finishing seasonal touch with pillows or accessories. But when you are furnishing a room from scratch, you have to start somewhere.
Because we aren't furnishing our entire room at once (we'll be adding additional pieces at other times in the near future) we wanted to start our spring refresh with one piece we really love so we can build the room and look the right direction from there.
We absolutely fell in love with this gorgeous blue-green Larson nailhead trim chair from Birch Lane. We chose the fabric called "Bryant Calypso Textured Slub". We could not be more pleased with the quality, comfort, color, size and shape of this chair and its matching ottoman!
Most of the new furniture we hope to add will be upholstered in neutral fabrics, so the pretty color of this chair will be really special. It sets the tone for the overall color scheme and the fresh and fun vibe we envision for this room.
It did my heart good when this chair and ottoman arrived this week because we could finally see first glimmer of what this space will be like, even before we paint our walls. I love dreaming up things in my head, but I especially love seeing them start to take shape. Up until this week the lower level was just a random assortment of stuff so a new chair was a great first step.
Since our plan is to replace the carpet with hard surface flooring, we found a neutral striped rug at Wayfair awhile back that is just placed right over the existing carpet, grounding the space and conversation area, but it will also look great when we get the new floors.
Obviously, Jack approves of the ottoman. His feet kill me.
I love the nailhead detail on the chair, it adds an extra bit of style and class which I really like.
The pretty scalloped pillow cover from Birch Lane adds just the right spring vibe. I'm excited to see how different this chair will look throughout the year with other colors of pillows!

We have had Birch Lane lidded baskets for awhile now and we LOVE them! I have one in my bedroom for extra pillows and blankets and we will use this one to hide those unsightly remote controls. It also makes a great little side table if you put a tray on it!
I kind of have a THING for statement lighting, and this floor lamp? It had me at HELLO.
Here are 4 takeaway tips that we used for a Spring Refresh of our space!
1. Color is one of the best ways to update the look and feel of a room, so leave winter behind and bring a fresh spring hue to your space! A striking color offers personality and a fun point of interest to any room. A solid color on upholstery acts like a neutral, allowing you to still change the mood all year round with seasonal or patterned pillows covers and throws!
2. Tidy up your space and bring texture to your room this spring with a woven basket to corral the clutter, stash the magazines or store those TV and gaming remotes!
3. If you aren't sure where to begin to refresh a room, why not start in a corner? You don't have to makeover an entire room, focus on creating one space you really love. In our space, we took a previously uninspiring corner and set up a beautiful spot for reading and relaxing.
4.  Lighting is a great way to add new personality to a room. Every chair should have a light nearby, so for our Spring Refresh we selected a stunning floor lamp to finish off our reading space. Floor lamps are so versatile because they fit just about anywhere. They are easy to move around as needed for light and can be tucked into corners of other rooms if you decide to rearrange.
Shop this post and more of my favorite spring finds at Birch Lane by scrolling through below! Thank you to Birch Lane for providing the chair, ottoman, lamp and pillow for this post!

Sources:
Larson Nailhead Trim Chair in Bryant Calypso Textured Slub (we ordered a few fabric samples online so we knew exactly what to expect when it arrived. I highly recommend ordering samples whenever possible, as colors can vary between computer screens!) :)
Larson Nailhead Trim Ottoman in Bryant Calypso Textured Slub
Be sure to visit the other participating bloggers' and their gorgeous rooms in their spring refresh posts: Home Stories A to Z, Dear Lillie, Craftberry Bush, and Thistlewood Farms.