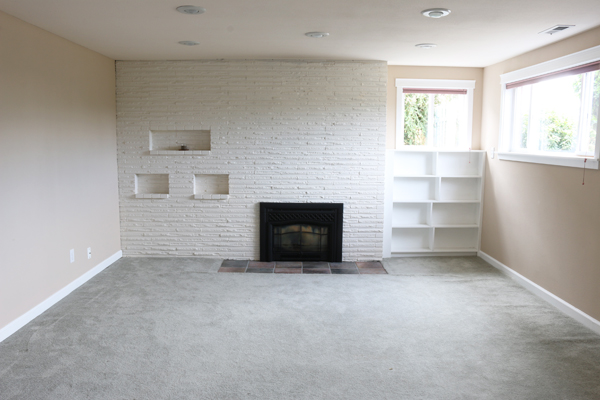 Happy Monday! Hope you all had a great weekend. I introduced you to the laundry room awhile back, but I thought today I'd introduce you to the rest of the lower level. We'll be sharing details on this space and the makeover as it evolves over the next few months, but I can give you a little overview of what we started with!
One of the things we really like about our new (1950's) house is the fact that it has a finished basement! But contrary to many of the basements we saw in other houses we looked at when we were house shopping, this one is spacious and filled with light from the backyard through several windows. The room feels bright and the ceilings aren't too low, it has a white brick fireplace (with a gas insert) and an outside entrance (it's a partially below the ground level basement, when you exit through the door you go up some stairs to reach the backyard).
The previous owners finished this space years ago, but we intend to give it a cosmetic update (new flooring, blinds and paint, etc).
As I mentioned in my post about the possible new "mudroom" upstairs, years from now we may turn all or part of our lower level into a rentable space. That would leave us with about 1500 square feet of living space upstairs and maybe a little bit more in the downstairs if we don't rent out the entire lower level. But while our son is still at home (for the next few years at least) we want to use the lower level for family gatherings, guests, exercise space and possibly Luke's bedroom.
the hallway straight ahead here leads to the garage, a full bathroom and the laundry room
The easiest transformation for the time being will probably be to turn the current exercise space (pictured below, with the mirrored wall and bar) into a bedroom. The space by the exterior door could be a new exercise area, possibly with built-in storage. Then the large area by the fireplace would be for family, our TV and a pull-out sofa for guests.
My dream is for white paneling downstairs as a finishing touch to add some texture and maximize the light and brightness we already have going on. A more open staircase would be nice, too.
First step, though, will be to paint so we can start with a clean slate. I think I'm going to cave in and hire painters to paint the rest of our interior walls and trim throughout the house. I don't want stretch the painting of walls out for years :). I think a painter is a splurge that will be worthwhile for us!
I've started looking at window blinds to replace the pink ones and we are exploring various flooring options to replace the carpet. We sold our velvet navy sectional to the new owners of our old house, so we'll be starting over with seating in this space.
Recently I hung a mirror on the fireplace, ordered a rug and a new chair is on its way, so at least I feel like we are getting started! Sometimes that's the hardest part.
I'll update again on this space in a few days so you can see how it is coming together, and follow along with the progress!
I will also be ordering blinds for windows soon (and will let you know what I decide to order). If you are looking for blinds for your home, below is a discount code and link that will get you the best discount and price from Select Blinds!