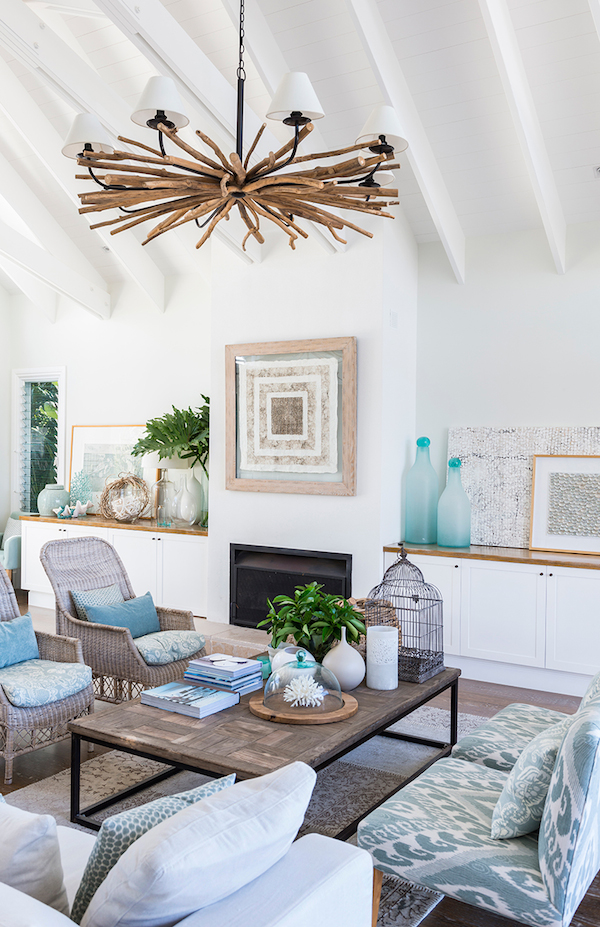 I dream of finished rooms like this one from Cove Interiors via Queensland Homes!
I dream of "finished" spaces and finally, on this very day, we have painters and contractors in the house! Not for the kitchen project, yet, but for other important rooms like our living room, dining room, family room, office, Luke's room and the staircase.
I'm happy with any progress at this point and the updates to these rooms are going to make a big difference in the feel and function of our life here. If you only like after pics, feel free to move on from this post and wait for the prettier afters that will be soon to follow. But for those of you who understand how long it takes to get a house from start to finish and want to celebrate this momentous day with me, I'm glad you are here for this update.
As you can imagine, I'm so ready to say good-bye to swine and hog colored paint. It is true, ridding a home from the presence of swine seems to be the never-ending story of my life. It follows me everywhere. Don't be upset if you love swine colors, they might work well at your home but they just don't bring me joy here.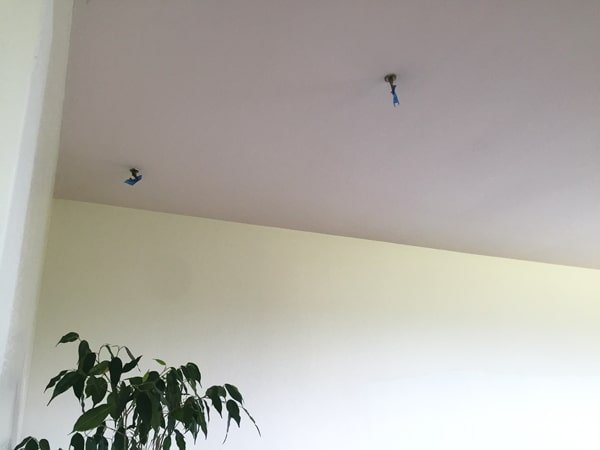 See the swine ceiling? It's time for it to go.
Our living room (our new daybed, a test painted wall and the newly painted fireplace!)
When we bought this house it had several shades of white, tan and yellow (and even red) paint colors throughout, including a swine-ish mauve hued ceiling in the living room. Because I really like to make a house my own, I'm pretty excited to see these spaces all freshened up. Something about new paint really just makes a house feel like yours, doesn't it?
Our main rooms will be white, a much brighter but still warm hue than the several different shades we started with. We tested other neutral color options to be certain what would look best, but due to the bright natural light in our home, this shade of white is the only color that enhanced the space and didn't make it look washed out or dingy. That is a case in point why waiting and living with colors matters so much. We also have new bamboo window shades to install which will really finish off these rooms nicely!
My office and Luke's room will have different paint colors! I'll show you those soon in separate posts.
Dining room – removing doorbell, adding planking and painting walls one consistent color
We also are adding a planked wall to our dining room to cover up the doorbell niche (my apologies to anyone who loved that niche) and my newly relocated office in the lower level will be getting a brand new wall and door to make it an official room.
The lower level family room room looked great from this angle with the white brick fireplace and a new chair as a great starting point, but we still had all the swine walls surrounding it (see the chaos below) so it will be fun to have a clean slate in this room, too.
Next steps are a new sofa we ordered will be delivered and hopefully new flooring at some point, too. The opposite end of this room is where my newly created office will be, but I'll have to show and explain the changes in a separate post.
Soon we'll redirect our attention to the kitchen remodel (yay) and while I've been so anxious to get to that project, it is pretty thrilling to know that this very week contractors will transform so much of the rest of our house and we'll be able to finally set up each corner!
For those of you wondering about our side yard project, that's a saga all on its own, but rest assured, there will be lots more progress and afters to come!
Meanwhile, today I'm over at Proverbs31 sharing about Make Room for What You Love with a giveaway so you can check out my post here!