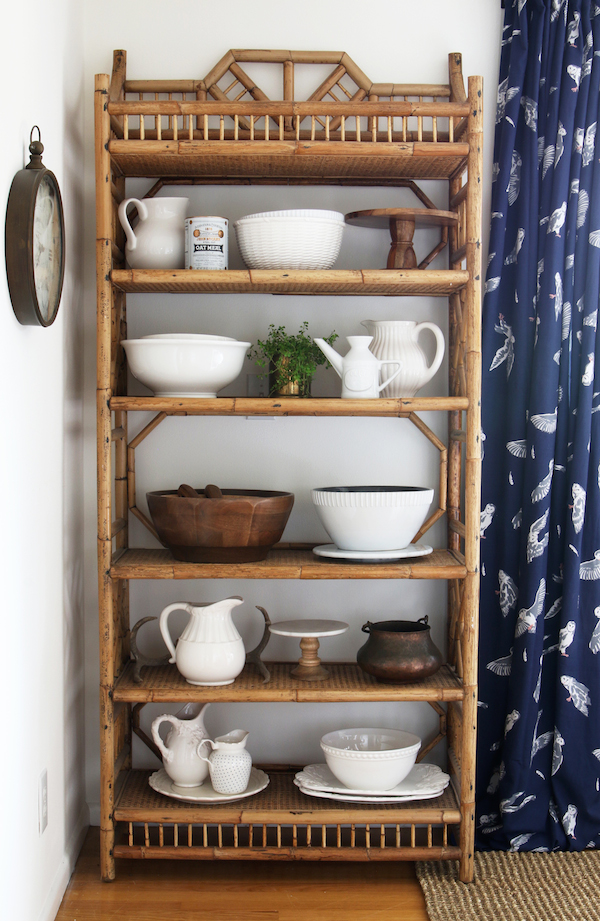 Have you ever wondered whether or not you should add curtain panels to your windows? Maybe you don't actually "need them" but maybe you aren't even sure whether you want them. Maybe you just wonder what your style really is, or if it is "in" or "out" or "appropriate" for your particular house or situation.
When we first moved in to this house, I wondered whether or not we should add curtain panels in our main rooms. I wasn't sure if I wanted them, and we didn't really need them (since we added woven window shades for sun control!).
Privacy wasn't a big issue and with a great view out the back of the house, it almost didn't seem necessary to dress the windows at all. So many modern spaces seem to look so light and airy and clean with nothing at the windows, so I kind of wondered if we should do without, too? Is that the look I wanted for OUR HOUSE or just a look I loved in other houses?
The struggle to make a decision on curtain panels for my own home clearly wasn't all that significant in light of more serious concerns in the world, I know. But still, it was a thing. I like to take a simple non-fussy approach in many ways with my decor, but was less fabric at the windows going to be more of what I wanted in this house or was less fabric not enough to make my home feel cozy? Decisions, decisions. 
Every house is different and everyone's style and needs are different, so as I often say, there isn't a one-size-fits-all answer. What looks good in a photo or in someone else's space isn't necessarily what is going to work in your own home. I knew I would just have to live here for awhile to determine what was going to be best.
We live in Seattle so I want as much light as possible coming in, but since we have plenty of cool dreary days I also want to feel snug in my house. Our window shades were hung so they don't block the light unless I pull them down, and curtain panels could be hung the same way (outside the window, not covering it) so light wasn't really an issue I factored in.
While I do believe less can be more, in this case I eventually decided that less around the windows just felt to me like the room wasn't quite finished or as cozy as I wanted it to be so I wanted to give panels a try.
Originally I showed you guys the white sheer Target curtain panels I was looking at, but in the end they didn't work out (at least yet! Note, you can find some others I like in a graphic, below). We only could find three panels in stock and the fourth panel I ordered was cancelled as out of stock (ack!). While I was trying to find an alternative, I stumbled upon these curtains in navy.
If you have followed me for long, you might remember from my old house that I love having some subtle whimsy in our home. You might not even realize it at first when you look at my house since it isn't super "in your face" quirky, but if you were here long enough, you might start to realize I have quite a few funny little animals in the house (not just real ones, but here and there on artwork, fabrics, and accessories!).
As I was looking at the barn owl curtains, I realized they would be a fun addition to our house. We needed some whimsy! From a distance they almost look like just an interesting pattern, but once you get up close and realize they are QUIRKY OWL CURTAINS, you can't help but smile. :) I'm definitely not a glamour girl, and don't take design too seriously, so these just seem to suit me.
Besides the quirky pattern, I fell in love with the deep navy color. While we have a simple color palette (Benjamin Moore Simply White walls) in our living room and dining room, I do love color. One of the decorating lessons I learned early in our my home-making experience was that if you repeat a color throughout a home (especially when the home is small!), the repeated color begins to make your home feel more peaceful and cohesive.
With the navy dresser and pillows in the adjoining room, the bold navy fabric in this room brought the color scheme together and unified the spaces. Though we love the navy curtains and the statement they make in the dining room, we can easily change out the panels for the seasons or if we want to have a different look.
Here's something interesting I didn't fully realize until after we hung the panels. Suddenly it became much more obvious why I actually needed curtains. It wasn't just that I needed color or pattern, they added a necessary layer of texture that changed the feeling of the room.
Even though I'm still planning some updates that will update and impact this room, the panels already made such a difference in how the space feels to be in it. Less fabric at the windows left the space feeling a bit colder, and actually even louder, I just didn't realize it. More fabric brought a sense of peace, quiet and softness to the space. Less fabric didn't feel as snug or cozy. More fabric helped the room feel better to be in it, and made it feel more pulled together.
Once I got the dining room curtains hung and loved the look, we knew we wanted to go ahead and add panels to the living room as well. I really hadn't planned on panels in the living room, but then again, after hanging them they ended up being game changers in how the space felt. The soft gray linen panels help to frame and soften the large windows, but also help to define that side of the room and the corner as a special cozier destination for our daybed.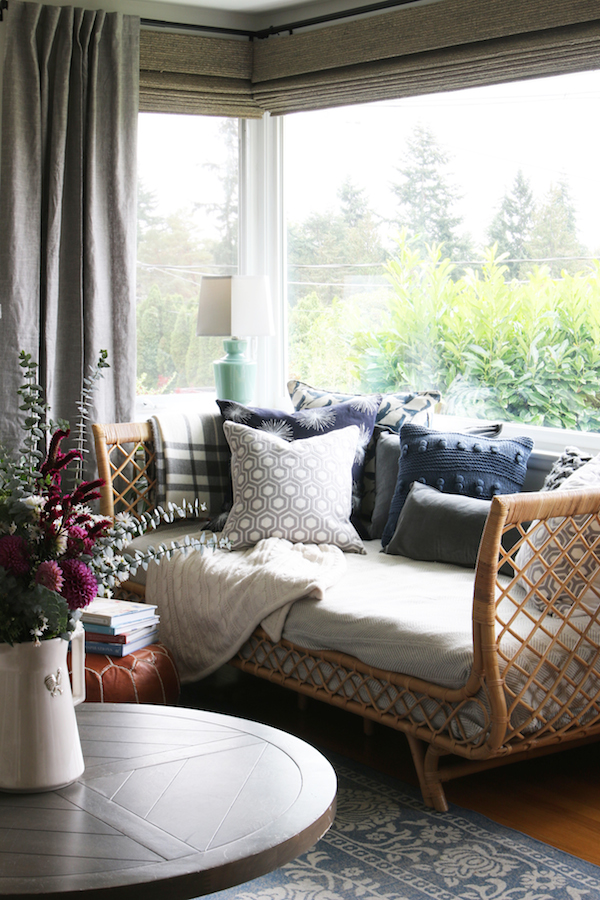 Curtains / Daybed / Rug / Woven wood shades in Bali Abaca –NOTE: If you place an order for ANY window coverings from Select Blinds, be sure you use my special link HERE for the best possible discount! Plus if also put in my code INSP1RE5  you'll receive an *additional* 5% off the very best price offered anywhere!
The gray linen coordinates well with the dining room panels. I didn't want them to match. The linen panels are lightweight enough to feel breezy (linen is a great fabric for year round) but weighted enough to not feel wimpy around the large expanse of windows. We used the same narrow black rod in both rooms for consistency and a touch of black.
I find that every time we make a decision to impact how our home feels to us, rather than just making changes based on what's popular or trendy or what I thought was the "right choice" (for whatever reason, design-wise or opinion-wise) I find we fall more and more in love with our home! It's a slow process, but I love the direction we are headed.
We are getting more snug and cozy this fall in our small house and that makes us very happy. :)
Now I'm convinced that even if you don't think you want curtains and you are perfectly happy without them, you might be surprised at how much better your room will FEEL with panels. If you want a softer, quieter or more peaceful room, I'd say it might be worth it to give curtain panels a try.
Stay tuned for the next updates in these rooms! If you missed our fall house tour (with more angles of these rooms and others in our house), you can see that here.
Below you'll find a round up of great curtain panel options from several sources. Enjoy!


Anthropologie Curtains: 1 // 2 // 3 // 4 // 5 // 6 // 7 // 8 // more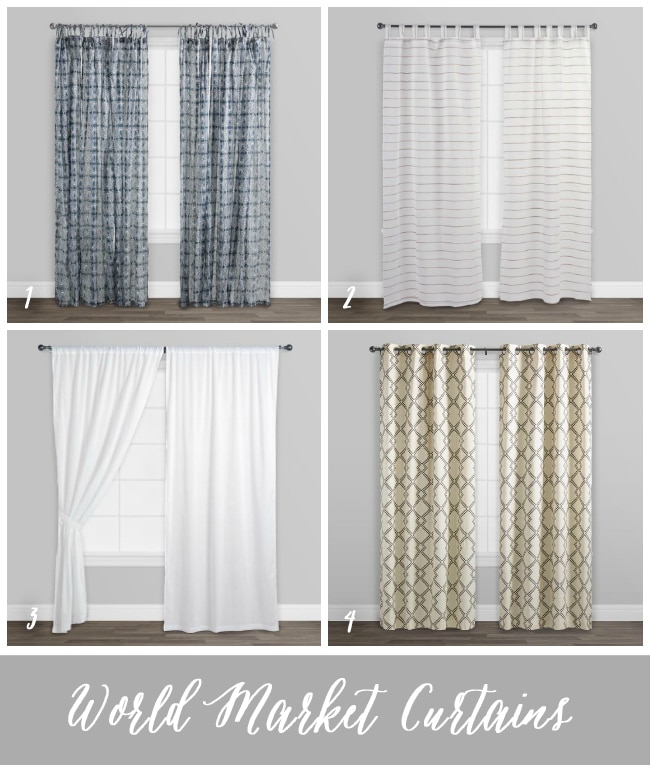 World Market Curtains: 1 // 2 // 3 // 4 // more
Pottery Barn Curtains: 1 // 2 // 3 // 4 // 5 // 6 // more
Target Curtains: 1 // 2 // 3 // 4 // 5 // 6 // 7 // 8 // more

Ikea Curtains: 1 // 2 // 3 // 4 // 5 // 6 // 7 // 8 // more
NOTE: If you place an order for ANY window coverings from Select Blinds, be sure you use my special link HERE for the best possible discount! Plus if also put in my code INSP1RE5  you'll receive an *additional* 5% off the very best price offered anywhere!
PS. This Friday night, October 14th, I will be doing a book signing at the Redeemed Revival Fall Vintage Market in Bremerton, Washington! The market is from 3-8 PM Friday and also 9-4 on Saturday, but my girls and I will be there only Friday from 5-8 PM at the "Found" booth. We will have books for sale, but feel free to bring your own for me to sign. We'd love to meet you there! Tickets are $5 at the door. You can find more information about the event times and the location here.