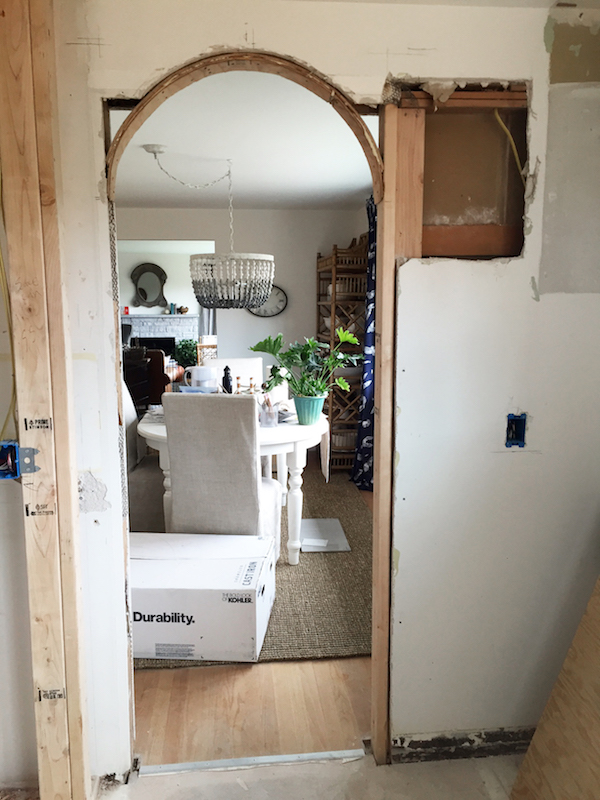 It's time for another update on the progress of our galley kitchen remodel! For those of you who like to see the in between and progress posts, this is for you. It's not pretty, but in the initial stages of a remodel it always looks worse before it looks better. So brace yourself, it's actually looking scary right now. :-D
Contractors have been working on wiring in the electrical and while this step is so important and even kind of exciting to see it all being updated, it's not one bit pretty. Can I also mention that IT IS SO SO DUSTY! Oh my. The amount of dust is UNREAL. Even though they have been sealing up the kitchen as best as they can while they are working, the dust has traveled all the way though the house and is settling in every room. It covers EVERYTHING (as I'm sure you'll be able to see in some of the photos hahah).
Besides dust on every surface far and wide, it is a bit chaotic in the house in spite of our best efforts to be organized. We have boxes of light fixtures strewn about, a faucet and a sink sitting around on the floor, pet gates propped up to keep the dogs out of the construction area, a garbage disposal is sitting on our mantel…you know, the usual fall decor. :) Inspiring, right?
I think the dust and disorder everywhere are probably the worst parts of remodeling for me (besides the stress of random people being in your space every day, making a lot of big decisions and writing checks that drain your bank account, of course). All in all though, it's a very exciting time and so fun to have the opportunity to make such a big transformation to our home.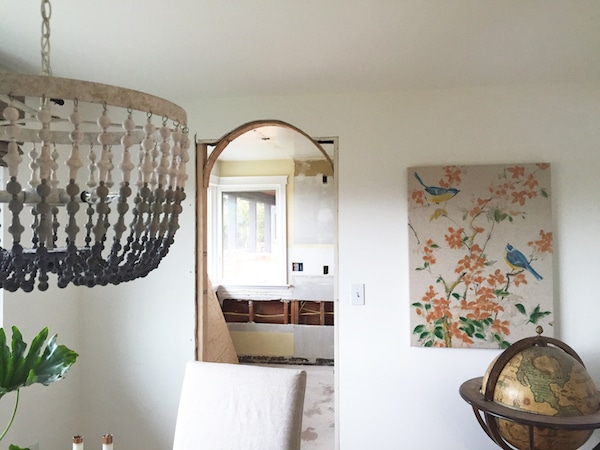 I do have something a little more visually inspiring to look at and more interesting than dust to show you today, though. We have the initial framing for our two new archways into the kitchen! I think it is much easier to visualize now since the basic shape of the arch is actually framed in. It won't have the little bat-ears, though. Hahah. Just the arch.
I have to say, I'm extra excited about the arches now that I can actually SEE how they look and feel. While the doorways weren't able to be widened much due to the layout and design of the kitchen, the arch itself changed so much about how the space feels. It even makes the rooms feel taller and more inviting.
There's something romantic about an arch, don't you think? I can already see how our arches will help make our little kitchen a more charming destination and a special space you will be drawn to from other rooms, too. (If you missed my post with arched doorway inspiration, see that here).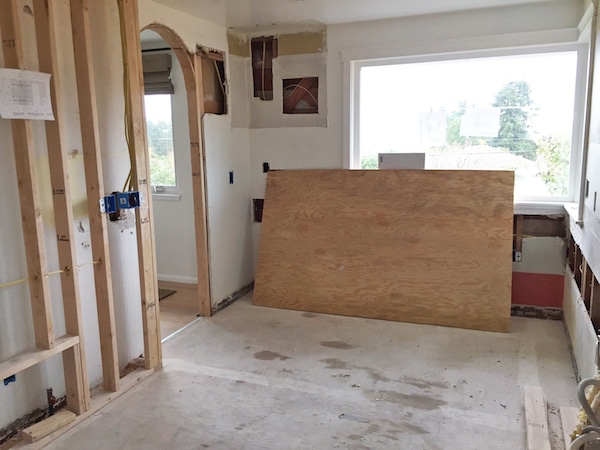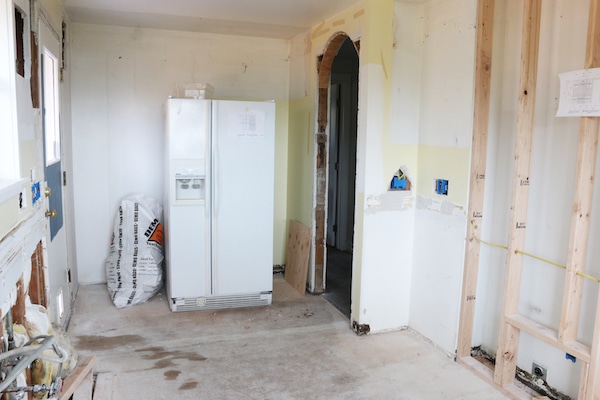 Remember, once this room is filled back up with cabinets, it is a small u-shaped galley kitchen.
We are adding character, more storage and counter space and all new appliances, but the basic layout will remain the same as it was before.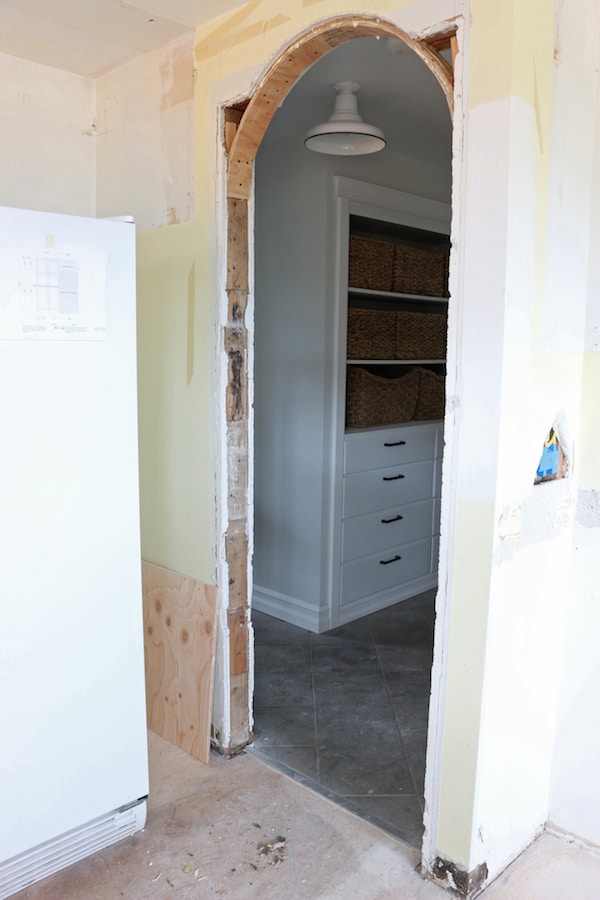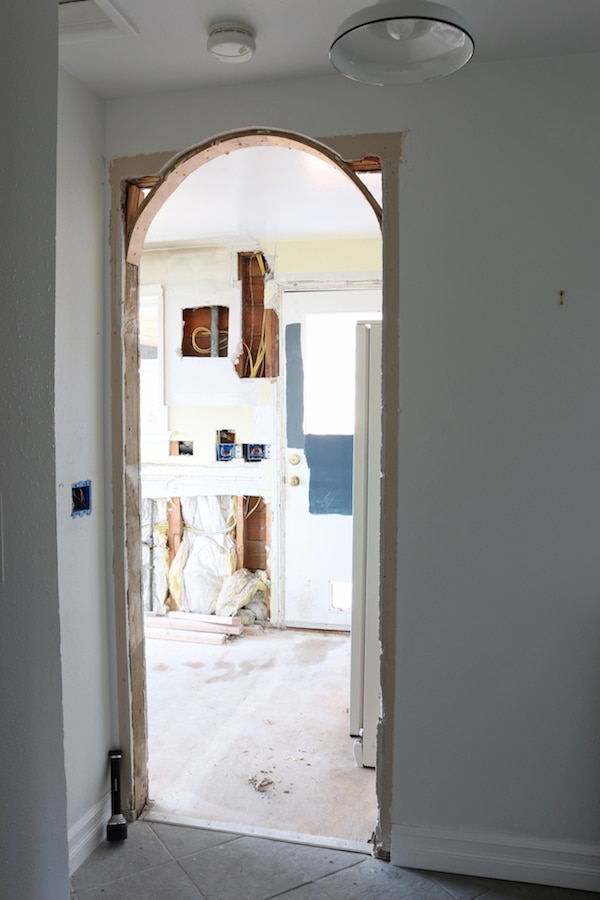 You'll be able to look right through this arch from the hall to see the new Dutch door in the kitchen. You can picture me doing a little jig of joy about that :).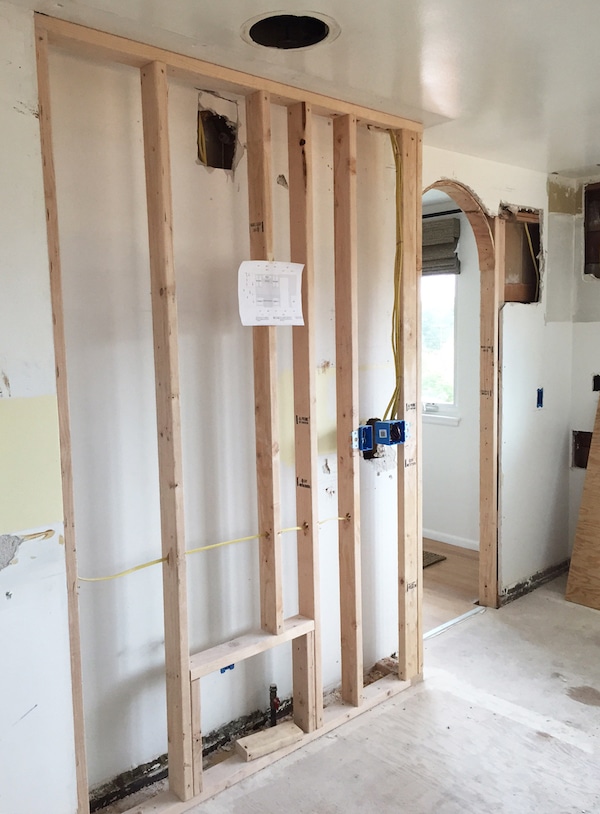 You might have noticed that there is a bit of new framing in front of this wall. It's nothing fancy, it's just designed to straighten out the wall (where it previously jutted in a few inches) to allow the new range and cabinets to line up flush against the wall.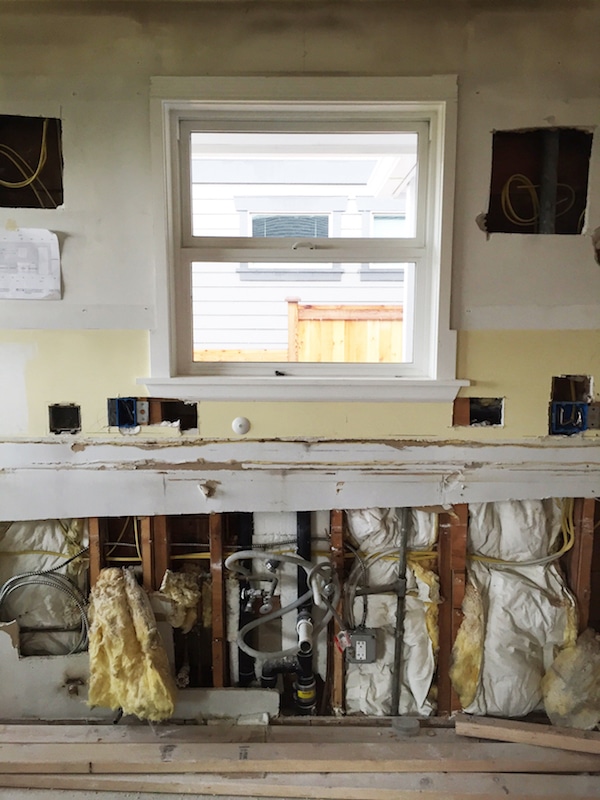 Here's something I haven't told you yet, there will be an unexpected surprise design feature on this wall (above) that I am super excited about. I can't wait to show you when it is installed (it's scheduled for Monday, yay!).
I have so much more to tell you about the new kitchen, but you'll have to stay tuned for future updates and the specifics of the materials we have chosen.
Do you want to guess what the surprise feature will be? :) 
Thanks again for following along. Hope you have a great weekend!
UPDATE 2019: See the REVEAL of this kitchen here!