Hey friends! Happy Saturday to you and to ME! I thought I'd sneak in here to share THE BEST NEWS I've had here in a long time. As you can see, the round window has been installed and it is FABULOUS. Excuse the horrible quality of pics in this post. Clearly it still a real mess in here and obviously there is still A LOT of trim work and painting to be done to make it all feel finished. There will also be cross panes installed on the window, too, in a week or so.
But if you squint your eyes, hopefully you can envision how it will come together. We did a little faucet demonstration for you so you could see the new brass faucet under the window. It will actually sit a little lower than we have it, but it will fit perfectly right under and centered on the window. I think the window will make a really cute focal point along with the farm sink and faucet.
We got the window through our contractor who ordered it through a local dealer (I believe the brand is Milgard, the same as our other windows).
It was a dreary day and getting dark by the time we took our photos, but I can tell I'm going to love being in our kitchen. It will be light and bright and I just know I will love looking through this round window to our little side yard. I can already imagine hanging flags and flower baskets and fun things out there to look at!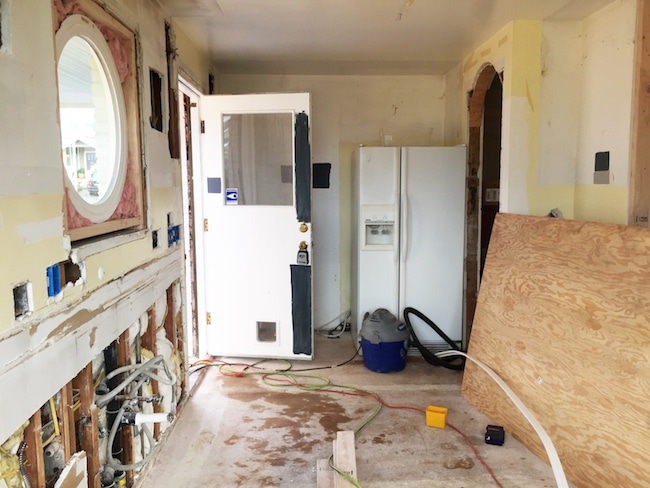 Our new refrigerator won't be smashed against the arched doorway like that, by the way. :)
For those of you who have asked about the side patio progress, as you can see, it's still not done :). Nor is the downstairs or office for those of you wondering. Long story on everything. But I'm determined it will all get done one way or another. I'm so excited about having this side patio done by spring (well, I was excited about that last spring, too, so there's that). So once the round window is trimmed out and painted, we will have the new Dutch door installed and we will make sure that the rest of the elements out here will get finished, too. I think it's going to end up pretty cute!
Thanks for being so excited about the kitchen project, I sure enjoy sharing it with you.
Happy Saturday!
PS. If you are in the mood for holiday shopping, don't forget I did a lot of the work for you and put lots of adorable ideas into our gift guides. Enjoy!