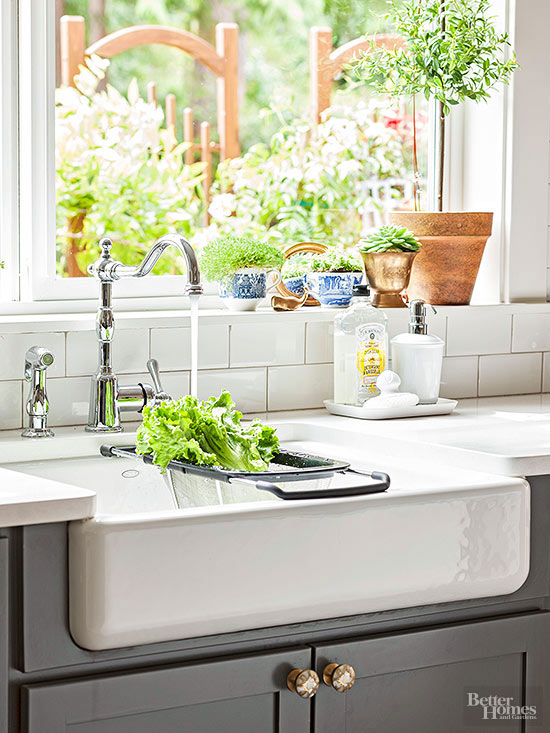 My last kitchen in BHG
Happy Friday! I think the last time you saw my kitchen was a peek at the arches. Then I told you about the surprise feature, the round window which should have been installed awhile back. But it wouldn't be a project at my house without some sort of mishap (or two or three) in the process, now would it? :)
So, apparently the window (somehow) went missing in transit? I CAN'T EVEN make this stuff up. Now that it has finally been found (in Portland? I don't know how or why, I couldn't bring myself to ask) I have been told that it is going to be installed today. Do we get our hopes up? No.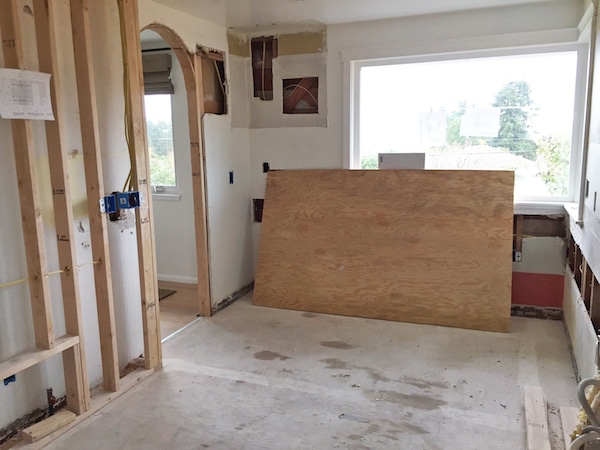 Believe it or not there is not a single new thing to show you IN the kitchen. No visible progress. It's true. But on the bright side, more decisions have been made, pretty things have been purchased, windows have been located, disasters have been averted, paint colors have been determined, and a change was made for the better and drawings are complete.
However, I do believe that if in fact the window goes in today, that by next week the drywall will be completed so they can begin installation of our ceiling and flooring, cabinets and counters and backsplash and of course, the DUTCH DOOR.
While there is a lack of pretty things to show you IN the kitchen, there are pretty things in boxes ON THE FLOOR. So even though they are still in boxes, today I want to show you my final choices for our new faucet and sink.
It actually took me forever to decide what faucet to buy. Next to our backsplash, it was one of my most challenging decisions. I knew I wanted a farmhouse style sink, but I really wasn't sure at all what style or finish of faucet I wanted. I went around and around. Modern? Traditional? Brass? Nickel? Chrome? Bridge style?
Heritage Kitchen Faucet by Kingston Brass with Brass Sprayer, 8-3/4-Inch in Vintage Brass
I finally just ordered every potential faucet on the market so I could look at them in person. You'll see all of the faucets and sources I considered below in this post. While every single one was a lovely option, in the end I decided that the one that best fit my vision and coordinated beautifully with other elements in my kitchen was this beauty. And best of all, it was like $1300 less than my second favorite! DEAL!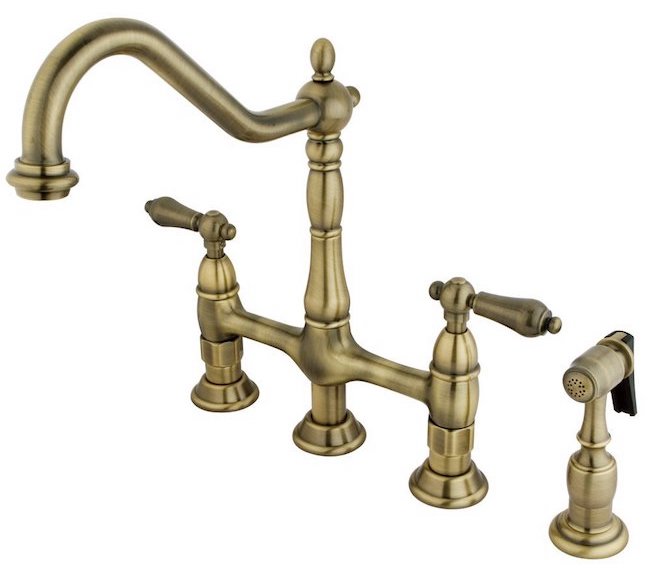 Heritage Kitchen Faucet
I love the antique brass finish, the solid weight and size, the old-world style and that it has a separate sprayer (which we also like and prefer). I'm so excited to see it on our farmhouse sink!
Our new faucet is very similar to this one that was in my old house
You'll remember we had an undermount farmhouse sink in our old house. I loved that sink so we ordered it again, but this time an even bigger model (IF YOU CAN BELIEVE IT!). Small white kitchen, big white sink. I actually didn't feel like my other sink was too small, we just had the extra space already available for a bigger sink and cabinet this time. Last time we had to fit our sink into an existing cabinet.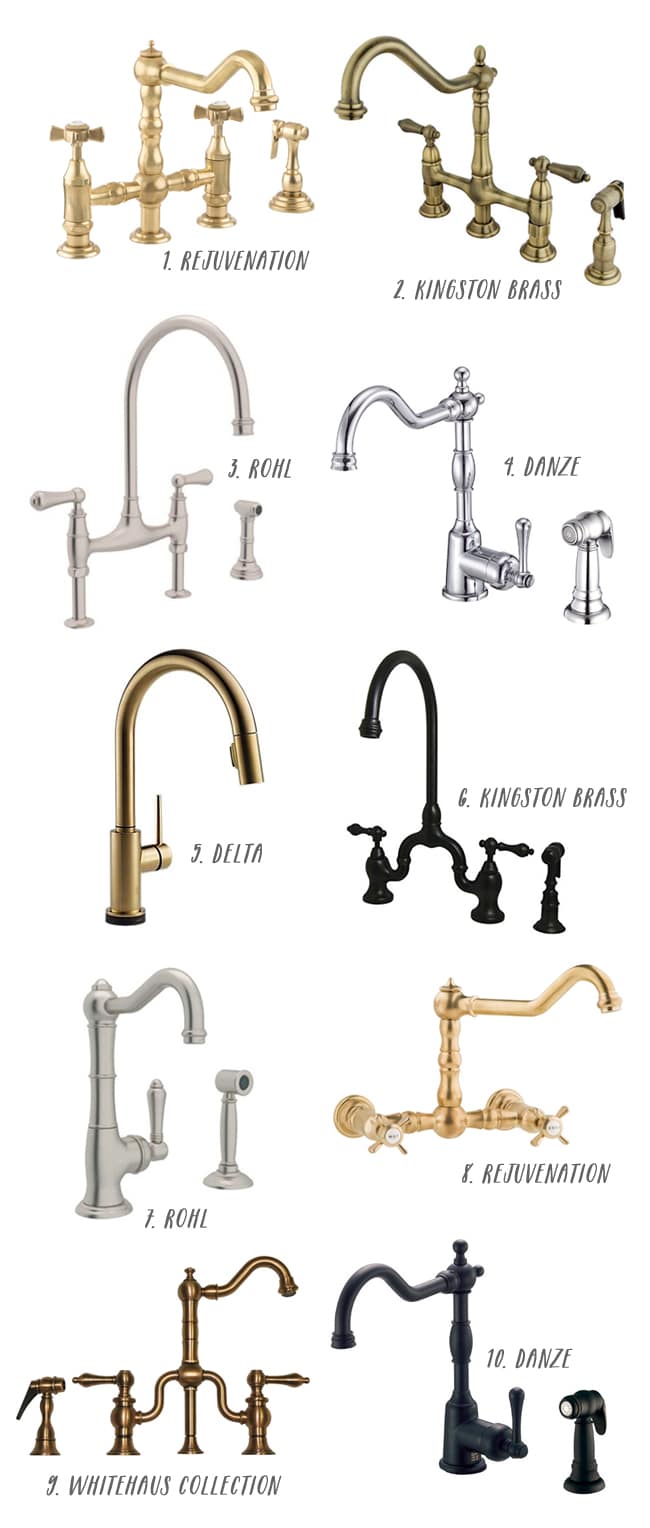 Faucet Sources: 1 // 2 // 3 // 4 // 5 // 6 // 7 // 8 // 9 // 10
(most of these come in different finishes, so be sure to click to the product if you want to see the options)
You can see some of my favorite faucets above, some are ones that I actually ordered to see in person or just considered online. You can also scroll through options in the shopping widget below.

As far as my farmhouse sink, this sink below by Kohler is the exact one we have for our new kitchen. If you saw my farmhouse sink post awhile back, I shared some additional sources and inspiration for farmhouse sinks.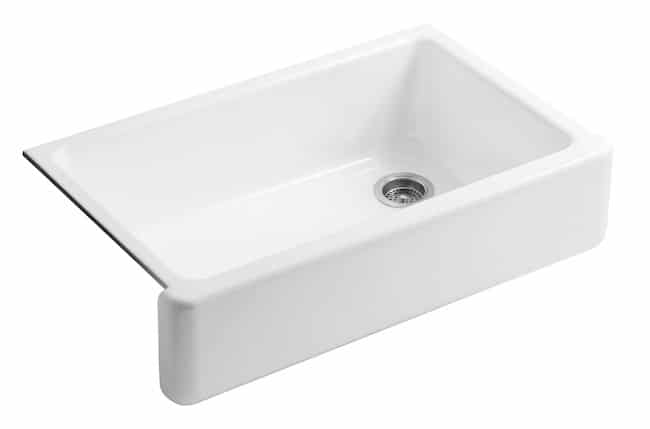 So what's next to share about my kitchen plans? Hmmm….there are still quite a few things you don't know or haven't seen yet. What are you most curious about? What do you really want to know? Share in a comment! All will be revealed in time, of course :).
Update 2019** Our kitchen is complete! See the reveal post HERE including all our sources!