House Seven
Hey Friends! I hope you enjoy today's round up of effortless Christmas decorating ideas.

House and Home / Similar glass cloche / Seeded eucalyptus garland

Country Living/ Similar plaid bedding

Country Living / similar grain sack stockings (and other similar)

The Inspired Room / Velvet stockings

The Inspired Room / Dip-dyed stool / Similar Sled
House and Home
>> CLICK HERE TO SHOP The Inspired Room Christmas Shop <<
My Christmas shop is filled with my favorite Christmas decor finds! Stockings, ornaments, garland, accessories, wreaths, trees, you name it!!! Check it out!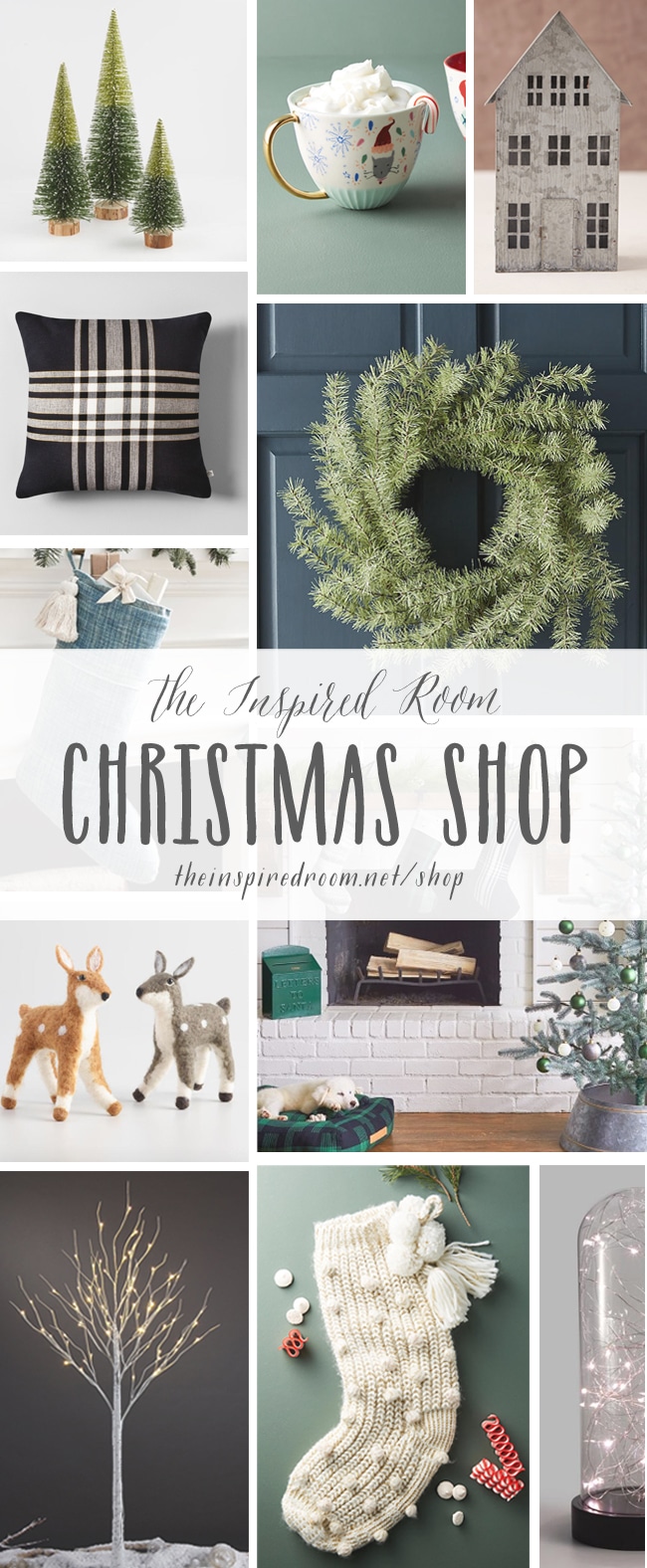 >> CLICK HERE TO SHOP The Inspired Room Christmas Shop <<
We are staying home this year and just having Thanksgiving with our little family. With all that's going on around our house with the remodeling, we are looking forward to a semi-restful week and a good Thanksgiving dinner together. We will cook at my daughter Kylee's townhouse since it will be another few weeks before we have a working stove. (By the way, this week Kylee will be posting one of her delicious salads on the blog this week!).
We are also excited about getting our Christmas tree this weekend. Cutting down our own tree is a family tradition we look forward to every year. I know many of you probably are getting your tree set up this weekend, too! I actually got started on a little bit of our Christmas preparation over the past few days so I'd be ready for the tree.
Back in September I signed up to participate with some blogger friends in a virtual Christmas house tour on December 7. I was optimistic back when I thought our big house projects would be done by now, hahah! THAT'S OK! I always keep our Christmas decor pretty simple and we have very few spaces pulled together enough to decorate anyway. SO, IT'S ALL GOOD! IT'S GOING TO BE FINE! I think simple decor is best anyway.
Related:
Shop my favorite Christmas decor and gift guides for everyone
15 Charming Ideas for Christmas Decorating