Welcome, friends! I'm SO glad you stopped by today for the annual Christmas tour of my home in our little corner of the Pacific Northwest (I'm joining in with the Holiday Home Tours via Just a Girl!). This is part one of a two part house tour, you can find Part Two here. While these tours are fun to enjoy in their best form, I'm sure you'll all enjoy seeing what happened in the days following, so after the tours be sure to check out the aftermath post here. On to the tour!
We literally are nestled in here between forest and sea, thus the inspiration for my Christmas house! I'm not much of a theme decorator but somehow, that's just how it all came together!
As I mentioned in my last post, I intentionally keep things pretty simple around the holidays. I love the whole experience of creating a home all year round but as the holidays approach, I add just a touch more festivity and greenery to hopefully create a cozy magical space for my family to enjoy at Christmas (without causing my stress levels to elevate :). I'm so happy to invite you in to our little world here! Come on in!
We've lived here for nearly six years, so every year we feel a little bit more settled here!
I'll be sharing more photos of the house throughout the week and the second half of the tour with additional pics and details on Friday, so be sure to come back for more! OK, on with the tour!
As I was getting ready to take pics, Jack and Lily kept peeking their heads out the door wondering who was coming over. I told them friends were coming to visit! They were so excited and curious to meet you that I just had to snap an action shot so you could see them waiting to greet you. They LOVE company!
Now, for any of you who might wonder where our beautiful white and gray rug is that looked so pretty in pictures in the summer time, the truth is it isn't likely to come back out until the weather cooperates a bit more because mama doesn't like to have to deal with cleaning a white rug every two hours in the winter. Truth. I'm crazy but I'm not that crazy. Even though the white one is an easy-care indoor-outdoor rug which I love, this one is small enough that I can just toss it in the wash and swap out another one as needed. Easy peasy.
I'm not gonna fake you out that I have a perfectly clean 5 x 7 white rug this time of year so welcome to our real life entry complete with washable throw rugs and pine needles. Embracing those things is a pre-requisite for life in the NW. Are any of you from here? You know what I'm talking about.
(But once the weather turns around, my white rug is totally coming back out!).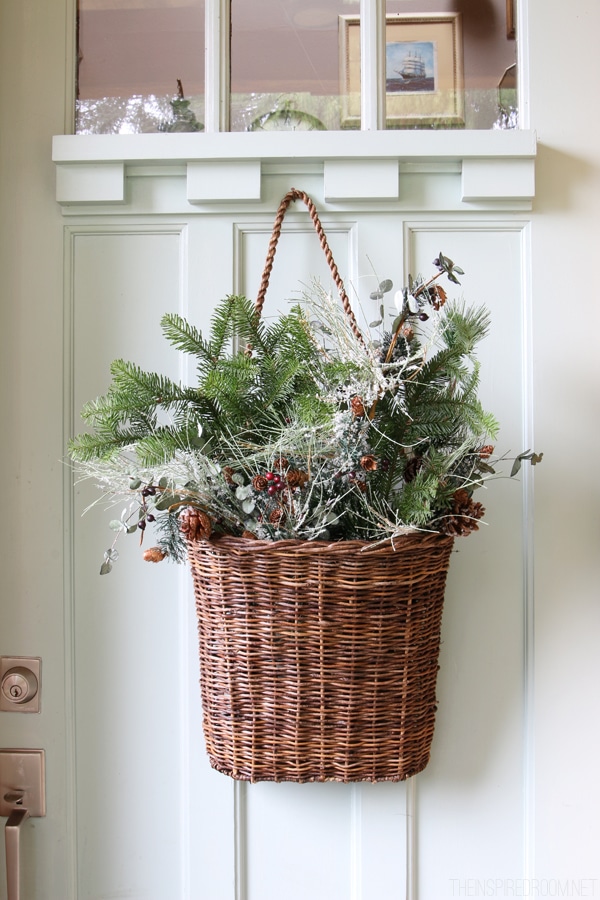 Oh, wait, one more thing before you get all the way inside and then I PROMISE I'll let you in the house, I wanted to show you my "wreath." I found this cute hanging basket at World Market and filled it with a mix of fresh and faux greenery. It will be perfect all winter long, which makes it my favorite! Bless those talented crafty people who find the time and creative energy to make new seasonal decor for their doors every few weeks.
Ok, finally! COME IN!
I love using fresh greenery and it's readily available outside our front door! But since our neighborhood trees were sopping wet I bought four boughs of cedar at a local nursery for $4 each. Many years I have bought garland from Costco but since we leave our fireplace on a lot, the garland dries out pretty quickly and makes a real mess. Then you have to pull the whole thing down, which creates even more of a mess. So this year, I got smart and just bought the boughs because if they dry out before I'm ready to be done with Christmas, it would be easy enough to replace them.
I wanted to do something a little different this year on our stairway, so I just tied some rope around the newel posts and added the cedar and a simple ribbon bow. It was so easy and I think it turned out pretty cute. I don't think I'll ever go back to full garland!
OK, I'm gonna try to just be quiet now and let you look around. I'll interject a random comment here or there so you'll know I'm still with you, but mostly you can just wander and look because no one's got time to hear me ramble on today. Plus I'll be back with more so I'll leave some things to talk about in a future post. Feel free to ask questions if you want though and I can try to answer!
Dip Dyed Stool
I love winter decor so the sled I found at the flea market this year seemed like a perfect touch for the entry. Once in awhile we get a little snow too, so maybe we'll test it out if we get so lucky!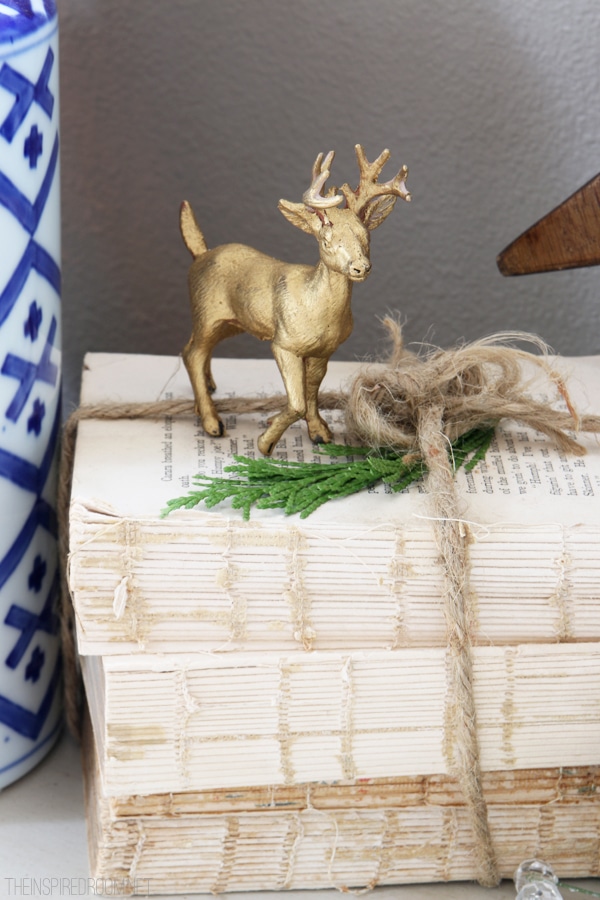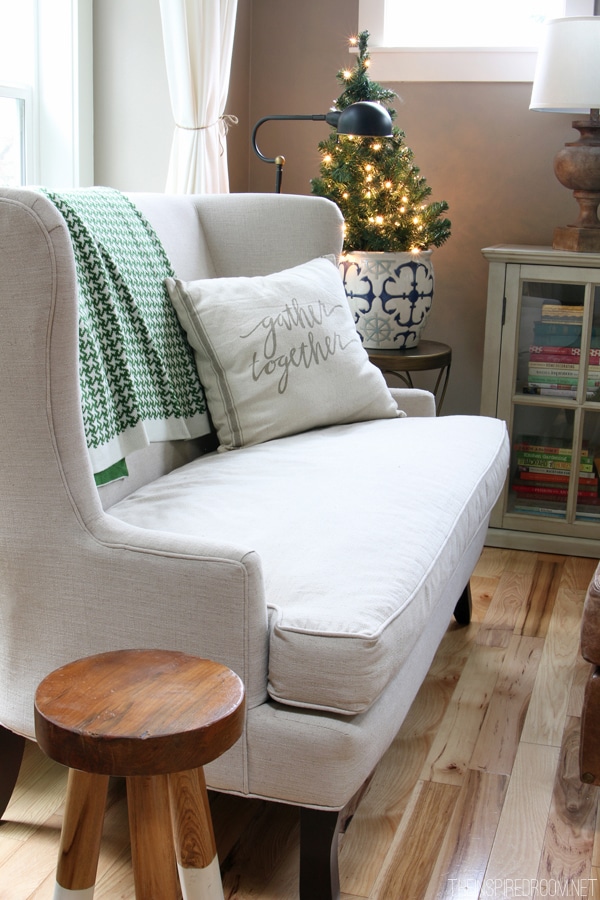 Wingback Linen Settee
Trellis Chair
I love having fresh greenery outside that I can use all year round. My boxwood bushes and the evergreens always come in handy when I need a little sprig of something for the table!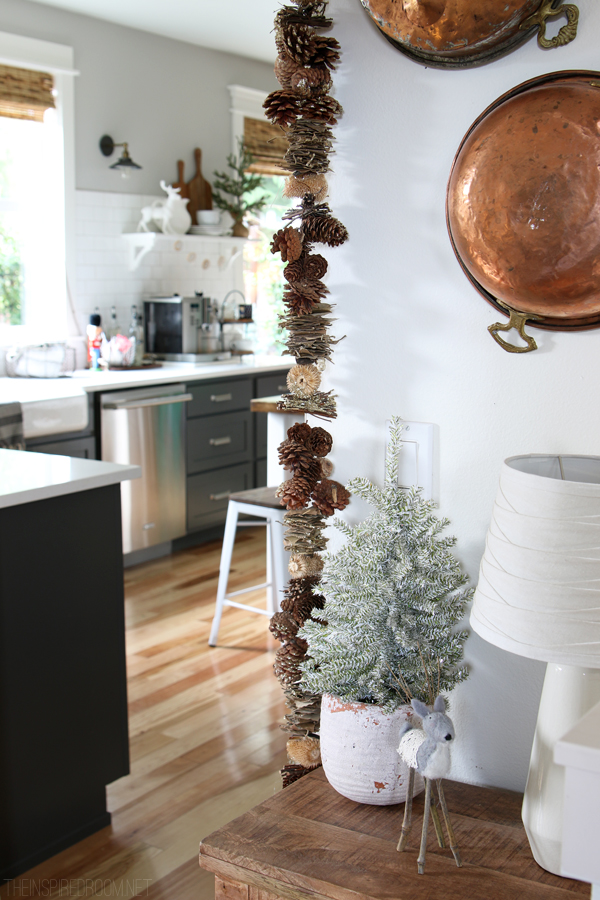 Similar Pine Cone Garland
That teapot in the background is a treasured gift from my hubby. We were on an anniversary weekend one year many years ago and went to a fun little tea house. He bought me the teapot as a gift. I love bringing it out this time of year especially, it just looks so festive to me. It has a little cream and sugar bowl too!
Instead of my usual mug tree, I set up a little hot chocolate station with my tiered stand, with a nutcracker to watch over the marshmallows. We made the "peace" banner out of wood slices last year and loved it so much we just hung it up again in the same spot this year! I'm not too crafty so when I make something you will likely see it every year until I make something new. Ha!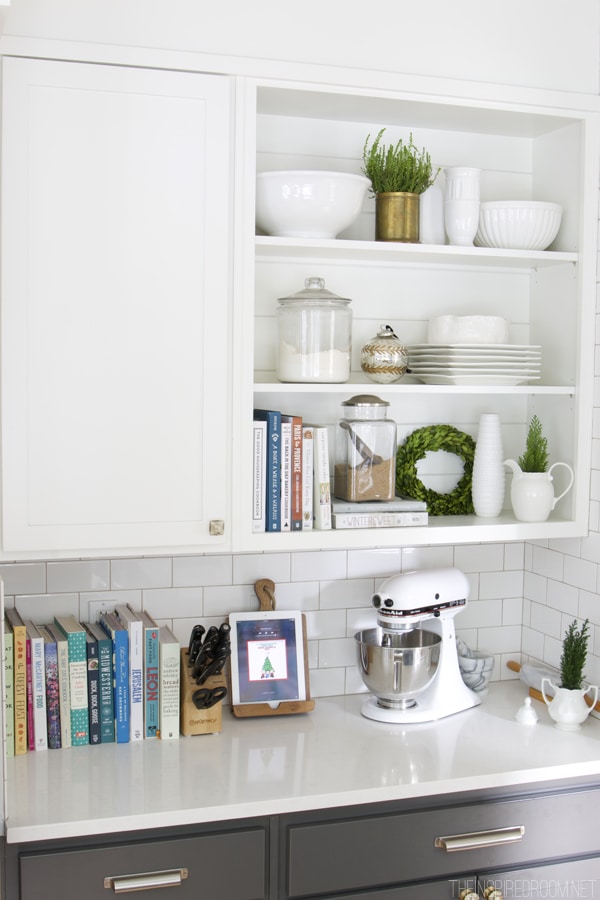 Charlie Brown Christmas tunes always make everything a little more festive.
I wish I could say I did the art on my chalkboard because that would be awesome, but alas, I have no talent with lettering so I snatched up this adorable Have Yourself a Merry Little Christmas chalkboard downloadable art from Dear Lillie on a Thanksgiving sale. I had it printed locally and I just love it! Such a bright cheery message that always gets me singing as I make my way down the hall to my office.
Stockings // Lights: Barn Light Electric
I made these Mason Jar snow globes because they are my kind of craft.
So here we are in the Family Room where you can see our freshly cut Christmas tree! You can read the story in my last post about about why we cut down a fresh tree every year. I absolutely love the smell of fresh Christmas trees, my whole house smells wonderful right now! My metal star garland and the deer pillow in my dining room came from the Winter Trunk at Season in a Trunk.
Nearly everything in our house has a memory attached to it or represents something special to us. Even though we don't use a lot of traditional themed Christmas decor, every element we do use is special to us and reminds us of family times through the years, favorite holidays we spent together on the coast and special memories we treasure. We've lived in the NW for almost all of our lives and raised our children here (Portland and Seattle) so while we no longer have our beach house and moved away from our home in Portland six years ago, we feel blessed to still be near our family in a part of the country we love so much.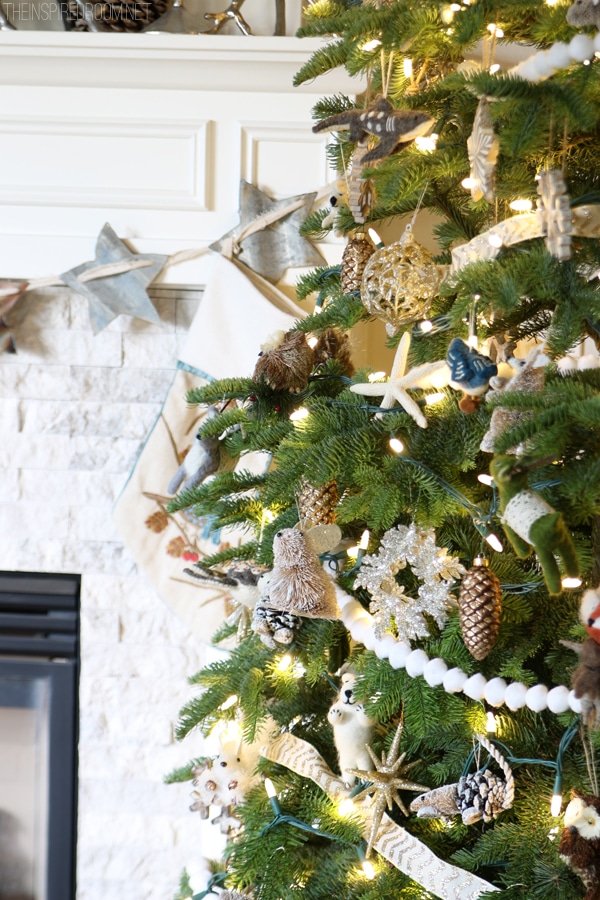 We decorated our tree this year with a quirky collection of animal ornaments. Why? Because WE LOVE THEM! We have all sorts of creatures from the forest and the sea. We crack up over animals with personalities so of course, we find our forest and sea tree to be perfectly suited to our sense of humor. We've been collecting these animals for awhile, many of them came to us a couple of years back when I did the woodland tree! We have quirky animals all over our house even when it isn't Christmas, have you noticed that? :).
The cutest sea turtle I ever did lay eyes on, found at my favorite shop on the Oregon Coast, Sesame and Lilies!
So there you have it, the first half of our Christmas tour! Crazy that I have enough pics to take you on another tour, but when the house is clean and festive, you go a bit crazy with the camera.
>>>>>>>You can find PART TWO of THIS Christmas House Tour here!<<<<<<<
>>>>>>>You can find PART TWO of THIS Christmas House Tour here!<<<<<<<
Thanks so much for coming!
Isaiah 9:6
For to us a child is born…and
he will be called
Wonderful Counselor, Mighty God,
Everlasting Father, Prince of Peace.
See my Christmas House Tour from last year here!
Click here to shop my favorite Christmas decor and gift guides for everyone!