Greetings, friends!! My internet has been out and our lights flickering all evening. It's a wee bit stormy around here and more winds are threatening to blow through. I was so worried I wasn't going to be able to get this post scheduled — yay me for not doing this earlier in the day but that's me, the procrastinator! But luckily, the internet popped on a moment ago so I'm scrambling to get this scheduled while I can. So if you see this post Friday, you'll know I succeeded even if it is only partially finished, hahah!
First of all, thank you so much to Lindsay of White Buffalo Styling Co. for hosting a great tour of homes this week and including me in it! If you are just joining in, be sure to head over to her place to catch up on all the links to homes!
This is the second tour I am a part of for my house this Christmas, but while I only have one house to share :) I took SO many photos of different angles of rooms and close ups recently that you'll get another peek around today. I saved a whole bunch of new photos just for this tour! You'll see a few things maybe you missed or another side of a room you didn't really get to look at in the last post. When you are done with this tour, free to go back through the first tour from earlier this week, too, if you'd like! Also, while these tours are fun to enjoy in their best form, I'm sure you'll all enjoy seeing what happened in the days following, so after the tours be sure to check out the aftermath post here.
In my dream world, I was going to decorate the bedrooms and front porch for Christmas by today.
YEAH RIGHT! Dreamer. The reality was I had so many obligations this week with book writing and Christmas events and just keeping up with life, I haven't been able to do much more around the house or get it photographed. (You'll see a tiny peek of my office, though).
You want to know a little secret?
I've discovered on all the tours that I am one of the only bloggers on the face of the internet that doesn't have Hunter rain boots by the door filled with fresh greenery. But what I do have on my front porch, where the Hunter boots WOULD be (had I received the memo), I have … PUMPKINS.
Yep. I'm that neighbor. (Maybe even the one that might leave her crunchy wreath up until spring. Hahah!).
OK. Now that we got that confession out of the way, let's carry on with the tour.
Jack's been watching out the window, eagerly awaiting your return. He LOVES when people visit!
In our gathering room (the room in between the entry and the dining room, formerly known as our living room heheheh) we have birch branches we collected this year from a little forested area near our house. I put them in a big tall planter (sorry, I somehow didn't get a picture of the whole thing) and I thought it would be fun to put ornaments on it for Christmas.
My husband recently painted our table for us so it was all fresh and clean for Thanksgiving and Christmas get togethers! I seem to always be inspired to work on the dining room around the holidays (maybe that's why it is the room that seems to have evolved the most in small increments over the years!). Our house is far from perfect and there are still lots of things we need to do, but each little improvement we make, no matter how small, feels great. After nearly six years of faithfully doing little updates on the house whenever we were able, we feel like we are finally getting to where our house is not done, but where we aren't so behind any more. :)
It's amazing what a simple thing like a fresh coat of paint can do for an old table, too. We left the leaves natural because we still really like it that way! :).
While we only add a touch or two of Christmas here and there around the house, I feel like it's enough that it feels festive. And not so much that I feel overwhelmed by it all. I guess I'm more of a winter decorator. Candles and fresh greenery are my favorites!
At night and especially for dinner parties, we light all the candles and it starts to feel magical.
Little string lights around the mirrors and in glass jars add little dots of holiday sparkle.
The paper whites smell wonderful! I love having lots of plants and greenery around. And I love how the mirror reflects all the flickering candles around the room.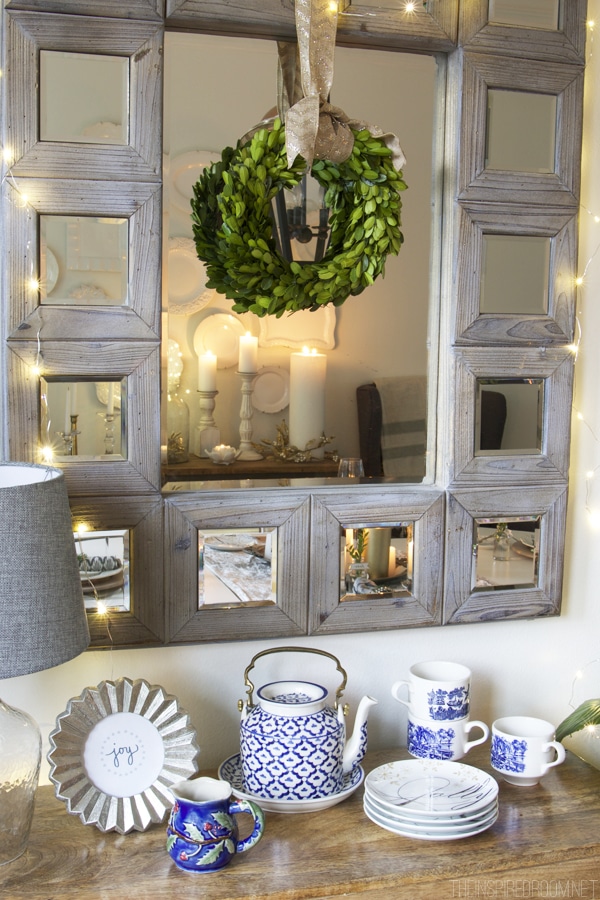 Little trees in galvanized buckets are so simple, but they are yearly favorite. I get them at Lowe's or Trader Joes, and I get the buckets at our local farm store.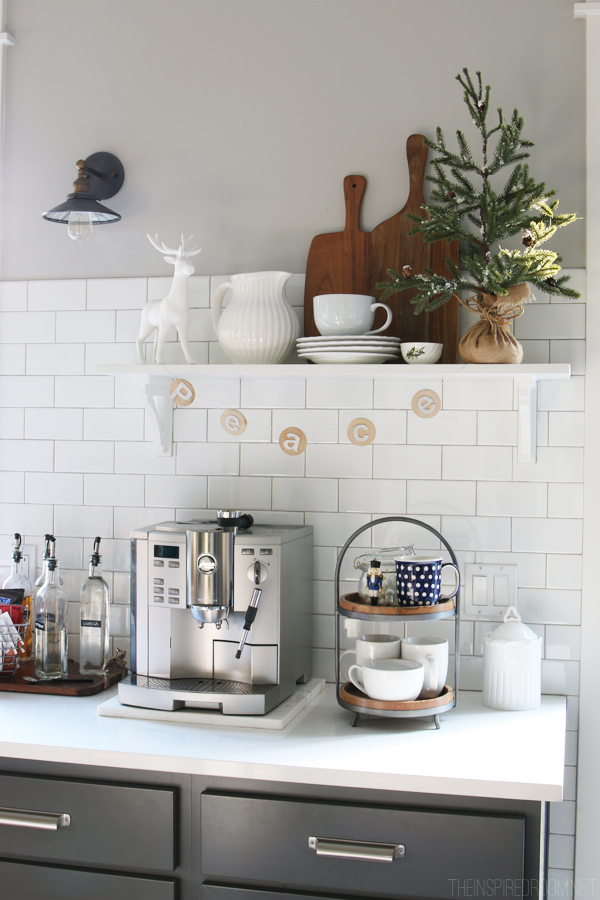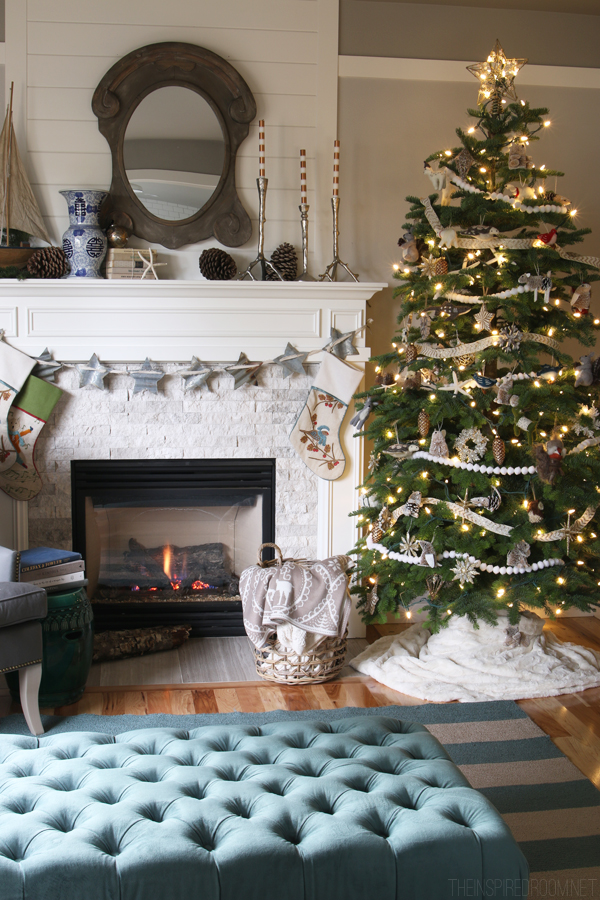 I'm wondering how long it's going to take before Jack & Lily (our one and three year old doodle pups) will discover that we have a tree full of adorable animal ornaments just waiting to be devoured. So far they haven't even noticed, but in past years Jack has destroyed his fair share of ornaments.
We are keeping our fingers crossed that they are more civilized this year :).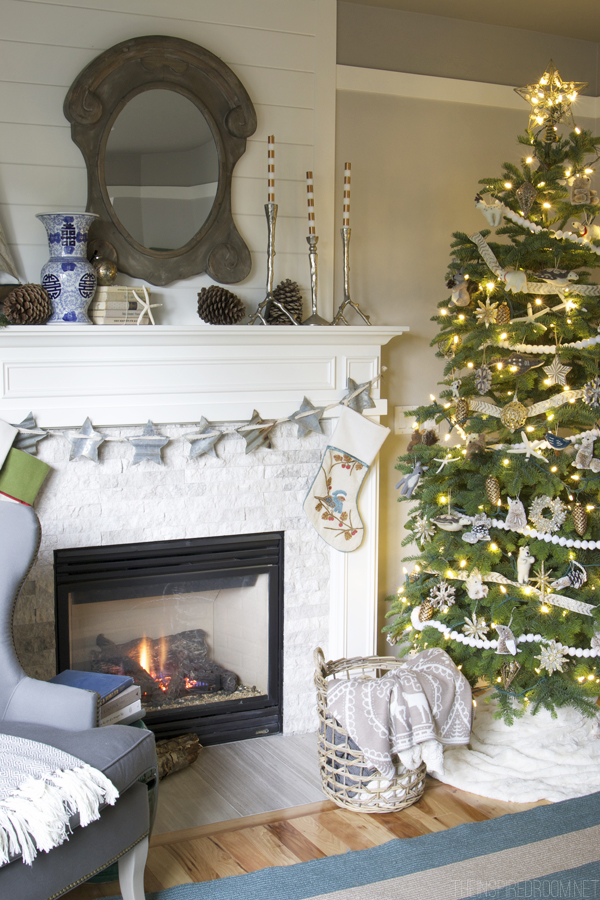 I was working with Pottery Barn this week on a post (you can see it here) and had the opportunity to restyle my mantel with a new banner, thus the different look of my fireplace in this photo. It was such a dark day when I was taking these photos, but I really love the sparkly Merry Christmas banner!
We've had the white quilted stockings for years!
I also tried the Merry Christmas banner out in my office and love it in there too. As you can see, I moved the Nespresso to the office and it's so fun having it within reach for those emergency coffee needs haha! I'm still loving it, you can find more details on the machine I have here, it's called the Nespresso VertuoLine. You can find the post I wrote about it here.
Thanks for visiting today, friends! I'm so glad you came by.
The next stop on the tour is my friend Traci's from Beneath My Heart, she has such a lovely home and is a real sweetheart, so go on over for a visit!
You can find more photos and part one of my Christmas House Tour here!
If you're looking for a great wreath, Christmas tree, tree skirt, decorations or other seasonal item, we have an ADORABLE shop you can find by clicking HERE or the banner below.
Secondly, if you are looking for the perfect gift, we've got you covered, too! Every year we pull together the best of the best gift ideas for everyone on your list. Find all the Inspired Gift guides by clicking HERE or the banner below!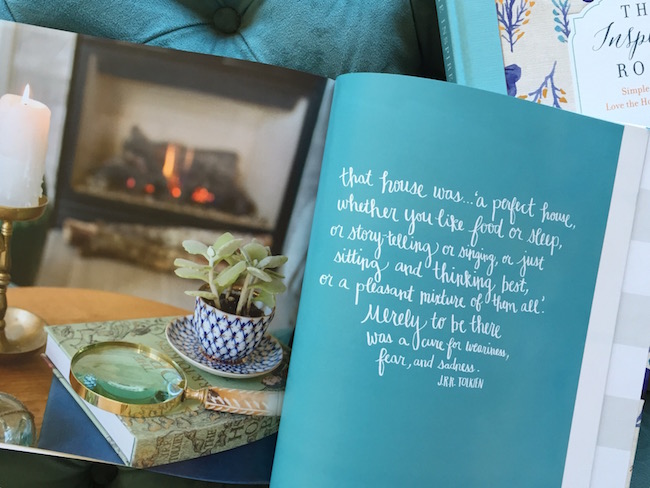 **Check out my new coffee table book, The Inspired Room!**
For those of you who have asked, here is how I hang garland, wreath and stockings without nails!