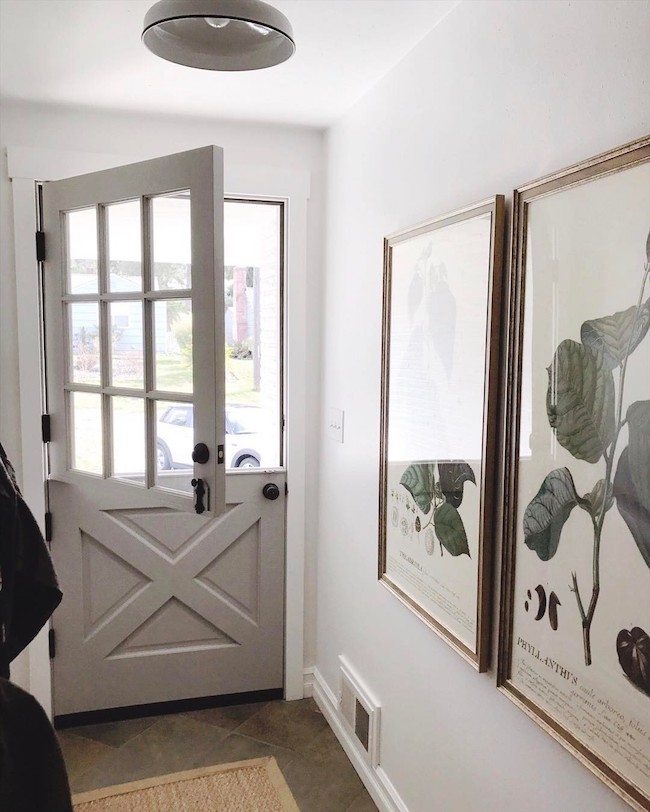 Botanical Art / Runner / Lights / Door: Ozark Shadows BM / Walls: Swan White Glidden
Hope you had a good "spring forward" weekend!  I have actually been having one of those busy weeks/months/weekends (all of the above) where everything was colliding and deadlines happened all at once.
I was out of town last weekend, so I spent this week and weekend mostly trying to catch up again. But, that's what's it is like sometimes when you own your own business. You can go away, but the work doesn't! I just need to press through and get it all done and then I'll love my job again. :) Ha! Honestly, though, I love my job even when it is a busy season.
Do any of you own your own businesses? Any bloggers? I'd love to hear what you do in the comments!
Many of you seemed to enjoy the post where we shared a variety of snapshots from our family's Instagram accounts, so we thought we'd make it a semi-regular thing! I don't want to promise that I'll keep a schedule because in ten years of blogging I haven't been able to keep up with a schedule very often, ha. But, I'm thinking semi-regularly on Sundays I'll do a round up of our Instagrams and sometimes even other informal home and family updates that we haven't shared anywhere else.
I want to keep you all in the loop. I feel like social media expectations have gotten a bit out of control lately, so I really like posting here best. :) You guys are my favorite.
I ordered new framed botanical art for our entry hall and I just love it! It brings in just enough green to interest to make our entry feel more complete. You can get a look in the top photo, I'll show more soon.
Jack is all smiles about the new kitchen. He seriously loves it. I think he felt excluded from the kitchen when the contractors were here, so now he wants to be in there because he can. He's a funny dog. Do you follow him on Facebook? You can find his adventures here.
Curtains / Quilt Lamp & Mirror: Ashley Home Store / Striped Pillows / Polka Dot Pom Pillow / Basket
My girls and I worked on a fun project this weekend for the launch of my new book Simple Decorating. Apparently Amazon has already released the book, but we'll still have an official launch to celebrate closer to April 1st.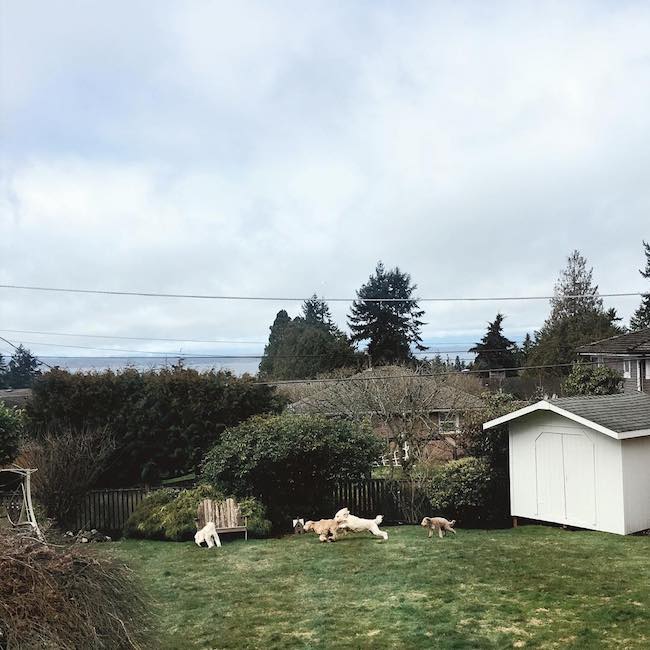 On Fridays both of my girls come over to work with me and so all four doodles were at our house. They had a blast sprinting through the yard together, it was doodle heaven. But because our weather hasn't been good, they got super muddy and every dog had to have a foot bath before they could come inside.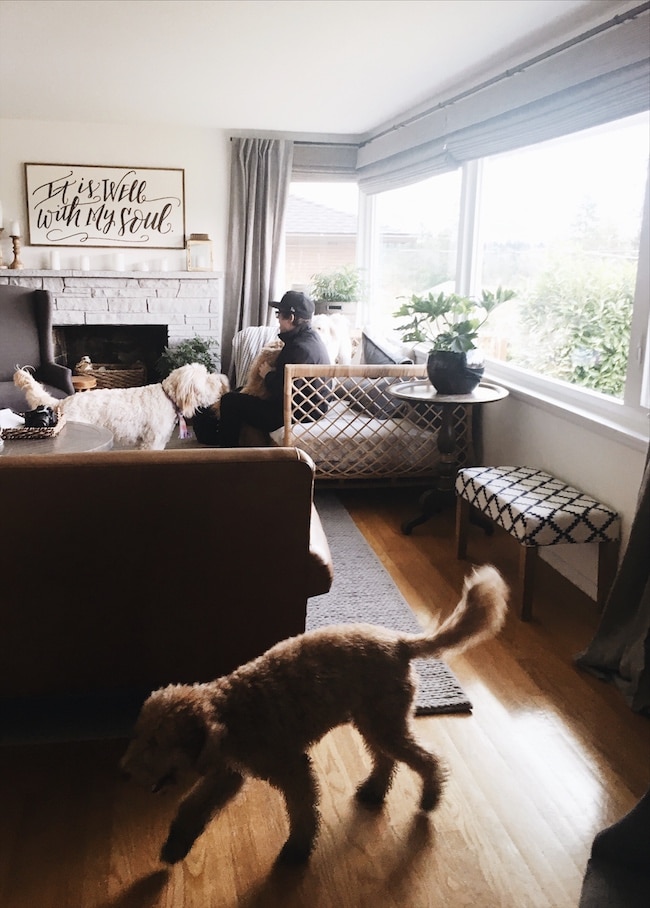 Rattan Daybed  / It Is Well Sign / Cable Knit Rug / Leather Couch
 It was crazy around our house, but the dogs really love playing together!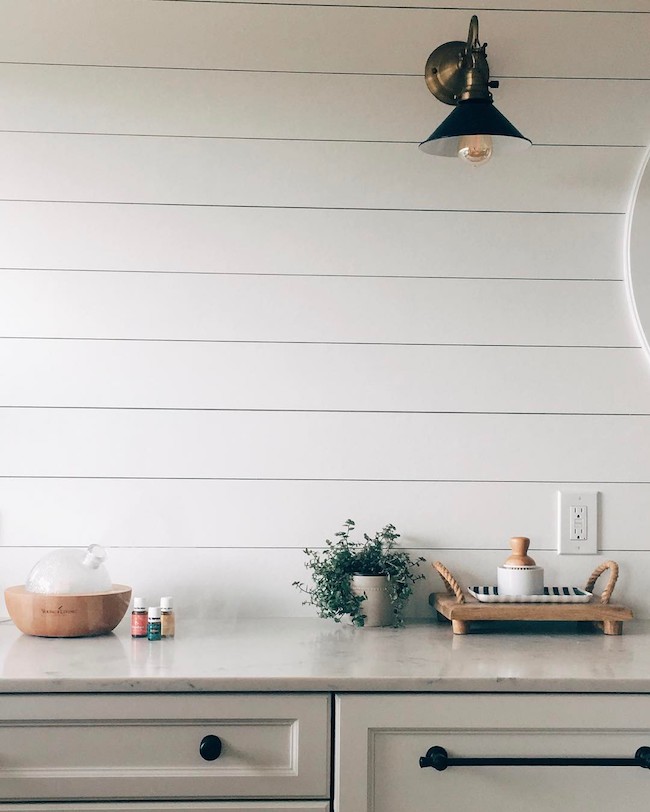 Wall sconce
I shared a little video this weekend on my Instagram story of my wood and glass diffuser that plays music. You might have seen it in my house before. This diffuser is amazing, it makes me feel like I'm at a spa every day. You can read about the products I use and why I recommend them and get a diffuser kit of your own here.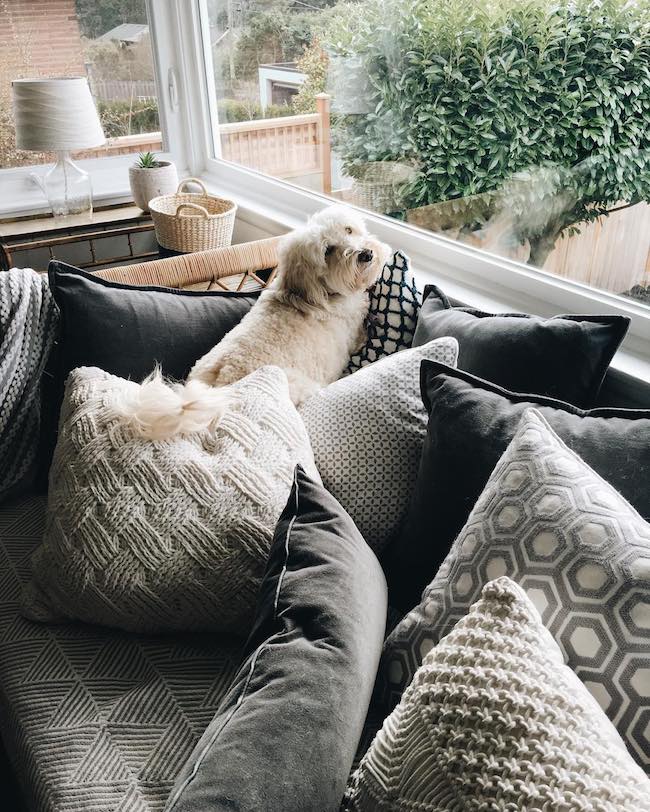 Rattan Daybed / Velvet Charcoal Pillows / Other pillows mostly HomeGoods & Target
This is Lily's spot every single day. I can't blame her, I'd be there all day, too, if I could!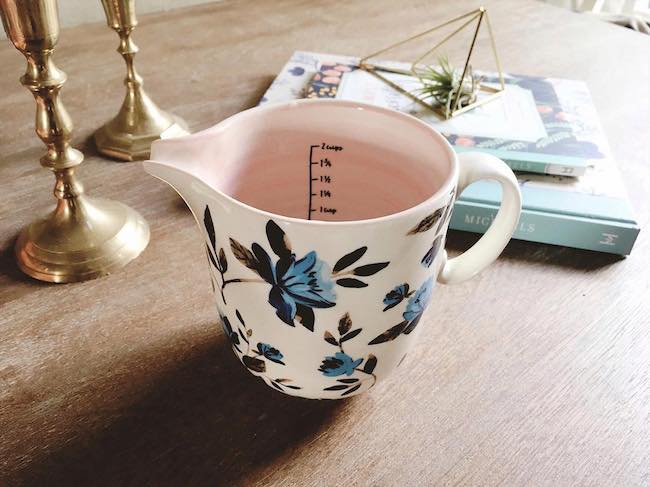 The cutest measuring cup stopped us in our tracks in Anthropologie downtown last week. My girls each got one. I wish I got one, so it's on my wish list now.
Public Service Announcement: I just discovered Anthropologie is also selling Rifle Paper Company oven mitts and aprons. YES.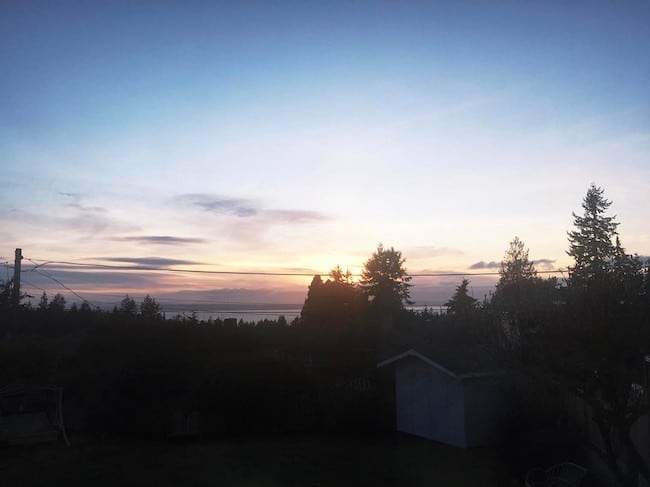 God paints such lovely skies and landscapes outside our window every day and every evening. It's always different, always changing. It reminds me to pause and appreciate the beauty right in front of me!
Photo from my daughter Kylee's Instagram / Doormat / Rifle Paper Co & Keds Shoes
We are working on giving you a peek of our side patio (the one outside of our kitchen Dutch door). It's still not done yet, but this Friday on the blog I have a little post I'm doing with Birch Lane where you'll see how the Dutch door and white brick looks from outside the kitchen. In case you're wondering, I think it's looking cute, even though it's not all done :).
Once our weather is more cooperative I'll be outside sipping coffee and planting pots out there every morning, I'm sure of it. Has spring arrived where you are yet?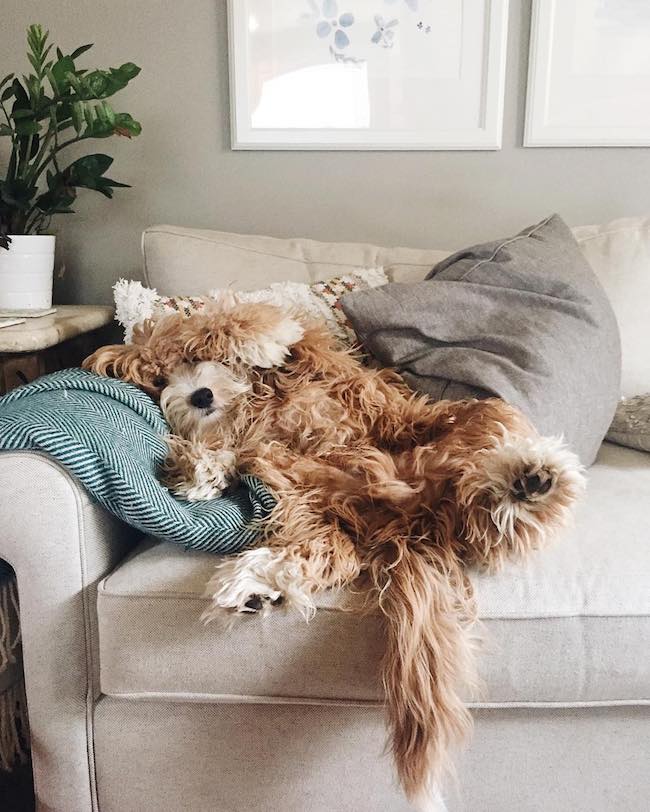 Photo from daughter Courtney's Instagram / Sofa
So, Leo (Kylee's pup and Bella's "brother") is getting bigger! He still hasn't had his first puppy haircut so his hair is quite fluffy. Clearly he's still as darling as ever, though.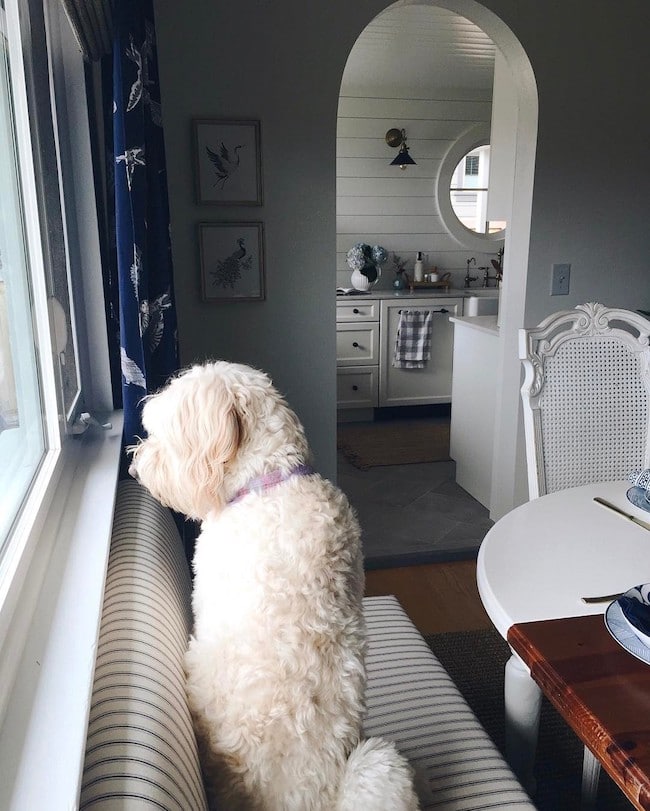 Striped Bench
And speaking of darling, Jack has already claimed our new dining room bench for his own. Honestly, as you can probably tell, he makes himself at home all over the house.
So my goal for this week is to get back to giving more details about my kitchen! You guys had so many great questions and I'd love to answer them. Talk to you soon!

You can follow along with our Instagrams below:
The Inspired Room // Dwell Well Collective // Jack the Goldendoodle // Doodles at Home // Kylee // Courtney