Lights from Barn Light Electric
Hey friends! I was thinking about how many little snippets of life and home I share on Instagram every week (our family has several accounts we enjoy sharing on just for fun!). I know you all aren't on Instagram and you're actually my favorite people, so I thought I'd just share some of the images from last week.
These are just phone pics, but it's fun to just share bits and pieces of life or things I'm working on. I find that snapping a photo keeps me focused on being mindful and grateful in the moment for all the beautiful blessings in life.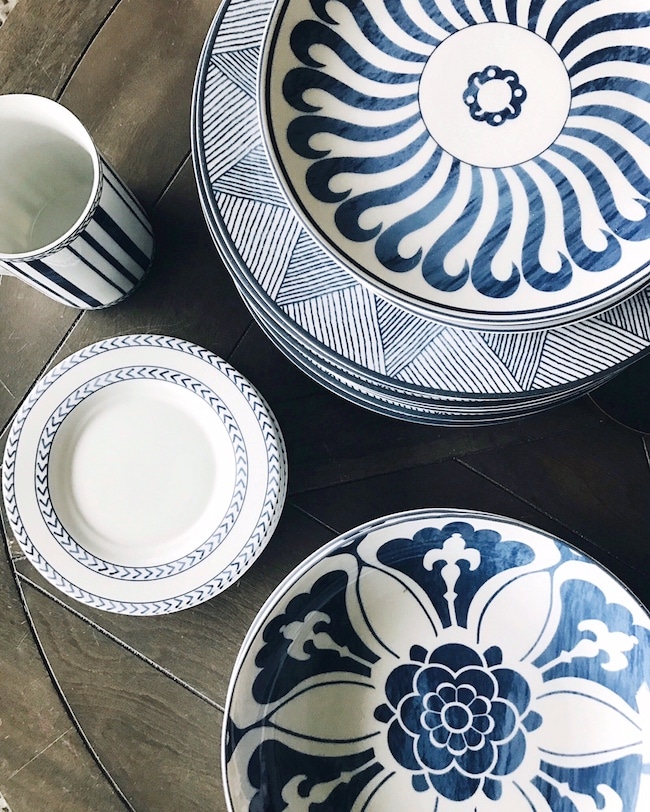 For the first time ever I ordered a pretty set of dishes. I mean, I've always bought pretty salad plates but I usually just stick to white dinner plates. I've never bought a set of dishes. Can you believe it? Frugal mama here. But my heart leaped for joy when I saw this set of blue and white dishes and we were really in need of new plates, so it was a match made in heaven. They had to be mine. Can' t wait to set a spring table this year with these beauties!
My husband is a musician. We met when I was nineteen and I didn't think he was really my type. Then he wrote me a song and played it on his acoustic guitar for Valentine's day. We've pretty much been together every day since (you know, all ten years since then. JUST KIDDING, it's been a couple decades longer than that). Differences could have pulled us apart but they have made life richer and sweeter.
These eggs are incredible, they are far and away our favorite (well, unless we bought some fresh from a farm locally I suppose!). I made our traditional Dutch Babies for brunch yesterday with them and they tasted better than ever. And the packaging is adorable, yes?
Life with dogs is never dull. Jack keeps us laughing.
Diffusing is a dream. If you are still thinking it's weird or you don't get the whole essential oil thing, I'd be happy to share and explain it to you. Seriously, they make such a huge difference in my emotional and physical health and overall well-being. I have been staying well all winter! You can email me anytime or follow our Dwell Well Collective Instagram account for more details. *Update!* See my wellness station and how to use oils here.
Painters are coming this week to paint our window trim. Then I'll finally be able to take the reveal photos and show you around our kitchen! Give me a little bit of time to get those photos done, but in the meantime I will be showing your our new flooring downstairs! There is so much to show, I'm excited to share these updates.
I don't know how I got so blessed to have two girls who are are not only wonderful daughters but have grown up to be my best friends. We have a weekly meeting to catch up on all the happenings (often at a local coffee shop or restaurant). One of my daughters works with me full time (Courtney) and I'm dreaming of the day I can bring my oldest daughter Kylee on board full time, too. She works with us one day a week now and I LOVE having them both around!
Leo is getting so big! He's about the size of Lily right now, but maybe a little stockier and heavier. He hasn't had his puppy hair cut yet, but will soon! He's such a sweetie. And check out his mom's (my daughter Kylee) new sofa (above)! Remember her red couches? She's been buying her first grown up furniture and it's darling. I'll have to get her to post an update :).
We're expecting! Not a baby, but a new leaf on the fiddle leaf. He's still growing like crazy!
OK, so if you've ever wondered what it's like to have four doodles in the family (only the white pups live with me but the others hang out here as much as possible!), let me just tell you it's a mix of pure joy and laughter and chaos. Jack looks like he's about to take flight there with his ears.
Book: Love the Home You Have
I'm so excited to be finishing up some of these projects around our house. While I love the excitement of projects, I feel so much less frazzled when we aren't doing them. Remodeling makes life feel a little too chaotic for me. So as we round the corner from "project phase" to more of a nesting phase, I am starting to feel like I can breathe a little more deeply.
It's nice to be finally putting stuff where it goes, getting rid of stuff we know we don't want and just feeling like we can put our house together and relax. While we have a list a mile long of more projects we want to get to, it's nice to take a little break and just enjoy what we've done so far.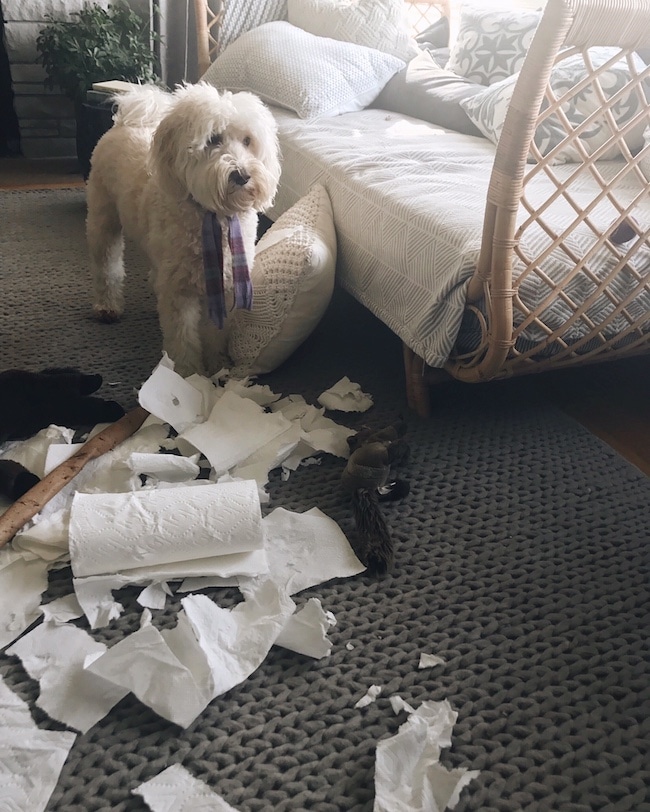 Like I said, dogs keep us on our toes. :)

You can follow along with our Instagrams below: