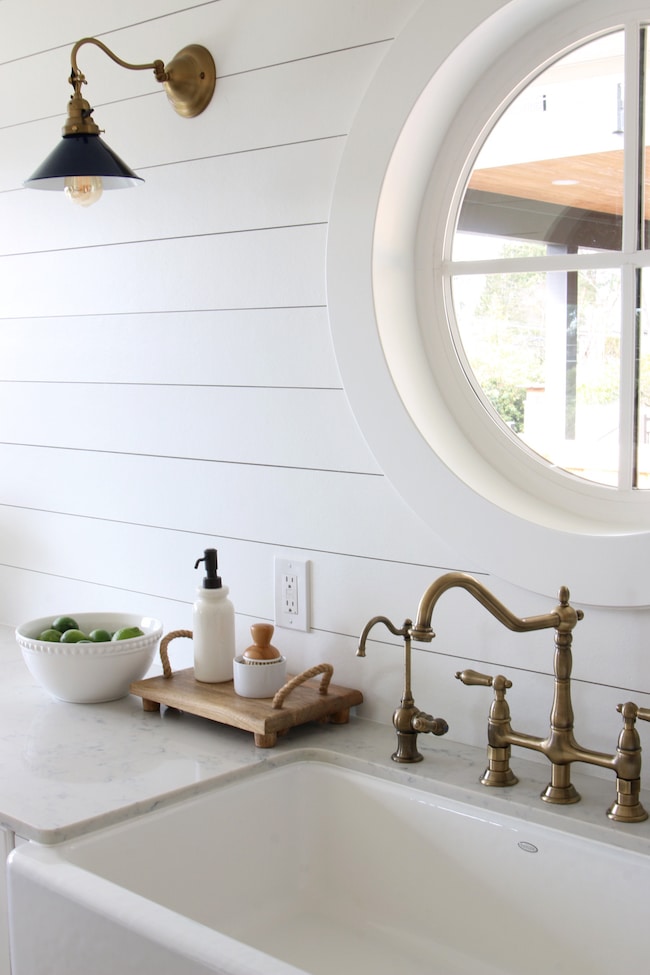 Happy first week of April, lovelies! This time of year I feel like my home needs a good "spring cleaning." I want everything to sparkle and shine and smell fresh. When the sun is out, suddenly the windows look cloudy, the surfaces feel more dusty, everything clearly needs to be wiped off.
Unfortunately, in my quest for everything to feel spring fresh and clean, I have uncovered some very dirty and even dangerous secrets.
Trust me, the word dangerous isn't just for shock value or click bait. This is for real. This won't be a short post or even a pretty one, but it will have some of the most important "home improvement" info I've ever shared here on the blog. It hits close to home for all of us.
You know I always feel better about life when my house feels clean. I know you feel better with a clean house, too. Our house has never been perfect and I don't think anyone who knows me would consider me a total clean freak. I'm scatterbrained and sometimes messy. But I definitely feel a psychological boost walking into a kitchen or bathroom when things look, feel and smell clean.
Trying to at least have a "clean enough" home has been something I felt was worth investing in not only for my own state of mind (you know everything is better when mama's happy…) but for the overall well-being of our family.  It felt good to know I was keeping our family safe from substances and germs that could harm them, providing them sparkling clean dishes to eat off of and fresh clean clothes to wear.
I see myself and my husband as the "gatekeepers" of our home, as we are both eager to do whatever we can to make sure anything that enters our home is safe and healthy for our family.
But much to my horror, even though we really have tried to buy safe products, I've been uncovering some horrible, disgusting and yes, truly dangerous things lurking in my home.
See my next post with simple changes for a cleaner home!
I've discovered that products I invited in to my home because I thought they were helping our family (or at least just smelled good) may have been actually causing us harm. Products I just assumed were safe actually contain toxins, known carcinogens (!), endocrine and reproductive disrupters, allergens and more.  
Over the last couple of years I decided to look into the products we were using. The more I researched, I've been crushed to discover more and more dangers in our home. Believe me, I'm not a fear-monger type, but this stuff really inspires me to take responsible action (and leads to me telling everyone what is potentially lurking under their sink, gah!)
Just like when my son was a baby and I had to figure out all the fancy names for "milk" and check for artificial colors and preservatives in food ingredient lists (I wrote about that in my healthy home post), I realized awhile back that I needed to take our health safety even further and really question the products we had in our home.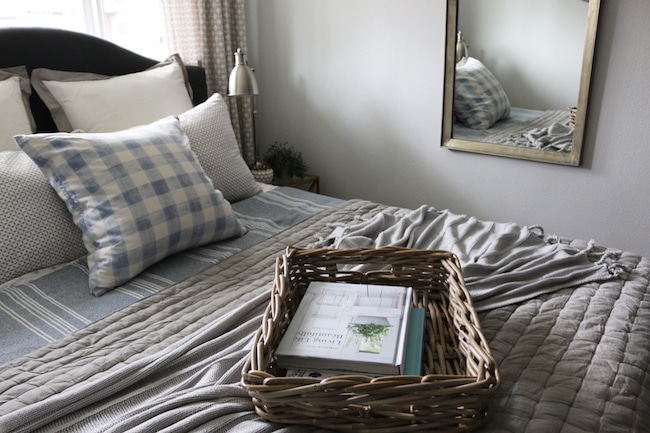 Fortunately technology is making it easier for us as consumers to learn what toxic chemicals are potentially in our products and the research on what those chemicals could mean to our health. This knowledge should make you mad, for sure, but the good side is it can help us all to take action.
The "Think Dirty" app you can add to your phone is one of the sources that has been so eye-opening to our family over the past year when it comes to learning more about our home and personal care products. Note that this post is not sponsored by the app, it's just one of the resources I've personally used for at least a year.
On the app you can scan or search many common household products to find out the chemicals and ingredients used, learn which chemicals are potentially harmful to you and why (a 1-10 overall "dirty rating" is given, ten is the worst, broken into three categories, carcinogenicity, developmental & reproductive toxicity and allergies & immunotoxicities), and there are links to research articles and findings that support the rating.
It's interesting to research this type of information, even for me as a non-medical non-scientific person. :) Keep this in mind, I'm not a doctor stating scientific facts or prescribing any sort of panic, I'm just a mom who cares about her family and home.
Let me show you the "Think Dirty" ratings on a few of the products I had at one time (or a long period of time) in my supposedly "clean" house. Even if these brands have explanations for their poor ratings, the results are eye-opening and motivated me to question what we brought into our home.
This is the baby shampoo I trusted to clean my kids' hair. I PUT THIS ON MY BABIES' HAIR! So there are carcinogens and developmental toxicity in a baby shampoo? Why? I truly don't understand this.
We put baby powder in baby diapers so they'd be clean and fresh. This is a product marketed to moms with babies.
This is the face cleanser I thought was safe and gentle enough to put on my skin every day for years. Our doctor recommended it to me for my girls who had sensitive skin.
This was one of the deodorants in our bathroom years ago.
Refill your hand soap dispensers with….what on earth? WHY is this even OK.
This soap says its 99.94% pure clean and harmless so we have stacks of it in our house right now, but, OH MY GOSH! Developmental and reproductive toxicity doesn't sound clean to me.
This is one of the shampoos we were lathering up on our HEADS while singing in the shower! Yikes? This doesn't make me happy one bit.
Goodness, we squeezed this soap ON OUR DISHES to get them nice and clean. WE PUT THIS ON THE DISHES THAT WE PUT OUR FOOD ON! I feel no joy in this at all.
I lit candles and spritzed synthetic sprays around our home to make the air in our house smell good. I am a sucker for yummy smelling products and words that sound refreshing like "spring" and "renewal" and "air."
When you see the word "fragrance" listed on a product, the company isn't required by law to disclose what ingredients are used to produce that fragrance. Many fragrances actually contain "phthalates" and preservatives which are harmful, but each substance doesn't have to be listed individually on the label. As I understand it, the word "fragrance" could include toxic chemicals that don't have to be specifically identified other than "fragrance".
Even if a label says a product is "natural" it doesn't necessarily mean it is all good. We would need to investigate further the practices and policies of the company and know the exact chemicals they used to know what "natural" means on the label.
I've been working on creating a healthier environment for my kids since they were little (as I shared in my health story). We weren't as "crunchy" or as diligent in label reading as we should have been, I can see that now, but we tried to be careful when we knew of and believed in the dangers.
I'm so relieved that we were as conscientious as we were considering where we could have gone wrong, but it does make me feel sick that we were still so unaware of many potential dangers under our own roof. For everything we knew and did right, so many other things didn't even cross our mind! I'm sure you feel the same way.
But every year I try to learn more. And every year I'm more appalled at what is sold to us, mad at what is swept under the rug, and frustrated by what I didn't know or change in our home as quickly as I should have.
These products were not just in our house, but quite possibly in yours, too. It's hard to process that even while trying to be the best mamas and home-makers we could be, we may have been unknowingly bringing such harmful products into our own home.
Over time, those toxins build up in our homes and in our bodies, potentially causing cancers, diseases and conditions.
So believe me, at our house the entire meaning of a clean home is being turned upside down.
It literally makes me sick to even think about how many toxins could be in our home even now. It's not pleasant to talk about, but it's too important to our family and to anyone who cleans or beautifies their home, bodies, hair, dishes or babies to just "sweep these toxic secrets under the rug".
We can't pretend this isn't real, it is real. 
Those dangers have been right under our noses, brought into our kitchens, placed under our bathroom sinks, sprayed on our counters, used on our dishes, gently wiped onto our babies skin, put in and on our bodies, on our clothes, in our hair.
People are literally getting sick in their own homes due to toxins in the products they use to clean and beautify all the things.
I feel terrible when I think about what I didn't know or  "should have known" or " should have done."
But guilt doesn't change the past, does it? And there are no guarantees of perfect health, even if we got it all right.
So we need to let go of those regrets and not live in fear or panic; those things don't serve anyone well. This knowledge should propel us to make changes as we go and commit to learning all we can about moving forward with wellness. I know there are many other things that will likely need to change in time, but we have to start somewhere. Anywhere is better than not at all.
We need to get back to what God intended for our wellness. Our bodies are amazing at healing when we give them what they need to be well. Good healthy food from organic farms, plenty of clean water, exercise, and plant-based products, not toxic chemicals, will promote wellness.
But it's true, any of us can KNOW or believe something isn't right and still not take steps to change it.
Some people still roll their eyes when "wellness" conversations come up, and then will go right back to spraying chemicals on their bodies and dishes and inhaling them every single day as though they don't want to believe the risk! Ack!
You can research these toxins and risks yourself.
It's hard to unsee or not take action once you have that kind of knowledge.
In my home, we are redefining what a truly clean home means. Our home may sparkle. It may shine. It may smell good, but it won't be because we fake cleaned it with chemical toxins.
So what do we use? We use plant-based methods to clean, truly clean, our home. Plant-based cleaners not only clean your house well, but they contribute to wellness and a better quality of life for your family.
It's NOT hard to get rid of all the junk under the sink. Yes, we spent hard-earned money on those carcinogens. It's true, we invested funds in those hormone disrupters and reproductive and developmental toxicities.
This is one time we definitely don't need to get our money's worth before we replace products. Toss those toxins out and never look back.
It's not too expensive or time consuming to be healthy, it's actually way more expensive and time consuming to be sick! We absolutely have to redefine clean. It's not what we've been told; it's not what we might have believed. Clean is healthy. Clean is safe.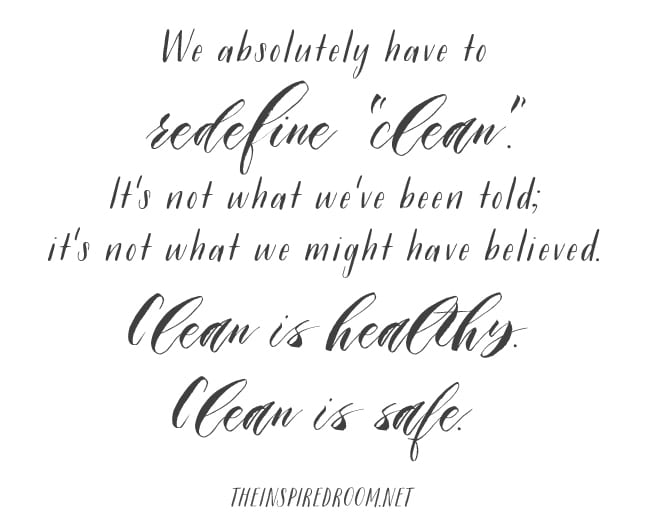 Tomorrow I'll share some of the changes we've made in our home. I'll offer some great DIY recipes and specific ways we've replaced harsh chemical products for a healthier home.
If you are ready to ditch those toxic chemicals immediately and don't want to wait, I don't blame you. I applaud you for taking action. I'm happy to encourage you in this journey and give you some tips and product ideas so you can truly clean your home for good.
Here is a link to some wonderful and effective plant-based products my family has trusted and used for the past three years, plus find out about my private Facebook community and how to learn more through wonderful educational groups.
This journey to a healthier home will be eye-opening and inspiring!
Disclaimer: I'm not a doctor and nothing written in this article should be taken as a scientific fact, a prescription or as medical advice. This information reflects my personal observation and experience.
**Click here for simple changes you can make for a cleaner home!**